I'm back with another quick and easy mid-week recipe. One pan chicken and rice is a great choice for so many reasons: it's easy to make, there's not much cleaning up and it's good for fussy eaters! The best thing about it is that you can change it however you want to suit your taste.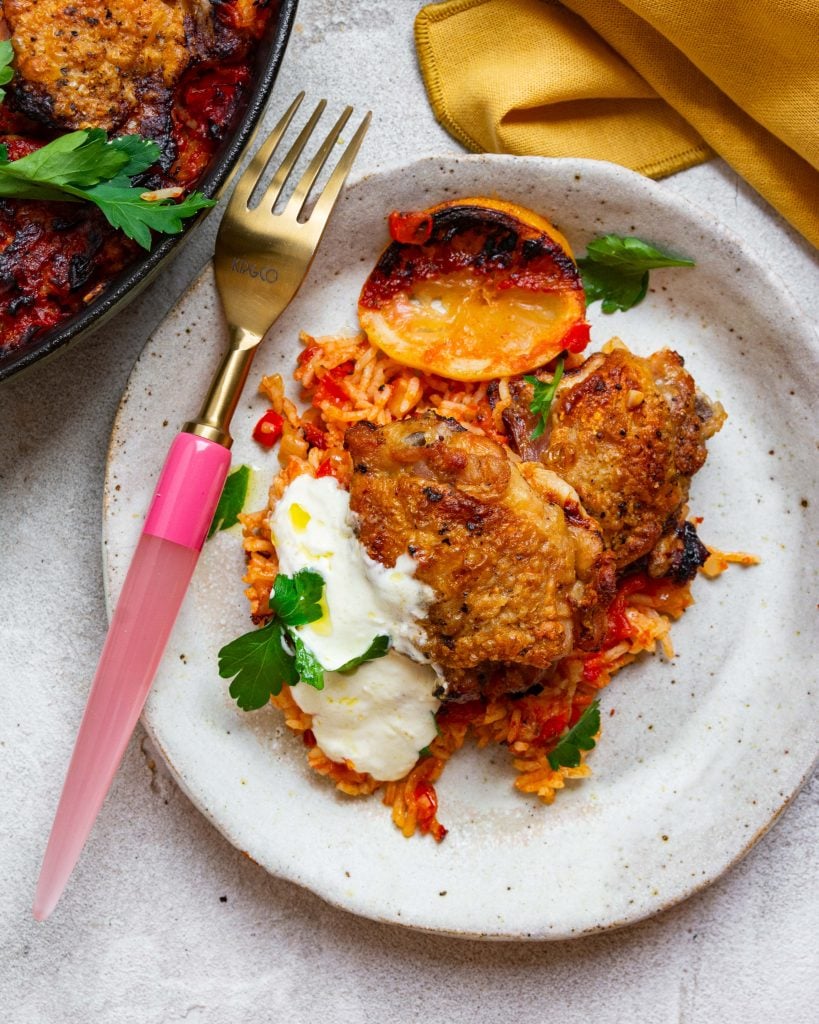 One pan chicken and rice
It's a quick and simple recipe, which always requires one thing: lots of flavour! Because we won't be building flavour over time, I have thrown in a bunch of my favourite spices: paprika, onion powder and garlic powder. All of these build so much umami that you don't need a long cook time to make this a flavour sensation.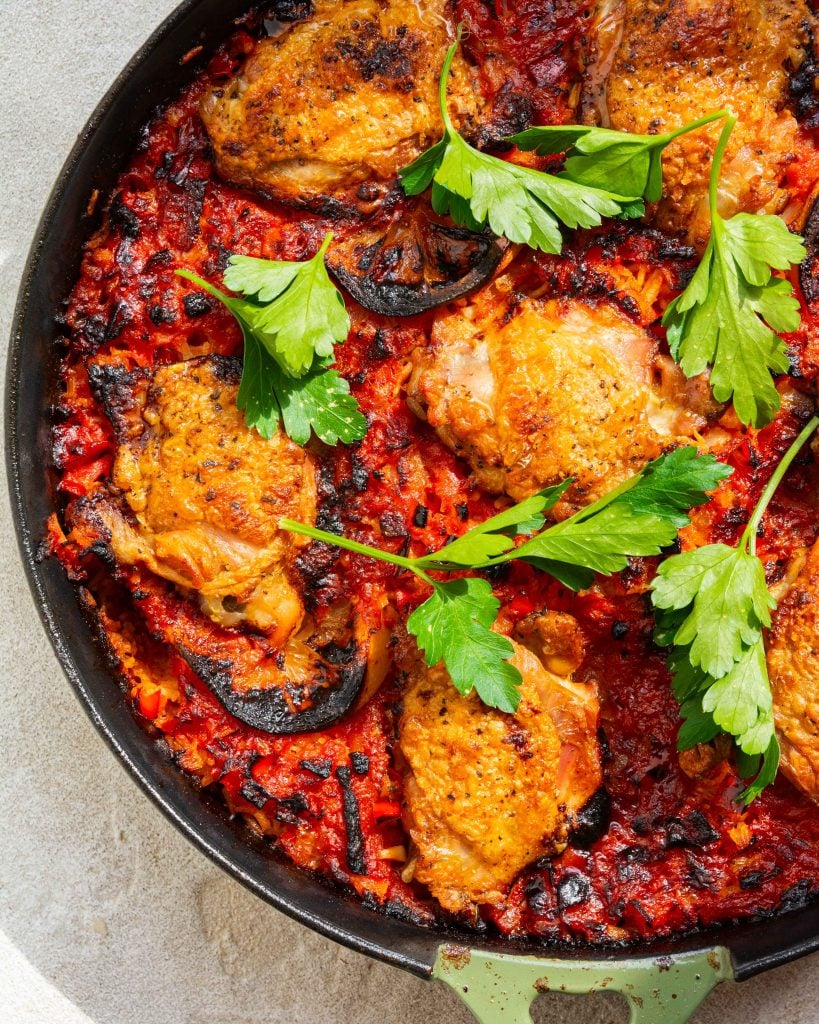 Chicken thighs bring the juice
I have used chicken thighs for one pan chicken and rice. And with the skin on. This brings so much flavour and also a texture to the dish that is just so delectable. The chicken stays moist and the skin gets crispy. But! Crispy skin is not always guaranteed! You need to pat the chicken thighs down and make sure they're not damp and add a generous amount of salt to them. You also need the skin side down and resist the urge to flip or move the thighs for the first three minutes of the cook – if you do this, you'll be enjoying crispy skin thighs!
Rice, rice baby
I have chosen Basmati rice for this one pan chicken and rice. But this could be Jasmine rice or even orzo if you're time poor. The main thing about using rice is that you should rinse it in a colander until the water turns clear before adding it or else it will release all of its starches and you'll be at risk of making the disk a little stodgy.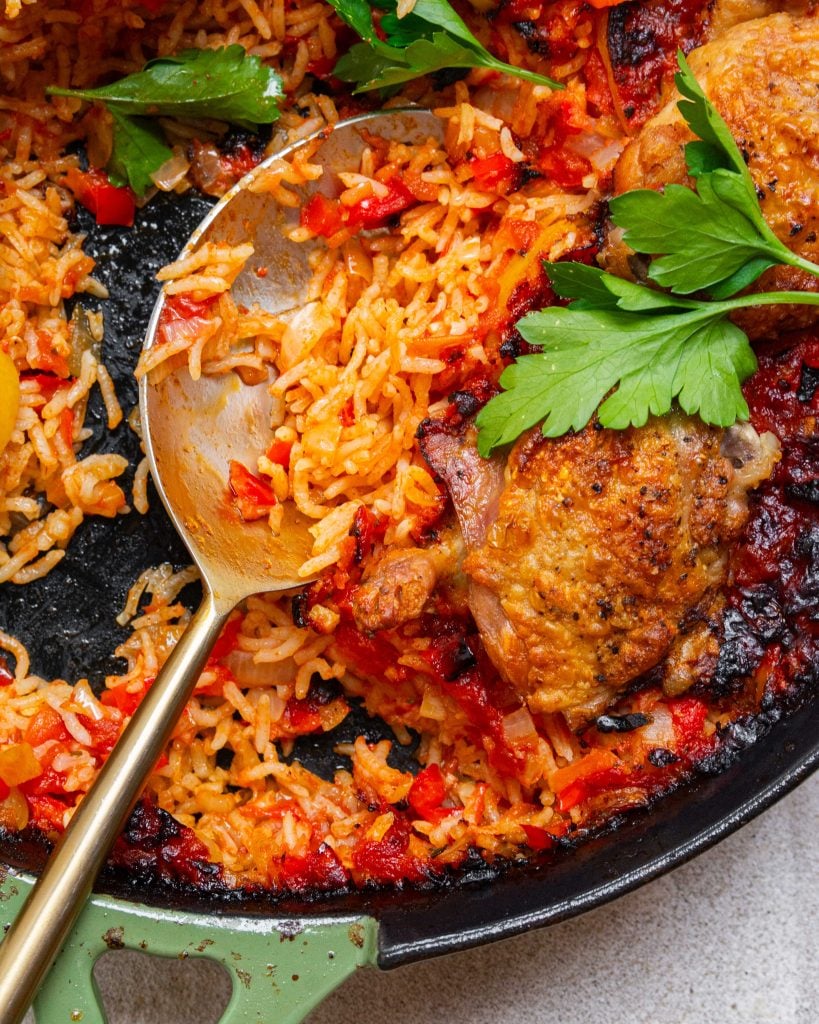 What to put on top of one pan chicken and rice?
This is where you can really go crazy with your recipe! I've added flat leafed parsley, garlicky Greek yogurt and a squeeze of lemon. But I could see this recipe really suiting some chilli flakes or even a chimichurri. Basically, anything acidic that will cut through the fatty and delicious chicken thighs.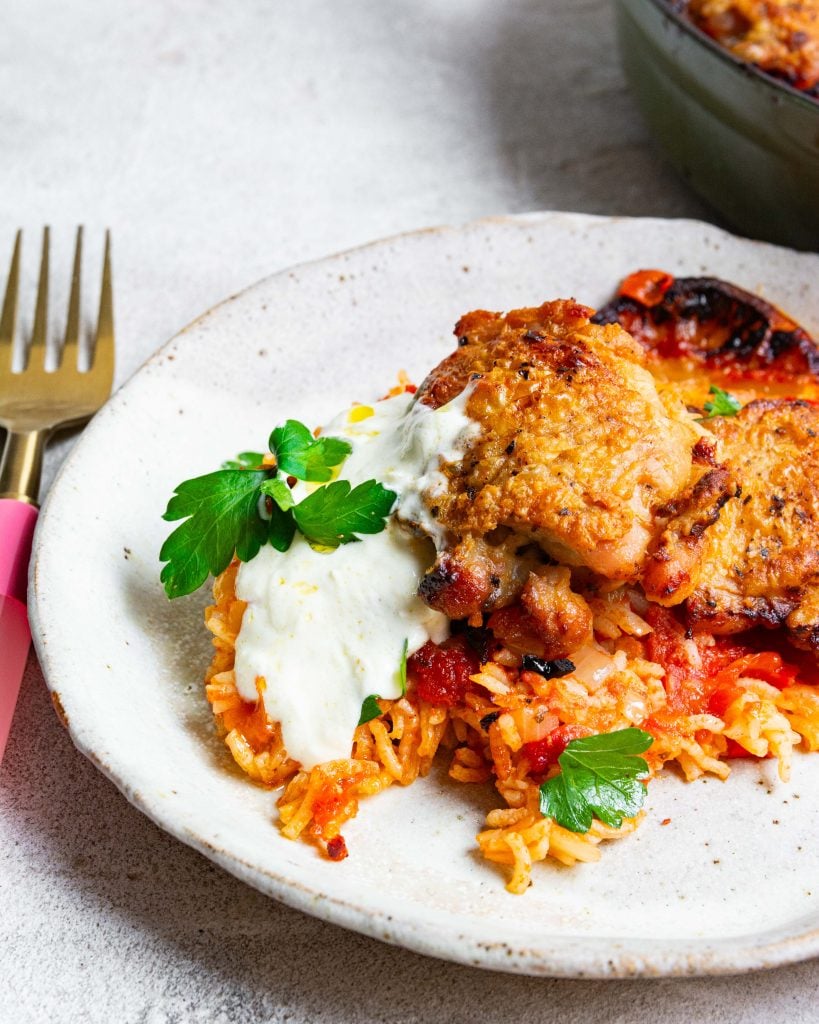 FAQ about one pan chicken and rice
I don't have rice, what else can I use?
The best part about this recipe, is you could just make the chicken part and then put it on a base of your choice. If you're going for lower carbs, adding it to a bed of quinoa or or fresh greens would be tasty.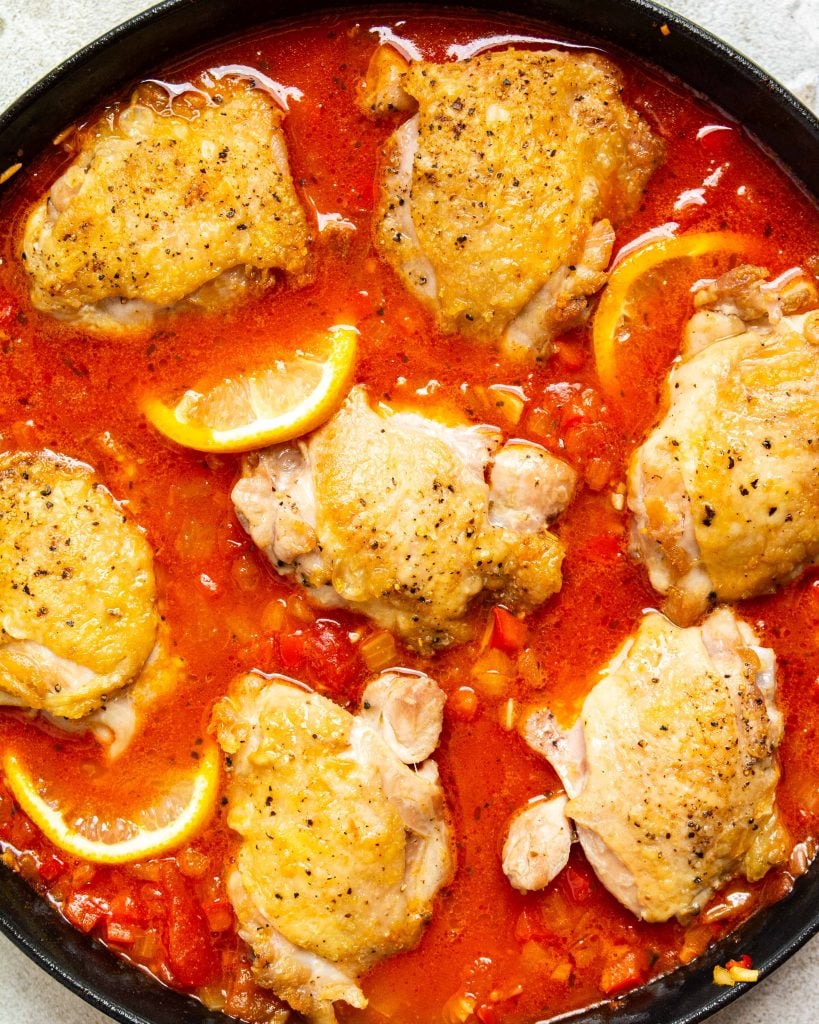 What about leftovers?
This is a great dish for leftovers – in fact, your colleagues will be salivating! You could add the thigh into a sandwich the next day, or take it as is and just reheat in the microwave.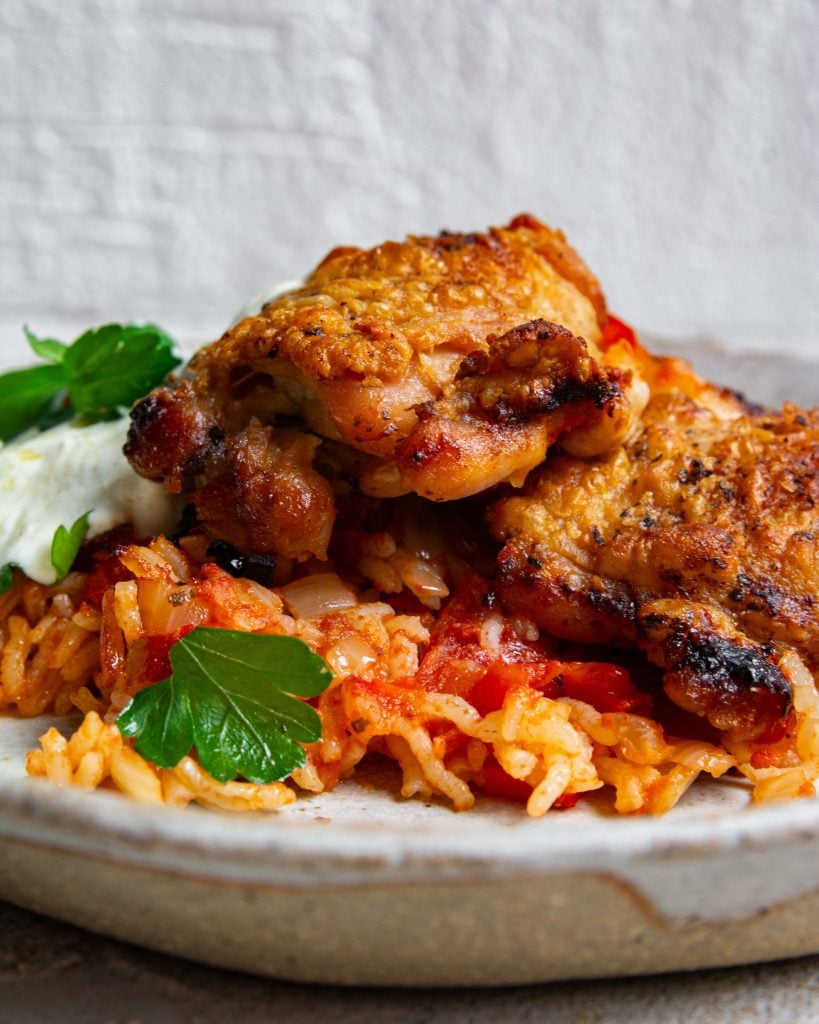 If you make this one pan chicken and rice, please tag me on Instagram, Tik Tok or Pinterest so I can see your wonderful creations!
If you have any questions or would like to leave a review, please do so here! I always love answering your food and recipe related questions and hearing your feedback on my recipes.
Images by Alanna Penn Photography.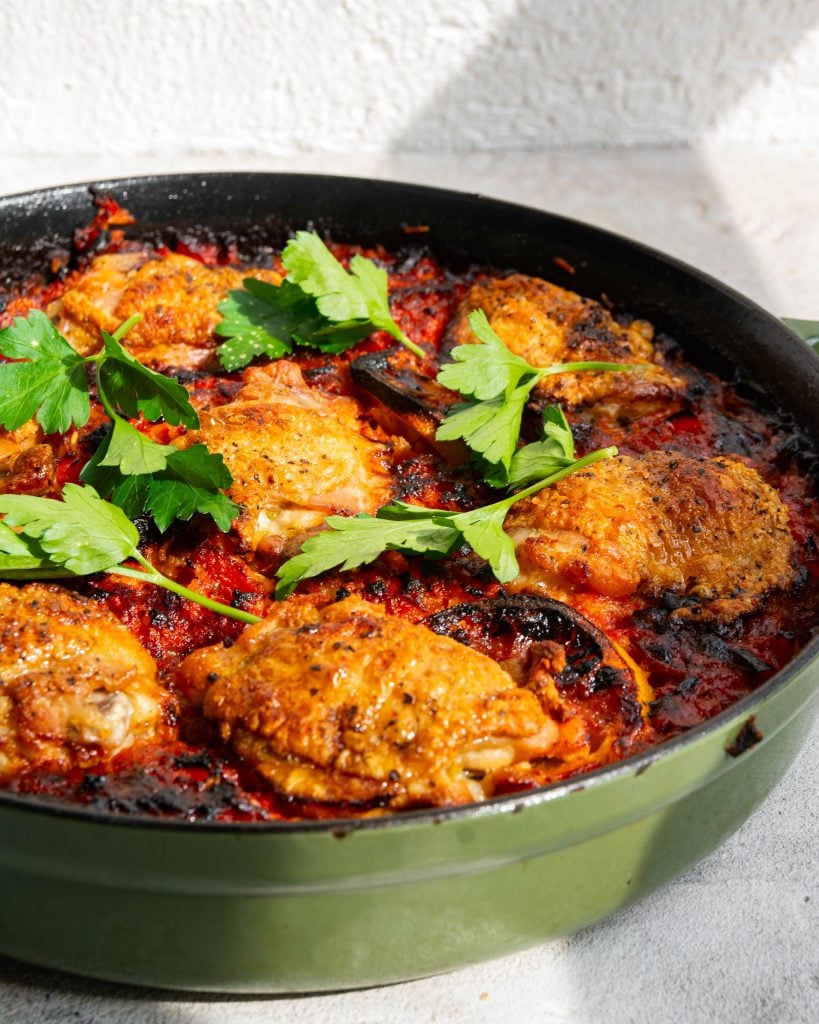 One pan chicken and rice
A middle week staple for even the fussiest eater!
Ingredients
1-1.5 kg chicken thighs with skin on
3 tbsp olive oil 1 tbsp for garlic yoghurt sauce
4 garlic cloves crushed 1 garlic clove for garlic yoghurt sauce
1 onion finely diced
1 red capsicum finely diced
1/2 tbsp onion powder
1/2 tbsp garlic powder
1 tin crushed or whole tomatoes
1 1/4 cup basmati rice
1 3/4 cup chicken stock
1/2 lemon sliced
salt + pepper
parsley to serve
4 tbsp Greek yogurt
Instructions
Preheat oven to 180 degrees Celsius.

Season the chicken with a generous amount of salt and pepper.

In a large cast iron frypan on a medium – high heat, bring the olive oil to heat. Place the chicken skin side down and cook until golden and crispy. Roughly 3 minutes. Flip over and repeat. Remove the chicken from the pan and set to the side.

Turn the heat to medium and add the garlic, onion and capsicum. Fry for 5 minutes while stirring occasionally or until fragrant and translucent. Add in the spices and cook for an additional 2 minutes. Add the tomatoes, rice and chicken stock to the pan and stir through until all ingredients are well combined. Bring to the simmer then place the lemon sliced lemon followed by the chicken pieces skin side up into the pan. Place into the oven and cook for 40 minutes.

Prepare the garlic yoghurt sauce by mixing together the yoghurt, garlic and olive oil.

Remove the chicken from the oven and allow to sit for 5 minutes. Serve with a sprinkling of parsley and the garlic yoghurt sauce.