Jump to Recipe Print Recipe Jump to Video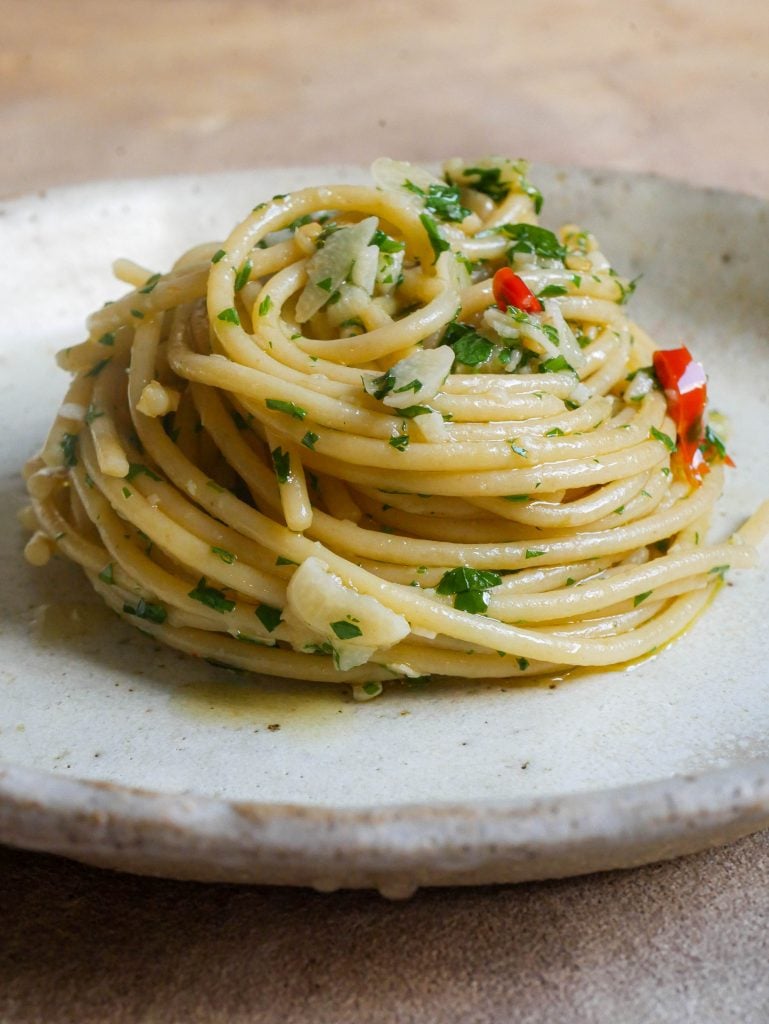 Aglio e olio is one of those meals where simplicity is key. Minimal ingredients are brought together to deliver a nourishing and delicious meal the whole family can enjoy. Aglio e olio is an Italian pasta dish that originated in Naples and that translates to garlic (Aglio) and oil (olio). Due to its lack of meat or seafood, it was considered a poor man's dish and also a midnight snack. This was a dish my mum made quite a lot for us growing up and whenever I smell garlic sizzling away in extra virgin olive oil, I am instantly transported back to her kitchen.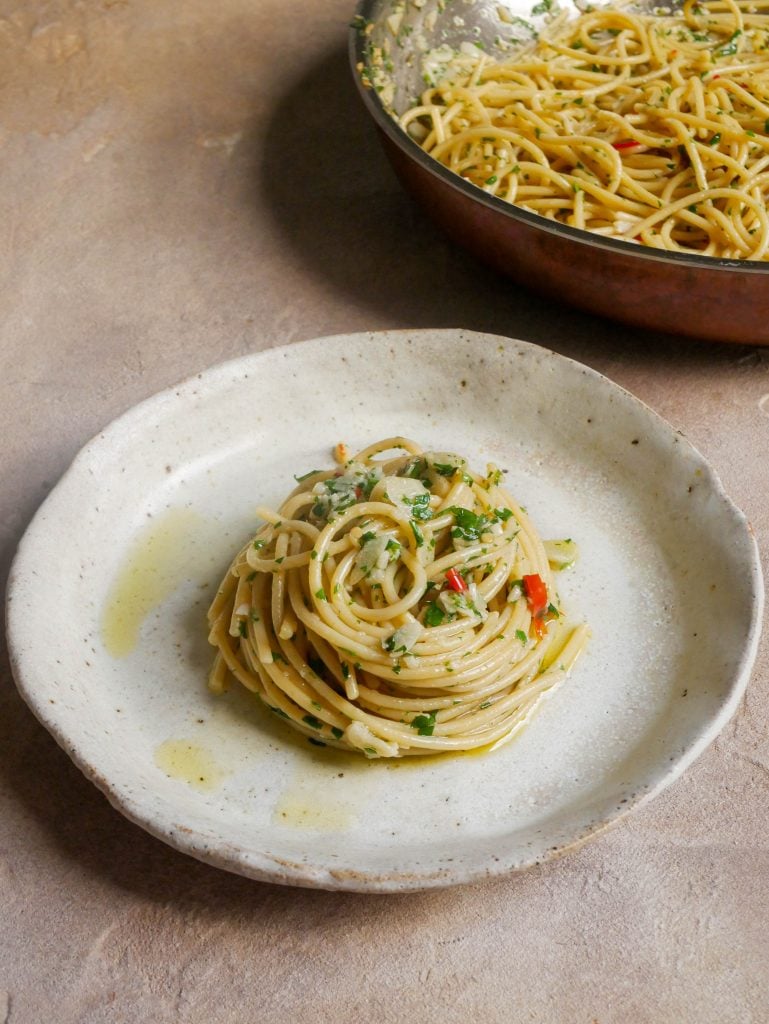 When you come across a dish as simple as this one, there is always an art for how it should be cooked. Most importantly, high quality ingredients should be used. It's also extremely important the garlic does not burn when cooking as when browned, it will take on an entirely different flavour that will overpower the dish. Pasta water is your best friend when cooking this dish. We add in the pasta water quite early as it will allow the garlic to further cook and soften, taking on a sweet flavour and soft texture. 
The spaghetti will finish off cooking in the sauce with a little extra pasta water to create a silky, glossy and creamy sauce. Traditionally, aglio e olio is made with only garlic, olive oil and chillies however, you can add a little lemon juice or grated pecorino romano for that extra taste.
Frequently Asked Questions
Why do you cook the garlic in the pasta water?
This will help cook the garlic without burning it. The garlic will soften and deepen in the flavour and the salt and starch from the pasta water will help create a glossy and silky sauce.
Can I add extra ingredients such as lemon?
Yes! Traditionally, Aglio e olio doesn't include any extra ingredients but you can add a squeeze of lemon or sprinkling of Parmesan cheese or breadcrumbs if you prefer.
Why do you undercook the pasta?
The pasta is cooked extremely el dente as it finishes off cooking in the pan with the sauce. One of the key ingredients in this recipe is pasta water as it brings all the elements together into a silky and glossy sauce. This requires time so when the pasta is added to the sauce it will continue to cook and we want to avoid it being overcooked and not el dente.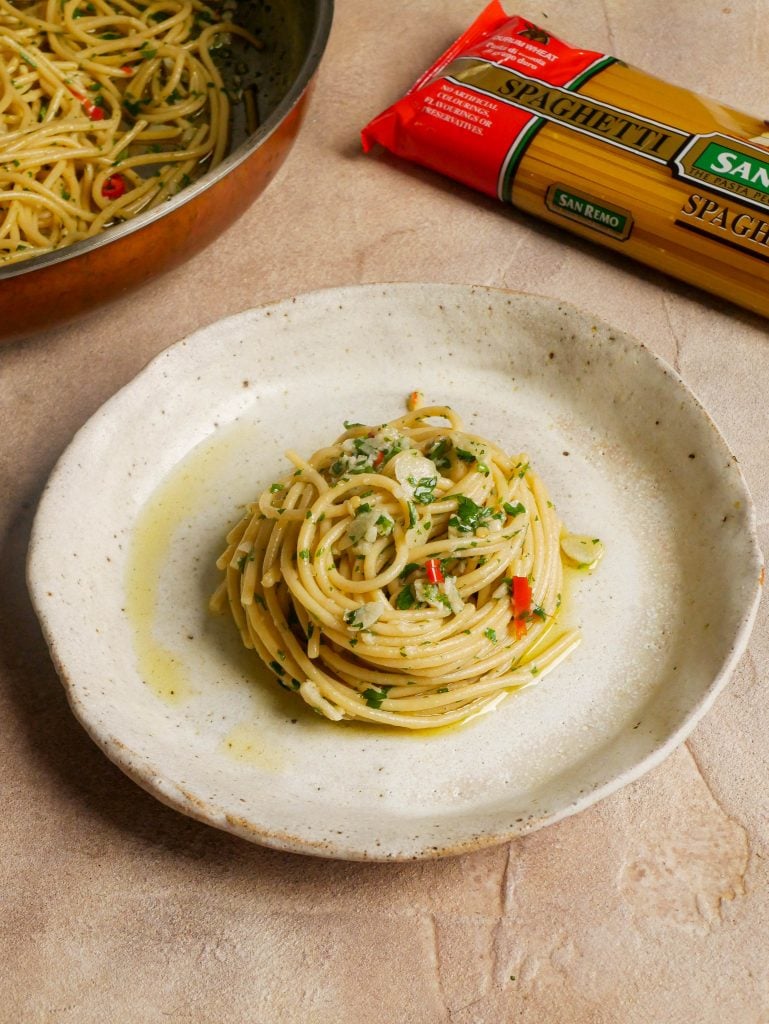 If you make this recipe, please tag me on Instagram, Tik Tok or Pinterest so I can see your wonderful creations!
If you have any questions or would like to leave a review, please do so here! I always love answering your food and recipe related questions and hearing your feedback on my recipes.
Alio e Olio
glio e olio is an Italian pasta dish that translates to garlic and oil.
Ingredients
250 g San Remo Spaghetti no.5
6 garlic cloves finley sliced
1 chilli finely sliced
6 tbsp olive oil
3/4 cup pasta water
1 handful fresh parsley finely chopped
Instructions
Bring a large pot of heavily salted water to the boil. Follow the instructions on the back of the pasta packet for al dente pasta and drain your pasta 2 minutes before the suggested cooking time.

In a large fry pan on a low heat, bring the olive oil slightly to heat. Add the garlic and chili and cook for 3 - 5 minutes or until the garlic is fragrant and soft. Stir the garlic and chili often to avoid it from burning. It's very important we don't burn our garlic. 

While the pasta is cooking, remove ½ cup of pasta water and combine to the pan with the garlic, chili and olive oil. Leave to simmer for 10 minutes or until all the water has evaporated. 

Combine the spaghetti and ¼ cup pasta water to the pan with the sauce and stir through for 1 - 2 minutes on a low heat. Take off the heat and toss through the parsley. Serve immediately.