Take all the delicious flavours of summer and make them into this tomato and burrata salad. This salad is sweet, sticky, rich and will be your new best salad friend! The tomatoes bring a refreshing element to the salad, providing a delightful contrast to the creamy richness of the burrata.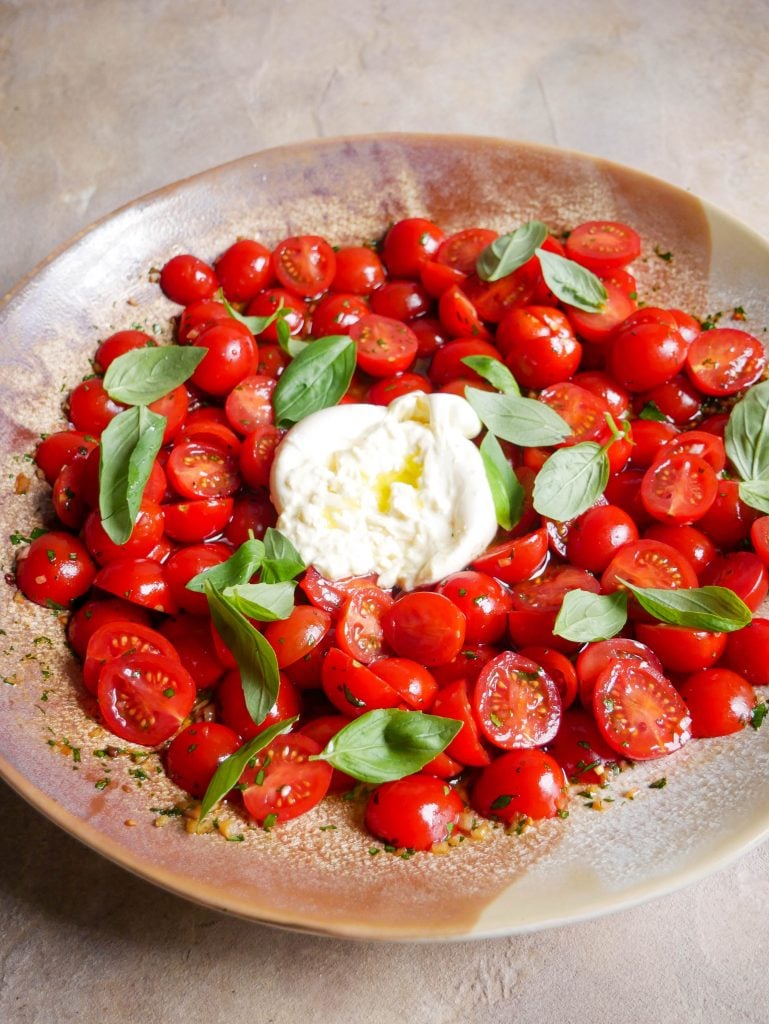 Burrata and Tomato Salad
When I think of summer, I think of plump and juicy tomatoes, sweet basil, cold pressed olive oil and fresh cheese. This tomato and burrata salad recipe is summer in a bowl! It's made with a simple dressing of extra virgin olive oil, sticky balsamic, finely diced shallots and parsley and salt and pepper. This dressing is rich, sticky and sweet and can be used on almost any salad! I love to make a big batch and keep it in a jar in my fridge. Because it wouldn't be summer without fresh herbs, this salad is finished off with a sprinkling of basil. It can be served on its own or with slices of crispy olive oil fried sourdough.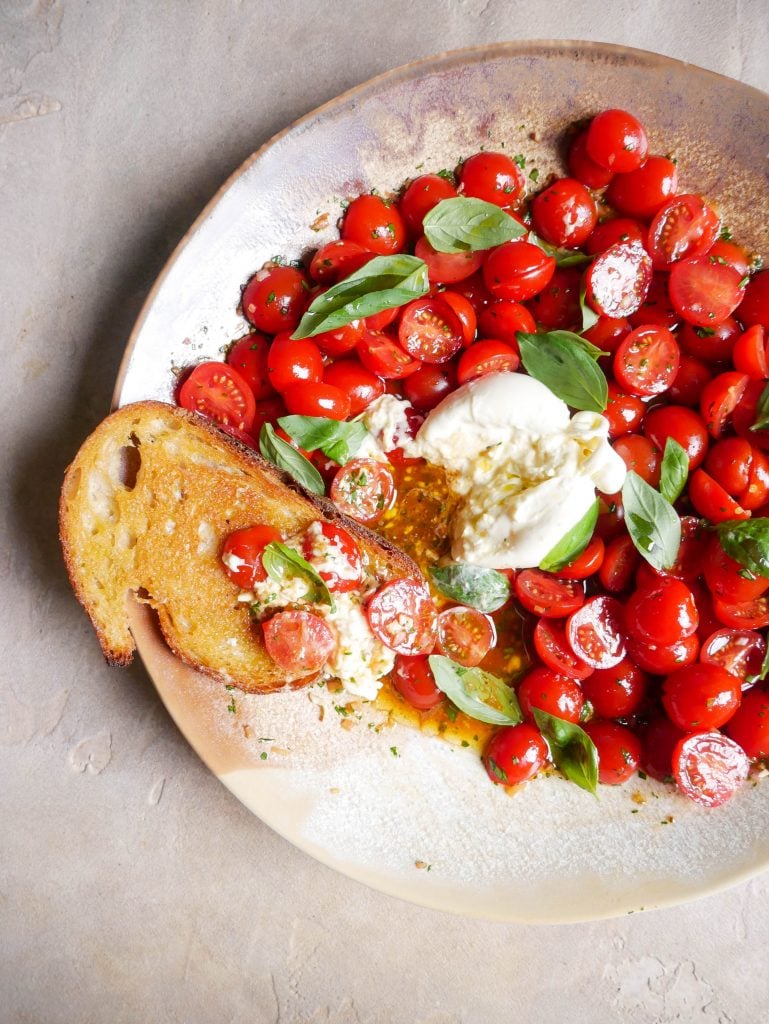 How to fry the perfect slice of sourdough
As much as I would love to say that the tomato or burrata is the star of this show, it's actually the one you would least expect. A golden and crunchy piece of olive oil fried bread. Frying the bread in olive oil will turn it into one delicious big crouton!
There are only two things that you need to know to achieve toast perfection. Cook low and cook slow! Cooking low means setting your stove to a gentle heat, allowing the bread to slowly soak up the oil and develop that beautiful golden colour. We don't want to rush this process. We want the heat to penetrate every nook and cranny of the bread, infusing it with warmth and transforming it into a crunchy delight. 
Cooking slowly is the second secret to achieving toast perfection. It's all about taking your time, giving the bread the attention it deserves. As you watch the slice of sourdough sizzle and crisp up in the pan, it's the perfect opportunity to indulge in a little me-time. It's the perfect time to put the little one to bed or enjoy a cup of coffee as it takes up to 10 – 15 minutes per side.
What you need for this burrata salad
This tomato and burrata salad is simplicity as its finest! It relies on very minimal and seasonal ingredients for the perfect flavour.
Tomatoes – For the best result, make this salad in tomato season. In tomato season, these little gems are at the peak of their juiciness, sweetness, and overall perfection. They're plump, bursting with flavour, and require very little seasoning to truly shine. Nature has done all the work for us, gifting us with tomatoes that are nature's candy, a sweet and juicy delight that's a joy to bite into. I like to use cherry tomatoes as they are extremely sweet but you can use any tomato variety you like!
Basil – When you think of basil, you can almost smell its aroma filling the air. It's like a little herb with a big personality, ready to elevate any dish it graces. And when it's in season, its sweetness reaches new heights! It's also the perfect flavour pairing for the tomatoes.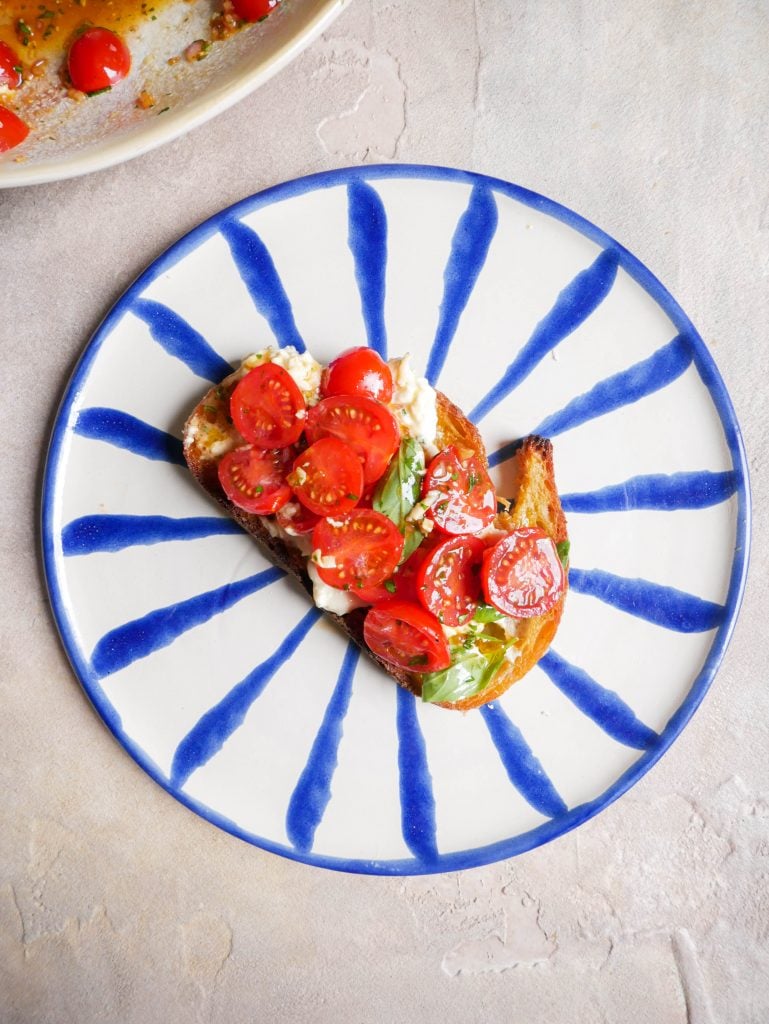 Extra Virgin Olive Oil – When it comes to olive oil, my motto is simple: only the best will do. That's why I reach for the absolute crème de la crème in the business. Trust me, when it comes to high-quality olive oil, it's not something to skimp on!  Its smooth texture and robust flavour profile add a layer of complexity and depth, turning a simple burrata salad recipe into a masterpiece. 
Balsamic – Now, don't get me wrong, regular balsamic vinegar is perfectly fine and dandy, but sticky balsamic takes it to a whole new level!  It's sticky, sweet and tangy and absolutely delicious! As you drizzle a generous amount of sticky balsamic over your tomato and burrata salad, you can see its deep, dark hue over the vibrant colours of the ingredients. 
Burrata – If you're a cheese lover like me, you'll know that burrata is basically the crown jewel of cheeses! Burrata is a cow's milk cheese made from cream and mozzarella. The outer casing is hard mozzarella cheese while the filling is soft and cheesy. It's the perfect creamy element in this salad! As you cut into the burrata, the creamy centre oozes out, enveloping the tomatoes with its embrace. The contrast of the delicate outer shell and the decadent interior creates a symphony of textures that will make your taste buds sing with delight.
Shallots – These humble little bulbs may be small in size, but they pack a powerful punch when it comes to adding flavour and texture to dishes. They also make a great crunchy element in this salad dressing! Make sure you dice them extra fine.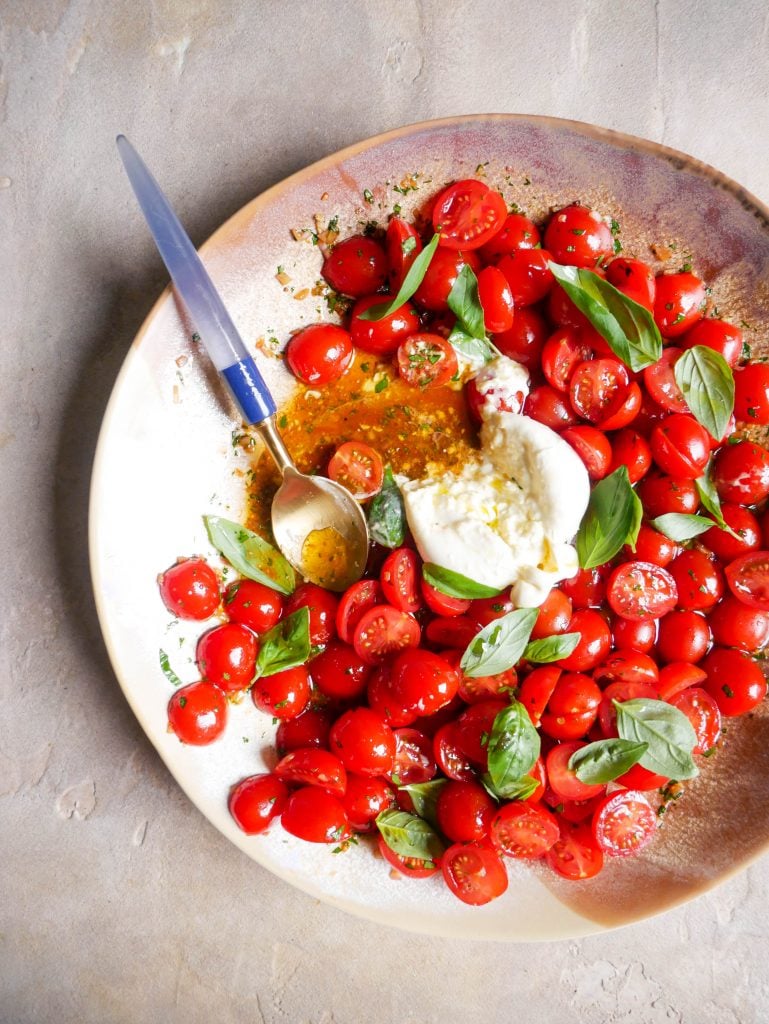 Crispy chicken and bacon salad
Roasted pumpkin salad with walnut & kale
If you make this recipe, please tag me on Instagram, Tik Tok or Pinterest so I can see your wonderful creations!
If you have any questions or would like to leave a review, please do so here! I always love answering your food and recipe related questions and hearing your feedback on my recipes.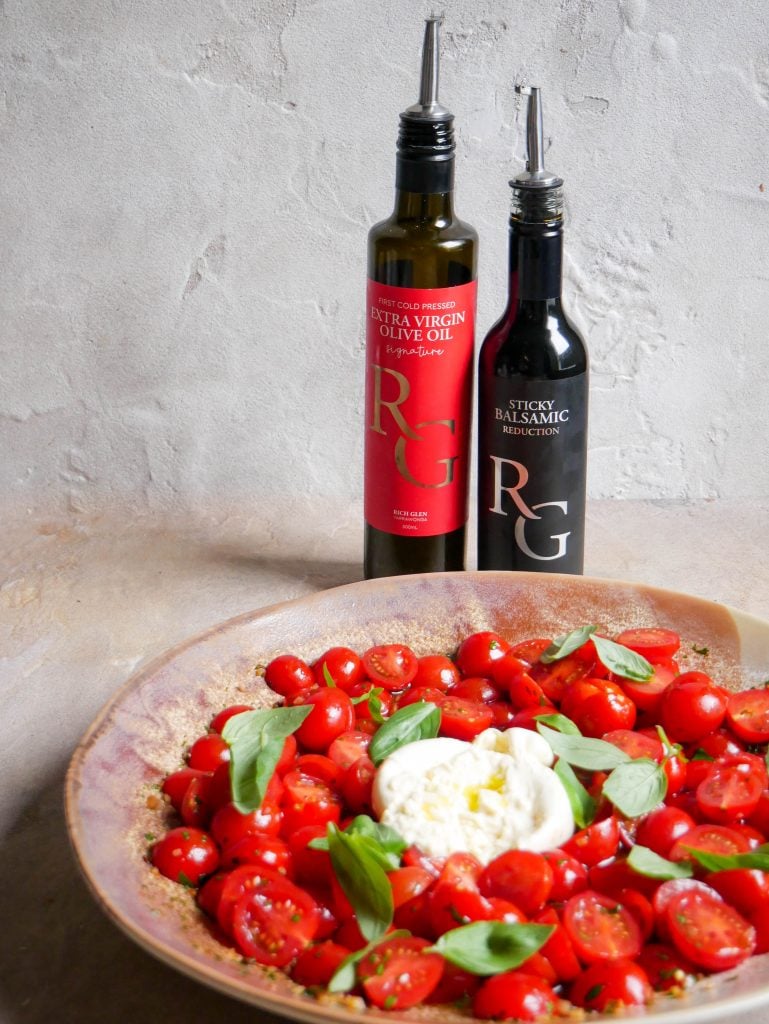 Burrata and Tomato Salad
Take all the delicious flavours of summer and make them into this tomato and burrata salad. This salad is sweet, sticky, rich and will be your new best salad friend!
Ingredients
600 g cherry tomatoes halved
3 tbsp olive oil Rich Glen Extra Virgin
1 tbsp sticky balsamic Rich Glen
1 shallot finely diced
1/2 tbsp parsley finely diced
1/2 tsp flakey sea salt
1/4 tsbp black pepper
125 g burrata
fresh basil to serve
6 slices sourdough
Instructions
Drizzle each side of your sourdough slice with olive oil and place into a cast iron pan. Cook on a very low heat for roughly 10 - 15 minutes each side. 

Combine the olive oil, sticky balsamic, shallot, parsley, salt and pepper into a large bowl and whisk together. Toss the tomatoes through the dressing and leave to marinate for 10 minutes. 

Place the burrata into the centre of the salad and slice open. Finish off with a sprinkling of fresh basil leaves and drizzle of olive oil. Serve on pieces of olive oil fried sourdough. 
What type of olive oil should I use for this tomato and burrata salad recipe?

When it comes to olive oil, quality matters. For the best results, we recommend using Rich Glen Extra Virgin Olive Oil. Its smooth texture and great flavour profile add depth and complexity to the dressing, enhancing the overall taste of the salad. Trust us, it's worth investing in high-quality olive oil to elevate your creations.
What makes tomato and burrata cheese such a great combination?

The sweetness and acidity of the tomatoes perfectly complement the creamy and rich flavour of the burrata. The burst of freshness from the tomatoes pairs beautifully with the luscious, soft centre of the creamy cheese. Together, they create a harmonious balance of flavours and textures that will leave you wanting more.
How do I prepare shallots for the burrata salad dressing?

To achieve that perfect crunch and flavour, it's important to dice the shallots extra fine. Take the time to finely chop the shallots, ensuring they are minced into small, uniform pieces. This will allow them to blend seamlessly into the dressing, adding a wonderful texture and a subtle hint of oniony goodness.
Can I add other ingredients to the tomato burrata salad?

Absolutely! While this recipe provides a delicious base, you can customise your tomato and burrata salad by adding complementary ingredients. Some popular additions include fresh arugula or mixed greens, fresh peaches, sliced red onions, roasted pine nuts, or even a drizzle of aged balsamic vinegar with a honey touch of sweetness. Feel free to get creative and make this tomato burrata salad recipe your own!
Can I use different types of fresh tomatoes for the burrata salad recipe?

While the tomato burrata salad recipe suggests using cherry tomatoes, you can experiment with different tomato varieties to suit your preference. Whether it's vine-ripened tomatoes, heirloom tomatoes, or even a mix of different colours and sizes of tomato slices, feel free to get creative and embrace the vibrant diversity of tomatoes available during the season.