If you're in love with Mediterranean flavours as much as I am, this Mediterranean chicken skewers recipe (or, as some would call it, Mediterranean chicken kebab), is going to be your new favourite dish. I can't wait to guide you through the process, so grab your apron and let's begin!
My tips on making the best Mediterranean chicken skewers recipe
You might be wondering, what's the secret behind that lip-smacking taste? Today's your lucky day, because I've put together some of my top tips for making delicious Mediterranean skewers. Trust me, you won't be able to stop at just one!


Best Meat for Mediterranean Skewers
It really comes down to personal preference. For me, the ideal cut of meat for Mediterranean chicken skewers would be boneless, skinless chicken thighs. Why? Well, they're tender, juicy, and hold up well to marinating. But, what if you're thinking, "Can I use chicken breast?" You definitely can! While chicken breast might not be as juicy as the thigh meat, it's still delicious and is a leaner option for your Mediterranean skewers. Plus, you can always mix the two if you're looking to strike a balance.
Cooking Process
If you are wondering if you can cook these Mediterranean-style chicken skewers on the stovetop – you absolutely can! While grilling will develop a characteristic char and smokiness for your Mediterranean chicken kebab, you can replicate something similar on the stovetop, especially if you've got a grill plate. If not, no worries; a fry pan will also work well.


How Many Herbs?
One of the most frequent questions I hear is, "What are the exact measurements of the herbs?" Now, here's a secret: it really doesn't matter how many exact herbs you use! You can give a rough estimate based on what you prefer. For example, if you're in the mood for a more rosemary-heavy dish, throw it in! Less of a fan of thyme? Tone it down.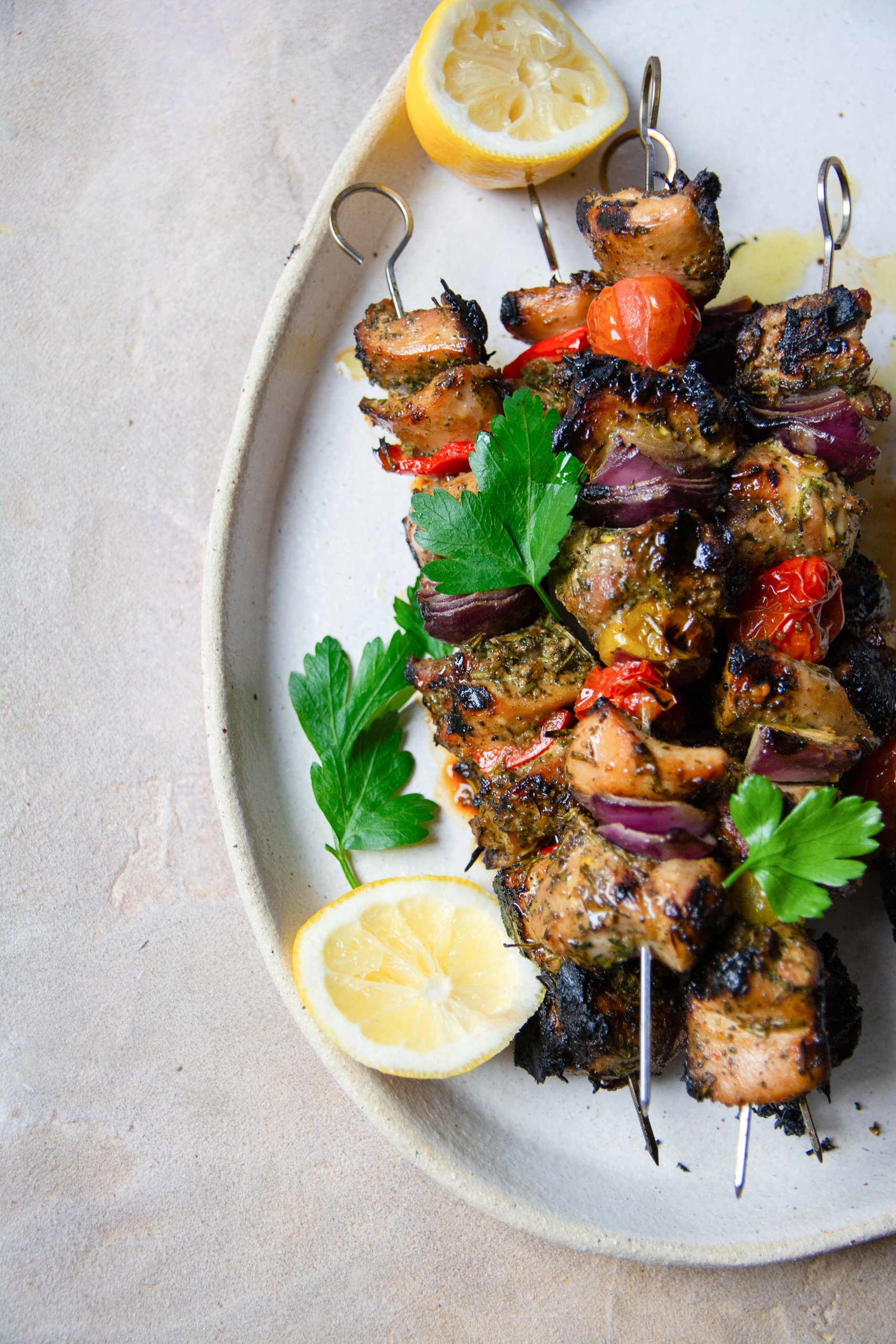 Vegetable Selection For Mediterranean Style Chicken Skewers
A common Mediterranean chicken skewers recipe would involve skewering chicken, onion, and bell pepper pieces alternately. But here's where you can get creative! Love zucchini? Throw it in! And yes, other veggies like yellow squash or even eggplant would also work great.
Mediterranean Chicken Kebab Storage
We all know how good it feels to have a pre-prepared meal ready to devour when you get home! So for those of you asking, "can I freeze the marinated chicken?", the answer is a big yes! This will save on time for when wanting to make them in the future. And after trying this Mediterranean chicken skewers recipe, you might want to eat this everyday!
If you make this Olive oil & herb marinated chicken skewers, please tag me on Instagram, Tik Tok or Pinterest so I can see your wonderful creations!
If you have any questions or would like to leave a review, please do so here! I always love answering your food and recipe related questions and hearing your feedback on my recipes.
Olive oil & herb marinated chicken skewers
Ingredients
1-1.5 kg chicken thighs cut into cubes
1 1/2 cups olive oil
10 garlic cloves
1 bunch rosemary finely chopped
1 bunch sage finely chopped
1 bunch thyme finely chopped
zest from 2 large lemons + lemon juice to serve
4 tbsp sticky balsamic
salt and pepper
200 g cherry tomatoes
1/2 red capsicum cut into cubes
1 red onion cut into cubes
Instructions
Place the olive oil, garlic, rosemary, sage, thyme, lemon zest, sticky balsamic and salt and pepper into a food processor or blender and blend until all ingredients are very finely chopped and well combined.

Place the chicken into a large bowl and pour the marinade all over. Cover and leave to marinate in the fridge, ideally overnight or for a minimum of 4 hours.

When the chicken is ready, thread them onto a wooden or metal skewer alternating between the cherry tomatoes, capsicum and red onion. I like to fit as much meat and vegetables onto my skewer as possible.

Turn the BBQ to high, and once preheated, turn down to medium. Place the chicken skewers on the BBQ and grill for 6 minutes on each side.

Take off the grill, season with lemon juice and serve immediately.