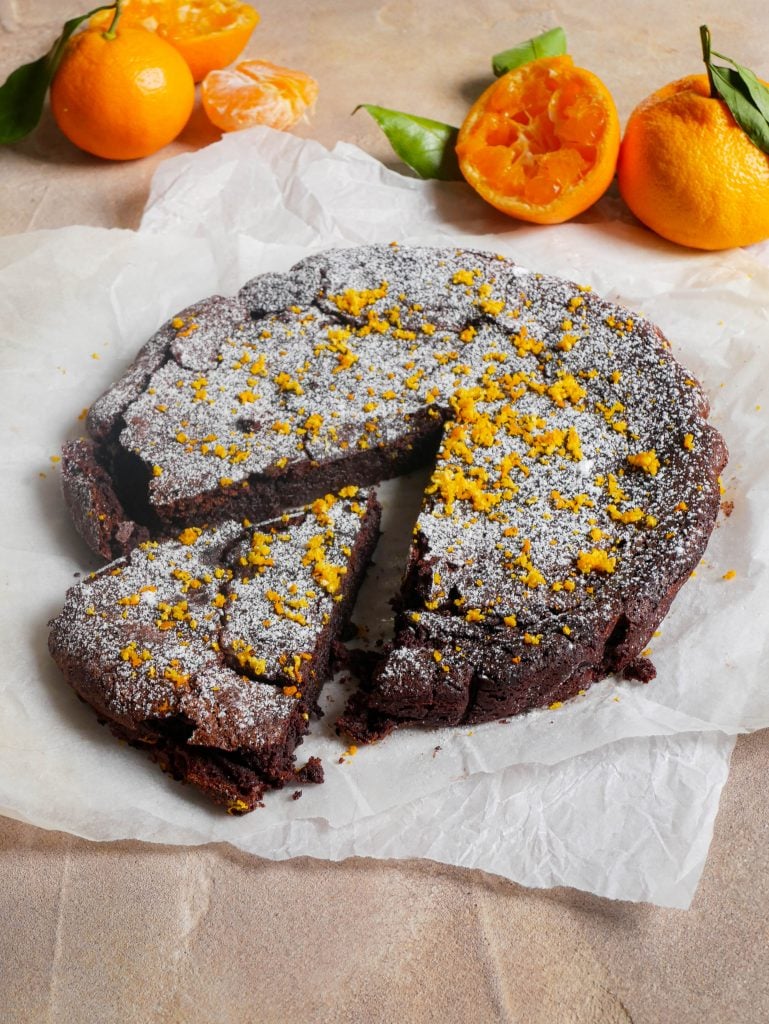 This chocolate fudge and clementine olive oil cake is extremely rich, decadent and indulgent but absolutely worth every bite and will cure any chocolate craving you have. Trust me when I say that you are going to fall in love with this cake recipe!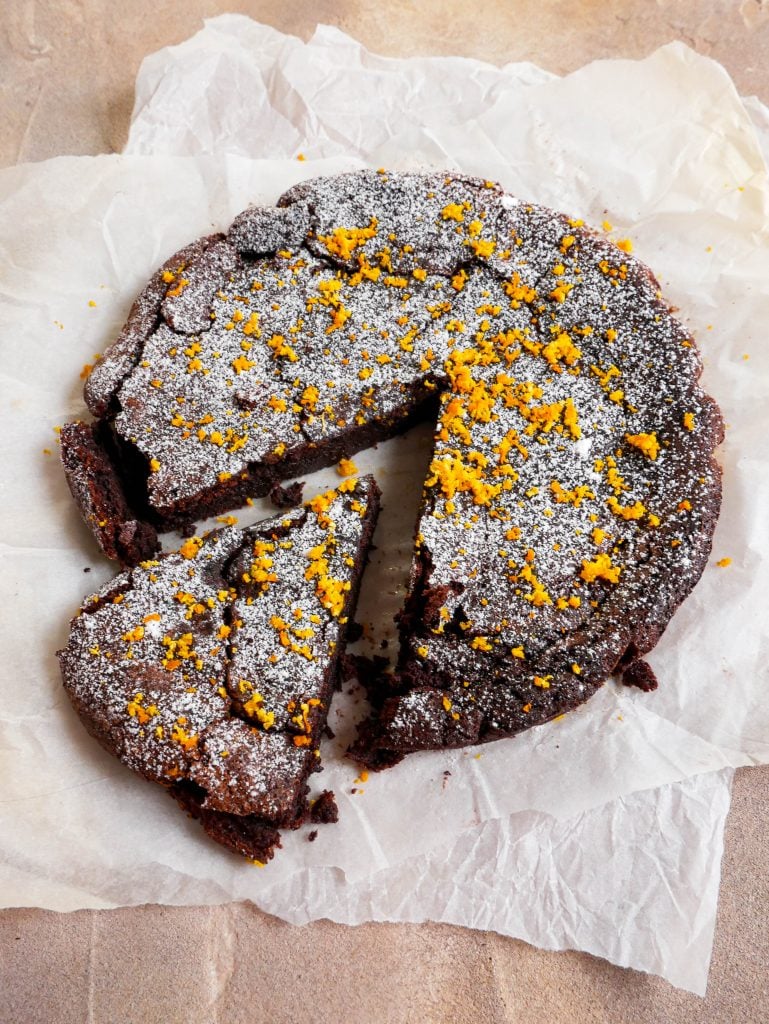 The centre is moist and dense yet not too dense and it has a crackly top, chewy edge and gooey centre with strong notes of citrus. As an added bonus it's gluten free! You will notice that after baking this cake, it's a bit more shallow than your regular cake but since it's so rich, thanks to the absence of flour, your portion size will remain the same. 
This cake is a mix between a pavlova and cake as the stiffly beaten egg whites are used to bring all the ingredients together. They are very gently folded through the batter, with their air pockets helping to create volume.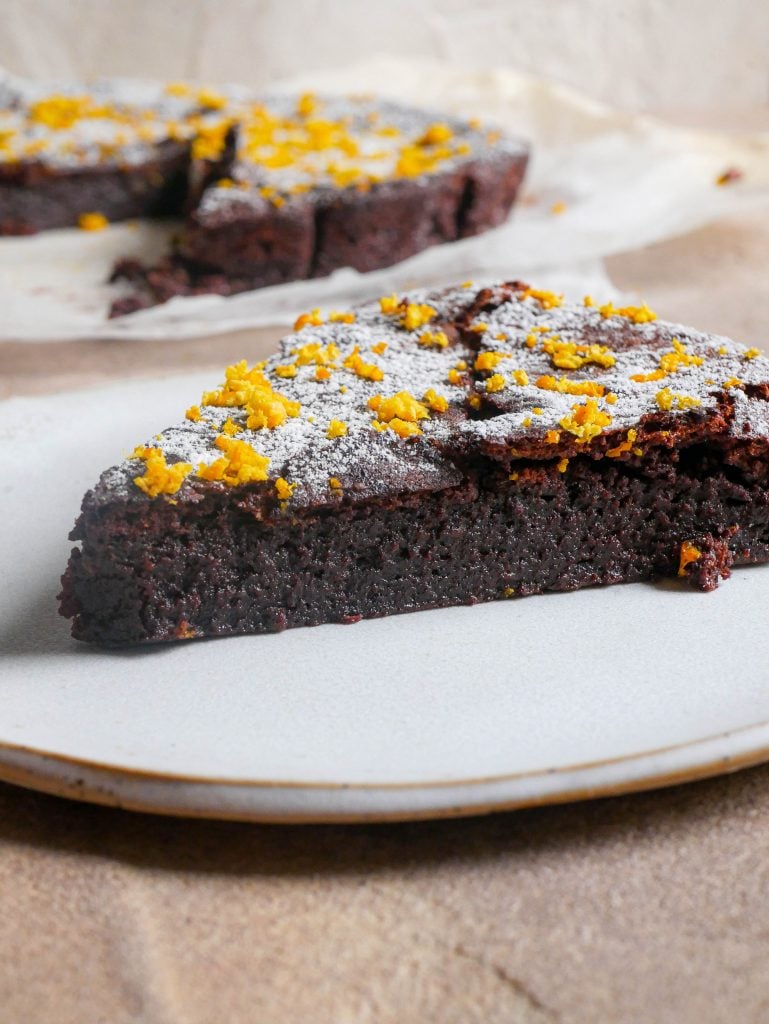 Olive oil may not be the first thing you expect to see in a cake recipe but it's one of the most luxurious and delicious fats you can work with when making a dessert. It gives the cake a light and fruity flavour. My most common question is always, what olive do I use and I always answer with Rich Glen Olive Oil. They are extremely high quality which is important when baking. 
I have also used their Citrus Zest infused olive oil for that extra citrus flavour throughout and let me tell you this, its makes this cake so unbelievably unique and special that you will have everyone asking you for the recipe!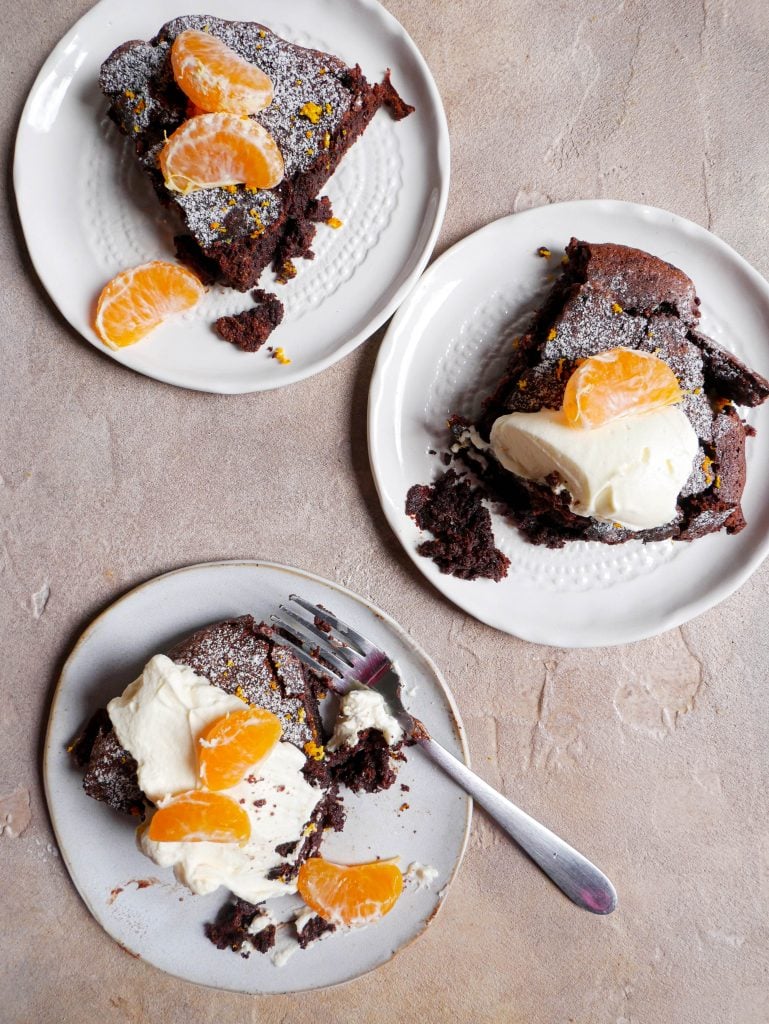 The clementines I used were perfectly in season and bursting with juice at the slightest touch. If you can't get your hands on clementines or mandarins, oranges will work just as well in this recipe. For that extra citrus flavour, do not skimp on the zest! 
Topped with extra clementine zest a dusting of icing sugar and whipped cream, this gluten free chocolate cake tastes just as good, if not better, than a regular chocolate cake. It's the most perfect cake for those special occasions such as birthday, anniversaries and valentines day.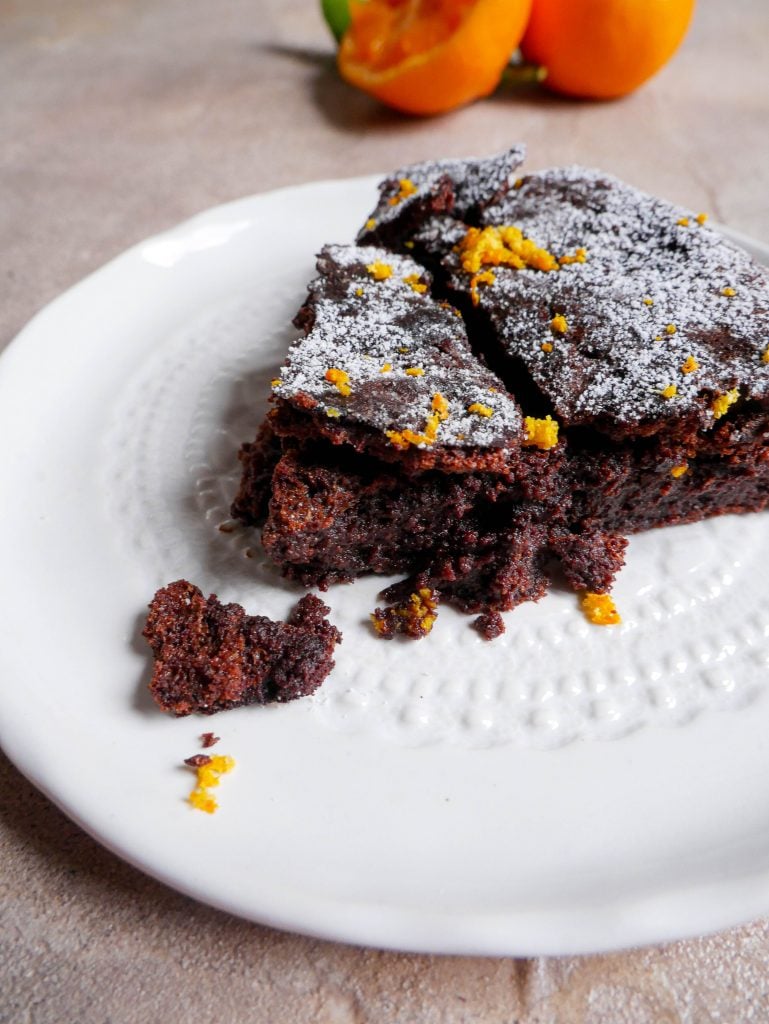 Tips to make this cake the best it can be
Use a high quality olive oil. Rich Glen's Citrus Zest Infused Olive Oil makes this cake extremely special and adds another element of citrus flavour. 
Use very high quality chocolate and make it dark. I like to use a chocolate that is at least 80% cacao. 
Make sure your eggs are at a room temperature as this will help them stiffen when beating them. 
Slow and steady wins the race! When whipping your egg whites, slowly add the sugar tablespoon by tablespoon in one minute intervals as it will help the sugar fully dissolve. 
Don't over or underbake! An overbaked cake will come out dry and an underbaked cake will be far too moist and collapse in the centre. Use a wooden skewer to check the middle of the cake and when it comes out almost clean, you are good to go. 
Use a silicone cake tin that is 23cm / 9 inch. The size of the cake tin is important as it will alter the texture of the cake.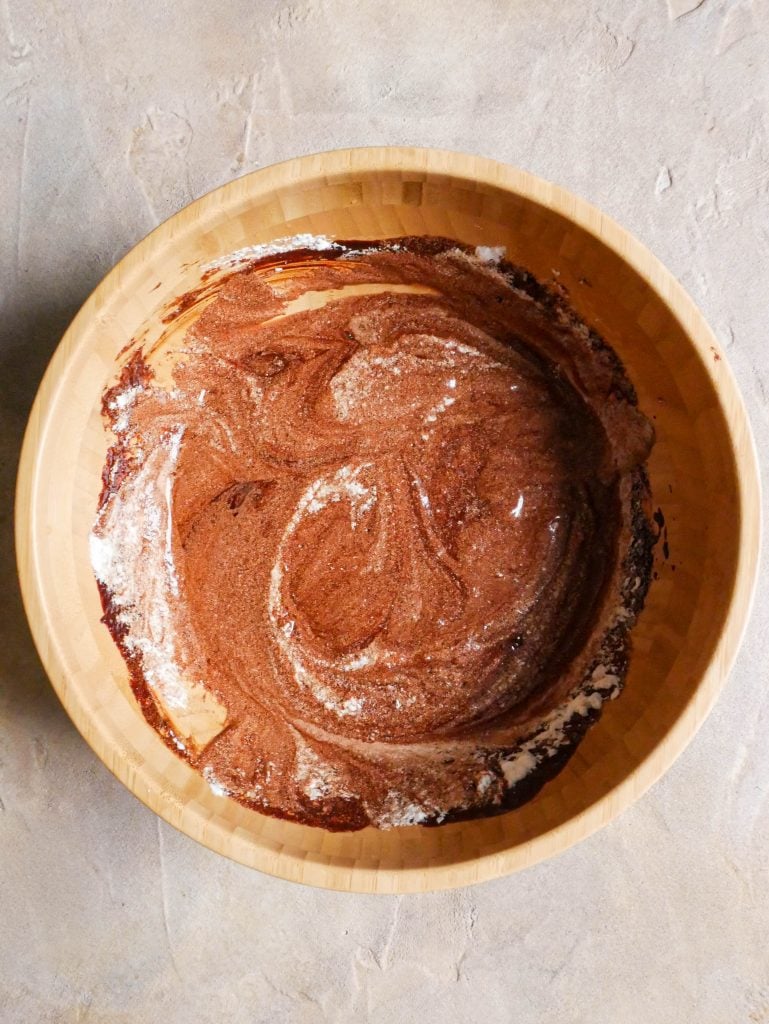 Frequently asked questions
Can I make the cake the day before?
Yes! This cake only gets better in time. And while I absolutely love eating it warm out of the oven, it's perfectly fine to make the day before and store in a cake tin on your kitchen bench. 
How long does the cake keep for?
I guarantee you won't have any leftovers but if you do, store it in an airtight container or cake tin for up to 5 days on your kitchen bench. 
What if I can't get my hands on flavoured olive oil?
A high quality extra virgin olive oil will work just as well. I recommend adding a little extra clementine zest to the batter to further enhance the citrus flavour.
If you make this recipe, please tag me on Instagram, Tik Tok or Pinterest so I can see your wonderful creations!
If you have any questions or would like to leave a review, please do so here! I always love answering your food and recipe related questions and hearing your feedback on my recipes.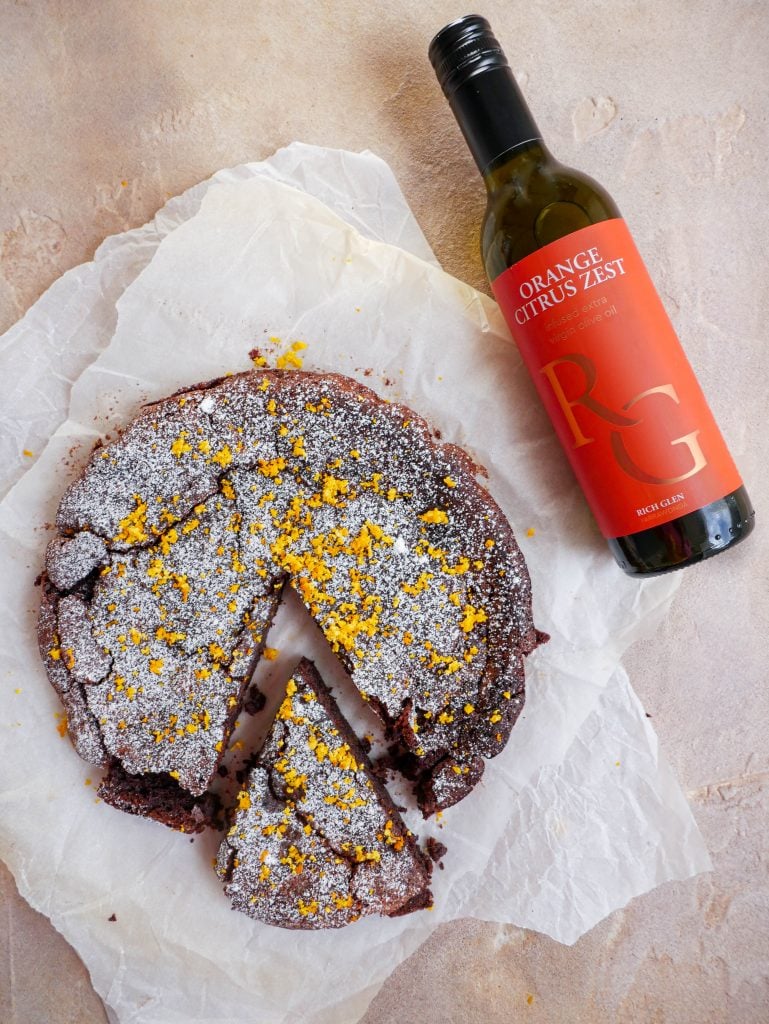 This recipe was sponsored by Rich Glen Olive Oil.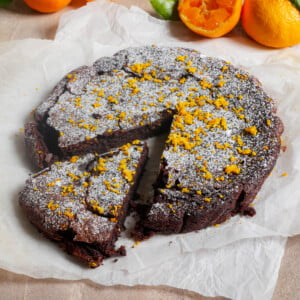 Chocolate Fudge & Clementine Cake
A decadently rich cake with a fudge like centre and beautiful notes of citrus throughout.
Ingredients
4 egg room temperature
200 g dark chocolate
3/4 cup Rich Glen Orange Citrus Zest Infused Olive Oil
1 cup sugar
1/2 cup clementine juice
2 tbsp clementine zest + extra to serve
1/4 tsp flakey sea salt
icing sugar to serve
Instructions
Preheat the oven to 180 degree celsius. Lightly oil a silicone 23cm / 9inch cake tin and push a piece of baking paper into the tin so the baking paper is coming out over the edges as they will act as handles when we need to remove the cake from the tin. The cake will have a crinkle look from the baking paper but this is what we are looking for. 

Break the chocolate apart and place into a heatproof bowl over a pot of boiling hot water and whisk until melted. Make sure the bottom of the bowl is not touching the water. Once fully melted, take off the heat and leave to slightly cool.

Separate the egg yolks from the egg whites. In a large mixing bowl, whisk the egg yolks, half of the sugar, melted chocolate, olive oil and clementine juice and zest until all ingredients are well combined. 

In a stand mixer on the highest speed, mix the egg whites with a pinch of salt until they become stiff. Once the egg whites are stiff, gradually add the remainder of the sugar 1 tablespoon at a time in 1 minute intervals. Whisk until the egg whites are stiff, smooth and glossy. Gently fold the egg white mixture into the cake batter, being sure to be as gentle as possible to not break any air pockets. It's okay if the batter is marbled and the egg whites are not fully mixed through.

Pour the batter into the cake tin and bake for 50 minutes. Leave the cake to rest in the cake tin for 15 minutes before removing it from the tin. Place onto a cooling rack and lightly dust with icing sugar and extra clementine zest. 

Serve with whipped cream or ice cream.