This recipe jazzes up the regular piece of steak with a garlic confit herb butter. This butter is packed with garlic (15 cloves to be exact), a full bunch of parsley, capers that give it a slight tang and just a touch of that beautiful garlic confit olive oil. After you've made steak this way, you won't be making it any other way again!
Garlic Confit Herb Butter Steak
Your search for the perfect steak ends here. This recipe has got you covered from everything you need to know about preparing and cooking a steak to how to spice it up with a garlic butter that has a little edge. Learning how to cook a steak to perfection is a great skill to have in the kitchen. While the thought of it can be a little daunting and something you feel should be left to professional chefs, you will be surprised at just how easy it is! All you need to do is follow my simple steps and guideline and you will be impressing yourself and guests with a delicious steak dinner.
How to cook the perfect steak
If you follow my rules when cooking steak, I promise you that you will be making the perfect steak every single time!
Room temperature – Bring your steak to room temperature before cooking it. Take it out of the fridge at least 1 hour prior to cooking. By bringing it to room temperature, your steak will cook more evenly and result in a more juicy and tender steak.
Heavily season – Heavily season your steak with lots of salt and pepper. You may think that it looks like a lot of salt but this not only flavour your steak but it will also help make the steak more tender. You also lose lots of the seasoning once the steak hits the pan. The black pepper will contribute to a beautiful crust.
Hot, hot hot – Use a smoking hot cast iron pan when cooking your steak! You want to see a haze coming from the pan before placing your steak onto it. A cast iron pan is best for when cooking steak but you can use also use a non-stick. The hotter the pan, the better your steak's sear and crust will be.
Don't touch it – Make sure you do not touch or move the steak when you lay it into the pan as this will disrupt the searing process.
Aromatics – These include fresh herbs such as rosemary and thyme and raw garlic. This will beautifully flavour your steak and the butter sauce that is drizzled onto it after it has rested.
Baste that steak – Baste the steak with butter to give it lots of flavour and help make it juicy.
Timing – Timing is so important when it comes to cooking the perfect steak and as every steak is different when it comes to thickness and weight this will slightly alter every time. Once you have cooked a few steaks, you will be able to tell just by looking at it how long the steak needs to cook for. You will also be able to train yourself how to tell if it's ready by giving it a little touch when its cooking in the pan. For a medium rare steak, you want it to be soft touch with a slight bounce. It will feel exactly how the bottom of your thumb feels when touching it. Make sure you have a timer on hand when cooking the steak.
Rest – I know how difficult it can be to not cut into a beautiful piece of steak as soon as it comes off the pan but this step is so important as it leaves you with a juicer steak! I like to rest mine from 5 – 10 minutes.
Flavour – Flavour the steak with a jazzed up butter, pan fried mushrooms or a delicious sauce and whatever you do, don't toss away those lovely buttery juices from the pan. Drizzle it over the steak while it's resting.
High quality – If possible, always use a high quality steak and butter such as Westgold butter. As this recipe has very minimal ingredients, you will really taste the difference when using high quality.
Garlic confit herb butter
Garlic butter but make it fancy! This butter uses 15 cloves of garlic. Yes, you read that correctly! However, when cooking garlic confit style, it softens that pungent garlic flavour you are more familiar with which means you can double, triple or even quadruple (for the real garlic girls) the amount of garlic. This butter is also full of fresh herbs and some capers to give it a little tang!
Check out all my tips on how to make and store garlic confit.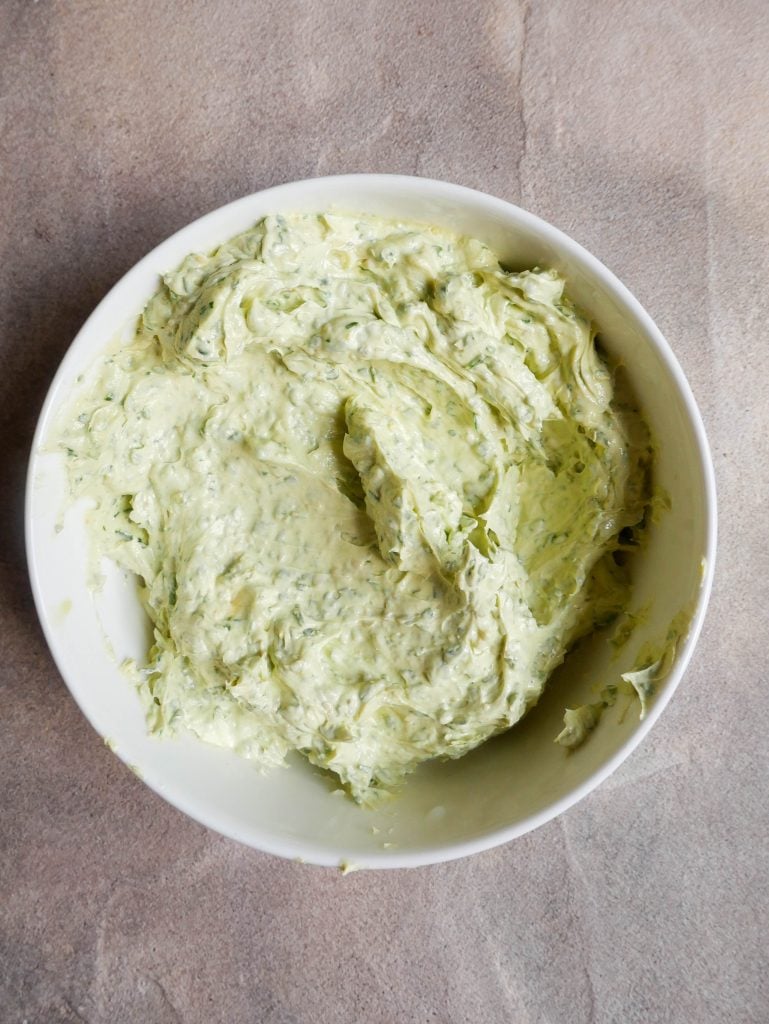 If you make this recipe, please tag me on Instagram, Tik Tok or Pinterest so I can see your wonderful creations!
If you have any questions or would like to leave a review, please do so here! I always love answering your food and recipe related questions and hearing your feedback on my recipes.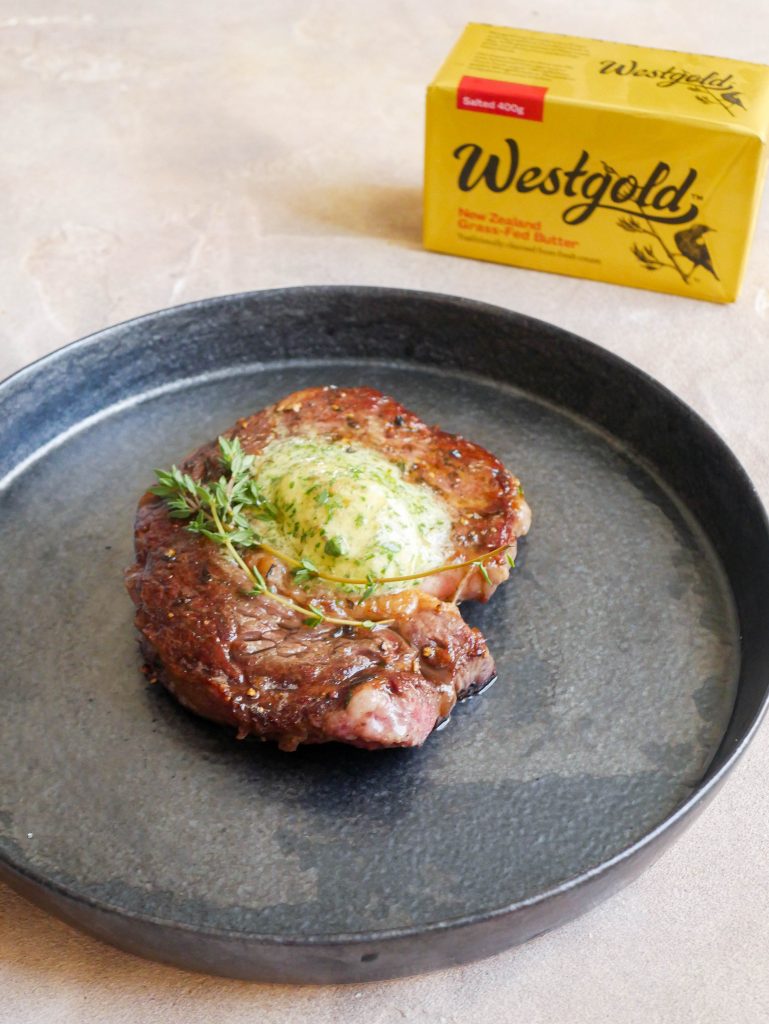 This recipe is sponsored by Westgold butter.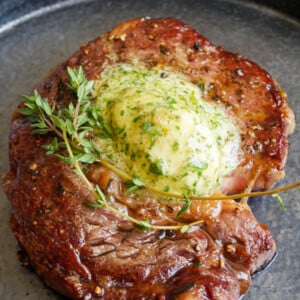 Garlic Confit Butter Steak
This is the perfect steak topped with a garlic confit herb butter.
Ingredients
Garlic Confit
3 heads garlic
3 cups olive oil
3 sprigs rosemary
Garlic Confit Herb Butter
200 g Westgold butter salted and at room temperature
15 garlic confit cloves
1 tbsp garlic confit olive oil
1 bunch parsley
1 bunch chives
2 tbsp capers
1/2 tsp flakey sea salt
Pan fried steak
250 g steak scotch fillet
75 g Westgold butter salted
2 tsp flakey sea salt
1 tsp cracked black pepper
1 tbsp olive oil
2 sprigs fresh rosemary
4 sprigs fresh thyme
3 garlic cloves peeled
Instructions
Garlic Confit
Preheat the oven to 120 degrees Celsius. 

Peel the garlic by breaking the cloves away and placing them into a heatproof bowl. Submerge in boiling hot water for 5 minutes and drain. The skin will become loose and easy to peel away. 

Place the garlic cloves and thyme into an ovenproof dish and fully submerge in olive oil. It's important the garlic is fully submerged in the olive oil so it does not burn. Bake for 2 hours or until the garlic has browned in colour. 

Allow to cool and store in an airtight container or jar for up to several weeks in the fridge.
Garlic Confit Herb Butter
Place all ingredients into a food processor and blend on a high speed until well combined. 

Transfer the butter to a bowl and set to the side. 
Pan fried steak
Bring the steak to room temperature by taking it out of the fridge at least 1 hour before cooking it. Season well with salt, pepper and olive oil. Massage the seasoning and olive oil into the steak. 

On a very high heat, bring a cast iron pan to heat and drizzle with olive oil. When there is a slight haze coming from the pan, place your steak into it. Cook for 2 - 2.5 minutes until you get a golden and caramalised crust. Turn the steak over and cook for 2 minutes. After 45 - 60 seconds, toss in the garlic, butter, thyme and rosemary. Allow the butter to melt and baste the steak with the butter while it continues to cook. 

Take the steak off the pan and transfer to a cutting board.Leave to rest for 5 - 10 minutes. 

While the steak is resting, spoon a tablespoon of the garlic confit herb butter over the steak and drizzle with the leftover butter in the pan. Serve with a simple salad and my Westgold butter crispy smashed potatoes