Jump to Recipe Jump to Video Print Recipe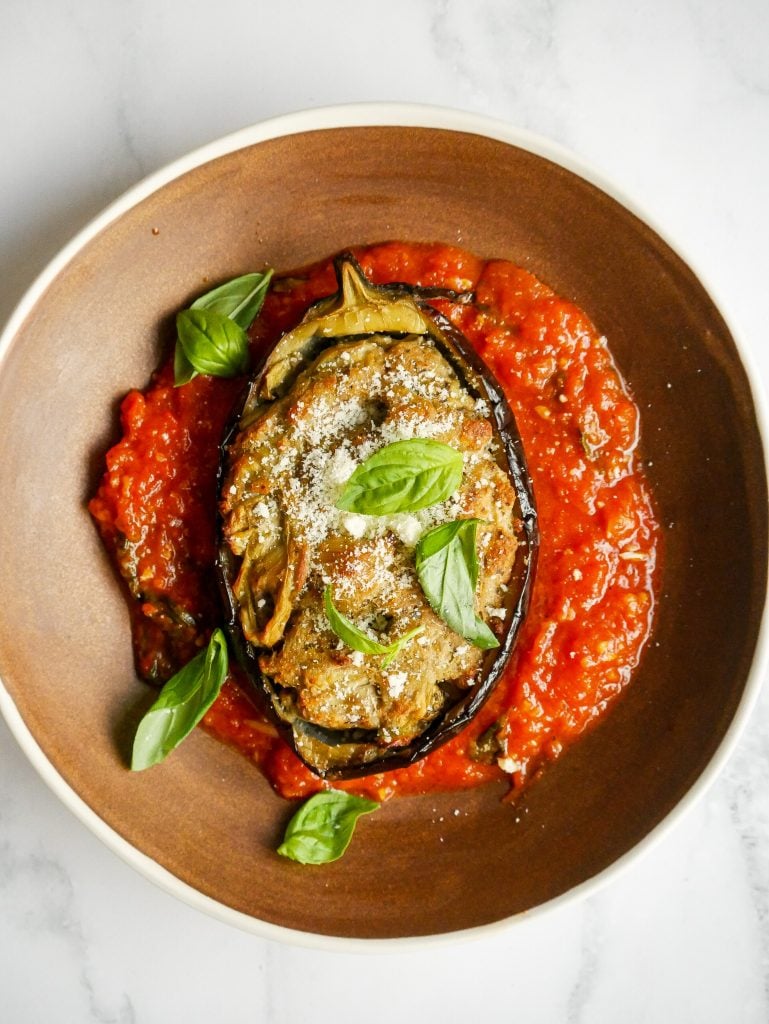 These bread stuffed eggplants create the most gorgeous aroma in my house as they bake away in my oven. Their aroma instantly transports me to my mum's kitchen as this recipe comes direct from her recipe book. Made with the most delicious stuffing of eggplant, breadcrumbs, oregano, egg and garlic, our family secret is to pour olive oil into the stuffing to bring the flavour to new heights. The olive oil further flavours the bread stuffing and also help create a beautiful golden and crunchy layer when coming out of the oven. Paired with a summery rich tomato and basil sauce, this meal has been on high request in our family for years and I promise it will be for yours too.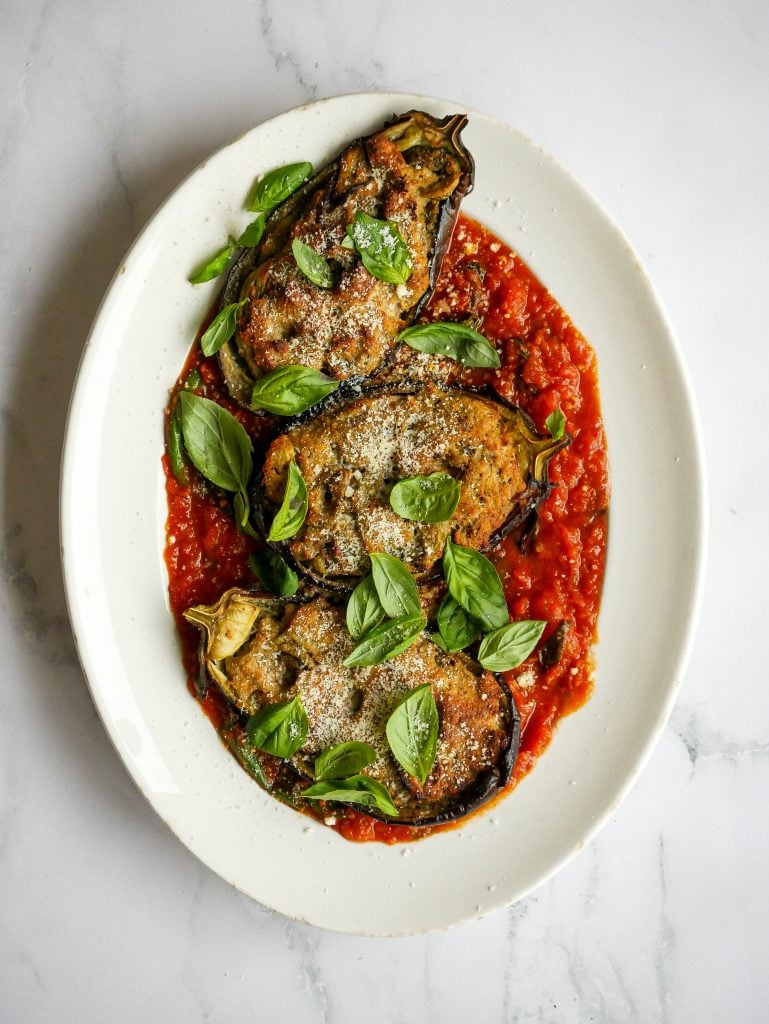 The tomato and basil sauce is not a traditional sauce by any means as it uses lots of garlic. This is exactly how my Nanna would make her sauce and I find it to be extremely delicious! Its rich yet light and works in so many meals from pasta's to these bread stuffed eggplants. If you would prefer a more mild garlic flavour, you can simply add garlic cloves to the olive oil and then remove them once they have slightly browned. If you are using tomatoes while in season there will be no need to sweeten the sauce with sugar as the tomatoes will be naturally sweet.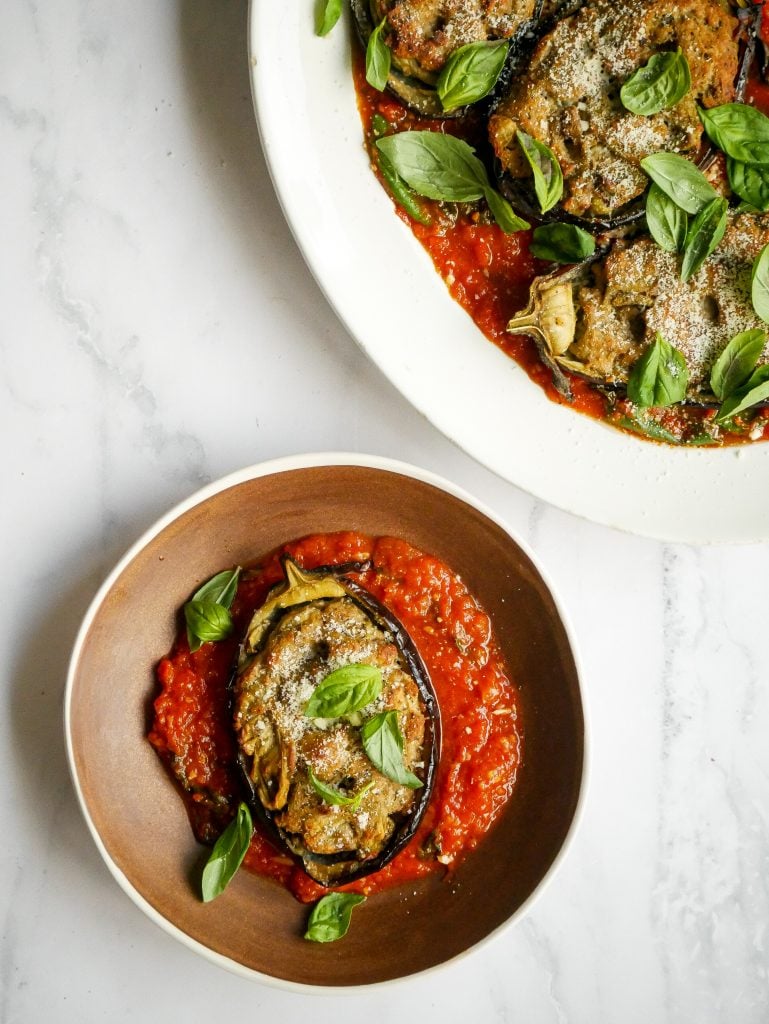 Frequently Asked Questions
How do you shell the eggplants?
I use a sharp knife to cut around the boarder of the eggplant shell and then pull the eggplant flesh out using my hands. Don't stress if you make small tears in your eggplant shells as this won't matter when they are filled with the stuffing.
Can I use dried herbs?
Yes! If you cannot get your hands on fresh oregano, dried works perfectly fine in this recipe.
Can I add cheese to the filling?
You definitely can! I like to sprinkle cheese on top at the end but if you would prefer this recipe extra cheesy, you can absolutely add some Parmesan or pecorino romano to the filling.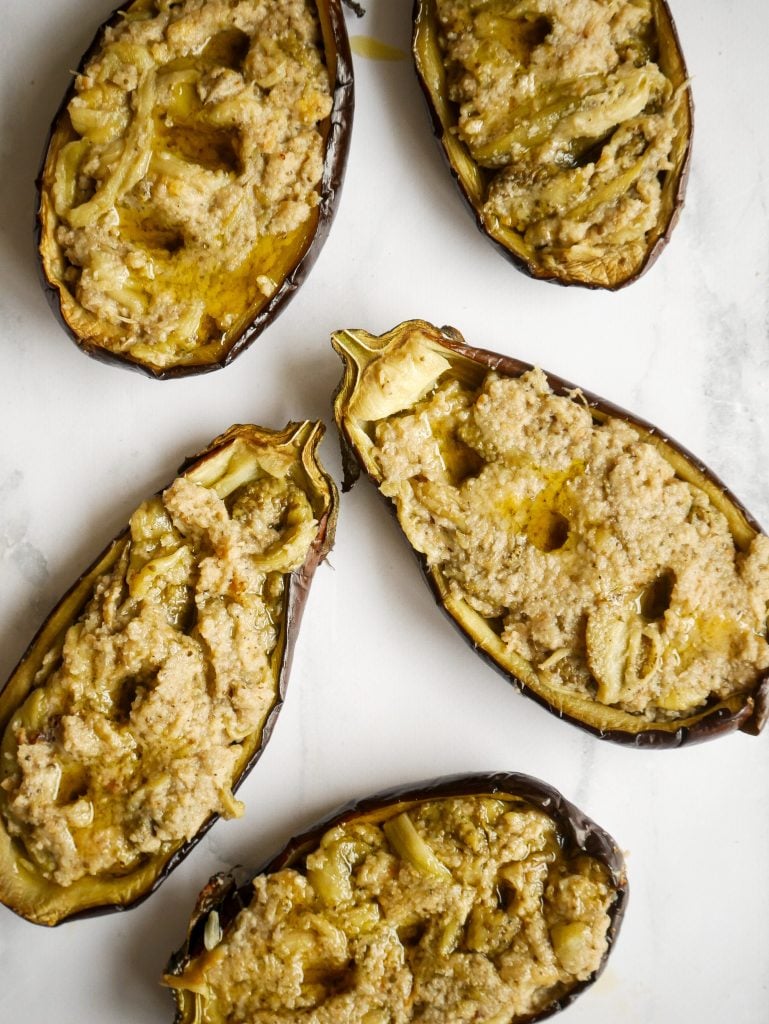 If you make this recipe, please tag me on Instagram, Tik Tok or Pinterest so I can see your wonderful creations!
If you have any questions or would like to leave a review, please do so here! I always love answering your food and recipe related questions and hearing your feedback on my recipes.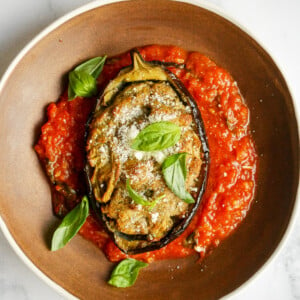 Mum's Stuffed Eggplants
These bread stuffed eggplants are made with the most delicious stuffing of eggplant, breadcrumbs, oregano, egg and garlic and paired with a tomato and basil sauce.
Ingredients
Stuffed eggplants
3 eggplants
olive oil spray
1 tbsp fresh oregano finely diced
6 slices stale white bread
3 garlic cloves crushed
2 eggs
salt and pepper
2 tbsp olive oil
grated Pecorino Romano or parmeson to serve
Tomato and basil sauce
6 tomatoes
400 g tinned tomatoes
2 tbsp olive oil
4 garlic cloves crushed
1 bunch fresh basil
salt and pepper to taste
Instructions
Stuffed eggplants
Preheat your oven to 200 degrees Celsius. 

Cut your eggplants in half. Place them onto a baking tray and spray them lightly with Olive Oil. Bake for 20 minutes. 

Take your eggplants out of the oven, turn the ovens temperature down to 180 degrees Celsius and leave the eggplants to cool for 10 minutes. Using a spoon, scoop the flesh of the eggplant out of their skin. It's best to follow the shape of the eggplant around with your spoon then peel the flesh away with your hands. You may need to cut the flesh away with a knife when it reaches the top part of the eggplant where the stem connects with the skin. Don't worry if a few holes or tears are made in your eggplant skin when doing this step. Repeat this step with all the eggplants and set your eggplant flesh to the side. 

Mix your bread in a blender until it is fine and crumbly and place into a large bowl. Add the oregano, garlic, eggs, salt and pepper to taste and eggplant flesh to the bowl with the bread and mix through with your hands. Apply quite a lot of pressure when combining all ingredients with your hands. I like to use a squeezing motion. 

Place your eggplant shells onto a pre-lined baking tray. There will only be enough filling for 5 eggplant shells so discard of the sixth or use in a separate recipe. Using your hands or a spoon, scoop the eggplant filling into the eggplant shells, packing it in quite nice and tightly. Using your index finger, make three deep indents into the eggplant and drizzle the olive oil into them. 

Bake your eggplants at 180 degrees Celsius for 40 minutes. You want them to be golden and crispy on top. Serve with the tomato and basil sauce and a sprinkling of fresh basil and parmeson.
Tomato and basil sauce
Place an x like score at the bottom of each tomato roughly 2cm deep. Place the tomatoes into a large pot with boiling hot water so the skin can soften and easily peel off. Leave to soak for 5 minutes. Once the skin has become loose, discard of the hot water and peel the skin off the tomatoes. Roughly chop the tomatoes and set to the side. 

In a large pot on a high heat, bring the olive oil to heat. Turn the heat down immediately, add the garlic and cook for 2 - 3 minutes until the garlic is fragrant and soft. Stir the garlic quite often to ensure it does not burn. 

Add the tomatoes, passata, a generous amount of salt and pepper to taste and the basil into the pot and leave to simmer for 30 minutes on a low heat, stirring occasionally. Set a few basil leaves to the side to serve. Keep tasting your sauce and adding more salt and pepper if needed.