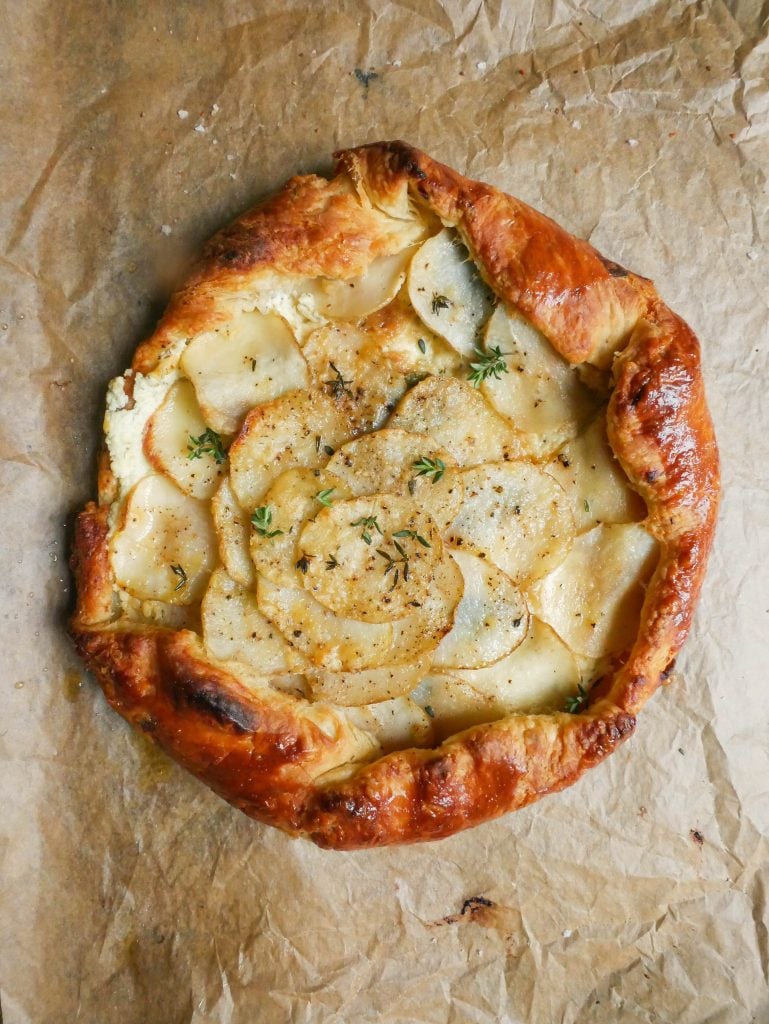 Just when you thought puff pastry couldn't get any better, I introduce to you garlic confit puff pastry. With bursts of garlic flavour within every bite, this garlic confit puff pastry proves there is no such thing as too much garlic.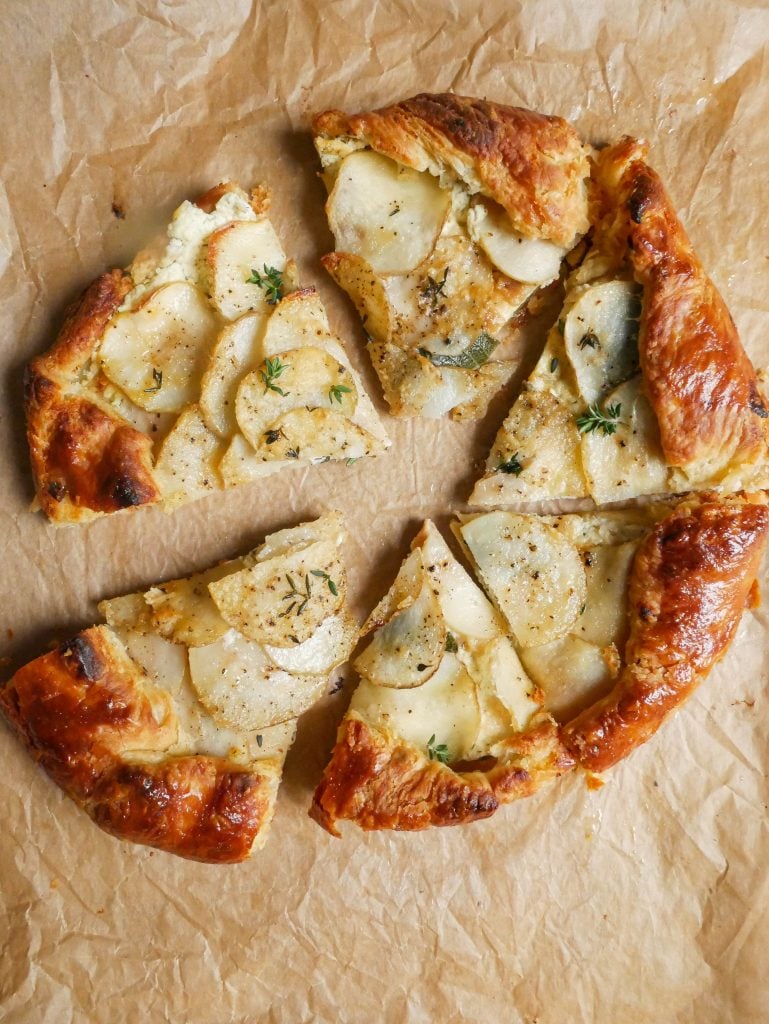 Garlic Confit Puff Pastry
I really don't like to play favourites with my food creations but when I thought of combining garlic confit and puff pastry, a new favourite food child was born. My rich, crunchy, golden and buttery puff pastry has been elevated by 1 million with chunks of smooth, velvety and sweet garlic throughout. With every bite you are greeted with the sweetest taste of garlic. The possibilities are endless for what you can create with this garlic confit puff pastry but I couldn't think of a better pairing then potato, cheese and garlic. You are going to fall in love with this one just as I did!
How to make the best puff pastry
I'll admit, the idea of making puff pastry used to terrify me! But it's not as hard as you think. Especially when you follow my tips.
Brrr it's cold in here – freeze your ingredients and also your tools for making puff pastry 20 minutes prior to making your puff pastry. Yes, this includes your bowl, grater and even fork! Cold temperatures means everything when making puff pastry and by placing your butter and tools into the freezer beforehand, you will keep it at the coldest possible temperature when making your dough. 
Cheese graters aren't just for cheese – a little trick I learnt along the way is to grate your butter. This will make it much easier for you to break the butter into the flour with your finger tips and evenly distribute the butter across the flour. 
Layering – to get those beautiful flakey layers it's important you layer your dough. This means rolling the dough out flat, cutting it into thirds and placing each layer on top of the other while pushing the dough back into a flat square. Repeat this step 3 times. 
Work fast – It's impossible to stop the temperature of the cold butter going down a few notches in degrees which is why I recommend working quickly when making your dough!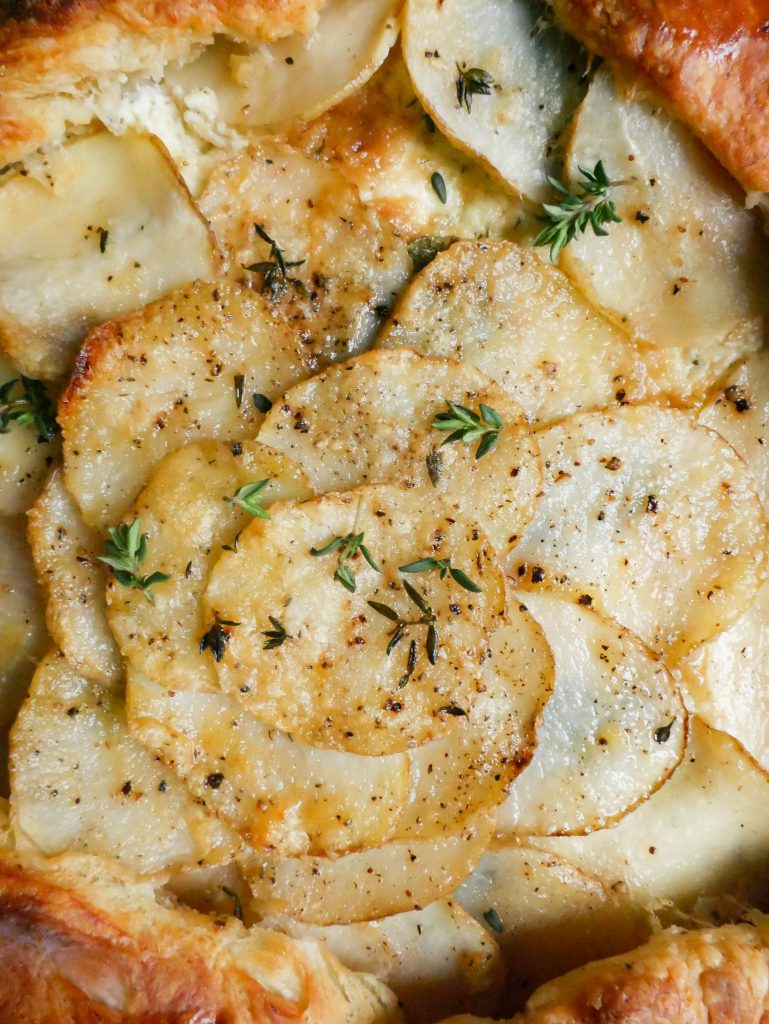 Cheesy potato filling
Honestly, you can fill this tart with whatever filling your heart desires but when I think of garlic, I think of potatoes. I have used herbed goats cheese for the bottom cheesy filling that is then layered with more of that delicious garlic confit. This is then topped with fresh sage, finely sliced potatoes, seasoning, garlic confit olive oil and grated parmesan cheese.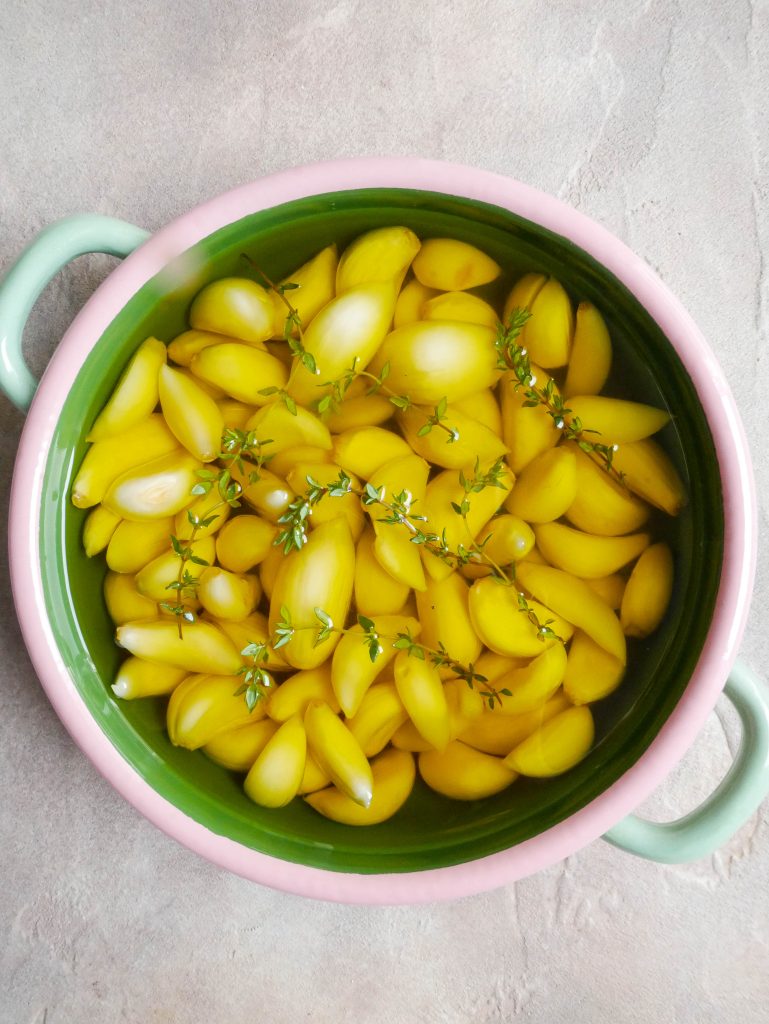 Garlic Confit
Confit is a French cooking technique where something is cooked in lots of fat at a low heat and for a very long time. For most part, the fat is usually an animals fat such as duck or butter however, when making garlic confit a high quality extra virgin olive oil is a must. The garlic is fully submerged in olive oil and simmers away until golden and brown and slightly caramelised. It will be soft to touch and have a buttery and velvet like texture that will melt at the slightest touch. Due to its soft texture, it's the perfect extra component to add into your puff pastry. 
Read more about my garlic confit and all my tips for how to store and use it here.
Frequently Asked Questions
Can I freeze any leftover puff pastry?
Absolutely! As this recipe makes a double batch of puff pastry, I cut it in half and individually wrap each serving in glad wrap. You can store it in the fridge for up to 2 days or in the freezer for up to 3 months.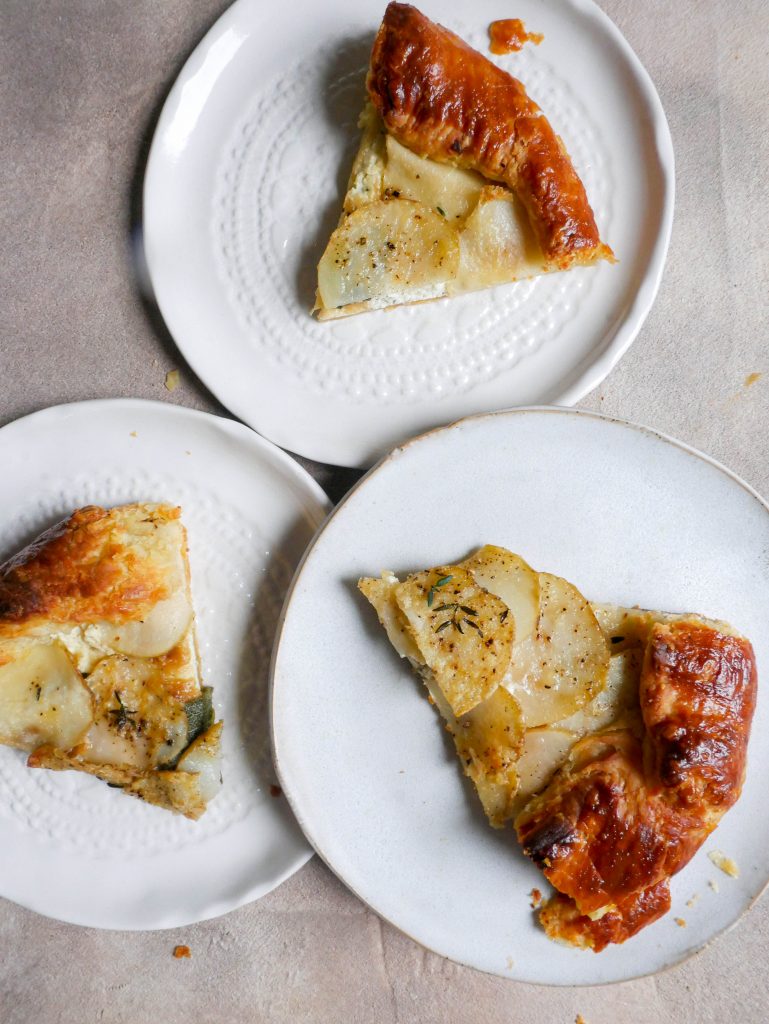 If you make this recipe, please tag me on Instagram, Tik Tok or Pinterest so I can see your wonderful creations!
If you have any questions or would like to leave a review, please do so here! I always love answering your food and recipe related questions and hearing your feedback on my recipes.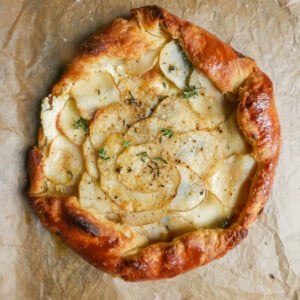 Potato Tart with Garlic Confit & Sour Cream Puff Pastry
Just when you thought puff pastry couldn't get any better, I introduce to you garlic confit puff pastry.
Ingredients
Garlic Confit
6 heads garlic
3 cups olive oil
6 sprigs thyme
Garlic confit & sour cream puff pastry
2 cups white all purpose flour
1 tsp flakey sea salt
150 g butter salted
200 ml sour cream
12 garlic confit cloves
1 egg for brushing the pastry
Potato filling
150 g goats cheese
4 garlic confit cloves
6 sage leaves
4 small potatoes finely sliced
1 tbsp garlic confit olive oil
2 tbsp parmeson cheese grated
salt and pepper to taste
Instructions
Garlic confit
Preheat the oven to 120 degrees Celsius. 

Peel the garlic by breaking the cloves away and placing them into a heatproof bowl. Submerge in boiling hot water for 5 minutes and drain. The skin will become loose and easy to peel away. 

Place the garlic cloves and thyme into an ovenproof dish and fully submerge in olive oil. It's important the garlic is fully submerged in the olive oil so it does not burn. Bake for 2 hours or until the garlic has browned in colour. 

Allow to cool and store in an airtight container or jar for up to several weeks in the fridge.
Garlic confit & sour cream puff pastry
Chill a large bowl, grater and the butter in the freezer for 20 minutes before making your pastry. Combine the flour and salt into the chilled bowl and mix together with a fork. Grate the butter on the chilled grater and add to the flour. Break the butter into the flour with your fingertips until you have a pebble like crumbly texture. You can do this by pinching and rubbing the butter and flour between your fingers.

Create a well in the centre of the flour and add in the sour cream and garlic confit cloves. Use a fork to combine the flour, sour cream and garlic confit until most of the flour is moist.

Lightly dust your kitchen bench or working surface with flour and mould your dough into a rough disc shape. The dough should be firm and moist but not sticky. You want just enough moisture so the dough is barely sticking to itself. If it needs more moisture slightly wet your hands when working with it or if it's too dry, lightly dust it with flour. Using a rolling pin, roll the dough out into a thick rectangle shape. Cut the rectangle into thirds and stack each piece of dough on top of each other. Roll them into each other with the rolling pin. Repeat this step two times until the dough is smooth.

Divide the dough into two and wrap each piece in glad wrap. You will only need half of the dough for this recipe. The dough will keep in the fridge for 2 days and in the freezer for 3 months. Leave the dough to rest for a minimum of 1 hour or ideally overnight.
Potato filling & tart assembly
Preheat the oven to 200 degrees Celsius fan forced / 180 degrees Celsius conventional.

Take one disc of puff pastry dough out of the fridge. Sprinkle your kitchen bench or working surface with flour and using a rolling pin, roll the dough out to a large circle shape that is roughly 4mm thick. Roll the dough onto the rolling pin and then place it onto a pre-lined baking tray.

Leaving a 4cm boarder around the edge of the dough, spread the goats cheese onto the bottom of the dough followed by the garlic confit cloves and fresh sage leaves. In a circular pattern, place the finely sliced potato on top of the cheese and garlic confit. Season with salt, pepper and the garlic confit olive oil. Finish off with a sprinkling of parmeson cheese. Fold in the overhanging pastry, pinching the dough together to form a rustic circle shape.

Whisk the egg and brush all parts of the dough with it. This will help create a lovely golden colour your tart bakes.

Bake the tart for 30 - 40 minutes or until the potatoes are slightly crispy and the puff pastry is golden and crunchy. Leave to rest for 15 minutes before cutting into it as this will allow the filling to set. Finish off with a sprinkling of fresh thyme.