Print Recipe Jump to Video Jump to Recipe 
The smell of butter, flour and sour cream baking away in my oven instantly makes me feel comforted and all warm and fuzzy inside.
There is something so special about enjoying a homemade pastry that you have made from scratch and with love. There may be a certain art to making puff pastry however, once you have mastered the technique you will be truly transfixed with how such little ingredients can be transformed into something so tasty! This light, flakey and rich puff pastry recipe uses lots of butter and sour cream that not only adds a lovely flavour but also works as a substitute for water to moisten the dough. Since the dough calls for minimal ingredients, it's best to use high quality ingredients which is why I have used Westgolds unsalted butter. 
My biggest tips for making the best puff pastry is to work with extremely cold ingredients, grate your butter and layer your dough. I place all of the tools I need, alongside the but
ter, into the freezer at least twenty minutes before working with them as this will also help keep my ingredients cold when I'm making my dough. By grating the butter, it makes it much easier to break the butter down into the flour. It's the best little trick I learnt a few years ago! I also like to layer my dough by cutting it into threes and rolling all layers into each other with a rolling pin. This will result in a layered and flakey puff pastry.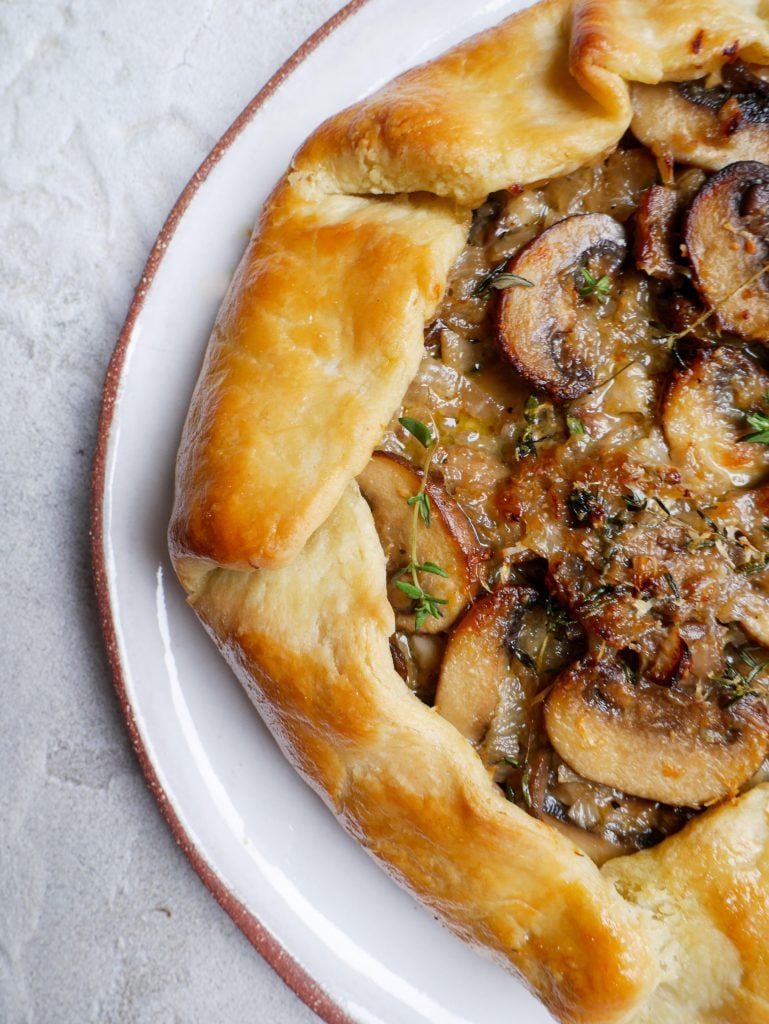 The sour cream puff pastry is only one of the two deliciously irresistible elements to this recipe. The puff pastry holds together a cheesy mushroom filling that is made with butter, thyme and garlic. My trick to making the tastiest mushrooms is to let them sit in the pan while they cook. This will allow for their moisture to release and evaporate which will in return help the mushroom to brown and caramelise. I have also used Westgold butter for the mushroom filling. 
When you take your tart out of the oven be sure to let it rest for a minimum of 15 minutes before cutting into it. This may sound easier said than done because when your house is filled with delicious aromas from your tart and the cheese is bubbling away as you pull it out of the oven you will want to immediately dive into it! However, by letting it sit you allow for the filling to rest and gel together. 
This is the perfect treat to make beforehand, bring to a picnic and impress your guests with!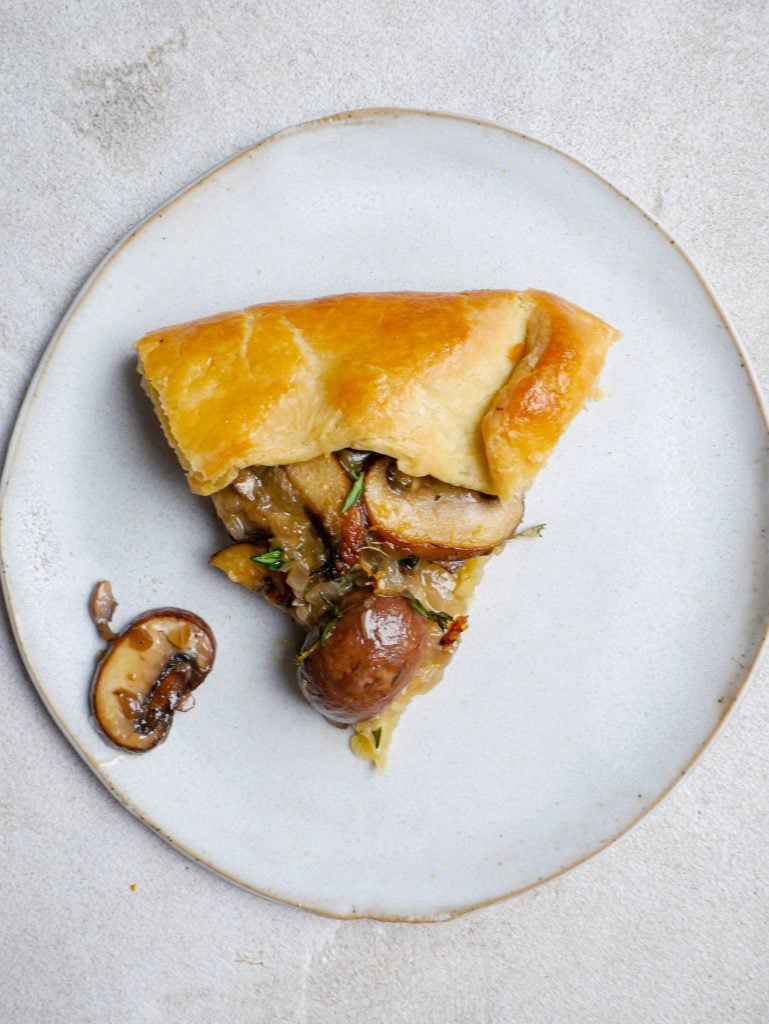 Frequently Asked Questions
Can I use store bought puff pastry?
You can absolutely use store bought puff pastry if you are not wanting to make the pastry from scratch. You will need one sheet of puff pastry for this recipe. Use a dinner plate to cut the sheet of puff pastry into a circle shape.
Can I use a processor to make the puff pastry?
I do not recommend using any tools such as a food processor to make the puff pastry as it will cut down the butter and flour too finely. 
How do I store the remainder of the dough?
As this recipe only requires use of half of the puff pastry, wrap the remainder in plastic wrap and store in the fridge for up to two days or the freezer for up to two months.
Is it important and tools to be cold?
Yes! Especially the butter as if it's not cold the dough will melt before it goes into the oven. By placing all of our working ingredients into the freezer beforehand, we are ensuring that the butter is kept as cold as possible when working with it. 
Why do you grate the butter?
This is a little trick I learnt a few years back and I am so glad that I did! It allows the butter to be broken into the flour far easier than when cut into cubes.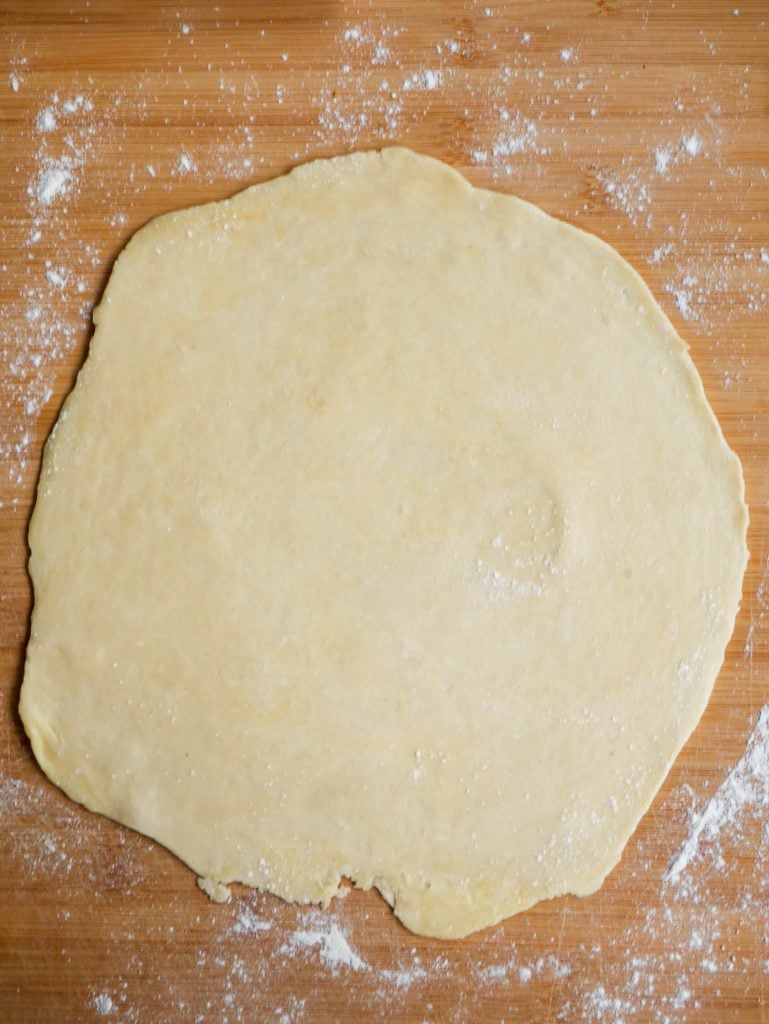 If you make this recipe, please tag me on Instagram, Tik Tok or Pinterest so I can see your wonderful creations!
If you have any questions or would like to leave a review, please do so here! I always love answering your food and recipe related questions and hearing your feedback on my recipes.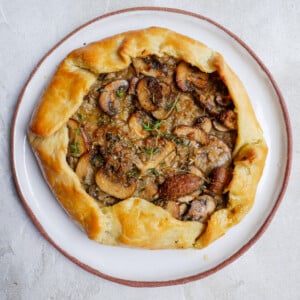 Cheesy Mushroom Tart with Sour Cream Puff Pastry
The most delicious sour cream puff pastry that holds together a cheesy mushroom filling that is made with butter, thyme and garlic.
Ingredients
Sour Cream Puff Pastry
2 cups white all purpose flour
150 g Westgold unsalted butter
200 ml sour cream
1 egg
pinch of salt
Mushroom filling
300 g brown Swiss mushrooms sliced
1 brown onion diced
3 garlic cloves crushed
1 tbsp olive oil
100 g Westgold unsalted butter
50g cheddar cheese grated
30 g parmeson cheese grated
6 sprigs fresh thyme
salt and pepper
Instructions
Sour cream puff pastry
Chill a large bowl, grater and the butter in the freezer for 20 minutes before making your pastry. Combine the flour and salt into the chilled bowl and mix together with a fork. Grate the butter on the chilled grater and add to the flour. Break the butter into the flour with your fingertips until you have a pebble like crumbly texture. You can do this by pinching and rubbing the butter and flour between your fingers.

Create a well in the centre of the flour and pour in the sour cream. Use a fork to combine the flour and sour cream until most of the flour is moist.

Lightly dust your kitchen bench or working surface with flour and mould your dough into a rough disc shape. The dough should be firm and moist but not sticky. You want just enough moisture so the dough is barely sticking to itself If it needs more moisture slightly wet your hands when working with it or if it's too dry, lightly dust it with flour. Using a rolling pin, roll your dough out into a thick rectangle shape. Cut the rectangle into thirds and place each piece ontop each other. Roll them into each other with the rolling pin. Repeat this step two times until the dough is smooth.

Divide the dough into two and wrap each piece in glad wrap. You will only need half of the dough for this recipe. The dough will keep in the fridge for 2 – 3 days and in the freezer for 3 months. Leave the dough to rest for a minimum of 1 hour or ideally overnight.
Mushroom filling
Preheat the oven to 200 degrees Celsius fan forced / 180 degrees Celsius conventional.

On a low heat in a deep dish frying pan, bring the olive oil to heat and fry the onions and garlic for 5 minutes or until translucent and fragrant. Stir occasionally to avoid the garlic and onion from burning.

In the same pan on the same heat, add the butter and stir through until melted. Add the mushrooms, thyme and a big pinch of salt and pepper and sauté for 10 minutes or until the mushrooms have softened. The mushrooms may need a little stir to prevent them from burning however, its best to leave them to sit in the pan so they can brown and caramelize and their moisture can evaporate. Taste for seasoning then set to the side and leave to slightly cool.
Tart assembly
Take one disc of puff pastry dough out of the fridge. Sprinkle your kitchen bench or working surface with flour and using a rolling pin, roll the dough out to a large circle shape that is roughly 4mm thick. Roll the dough onto the rolling pin and then place it onto a pre-lined baking tray.

Leaving a 4cm boarder around the edge of the dough, sprinkle the cheddar cheese onto the bottom of the dough. Place the mushroom filling on top of the cheese and then sprinkle the parmeson all over. Fold in the overhanging pastry, pinching the dough together to form a rustic circle shape.

Whisk the egg and brush all parts of the dough with it. This will help create a lovely golden colour your tart bakes.

Bake the tart for 30 minutes and then leave to rest for 15 minutes before cutting into it as this will allow the filling to set. Finish off with a sprinkling of fresh thyme.