The potato rosti is a simple recipe but with a world of possibilities. Potato rosti really is the perfect food.
Crispy and crunchy, rostis lend themselves to so many different things: breakfast, lunch, dinner, side dish or a snack.
For my rostis, technique is key. Soak the shredded potatoes for a minimum of 20 minutes! This cannot be skipped or you'll end up with gluggy rostis, and no one wants that.
Also, don't overpack the rostis! It's all about making sure they get crispy and thin.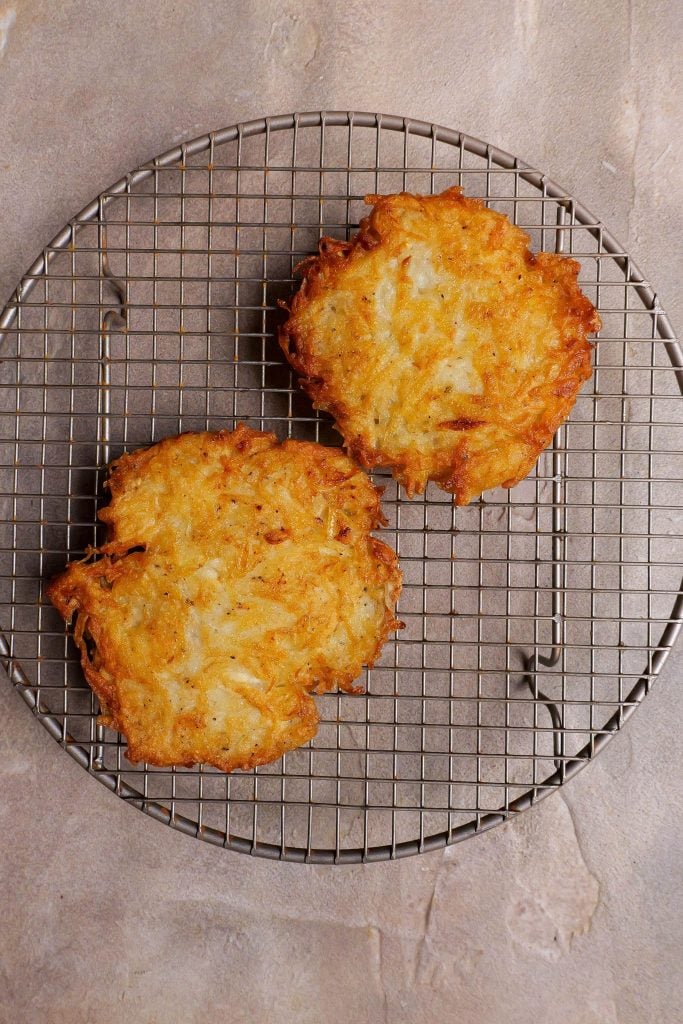 Potato Rosti
But, from there, this recipe is a sinch! It can also be tailored to your taste. Adding in some spice with chilli flakes, or perhaps some dried (or fresh!) herbs. A bit of shredded cheese could also work – but not too much, you don't want to muck around with the consistency.
This recipe be changed to suit your taste, and also have an array of toppings! Rostis make for a popular brunch item, sure, but you could also have them for a side dish or the main meal. Pair it with a salad and some yoghurt dipping sauce, yum! The world is, well, not your oyster… the world is your rosti!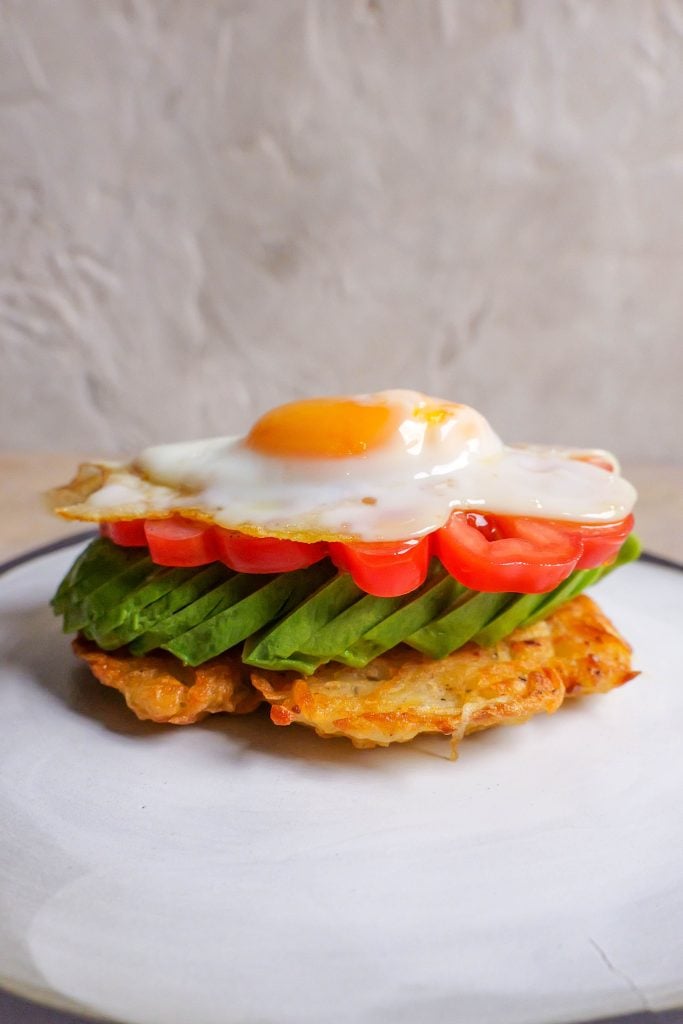 Creating the perfect Potato Rosti
For a rosti, it's all about making them thin and crisp. There is three main parts that will ensure your rosti has the perfect crunch: soaking in ice water to remove the excess starch, making sure your cooking oil is hot so that it doesn't soak it all in, and flattening the rosti really well before putting it in the oil. 
If you do this, you'll be snapping and enjoying your crunchy snack in no time!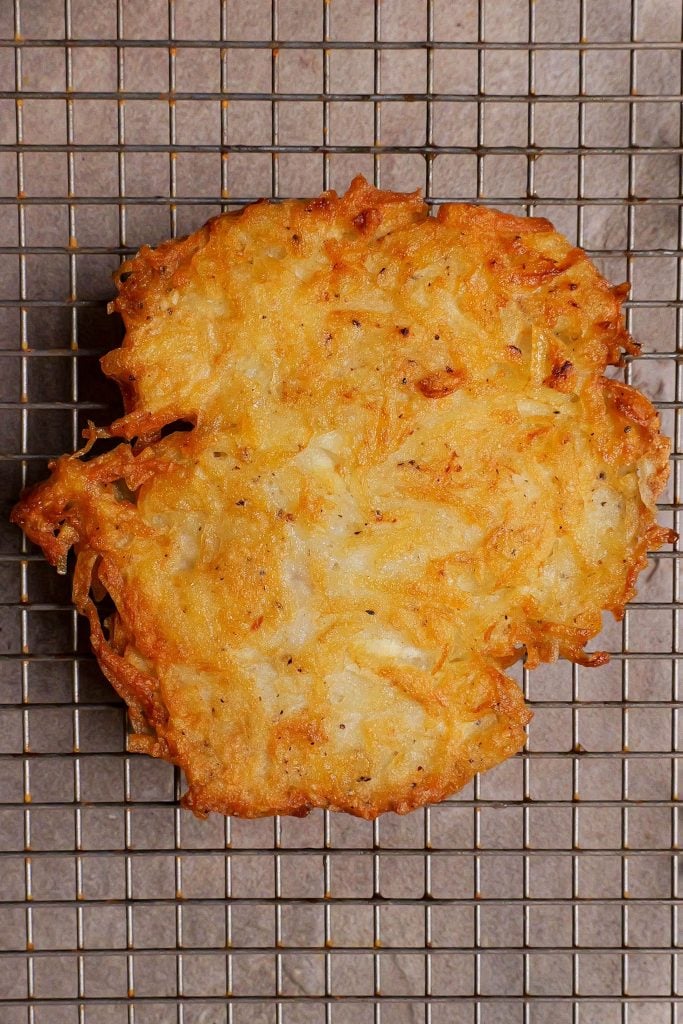 What to have the rosti with?
Rostis are such a great food because there are limitless options when it comes to dining with them! 
A delicious side dish to a fresh green salad and my quick pickled onions would be an ideal working from home lunch. 
The rosti can also be a substitute for toast, and used for a delicious avocado breakfast but with potato for the carbs.
Popular on brunch menus, you can't go past the rosti with avocado, tomato and a perfectly fried egg on top.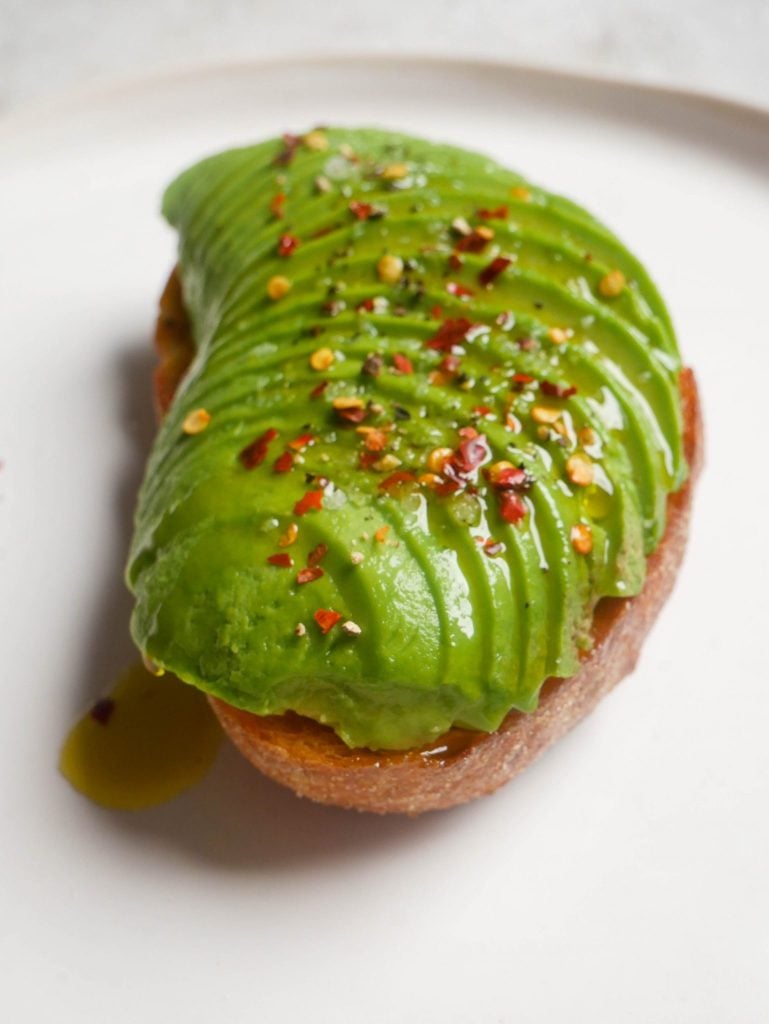 If you're looking for a new way to do roasted potatoes, try a potato rosti instead! A spin on the classic Sunday Roast side, this with my buttery balsamic carrots is the twist that will give a roast a bit of a makeover.
Need some more quick midweek dinners? Some potato rostis with a yoghurt Indian dipping sauce and a light green salad of leaves and fresh herbs! It's a delicious meal that's ready in literally minutes!
If you make this recipe, please tag me on Instagram, Tik Tok or Pinterest so I can see your wonderful creations!
If you have any questions or would like to leave a review, please do so here! I always love answering your food and recipe related questions and hearing your feedback on my recipes.
Potato Rosti
The potato rosti is a simple recipe but with a world of possibilities, from breakfast, lunch and dinner or a side dish.
Ingredients
4 large white potatoes peeled
2 tbsp flour white all purpose
1 tbsp garlic powder
1 tsp onion powder
2 egg whites
flaky sea salt
cracked black pepper
light olive oil for frying
Instructions
Using the coarse side of a cheese grater, grate your potatoes. Place the grated potatoes into a bowl of cold water and leave to sit for 20 minutes to allow the starch to release. Drain the potatoes and wrap into a clean tea towel. Squeeze all of the moisture out of them. You can also use just your hands for this step. Try to release as much moisture from the potatoes as possible and then place into a large mixing bowl.

Combine the flour, egg whites, garlic and onion powder and a generous amount of salt and pepper with the potatoes into the mixing bowl and mix well with your hands. The potato rosti mixture should be sticking quite nicely together however, you can add a little bit more flour if needed.

In a medium sized pan on a medium heat, add the olive oil so it is roughly 2cm deep in the pan. Bring the olive oil to heat.

Take a handful of potato rosti mixture and flatten well into the palm of your hands. Try to make sure the level of thickness is even throughout. Place 2 - 3 potato rosti into the pan and cook for 2 minutes on each side or until they are golden and crispy. Place the cooked potato rosti on a pre-lined plate with absorbent paper and repeat this with the remainder of the mixture.