How to fry the perfect egg
To get those golden, crunchy and crispy edges along the boarder of the egg white you need to fry your egg in lots of fat. This can either be olive oil, butter or even bacon or chicken fat. While I usually go to grab a bottle of olive oil when cooking my eggs, I reached for a bottle of Italian style chilli oil instead. And I am glad that I did as I was rewarded with an exceptionally rich, spicy and delicious meal.
To cook the perfect fried egg, you need to bring your olive oil to heat in a pan. Add the egg directly to the pan and cook on a high heat. Be sure to not move the egg around as this will prevent the edges of the egg from getting golden and crispy. To avoid any undercooked white parts, I drizzle the hot oil from the pan over the whites until they are puffed and bubbly. Make sure you the hot oil does not touch the egg yolk as this will cook it and leave you with a hard yolk. By doing this technique, you don't need to place a lid over the pan and allow the steam to cook the whites. Steam is not our friend when we are cooking a crispy fried egg.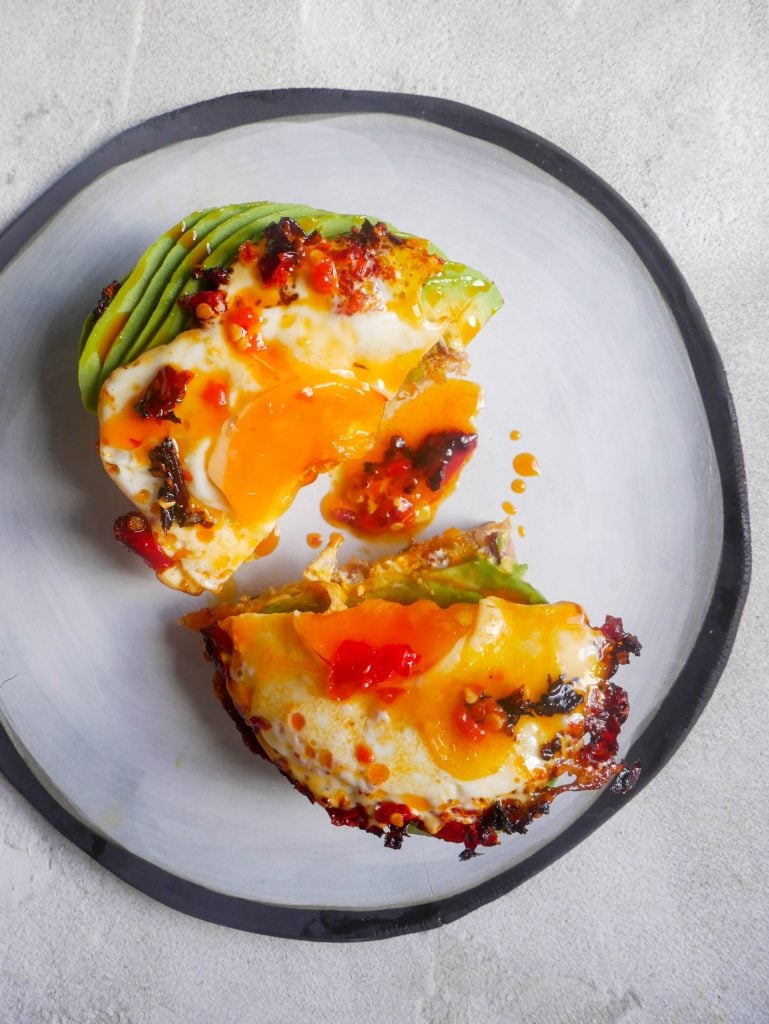 Chili Oil
Italian style chili oil or olio di peperoncino originates from the southern region of Calabria and is usually made with two ingredients: the finest extra virgin olive oil and dried or fresh chillies. Unlike Chinese chili oil where hot neutral oil is poured over the aromatics such as chilli flakes, star anise, ginger and sugar, the chillies are left to sit in the olive oil for a few weeks to allow the flavours to mingle. You can also add fresh garlic if you like. It's the perfect accompaniment to bread, pasta, pizza or in this case, eggs.
I served these crispy chilli oil eggs with slices of avocado because it's my favourite thing to eat and tastes impossibly good with an olive oil fried piece of sourdough and whipped ricotta as the creaminess from the cheese perfectly balances all the spice from the chili oil.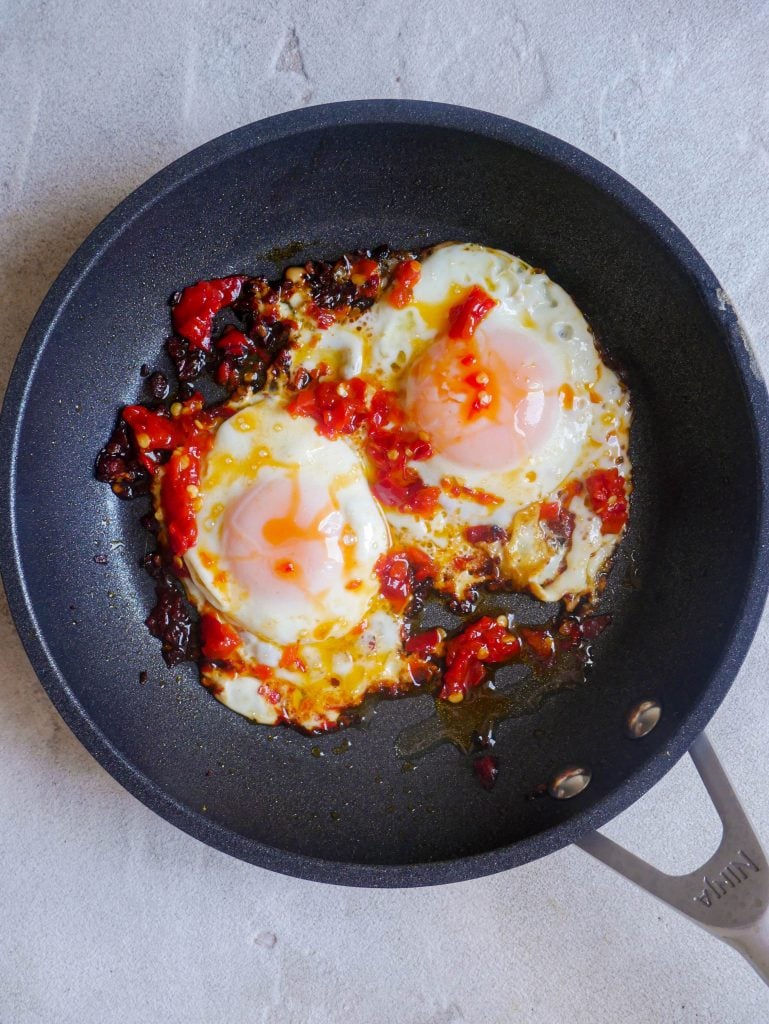 If you make this recipe, please tag me on Instagram, Tik Tok or Pinterest so I can see your wonderful creations!
If you have any questions or would like to leave a review, please do so here! I always love answering your food and recipe related questions and hearing your feedback on my recipes.
Check out how to make my pesto eggs here.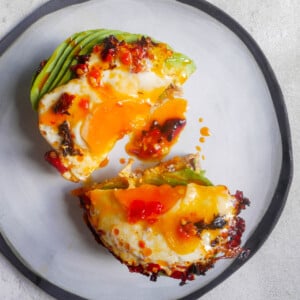 Crispy Chilli Oil Eggs
This recipe elevates my favourite way to cook eggs: crispy fried eggs in lots of fat but make it spicy.
Ingredients
1 - 2 tsp Italia style chili oil
1 - 2 Eggs
Pinch of salt
Instructions
Heat the chili oil in a non stick pan or skillet over a medium – high heat. Once the oil has been brought to the heat, crack the eggs directly into the pan and season the yolk with salt. Leave them to fry until the edges are golden and crispy and whites are puffed and bubbly. Tilt the pan on an angle and scoop up the oil with a teaspoon to pour over the whites to ensure they are fully cooked.

Remove the eggs from the pan with a spatula and place them atop a piece of top.