Jump to Recipe Print Recipe Jump to Video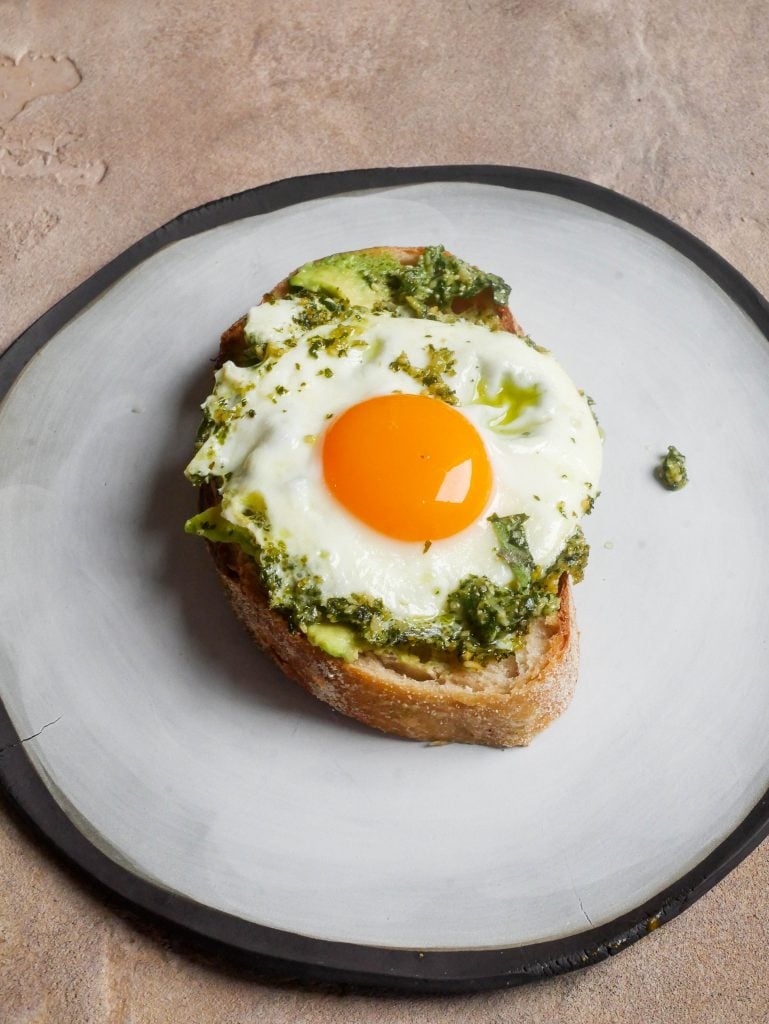 If I had to choose one way to eat eggs for the rest of my life, I would choose fried. Nothing beats an egg with golden, brown and crispy edges, puffed and bubbly whites and an orange yolk that oozes the moment you bite into it. I like to fry my eggs in luxurious fats such as olive oil, butter or even chicken fat however, frying them in pesto is an absolute game changer. These pesto eggs are deeply savoury with hints of garlic, cheese and basil and is more delicious than anything that could come from an olive.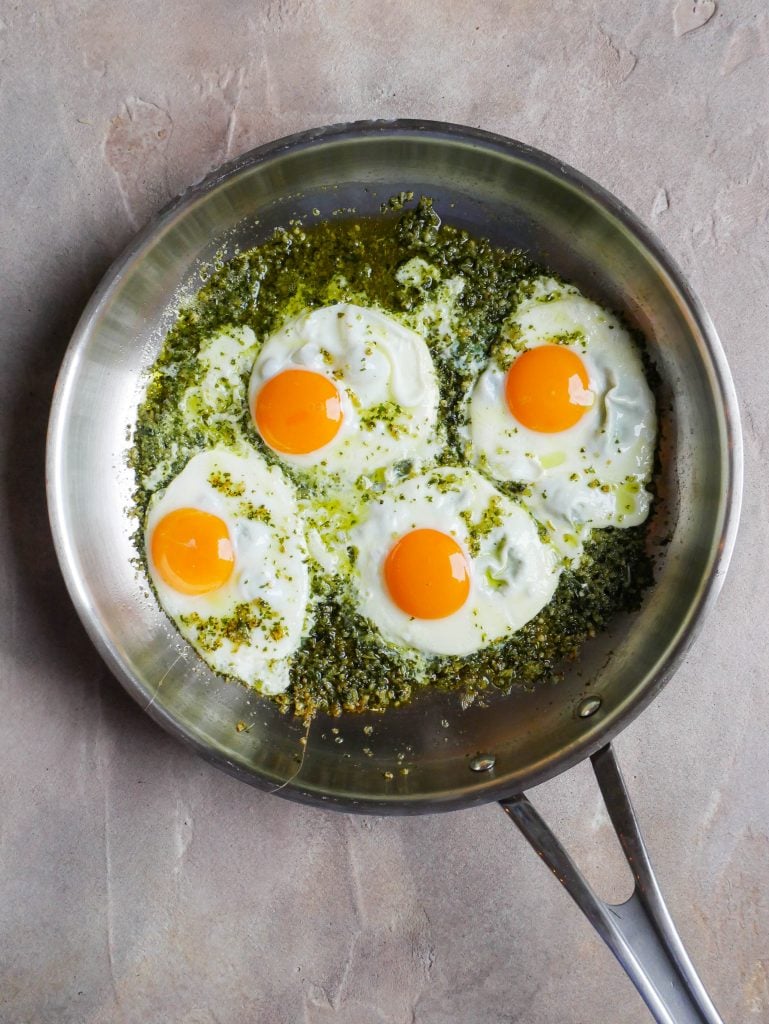 While you can make pesto the traditional way in a mortar and pestle, I have shared a quick and fuss free way to make pesto in a food processor. You simply have to throw all ingredients into it and let the processor do all of the hard work. This pesto doesn't have to be reserved for eggs and can be tossed through salads or served with pasta.
My tip to making the best pesto eggs is to cook everything on a low heat. If the heat is too high, your pesto will burn and dry out. Enjoy pesto eggs on a slice of sourdough with mashed avocado and goats cheese.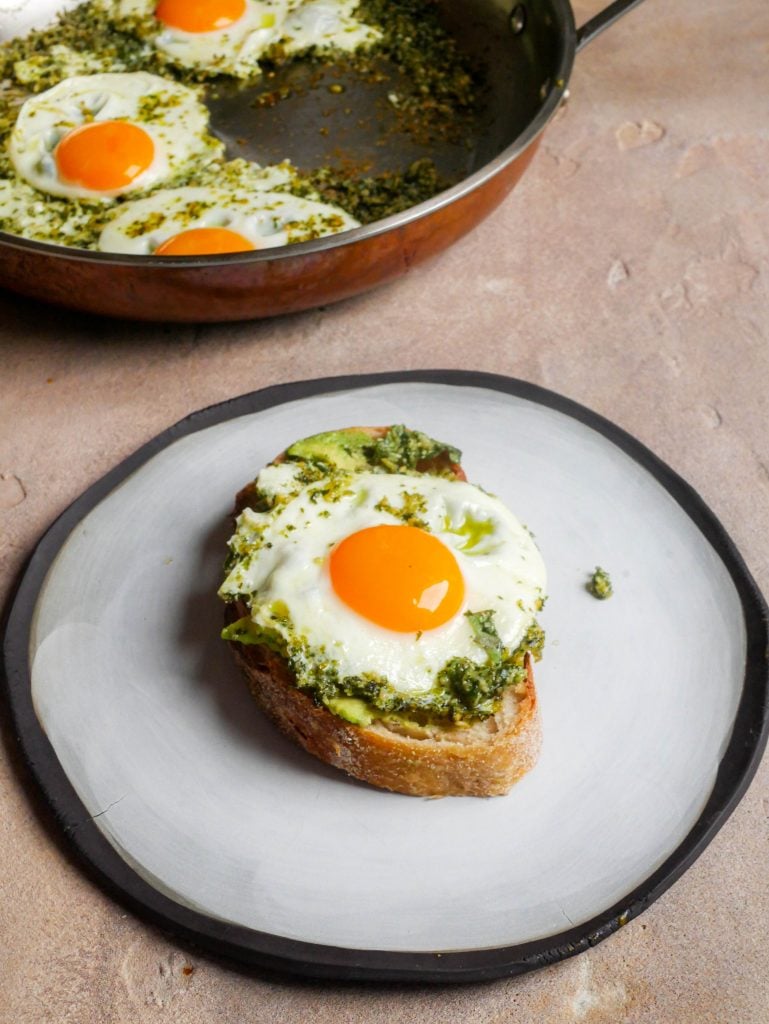 Frequently Asked Questions
Can I use store bought pesto?
Yes! Store bought pesto will work perfectly to make your eggs if you are running short on time or are not in the mood to make your own pesto.
How do you serve pesto eggs?
I like to eat pesto eggs on a piece of toast with some smashed avocado and ricotta cheese. You can also eat them on their own, topped onto a salad or with a side of bread. 
Can I use the pesto in other recipes?
This pesto is great with some pasta tossed through it!
How long can I store the pesto?
You can store the pesto for 1 week in the fridge when stored in a sterilised air tight container or jar.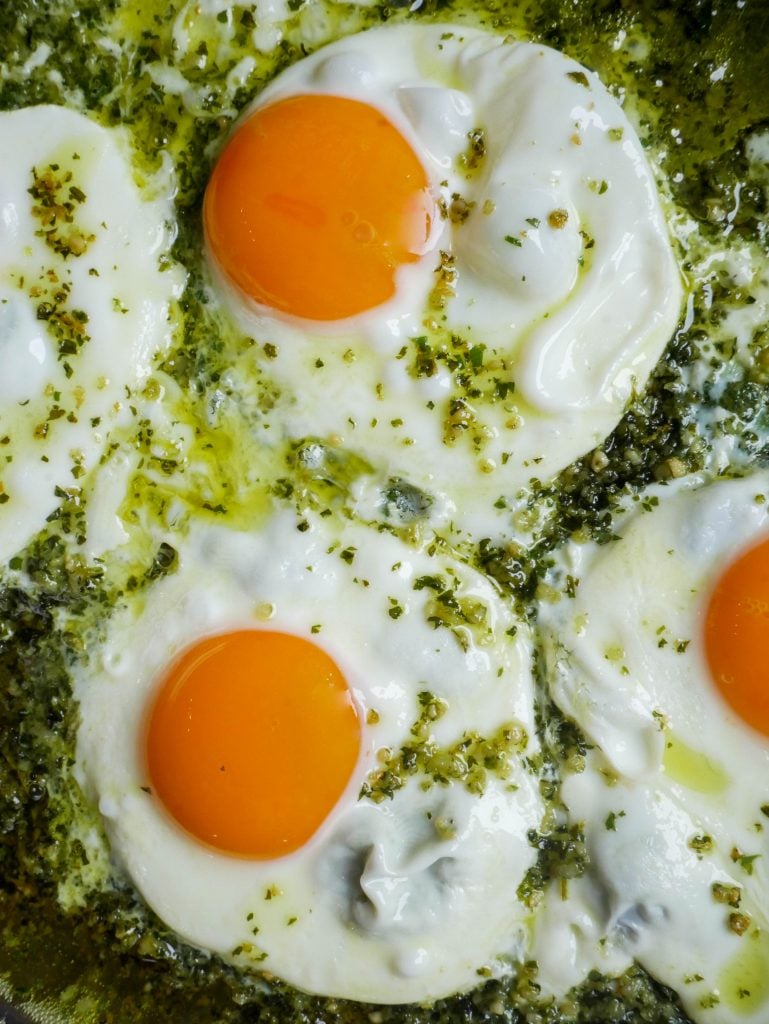 If you make this recipe, please tag me on Instagram, Tik Tok or Pinterest so I can see your wonderful creations!
If you have any questions or would like to leave a review, please do so here! I always love answering your food and recipe related questions and hearing your feedback on my recipes.
Pesto Eggs
Eggs fried in a homemade pesto sauce.
Ingredients
4 eggs
1 bunch basil
2 garlic cloves
1/4 cup pine nuts
1/2 cup olive oil
1/2 cup Pecorino Romano grated
Instructions
In a food processor, blend the basil, garlic cloves, pine nuts and olive oil until all ingredients are well combined but you still have quite a chunky texture. Add the pecorino Romano and stir through. Start with 1/4 cup and if you need more cheese slowly add in.

On a low heat in a large fry pan, heat 2 - 3 tablespoons of pesto in a pan. When the pesto is slightly sizzling, crack the eggs in and leave to cook on a low heat. Using a spoon, scoop up the hot oil from the pesto and drizzle over the egg whites until they are puffed, bubbly and cooked. Make sure the oil does not touch the egg yolk or it will cook it. It should take about 4 - 5 minutes.