Take your sandwich game to a whole new level with this crispy eggplant and roasted capsicum focaccia. Creamy, crispy, chewy and indulgent, this is the sandwich of your dreams and we dare you to eat just one.
The perfect sandwich
Say hello to your new sandwich best friend. At first glance, this sandwich may look a tad overwhelming to make. However, each component is simple, made in bulk and can be repurposed in many meals throughout the week. The eggplant chips are baked to perfection and provide the perfect crunchy element while the roasted capsicum spread is decadent and creamy. The garlic confit adds a rich element that is balanced by fresh and juicy tomatoes and rocket.
Crispy Eggplant Chips
Baked to golden and crispy perfection, these eggplant chips are truly addictive. The secret to making the crispiest eggplant chips is to extract as much moisture as possible. Moisture is not your friend when making crispy food which is why we salt our eggplants. Salt will draw out any excess moisture from the eggplants. Just be sure to rinse them well under cold water to remove the salt and pat them as dry as possible with paper towels.
This is my mothers recipe and her advice is to use high quality extra virgin olive oil and lots of it. The eggplants will act as a sponge when dipped into the olive oil. If you're familiar with making tiramisu then this is a similar process to when you dip the savoiardi biscuit into the coffee and liquor mixture. The dip needs to be timed perfectly so you are getting just the right amount of olive oil absorbed into the eggplant.
Roasted Capsicum (Red Peppers) Spread
Making roasted capsicums, or red peppers if you're based in America, is surprisingly simple! I grew up eating roasted capsicums on a daily basis as they were something that my mum would never go without in her fridge. They are extremely versatile and can be turned into almost anything from a delicious pasta sauce to a dip or spread. They are baked in the oven for 1 hour leaving the flesh of the capsicum sweet and tender with a charred and smokey flavour.
To make this spread, I have mixed roasted capsicums with feta cheese, olive oil, salt and pepper and a squeeze of lemon. If you have leftovers from your sandwich, it makes the perfect accompaniment to your cheese board.
Garlic Confit
If you're new around here, you may have not noticed that I love to cook with garlic confit. Don't be alarmed when you see that I use three cloves of garlic in this sandwich! When you confit garlic it takes on a sweet flavour with a buttery and velvet like texture. There is no garlic breath around here, I promise. Read all my tips on how to make and store garlic confit here.
Olive & Rosemary Focaccia
There is something so magical about making bread from scratch. It's unlike anything you can buy in the store or at a bakery and it's that much more special because you watched it grow (literally!) Focaccia is the perfect bread recipe for beginners as it requires no kneading or no prior bread making skills. It's super easy to make, absolutely delicious and will always impress and please a crowd. Of course, you can buy bread for this sandwich but let me tell you this, one you start to make your own you won't be going back.
Read all my tips on how to make the best focaccia here.
If you make this recipe, please tag me on Instagram, Tik Tok or Pinterest so I can see your wonderful creations!
If you have any questions or would like to leave a review, please do so here! I always love answering your food and recipe related questions and hearing your feedback on my recipes.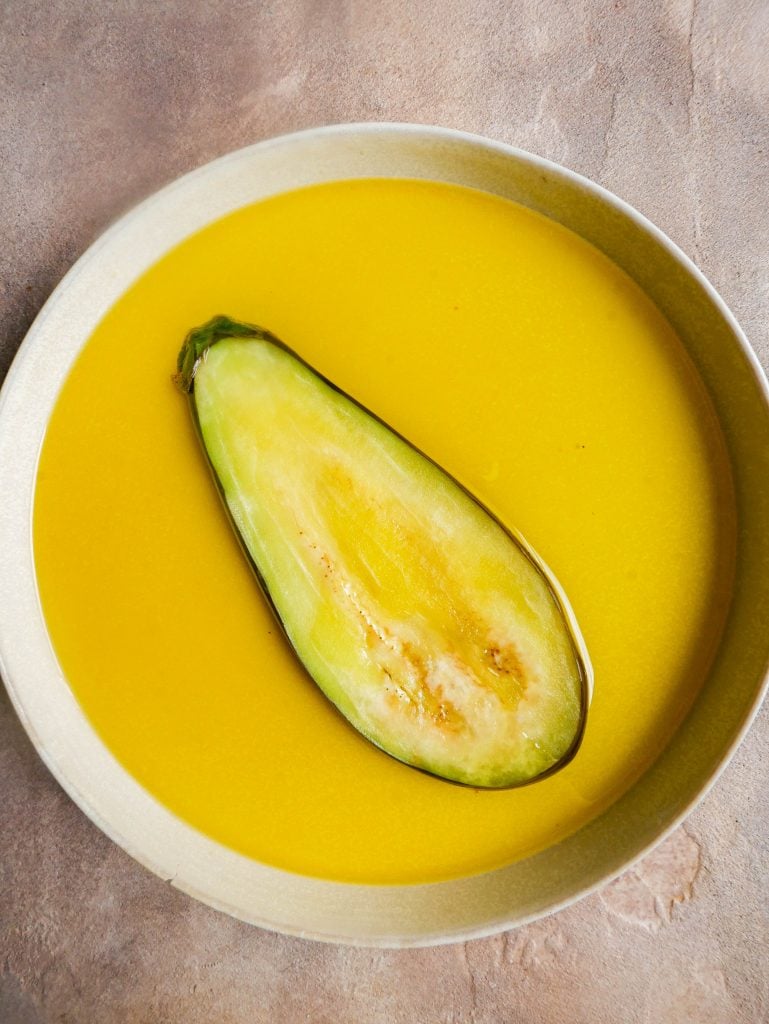 You can purchase Rich Glen Olive Oil here. This recipe is sponsored by Rich Glen Olive Oil.
Crispy Eggplant & Roasted Capsicum Focaccia Sandwich
Take your sandwich game to a whole new level with this crispy eggplant and roasted capsicum focaccia.
Ingredients
Olive & Rosemary Focaccia
2.5 cups lukewarm water 2 cups cold water + 1/2 cup boiling hot water
1 sachet yeast 7g
2 tsp honey or maple syrup
5 cups all purpose white flour
2.5 tsp flakey sea salt
200 g black and green pitted olives
2 sprigs rosemary leaves
6 tbsp Rich Glen Olive Oil
Crispy Eggplant Chips
2 eggplants sliced into 2cm thin strips
1 cup Rich Glen Olive Oil
1/2 tsp dried oregano
flakey sea salt
Roasted Capsicum Spread
3 red capsicums
200 g feta
1/2 lemon
1 tbsp Rich Glen Olive Oil
salt and pepper to taste
Garlic Confit
6 heads garlic
3 cups Rich Glen Olive Oil
6 sprigs thyme
Sandwich
1 large slice of focaccia
3 cloves garlic confit
1 tbsp red capsicum spread
1 burrata
3 slices tomato
100 g rocket or baby spinach
3 slices crispy eggplant
salt and pepper to taste
Instructions
Olive & Rosemary Focaccia
In a medium bowl, mix together the lukewarm water, yeast and honey with a whisk and leave to sit for 5 minutes or until the yeast has foamed. This will indicate that your yeast is active. 

In a large bowl, combine the flour and salt and whisk together. Add the yeast mixture to the bowl and bring the dough together with your hands or a spatula until a shaggy and sticky dough forms.

Coat a large mixing bowl with 4 tablespoons of olive oil and transfer the dough to the bowl. Coat the dough in the olive oil. Cover the bowl with plastic wrap and place into the fridge. Leave the dough to rise for a minimum of 6 hours but ideally for 24 hours. The dough will double in size and look bubbly. 

Take the dough out of the fridge and fold it over itself in quarters. Gather up each edge of the dough with your hands and fold it over itself while turning the bowl. The dough will deflate while you shape it into a neat ball. 

Coat a deep rectangular baking dish (I use a pan that is 34cm x 23cm x 5cm) with 1 tablespoon of olive oil and transfer the dough ball to the baking dish. Using your fingers, stretch the dough out slightly into a rough rectangular shape. There is no need to stretch the dough out to the edges of the pan as the dough will rise and spread. Cover the pan with a tea towel and leave the dough to rise in a warm area of your house for 3 - 4 hours. If your dough is uncovered there is risk of too much air getting into the dough and creating a dry and crusty layer on top.

Preheat the oven to 200 degrees celsius. Once the dough has risen, use your fingers to indent or dimple the dough. Scatter the garlic confit cloves and rosemary over the dough. Drizzle the dough with 2 tablespoons of olive oil. This will help the crust of the dough get golden and crispy when baking. Finish off with a sprinkling of flakey sea salt. Bake for 20 - 30 minutes or until the dough has developed a golden crust on top. 

Let the bread slightly cool before removing it from the baking tray. Place onto a wire rack. 
Crispy Eggplant Chips
Preheat the oven to 200 degrees celsius. 

Heavily salt the eggplant slices, place them into a colander and leave to sit for 30 minutes. The salt will remove the excess liquid from the eggplants. Give them a squeeze to remove any remaining liquid. Thoroughly rinse the eggplants under water to remove the salt. 

Place the eggplant onto trays that are lined with paper towels or tea towels and dry them as much as possible. The more liquid that is removed, the crispier your eggplants will be. 

Into a shallow bowl, add the olive oil. Dip the eggplant into the olive oil, applying some pressure with your fingers. Flip the eggplant over and repeat. Continue this step until all of the eggplant has been coated with the olive oil. 

Place the eggplant onto a pre-lined baking tray and bake for 20 minutes each side or until they are golden and crispy. Each slice of eggplant will cook at their own speed so be sure to keep an eye on them and flip or remove some slices earlier than others if they are getting to brown. Leave to cool on a baking rack. 
Roasted Capsicum Spread
Preheat the oven to 220 degrees celsius. 

Place the whole capsicums onto a baking tray and bake for 1 hour, flipping the capsicums over once or twice. They will begin to charr and blacken on their skin. 

Place the capsicums into a large bowl and cover with plastic wrap or a tea towel. Leave to sit for 1 hour to allow the capsicums to steam and slightly cool. Remove the capsicums from the bowl. Peel off their skin and remove the seeds. 

Into a food processor or blender, place the capsicums, feta, olive oil, salt and pepper and juice from half a lemon. Blend until a smooth consistency forms. 
Garlic Confit
Preheat the oven to 120 degrees Celsius. 

Peel the garlic by breaking the cloves away and placing them into a heatproof bowl. Submerge in boiling hot water for 5 minutes and drain. The skin will become loose and easy to peel away. 

Place the garlic cloves and thyme into an ovenproof dish and fully submerge in olive oil. It's important the garlic is fully submerged in the olive oil so it does not burn. Bake for 2 hours or until the garlic has browned in colour. 

Allow to cool and store in an airtight container or jar for up to several weeks in the fridge.
Sandwich
Cut your focaccia into thirds lengthways. Slice 1 piece of the focaccia in half.

Assemble your sandwich by beginning with a layer of the garlic confit, followed by the red capscium dip, burrata, tomato, rocket and slices of the crispy eggplant. Top with the other half of the focaccia and cut in half.