Good days involve sandwiches. The BEST days involve this crispy chicken parma focaccia sandwich. It's made with my mum's famous crispy crumbed chicken, a rich tomato and basil sauce, garlic confit and the finest slice of homemade focaccia you ever did see.
Chicken Parma Sandwich
If there is one thing I know about you, it's that you love a sandwich. Especially one that is full to the brim with delicious Italian flavours and served on a slice of my golden and crispy and soft and fluffy focaccia. This chicken parma sandwich is comfort food at it's finest. And while it may take a little time, love and care to make, it's truly worth it as one bite will instantly transport you to sandwich heaven. However, no judgement if you decide to skip a few steps and resort to store bought bread or breadcrumbs!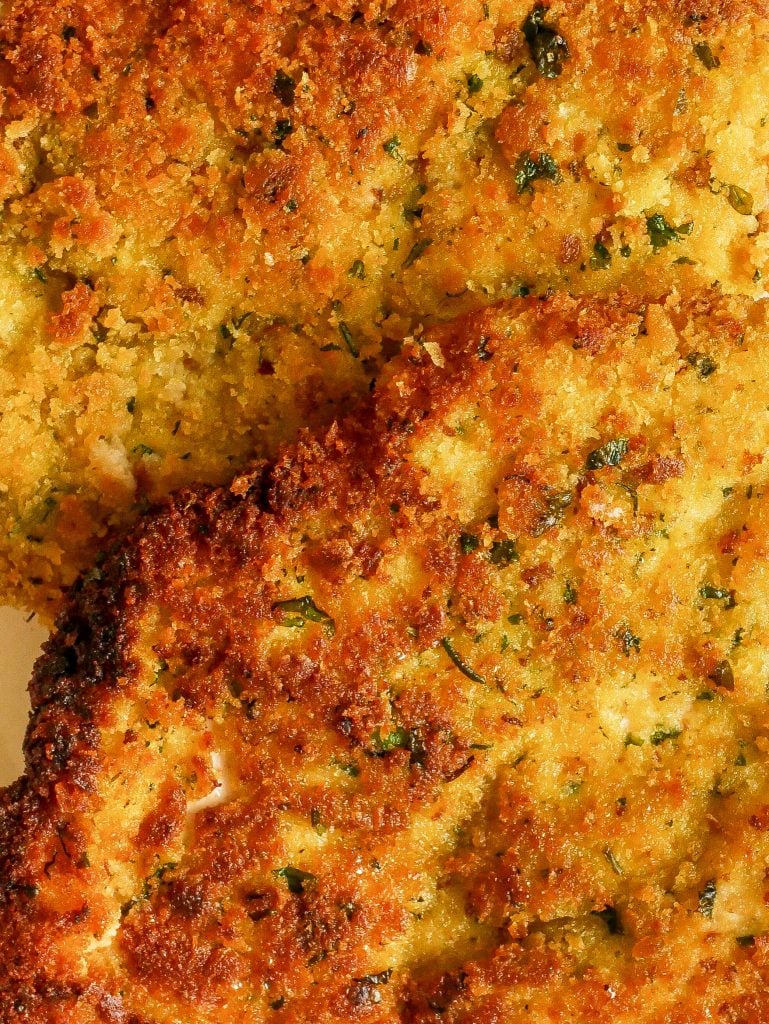 Crispy Crumbed Chicken
My mum's crispy crumbed chicken is famous for a reason. The breadcrumbs are homemade, we use garlic in our egg wash that creates a subtle garlic flavour throughout and a light olive oil is used for shallow frying the chicken as it creates that lovely golden colour and crispy crunch. This crumbed chicken can be used for so many meals from a crumbed chicken sandwich, chicken parma to a crispy chicken salad or chicken nuggets for the kids. It's extremely versatile and I can guarantee, it will be the only crumbed chicken recipe you will ever need.
I always like to make this recipe in bulk as it's the perfect item to store in your freezer and cook on those days when you are time poor! With that being said, please don't be alarmed by the amount of chicken that is needed for this recipe as it will make a huge amount!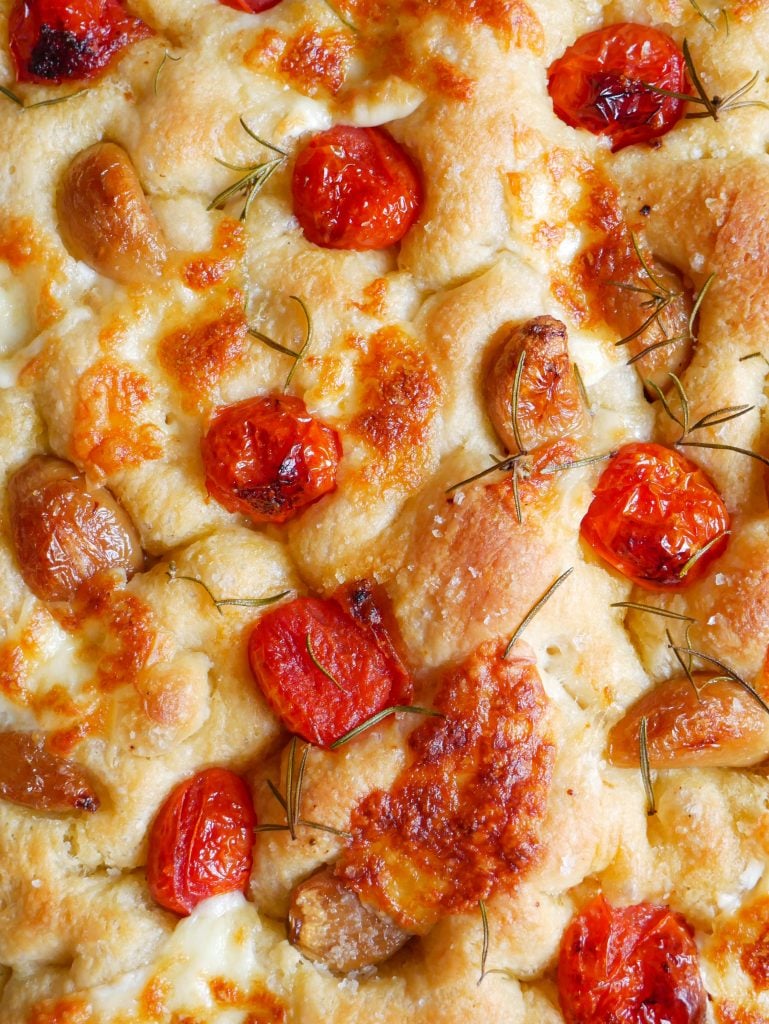 Focaccia
Focaccia is the perfect bread recipe for beginners as it requires no kneading or no prior bread making skills. It's super easy to make, absolutely delicious and will always impress and please a crowd. Everyone needs a focaccia recipe in their life but especially this one as it incorporates my famous garlic and tomato confit and lots of cheese.
I absolutely love bread and even more so when it's homemade and you can use it to create your favourite sandwich. Sometimes the thought of making bread can be extremely intimidating and require a lot of skill and energy. This is why I love making focaccia! It's equally delicious as a sourdough loaf but extremely easy to make. They are also fun to make because who doesn't love the sensation of dimpling their soft and bouncy dough with the tips of your fingers. Focaccia is an Italian style yeasted flatbread that is similar to pizza dough. It's best served as a side dish to soups or on its own with a side of olive oil and balsamic for it to be dipped into.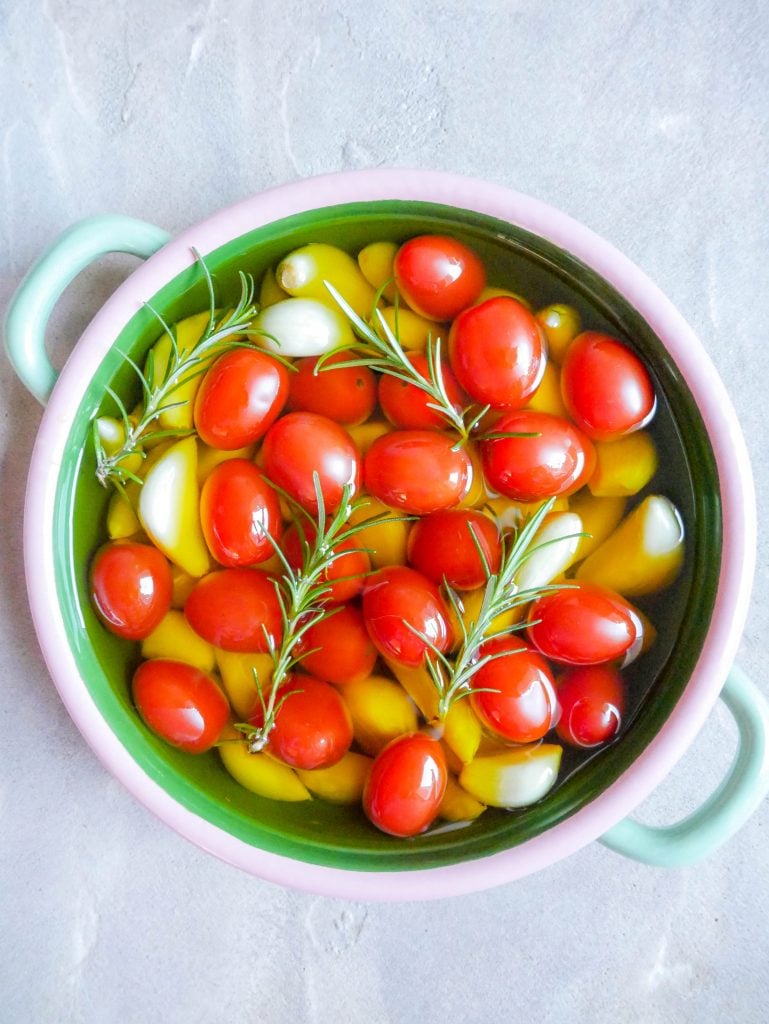 Tomato & Garlic Confit
Confit is a French cooking technique where something is cooked in lots of fat at a low heat and for a long time. To confit something is to preserve it. For most part, the fat is usually an animals fat such as duck or butter. When making tomato or garlic confit, or any confit using vegetables that does not have its own fat, I recommend using a high quality extra virgin olive oil. To confit tomatoes and garlic, they must be fully submerged in olive oil and baked for 2 hours at a very low heat until the garlic has slightly browned and is soft to touch and the cherry tomatoes skin has expanded and they are ready to burst open. They will both take on a sweet and rich flavour.
Read more about my garlic and tomato confit.
Tomato & Basil Sauce
Unlike a traditional tomato sauce, this tomato and basil sauce uses lots of garlic. I wouldn't be a garlic girl if it didn't! This sauce was one of the first things I learned how to cook and as simple as it is, it's taken my family years of recipe testing to perfect it. It's important to use high quality tinned tomatoes as they will be plump, juicy and sweet and require little seasoning.
If you make this recipe, please tag me on Instagram, Tik Tok or Pinterest so I can see your wonderful creations!
If you have any questions or would like to leave a review, please do so here! I always love answering your food and recipe related questions and hearing your feedback on my recipes.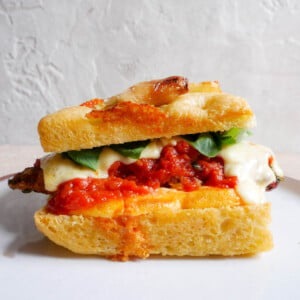 Chicken Parma Focaccia Sandwich
If there is one thing I know, it's that everyone loves a sandwich. Especially one has a piece of crispy chicken, tomato and basil sauce, garlic confit and is served on a slice of homemade bread.
Ingredients
Tomato & Garlic Confit
250 g cherry tomatoes
3 heads garlic
3 cups olive oil
3 sprigs rosemary
Cheesy Focaccia
2.5 cups lukewarm water 2 cups cold water + 1/2 cup boiling hot water (600ml)
1 sachet dry yeast 7g
2 tbsp honey or maple syrup
5 cups all purpose white flour 740g
2.5 tsp flakey sea salt
10 garlic confit cloves
10 confit tomatoes
125 g buffalo mozzarella
8 tbsp garlic and tomato confit olive oil
Tomato & Basil Sauce
3 tbsp olive oil
4 garlic cloves crushed
2 400g tinned tomatoes
1 bunch fresh basil
1/4 - 1/2 cup water
Crispy Crumbed Chicken
2 kg chicken breast
1 white sandwich loaf
4 garlic cloves crushed
1/4 cup water
1 cup white all purpose flour
1 tsp flakey sea salt
1 tsp freshly cracked black pepper
1 bunch fresh parsley
1 tbsp fresh rosemary
olive oil
Chilli Mayo
1 cup oil you can use a neutral oil or olive oil
1 egg
1 tsp dijon mustard
1 tbsp lemon juice
1 tsp Italian style chilli oil
pinch of salt
Sandwich (makes 1)
2 slices cheesy focaccia
3 garlic confit cloves
1 tbsp chilli mayo
1 piece crispy crumbed chicken
3 tbsp tomato and basil sauce
3 slices mozzarella
fresh basil leaves
Instructions
Tomato & Garlic Confit
Preheat the oven to 120 degrees Celsius. 

Peel the garlic by breaking the cloves away and placing them into a heatproof bowl. Submerge in boiling hot water for 5 minutes and drain. The skin will become loose and easy to peel away. 

Place the garlic cloves, cherry tomatoes and rosemary into an ovenproof dish and fully submerge in olive oil. It's important the garlic and tomatoes are fully submerged in the olive oil so it does not burn. Bake for 2 hours or until the garlic has browned in colour. 

Allow to cool and store in an airtight container or jar with the garlic cloves fully submerged in the olive oil for up to several weeks in the fridge.
Cheesy Focaccia
In a medium bowl, mix together the lukewarm water, yeast and honey with a whisk and leave to sit for 5 minutes or until the yeast has foamed. This will indicate that your yeast is active. 

In a large bowl, combine the flour and salt and whisk together. Add the yeast mixture to the bowl and bring the dough together with your hands or a spatula until a shaggy and sticky dough forms.

Coat a large mixing bowl with 4 tablespoons of the garlic confit olive oil and transfer the dough to the bowl. Coat the dough in the olive oil. Cover the bowl with plastic wrap and place into the fridge. Leave the dough to rise for a minimum of 6 hours but ideally for 24 hours. The dough will double in size and look bubbly. 

Take the dough out of the fridge and fold it over itself in quarters. Gather up each edge of the dough with your hands and fold it over itself while turning the bowl. The dough will deflate while you shape it into a neat ball. 

Coat a deep rectangular baking dish (I use a pan that is 34cm x 23cm x 5cm) with 2 tablespoons of the garlic confit olive oil and transfer the dough ball to the baking dish. Using your fingers, stretch the dough out slightly into a rough rectangular shape. There is no need to stretch the dough out to the edges of the pan as the dough will rise and spread. Cover the pan with a tea towel and leave the dough to rise in a warm area of your house for 3 - 4 hours. If your dough is uncovered there is risk of too much air getting into the dough and creating a dry and crusty layer on top.

Preheat the oven to 200 degrees celsius. Once the dough has risen, use your fingers to indent or dimple the dough. Scatter the garlic confit cloves, confit cherry tomatoes, torn up mozzarella and rosemary over the dough. Drizzle the dough with 2 tablespoons of the garlic confit olive oil. This will help the crust of the dough get golden and crispy when baking. Finish off with a sprinkling of flakey sea salt. Bake for 20 - 30 minutes or until the dough has developed a golden crust on top. 

Let the bread slightly cool before removing it from the baking tray. Place onto a wire rack. 
Tomato & Basil Sauce
In a large deep fry pan, bring the olive oil to heat. Turn the heat down immediately, add the garlic and cook for 2 - 3 minutes or until the garlic is fragrant and soft. Stir the garlic quite often to ensure it does not burn.

In the same pan, combine the tinned tomatoes, water, a pinch of salt and pepper and ¾ of the basil. Bring to the boil then turn the heat all the way down and leave to simmer for 30 - 40 minutes. Depending on the tinned tomatoes you are using, your sauce may need a little sweetness. Keep tasting your sauce as it cooks and add more salt or pepper if needed. 
Crispy Crumbed Chicken
If your bread is fresh, lay it out onto a baking tray and leave to dry out overnight.

Begin by making your egg wash. In a shallow wide bowl, whisk your eggs, garlic and water together and set to the side. By preparing this early the garlic will have time to release its flavour into the eggs.

Cut the tenderloin off the chicken breast but do not toss away as we will also be crumbing this part. Using a sharp knife, cut through the middle of the chicken breast horizontally so they half in thickness. Let the knife do most of the work, applying a small amount of pressure as the knife glides through crosswise. It's easiest when you place one hand on top of the chicken breast. Don't worry if this is not done too evenly! Repeat this step with all the chicken breast.

Place one piece of chicken between two pieces of plastic wrap. Using the smooth side of a mallet, pound the chicken from the centre outwards until the breast is roughly 2cm thick and has an even thickness throughout. This step is to ensure the chicken cooks at an even rate. Set your chicken to the side.

Roughly tear apart your bread and place into a food processor or blender with the parsley and rosemary. Blend until the bread is still quite chunky and the herbs have been mixed through. We aren't looking for a fine and crumbly texture with this breadcrumb as its those chunky crusty parts that make the breadcrumb extra special. If you are using a small blender you will need to do this step in batches. Place your breadcrumbs into a large bowl.

In a shallow wide bowl, whisk together the flour and salt and then set up your dredging station. Begin with your flour, followed by the egg wash, followed by the breadcrumbs and then finished with a large clean plate or tray to place the crumbed chicken in.

Take one chicken breast and coat both sides evenly with the flour. Then place into the egg wash and coat both sides evenly. Lastly, place into the breadcrumb mixture applying pressure with your hands when you flip the chicken over to ensure the breadcrumbs are evenly coated all over. Place the chicken breast onto the clean plate and then repeat this step with the remainder of the chicken.

In a large frying pan, add a very generous amount of olive oil until its about 2 - 3cm deep in the pan. Bring the olive oil to heat. You can check if the olive oil is hot enough by placing a wooden skewer into it and seeing if bubble forms around the skewer. Turn the heat down to low - medium and fry 1 - 2 pieces of chicken at a time for 2 - 3 minutes on each side or until they are golden and crispy. It's best to test out one piece of chicken to make sure your cook time and heat levels are accurate. Remember your chicken will continue to cook when you take it off the heat so take it off a few seconds before you feel it's ready. Place the cooked chicken onto a plate lined with absorbent paper or cooling rack.
Chilli Mayo
Place all ingredients into glass container or jug that is just wide enough to fit an immersion blender. Using an immersion blender, blend all ingredients together being careful to not move the blender up and down. Once the ingredients begin to emulsify, move the blender up and down while slowly incorporating all of the oil. Continue until you have a thick consistency.

Store in an airtight container or jar in the fridge for up to 3 days.
Sandwich
Cut your focaccia into thirds lengthways. Slice 1 piece of the focaccia in half.

Assemble your sandwich by beginning with a layer of the garlic confit, followed by the chili mayo, crispy crumbed chicken, tomato and basil sauce and mozzarella cheese.

Place the sandwich under the grill or broiler for 5 minutes or until the cheese has melted. Finish off with a sprinkling of fresh basil leaves. Top with the other half of focaccia and cut in half.