Print Recipe Jump to Video Jump to Recipe
While a weekends morning allows us to move at a slower pace and indulge in a breakfast such as French Toast or baked eggs, a weekdays morning has a certain beat and timing. Breakfast must be simple, quick and nutritious to fuel our bodies and help start the day. This Green Goddess spread ticks all the boxes. There is something rather pleasing and fulfilling about starting our day with a green meal that is full to the brim with healthy fats, vegetables and nuts. You can't go wrong with a meal that will keep you fuelled and nourished for hours.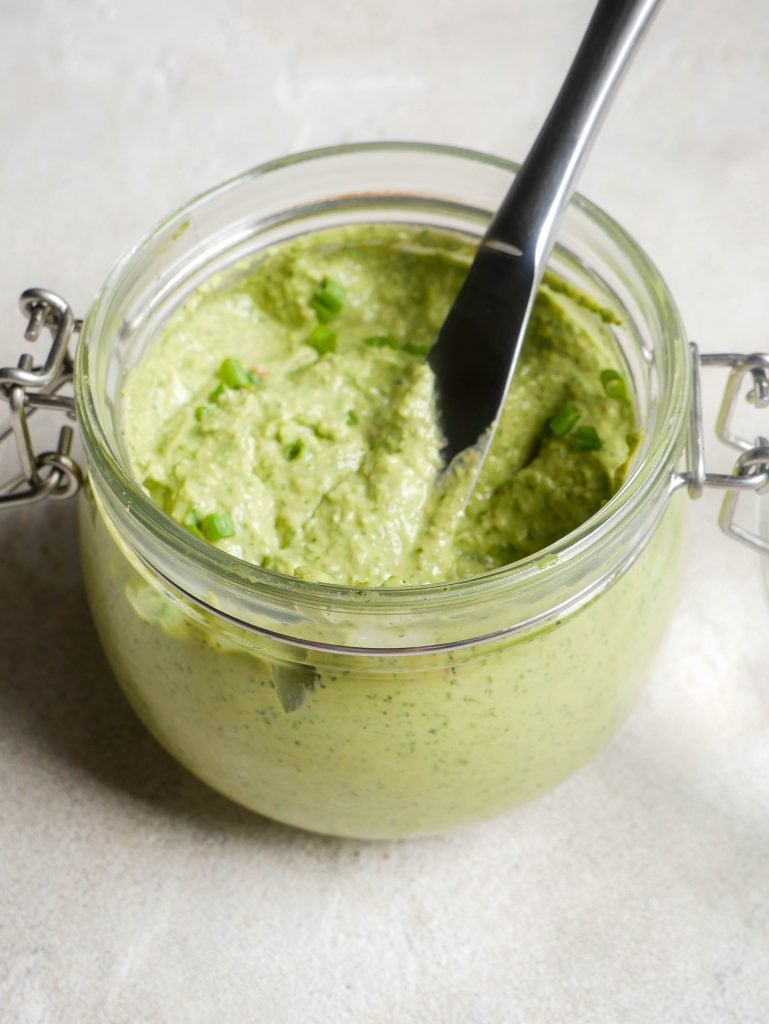 This spread is incredibly light, tangy and rich. It's inspired by the Green Goddess salad dressing that has recently made a comeback thanks to a viral video circulating the internet by Baked By Melissa. I have added my own spin to it by adding avocado, a little extra olive oil and goats cheese. The bitterness from the lime and vinegar is so perfectly complemented by the rich cheese and avocado.
On those days that I am feeling extra, I like to fry a piece of sourdough in olive oil and serve it with this spread. The key to cooking the perfect piece of olive oil fried bread is to cook it extremely low and slow. You can add whatever you please to this breakfast toast such as a fried egg, smoked salmon or bacon.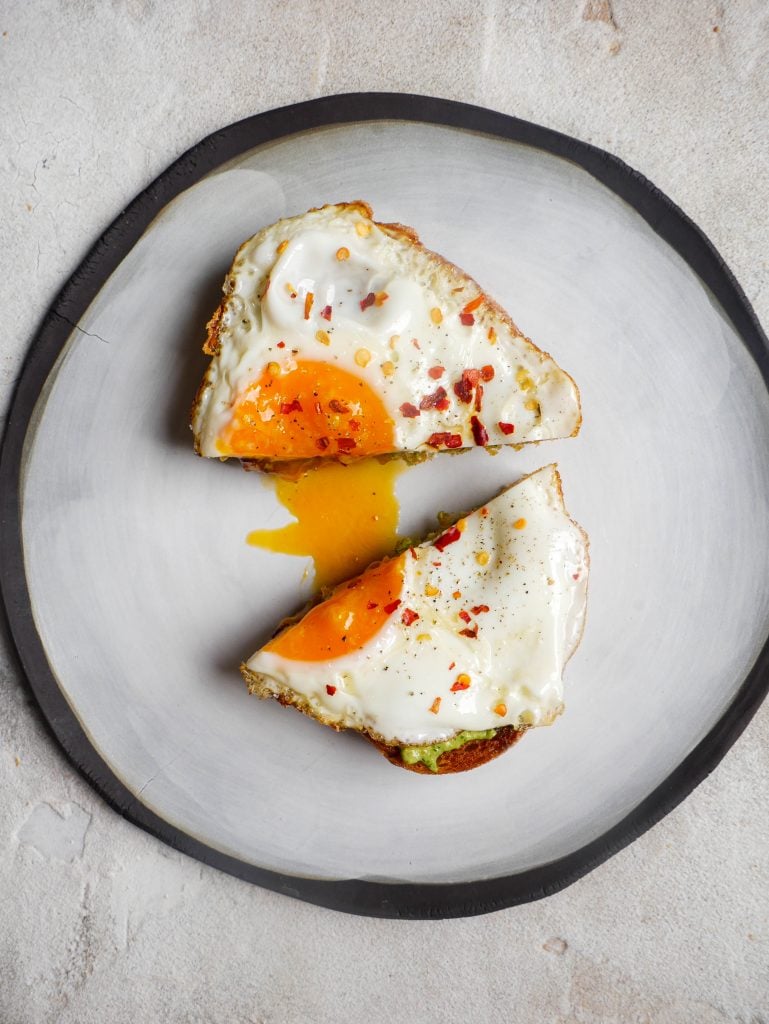 Frequently Asked Questions
How long does the spread keep?
When stored in an air tight sterilised jar, the spread can keep for 2 – 3 weeks in the fridge.
How many serves does the spread make?
The spread will make up to 20 serves.
Can I substitute the cheese?
If you would like the spread to be vegan or dairy free, you can simply leave the cheese out or replace it with 2 tablespoon nutritional yeast.
How do you serve your Green Goddess Spread?
My favourite way to serve the spread is with a fried egg and a sprinkling of chili flakes on a piece of olive oil fried sourdough. I also like to add bacon. To keep the meal vegetarian, finely sliced cucumbers on top are very delicious!
Can the spread be used as a dip?
It absolutely can be and it will be your new favourite party favour!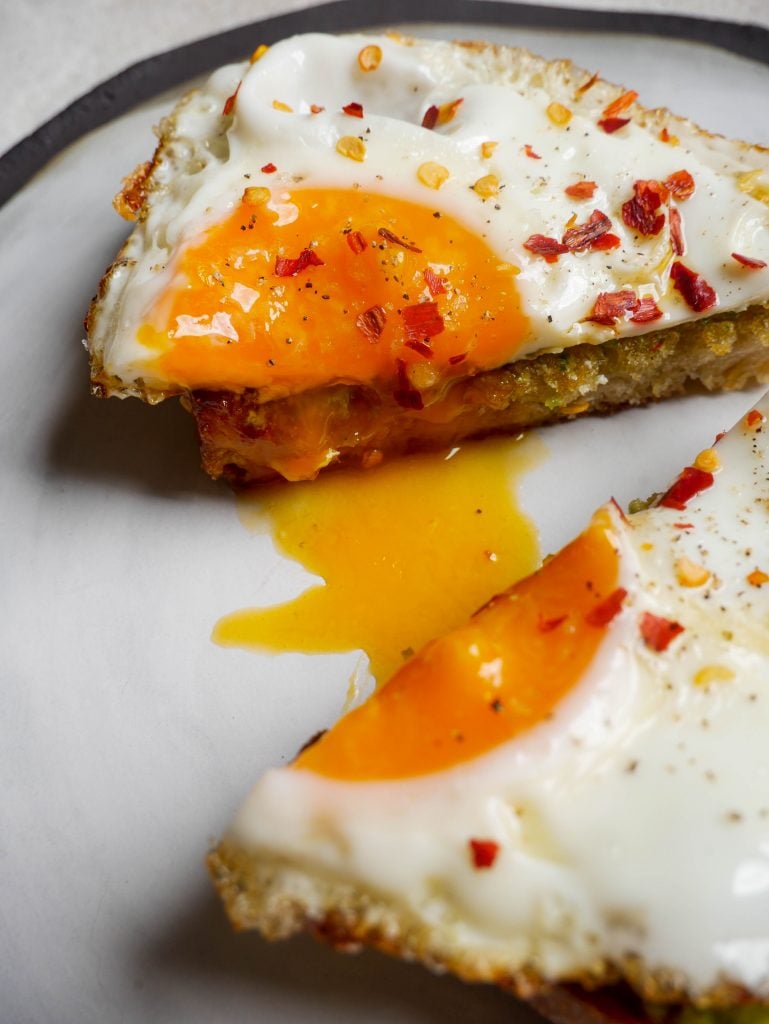 If you make this recipe, please tag me on Instagram, Tik Tok or Pinterest so I can see your wonderful creations!
If you have any questions or would like to leave a review, please do so here! I always love answering your food and recipe related questions and hearing your feedback on my recipes.
Green Goddess Spread
This spread is incredibly light, tangy and rich and is inspired by the viral Green Goddess Dressing.
Ingredients
1 cup Baby spinach
35 g Walnuts
1/2 Avocado
2 tbsp Red wine vinegar
2 Garlic cloves
1 Shallot
15 g Chives
30 g Goats Cheese
1/4 cup Lime juice
1/2 cup Olive oil
Instructions
Place all ingredients into a food processor or blender and blend on high speed until all ingredients are well combined and you have a smooth texture.

Spread over toast and enjoy!