This is the best egg salad. What makes it different from the others, is separating the hard-boiled egg yolks from the whites and mixing them with mayonnaise and dijon mustard until smooth, creamy and rich.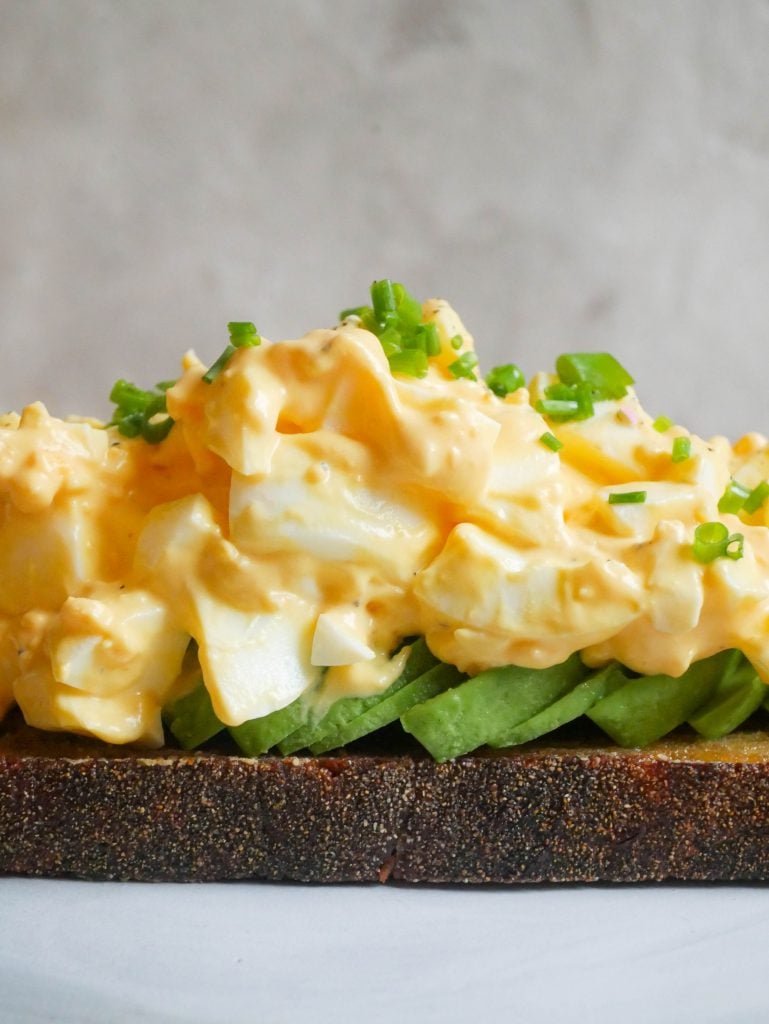 The Best Egg Salad
I'm not kidding when I tell you that this is the best egg salad you will ever eat. It's smooth, creamy and rich and served on a piece of olive oil fried sourdough with some slices of avocado. Egg salad is extremely quick to whip together and a great dish to have stored in the fridge to slowly eat throughout the week. What makes this egg salad the best ever is what I like to call, the egg yolk dressing. This is made by separating the yolks from the whites and mixing them through mayonnaise and dijon mustard until smooth. I know, it can sound a little off putting to hear the words egg yolk dressing but once you get past that you will understand what I'm talking about!
What you need for your egg salad
I like to keep my egg salad simple and rely on high quality ingredients. I have also mentioned some additional and crunchy ingredients you can add to your egg salad if that's more your style. 
Eggs – this is an obvious one! I use Australian free range eggs from a 700g carton
Mayonnaise – I always buy full fat mayonnaise as it's richer and creamier. You could also replace with with some greek yogurt.
Dijon mustard – This will add a tangy, mildly spicy and rich taste to the egg salad
Lemon juice – fresh lemon juice is always best!
Olive oil – you should all know me by now but if you don't, I'm an olive oil girl and love to add it to most of my cooking. Make sure you always use high quality and extra virgin olive oil.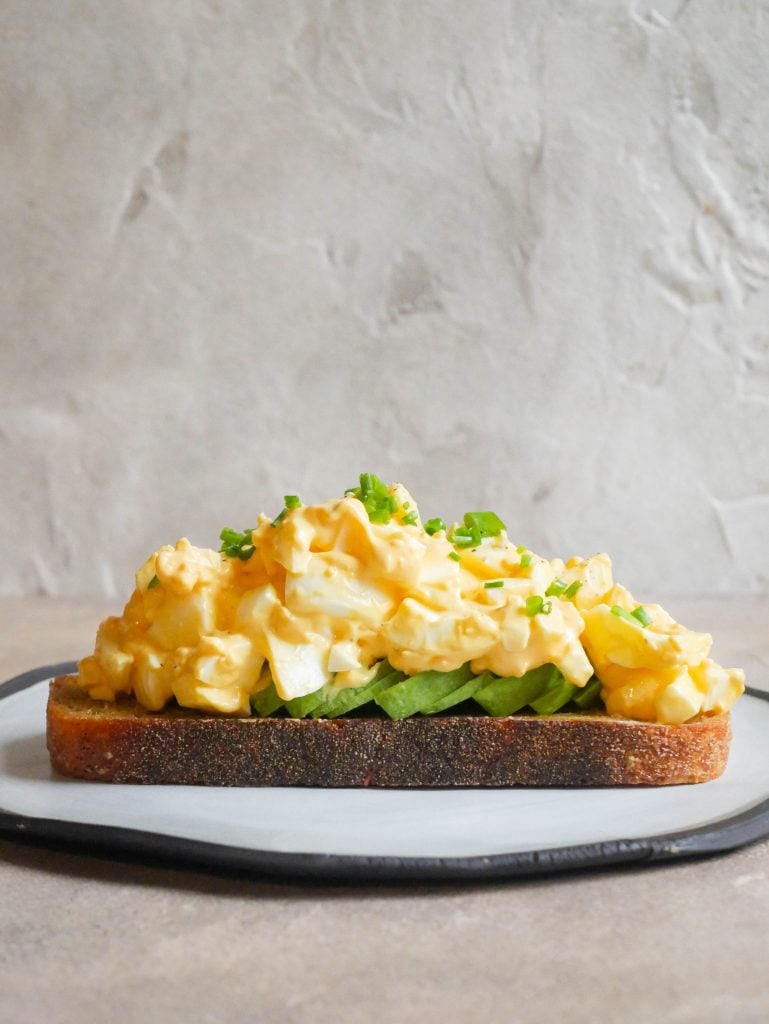 Seasoning – season your egg salad with some flakey sea salt, black pepper or red pepper flakes for that spice!
Herbs – I've topped my egg salad toast with chives but you could also stir this through the egg salad with some fresh parsley and dill.
Crunchy elements – I prefer to keep my egg salad simple however, you can easily add finely diced red onions, celery or cherry tomatoes for that crunch.
Avocado – You can turn this egg salad into the most delicious piece of egg salad avocado toast by slicing up a ripe avocado and spooning the egg salad on top.
Sandwich – This classic egg salad can also be turned into an egg salad sandwich served on a bagel or between slices of bread.
Hard boiled eggs
Eggs are the star of this recipe so it's only fitting that I take you through all my tips on how to boil the perfect egg for an egg salad. It's important to note that I use eggs that are fridge cold and from a 700g egg carton as this will effect the cook time. The total time for how long to boil an egg for an egg salad is 12 minutes. Very carefully place your egg into a saucepan with boiling hot water. After 12 minutes, scoop them out and place them into a medium bowl of very cold water to prevent them from further cooking. To peel your eggs, give the bottom of the shell a little tap and get your finger under the membrane (the clear part that sits between the egg and shell). Begin to remove the shell. It should slide right off!
View all of my other egg recipes below:
If you make this recipe, please tag me on Instagram, Tik Tok or Pinterest so I can see your wonderful creations!
If you have any questions or would like to leave a review, please do so here! I always love answering your food and recipe related questions and hearing your feedback on my recipes.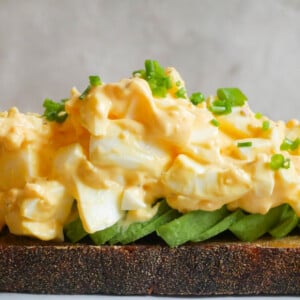 Egg Salad with Avocado
This is the best egg salad. What makes it different from the others, is separating the egg yolks and whites and mixing them with mayonnaise and dijon mustard to make an egg yolk dressing. It's smooth, creamy and rich.
Ingredients
6 eggs
2 tbsp mayonnaise full fat
1 tsp dijon mustard
1 tbsp lemon juice
1/2 tbsp olive oil
pinch of salt and pepper
1 avocado optional
fresh chives finely sliced
sourdough
Instructions
Bring a pot of a water to the boil. On a medium heat, boil the eggs for 12 minutes then place into an ice bath for 10 minutes. This will prevent the eggs from cooking any further and allow them to slightly cool so they are easy to peel. 

Remove the eggs from the ice bath. Tap the bottom of the egg onto a hard surface to break the shell. Remove a small piece of shell until the membrane is exposed. Insert your finger under the membrane and begin to remove the shell. Repeat this with all of the eggs. 

Cut the eggs in half and remove the yolks. Set to the side. Roughly chop the egg whites and set to the side. 

In a medium sized bowl, combine the yolks, mayonnaise, dijon mustard, lemon juice, olive oil and salt and pepper. Mash together with a fork until you have a smooth and creamy consistency. Place the egg whites into the bowl and gently fold through with a spoon. 

Serve on a piece of toasted sourdough with avocado slices and fresh chives.