In Australia, there are a few American style meals that we have really adopted. And mac and cheese is one of them. This time I've made it with roasted garlic to give it that Daen's Kitchen spin and I have also used Westgold Butter to make the ultimate luxurious mac and cheese. Smooth, silky, delicious and garlicky. Move over turkey, this will be the favourite come this Thanksgiving
Luxurious Mac and Cheese
What is it about luxurious mac and cheese that makes it such a staple on festive occasions? It's just a big bowl of comfort. Melted, ooey gooey cheese, it is the ultimate savoury treat. I like combining a few different types of cheese. Some with a bite, others to melt and go smooth through the dish. This part is important because each cheese is unique and adds its own flavour.
The secret to luxurious mac and cheese
One of the steps that I think it unskippable when making mac and cheese is getting the roux and sauce smooth and creamy. Firstly, you need to cook off the flour so it doesn't have a floury taste or texture. Secondly, you can season it with whatever you like from my roasted garlic to spices such as paprika, garlic or onion powder. Lastly, but most importantly, slowly incorporate the milk while whisking through on a low heat. 
Thanksgiving or any festive meal
Luxurious mac and cheese is definitely a staple for US Thanksgiving dinners, but for my Australian readers this can also go into your rotation! If you're having a Friendsgiving dinner or have been invited to a backyard Christmas get together, this can be your dish of choice! It's always a crowd pleaser and it's really easy to make. You can serve it as a side to one of my delicious roasts or steak dinners.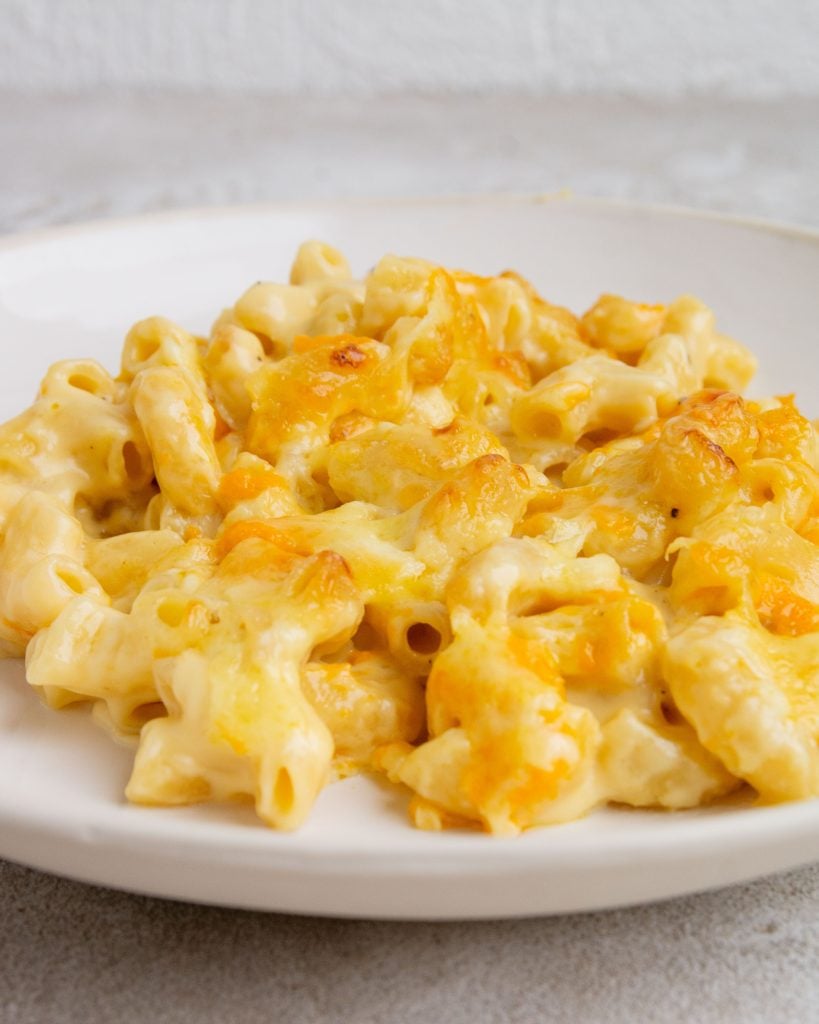 If you make this recipe, please tag me on Instagram, Tik Tok or Pinterest so I can see your wonderful creations from Daen's Kitchen!
If you have any questions or would like to leave a review, please do so here! I always love answering your food and recipe related questions and hearing your feedback on my recipes.
This recipe was sponsored by our friends at Westgold Butter.
Images by Alanna Penna Photography.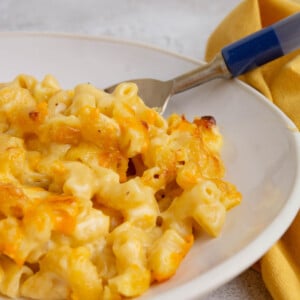 Luxurious Mac and Cheese
Smooth, silky, luxurious mac and cheese.
Ingredients
250 g macaroni pasta
1 tbsp olive oil
75 g Westgold Butter salted
1/2 cup white all purpose flour 50 g
1 garlic bulb or 2 garlic cloves finely diced
3 cups milk
50 g red or white cheddar grated + 30g extra
50 g Jarlsberg cheese grated
50 g gruyere grated
salt and pepper
Instructions
Preheat oven to 160 degrees C / 320 degrees F if making the roasted garlic.

Using a sharp knife, slice the top off the garlic bulb, about 2 – 3 cm down from the top to expose the raw cloves. Place the bulb of garlic into the centre of an oven proof dish, drizzle with olive oil and season with salt and pepper. Bake for 1 hour.

Allow the garlic to slightly cool until you are able to handle it. Using your fingers, squeeze the roasted garlic cloves out of their skin. Set to the side.

Turn the ovens temperature to 180 degrees C / 350 degrees F

Bring a large pot of heavily salted water to the boil.  Follow the instructions on the back of the pasta packet for al dente pasta and drain your pasta 2 minutes before the suggested cooking time. Stir through a teaspoon of butter through the drained pasta and leave to slightly cool.

In an oven proof pot on a medium heat, combine the butter and olive oil and cook until melted. Add the flour and garlic to the pan and whisk to form a roux. Stir constantly for 1 – 2 minutes.

Add the milk to the roux, one cup at a time and whisk until combined and lump free. Repeat this step 2 more times until you have used up all the milk. Whisk the sauce for 5 minutes or until slightly thickened.

Take off the heat and stir through the cheese with a big pinch of salt and pepper. Season to taste.

Add the pasta to the sauce and stir through. Sprinkle the remaining cheese all over and bake for 15 minutes or until golden on top. Serve immediately.