Before anyone thinks I've made a typo, I am going to announce right now that this recipe has a lot of garlic. Like, more than you think. It has a total of 40 cloves, and when I tell you, it's worth it – I mean it. It's worth it. Would I lead you astray? I'm the garlic girl! I present to you – garlicky slow lamb shoulder.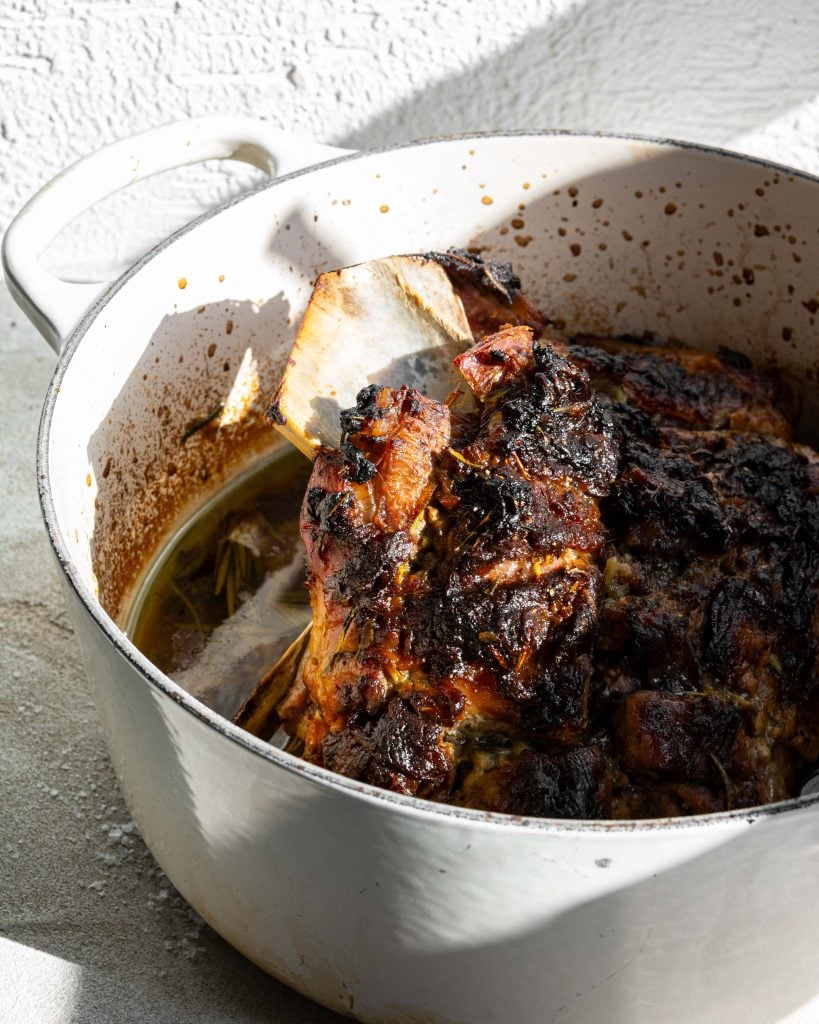 Garlicky slow lamb shoulder
Lamb is a really amazing and forgiving meat to cook. If you go low and slow, you'll never regret it. Its fatiness builds flavour. For this garlicky slow lamb shoulder it will be a bit of a labour of love, but not for the technique which is easy, but the timings. It will take over four hours, but it's a great way to make your house smell amazing and the perfect meal for a Sunday at home.
I've chosen lamb shoulder for this. And a whole 2.5kg in this recipe. The timings can be adjusted if you get a smaller lamb shoulder but it can also handle the full cooking time – the longer it cooks for the more delicious it is.
Garlic, garlic and more – garlic!
Garlic is my go to. We all know this. Garlic, lamb and rosemary are a classic flavour combination for good reason – it's incredible. This is such a classic dish that I have just gone in with the garlic and I really believe it's the perfect amount.
Not a whine just a wine
I don't always cook with wine, but when I do I have one simple rule – it has to be drinkable wine as well. Some people will cook with the bottom shelf wine but I think that it's worth it to get something palatable – and then you can have a glass whilst you cook. Everyone wins!
v
Anchovy and capers
These are two ingredients that can be a little bit controversial, but they're about building flavour. The inclusion of anchovy and capers in garlicky slow lamb shoulder creates umami and gives more depth to the flavour profiles.

FAQ for Garlicky slow lamb shoulder
What can I pair this with?
Oh this dish can be paired with so many things! Roasted tomatoes, tomato confit and even potato gratin.
Can i make it ahead of time?
I always turn to this recipe when I am hosting a large dinner party or need to bring something to Christmas lunch! The lamb can sit for a few hours so you can always make it the morning of!
can i use boneless lamb shoulder?
You sure can but just reduce the cooking time by half as it wont need as long in the oven! It's best to ask your butcher advice on how long they recommends it cooks for.
Can i make this without a mortar & pestle
Absolutely! The garlic will be so soft it can easily be mashed into a paste with a fork.
If you make this garlicky lamb shoulder please tag me on Instagram, Tik Tok or Pinterest so I can see your wonderful creations!
If you have any questions or would like to leave a review, please do so here! I always love answering your food and recipe related questions and hearing your feedback on my recipes.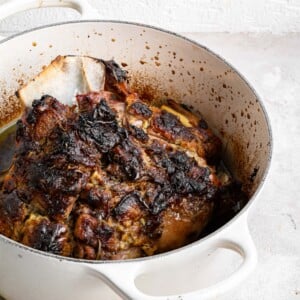 Garlicky slow lamb shoulder
It takes 40 cloves of garlic (and it's worth it!)
Ingredients
2.5 kg bone in lamb shoulder room temperature
40 garlic cloves peeled
4 sprigs rosemary
4 sprigs thyme
2 cups olive oil
4 anchovy fillets
1 tbsp baby capers
1 lemon zest and juice
250 mL white wine
salt and pepper
1 tbsp honey optional
Instructions
Preheat the oven to 200 degrees Celsius / 410 degrees Fahrenheit.

In a small pot on a low heat, combine the 20 garlic cloves, 2 sprigs rosemary, 2 sprigs thyme and the olive oil. Bring to a slow simmer and simmer for 30 – 45 minutes or until the garlic is soft and slightly golden. Remove half of the olive oil and reserve for another use. In the same pot on the same heat, add the anchovies, baby capers and lemon zest. Cook for 5 minutes or until the anchovies have melted into the oil. Drain the oil and set to the side. Place the garlic mixture into a mortar and pestle. Pound into a paste.

Using a sharp knife, score the fat of the meat into a criss cross pattern. Try to not cut through to the meat. Rub the garlic and herb mixture all over, pushing it into the slits. Scatter the rest of the herbs and garlic into the bottom of a dutch oven or roasting tin that will hold the lamb as snugly as possible. Place the lamb on top of the herbs and garlic. Pour over the reserved olive oli, lemon juice and white wine. Season with a very generous amount of salt and pepper. Cover very well with alfoil or a lid and place into the oven. Immediately turn the heat to 140 degrees Celsius or 300 degrees Fahrenheit and cook for 4 hours or until the lamb is extremely soft and tender and falling off the bone.

If using honey, drizzle it over the lamb 15 minutes before it has finished cooking.

Once the lamb is cooked leave it to rest for 15 minutes before breaking it a part. Serve with some fresh bread and all of the juices from the pan.