Nothing warms me up more than my Abuelo's Rice Pudding. The creamy, sweet, delicious dish originally hails from Spain and is known locally as Arroz Con Leche. And there's nothing closer to a hug in a bowl than this spin on the home cooking classic.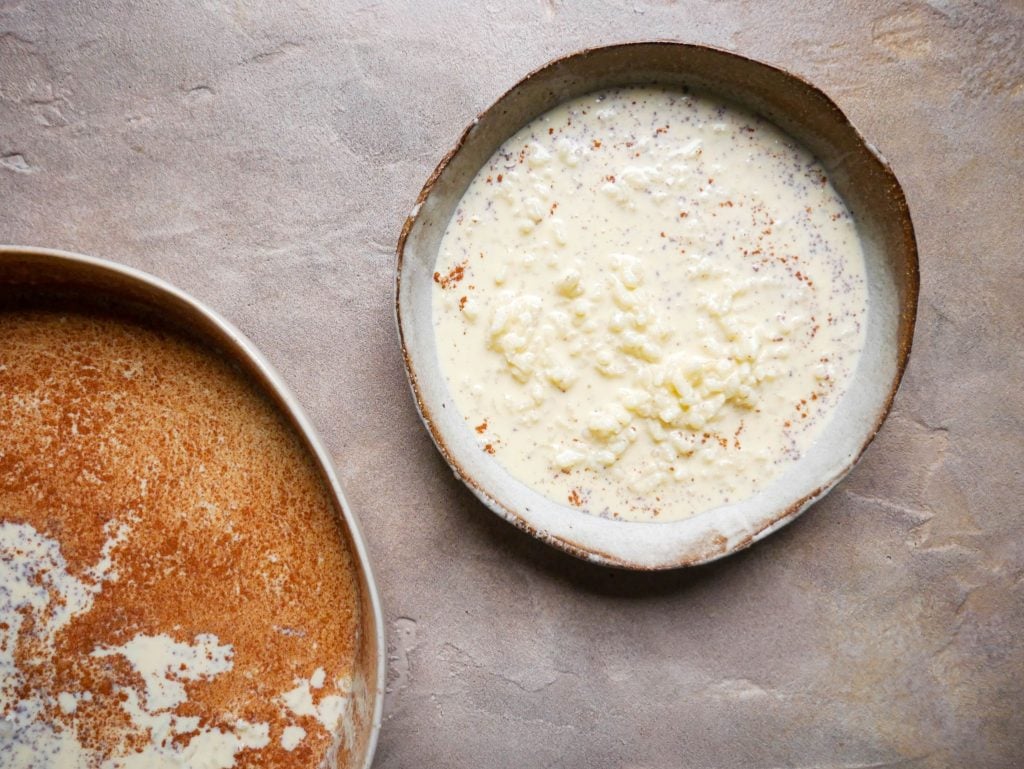 What makes my Abuelo's Recipe stand out?
For a classic Arroz Con Leche, it always has cinnamon, sugar, milk and rice. But for this unique spin on the classic, my Abuelo used to use egg yolks. He would temper them with the warm rice pudding. Afterwards, he would then add it back into the pot with a cup of cream. This technique always came out as a decadent, rich, creamy dish that is somewhere between a pudding and a custard.
Baking versus boiling
There are two main schools of thought when it comes to creating the perfect rice pudding: do you bake it or do you boil it? A baked rice pudding is more of an English tradition. In this version, the mixture is finished off in the oven to give it a crust.
But, for my way of popular dessert, it's all down to the stove. This makes it a softer, more velvety and lucious finish, sweet and rich with a smooth consistency. Although the baked one can be found throughout different variations of the recipe, me and my Abuelo will always swear by this technique.
History of Rice Pudding
Rice pudding isn't a new recipe, in fact, it's some 8000 years old! What started in India in 6000 BCE, rice pudding has been recreated in cultures around the globe, and ended up being interpreted by the Spanish to become Arroz Con Leche. In this Spanish variation, cinnamon is an important ingredient to give it that sweet yet savoury and unique flavour that is now synonymous with the popular Mediterranean dessert.
The best thing about rice pudding? It keeps really well, so if you can't knock it all off in one night, you've got a pretty yummy porridge variant for brekky the next day.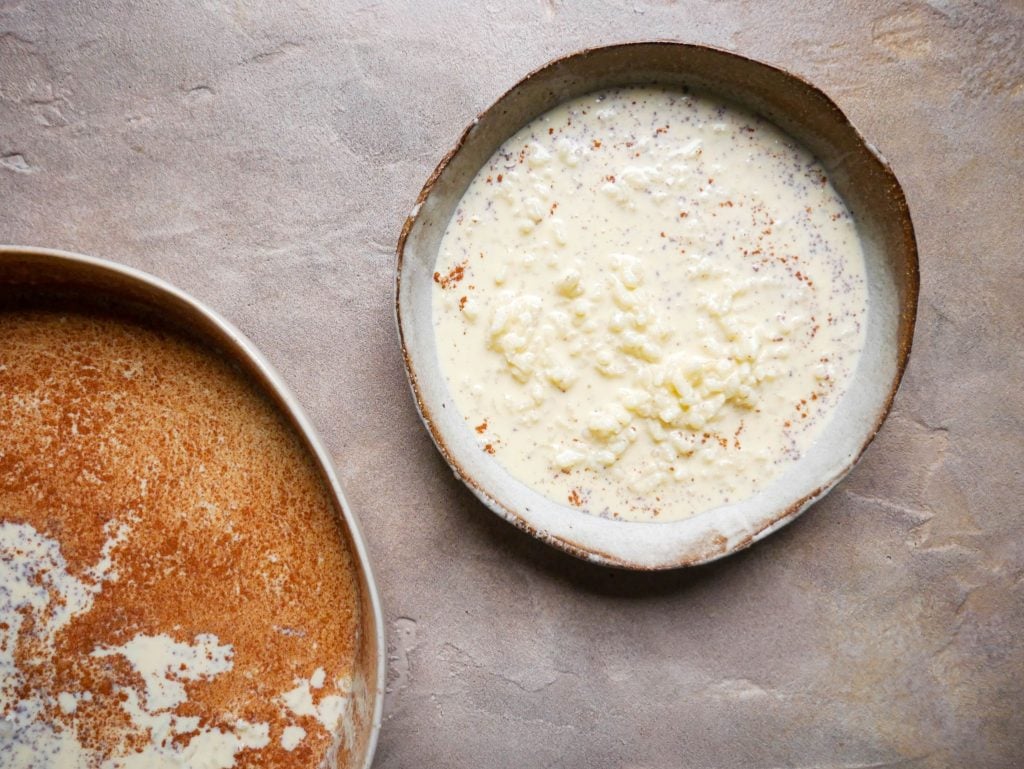 If you make this recipe, please tag me on Instagram, Tik Tok or Pinterest so I can see your wonderful creations!
If you have any questions or would like to leave a review, please do so here! I always love answering your food and recipe related questions and hearing your feedback on my recipes.
Rice Pudding from my Abuelo
A delicious classic but with my own Abuelo's twist.
Ingredients
6 cups full cream milk
1/2 cup white sugar
3/4 cup Arborio rice
2 tsp vanilla extract
2 egg yolks
1 cup full cream milk
ground cinnamon
Instructions
In a large pot on a medium heat, bring your milk, sugar and vanilla extract to the boil. Add the rice to the pot and bring to a boil. Turn the heat down immediately and cook your rice for 30 minutes on a gentle simmer. Stir quite consistently to ensure the milk does not burn.

Once your rice is cooked, add 6 tablespoons of the cooked rice pudding to the egg yolks and whisk through quite vigorously. This will temper the egg yolks and prevent them from scrambling.

Add the egg yolk mixture and cream into the pot with the rice pudding and simmer for an additional 5 minutes on a low heat while stirring occasionally.

Transfer your rice pudding to a large bowl and sprinkle with cinnamon. This dish can be eaten hot or cold and can be stored in the fridge for several days.