Carbonara
Have you ever met someone that has declared they don't like carbonara? I have, and my first question to them is, "are you talking about the carbonara with cream?" And, of course, they always say yes. 
The carbonara served in chain restaurants is creamy and garlicky with diced up bacon and sometimes a surprise of mushrooms or parsley and the strong flavour of parmesan. 
On the other hand, classic carbonara is a silky, smooth pasta dish with not many ingredients at all. It's about using the best ingredients, instead of the most. And it's also about the technique. A quick dinner option, carbonara isn't so much a labour of love, but rather one of precision. Timing is everything in this dish, but when you get it right, it's worth every last morsel. Much like my Aglio e Olio, carbonara is about technique and simple yet flavourful ingredients.
So, what makes the perfect plate of classic carbonara?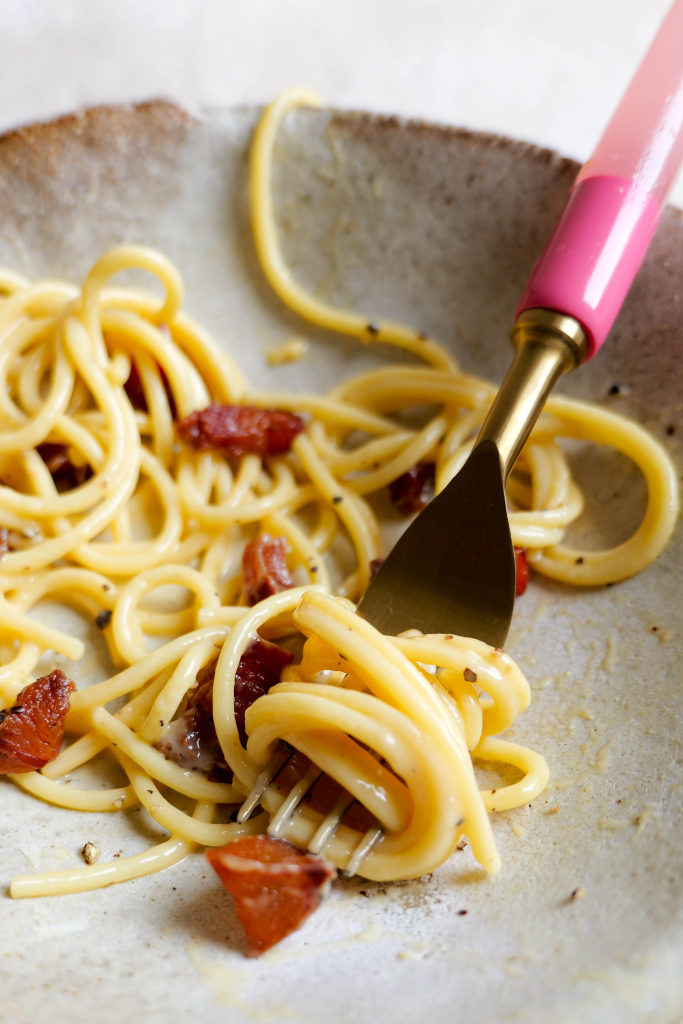 Guanciale
Typically households doing a quick throw together carbonara will use bacon, but traditionally (and ideally), you want to get your hands on some guanciale. 
"What is guanciale?" I hear you say. And yes, it can be hard to come by, but guanciale is cured pork cheek. Coming from Central Italy, guanciale has higher fat content than bacon, which gives it a rich, smoky flavour and a softer texture. 
If you can't get your hands on guanciale, never fear! Streaky, fatty bacon or pancetta are a perfect replacement. But, if you ever do spy some guanciale in your butcher, drop all your plans – because tonight, you're making carbonara!
Pecorino
Much like its accomplice guanciale, pecorino is the often left off ingredient in carbonara, replaced by its more popular cousin parmesan. However, as our 'sauce' will be silky and creamy, with the cream being created by you, pecorino is a more ideal option over parmesan. It's softer and creamier, which will allow it to emulsify and turn smooth, coating our pasta.
High quality eggs
Eggs! Carbonara is all about eggs. As the debate on the internet rages on if you should include whites or not, I say no. Egg yolks mixed with our guanciale fat, pecorino and the liquid gold (pasta water!) will create the silkiest, smoothest, creamiest and decadent carbonara sauce without needing heavy cream.
Pasta 
Choosing a pasta can make or break a recipe. Should it be short? Wide? Shaped? For carbonara, simple is best. What it should be is quality pasta, but don't go racing off to your local Italian deli. Coles has the answer on its shelves. Through all my attempts of creating the best carbonara through the years, I've had the most success with Cucina Matese spaghetti, and it's an exclusive only found at Coles!
It's all about technique!
Here comes the part that many have fallen before; the method. Carbonara walks the very narrow tightrope of emulsifying eggs into a sauce and scrambled eggs. It's about two crucial things: the pan should be hot, but not on any direct heat or those eggs will scramble, and, pasta water. Saving pasta water and using it throughout the sauce when it's being created will give you control over how thick you want the sauce to be.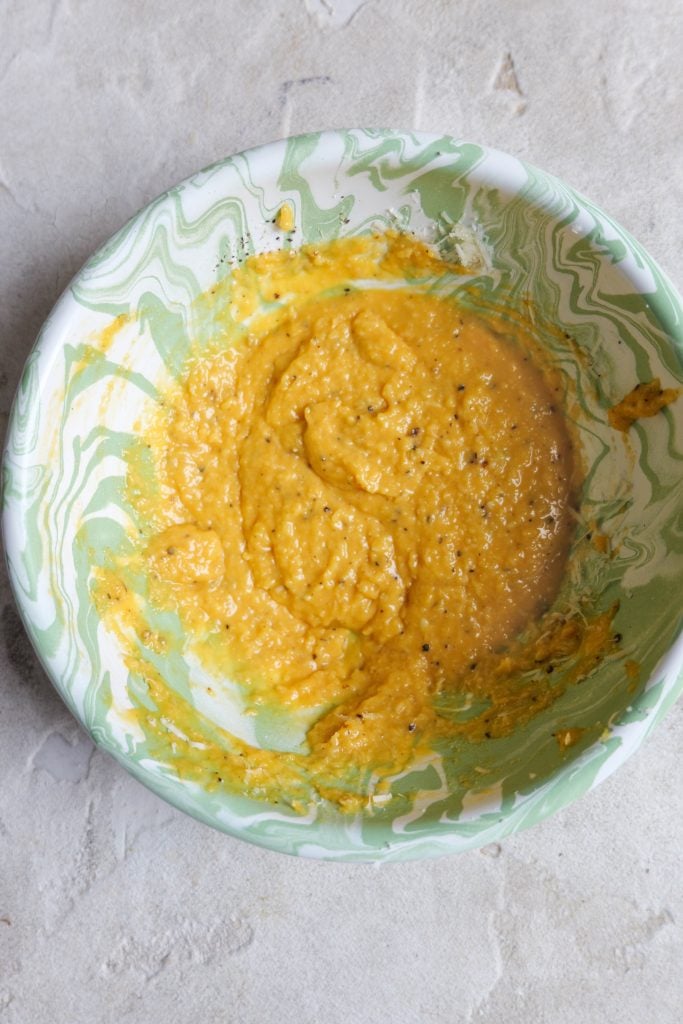 Love making pasta for your loved ones? Check out my other recipes and give them a go!
If you make this recipe, please tag me on Instagram, TikTok or Pinterest so I can see your wonderful creations!
If you have any questions or would like to leave a review, please do so here! I always love answering your food and recipe related questions and hearing your feedback on my recipes.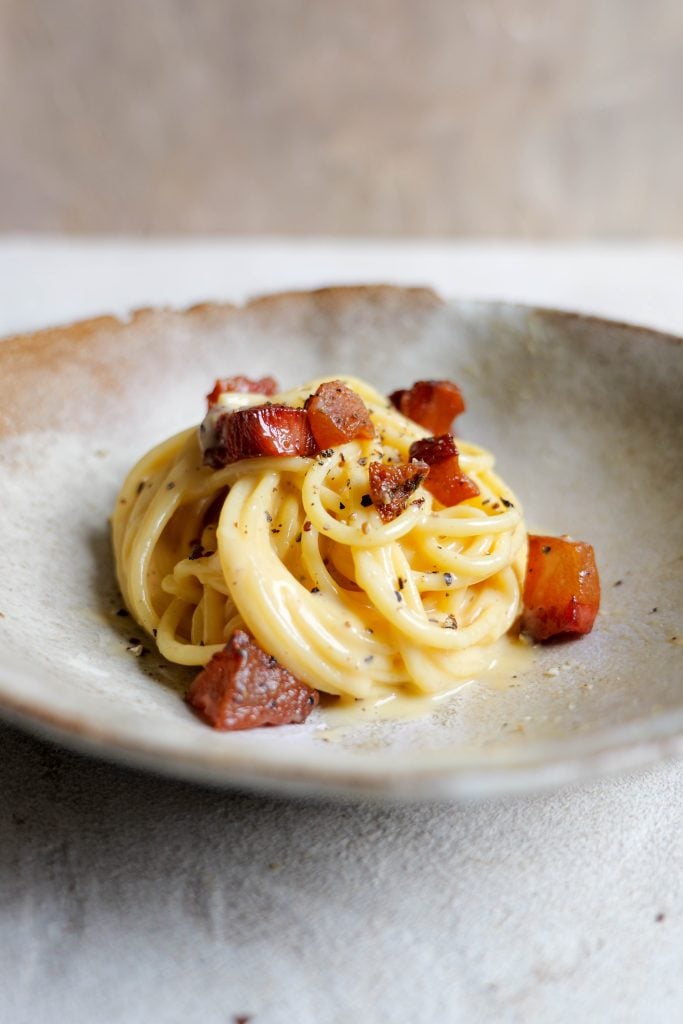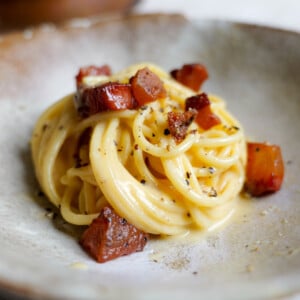 Carbonara
A classic take on the popular Italian staple.
Ingredients
250 grams Cucina Matese Spaghetti Exclusive from Coles
4 egg yolks
120 g pecorino romano grated Extra to serve
1 tsp fresh black pepper corns
200 g guanciale
Instructions
Bring a large pot of heavily salted water to the boil. Add the pasta to the pot of boiling water and cook el dente (10 minutes). Drain the pasta and reserve up to 1 cup of pasta water.

Remove the rind from the guanciale and slice into small cubes. In a dry cold pan, add the guanciale. Turn the heat to medium – high and cook for 3 – 4 minutes or until crispy and the fat has rendered. Place a sieve over a bowl and drain the fat. Set to the side.

In a small bowl, whisk together the egg yolks, cheese and black pepper. Add two tablespoons of guanciale fat and stir through.

In the same pan the guanciale was cooked in, deglaze the pan with a splash of hot pasta water. Add the pasta to the pan and stir through. Add in the egg and cheese mixture and stir through while slowly incorporating the pasta water until you have a smooth, glossy and silky texture. You may not need all the pasta water which is why we slowly incorporate it until it's at the right consistency. It's important this step is done in a warm pan that is off the heat. Add ¾ of the guanciale and stir through.

Sprinkle the remaining guanciale on top and extra sprinkling of cheese and black pepper. Eat immediately.