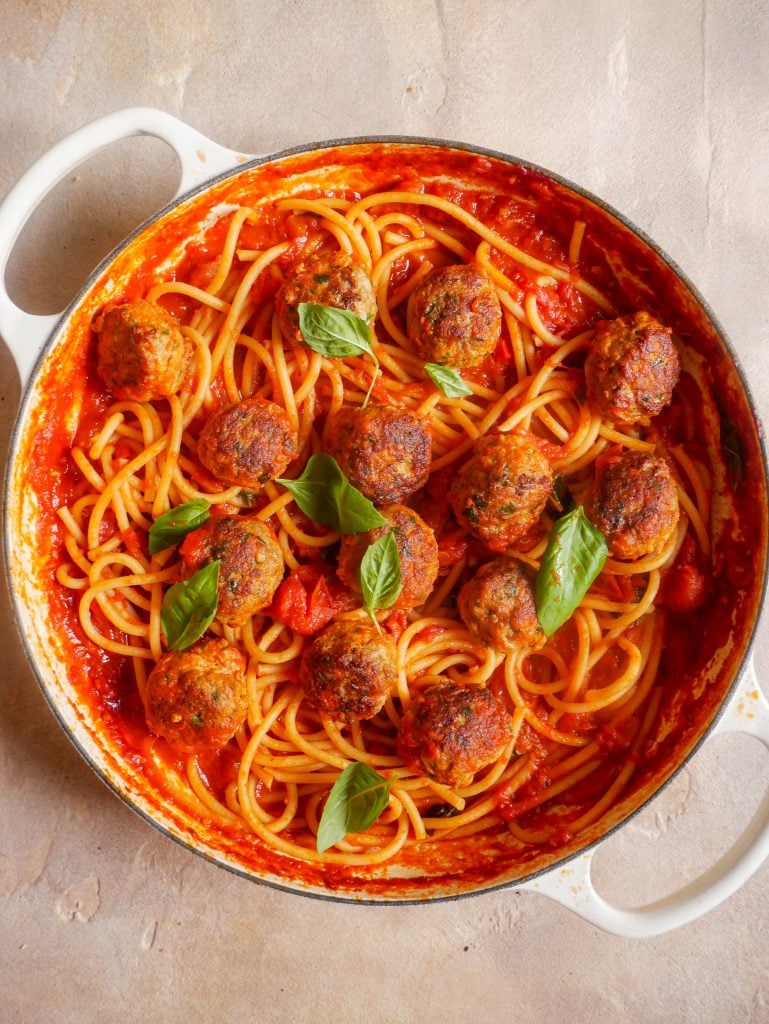 This is my mum's spaghetti and meatballs and if you've ever been so lucky to eat them with her, you will hear them be introduced as our 100 year old family recipe. It's her signature dish, if you will (chef's kiss). Over time, my mum has tinkered with the recipe and has finally settled on what she, and I, believe to be the best way to make meatballs. 
The meatballs
As opposed to the way she was taught, and the more traditional way, we no longer soak our bread in milk. We use a dried bread and parsley mixture that's been blitzed in a food processor. What this does is create a firm yet moist meatball that isn't soggy. You may also recognise this breadcrumb mixture from my mum's famous crispy crumbed chicken.
We use the holy trinity of meat which is lamb, beef and pork. Just as Vinnie says in Goodfellas, you've got to have the pork. The pork is the flavour. The key to a perfectly fried meatball is to give the meatball space as it needs to brown and caramelise properly. This means working in batches, being patient and letting it do its thing in the pan. I use lots of olive oil in the pan to help get that golden and brown crunch on the outside of the meatball. The meatball will then finish off cooking in the sauce. We also like to season the meat with garlic salt as this creates a subtle flavour throughout the meatballs.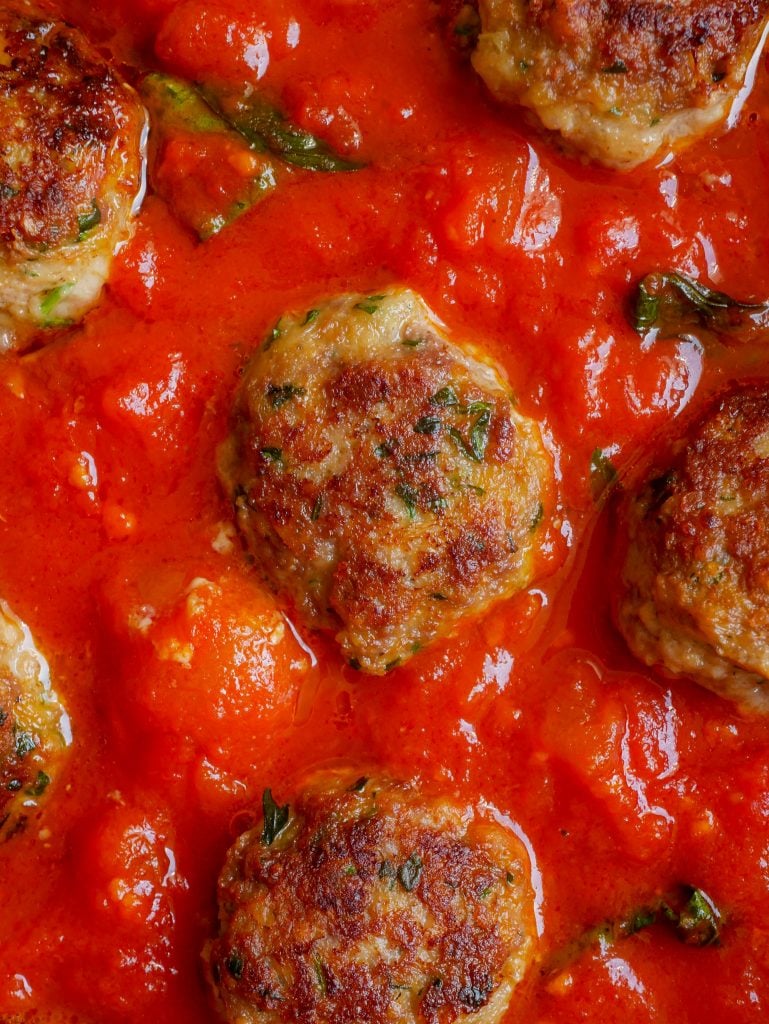 The sauce
Mum and I always pair our meatballs with my Nanna's tomato and basil sauce. This recipe is quite the family affair you could say! Again, unlike a traditional tomato sauce, we like to use lots of garlic. This tomato sauce was one of the first things I learned how to cook and as simple as it is, it's taken my family years to make what we consider a really good tomato sauce. It's important to use high quality tinned tomatoes as they will be plump, juicy and sweet and require little seasoning.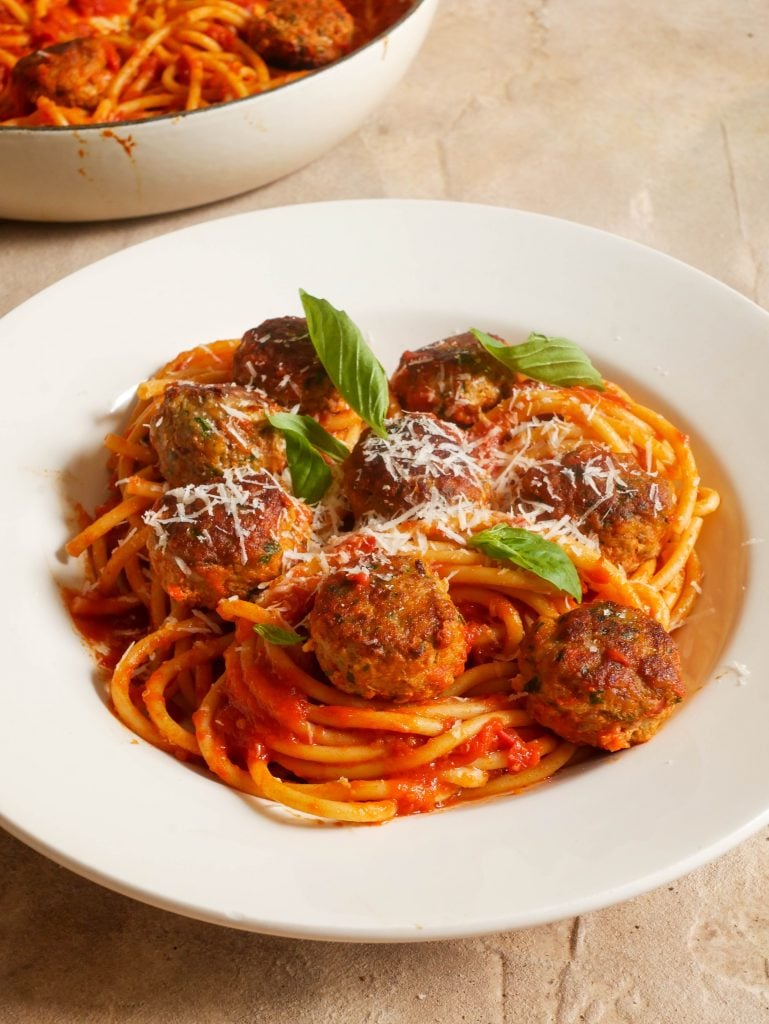 The perfect shape of pasta for this recipe is a tubular spaghetti or more commonly known as bucatini. It is a thick round shape with a hole in the middle to capture all that beautiful red sauce. The beauty of this recipe is that you can use whatever pasta shape your heart desires!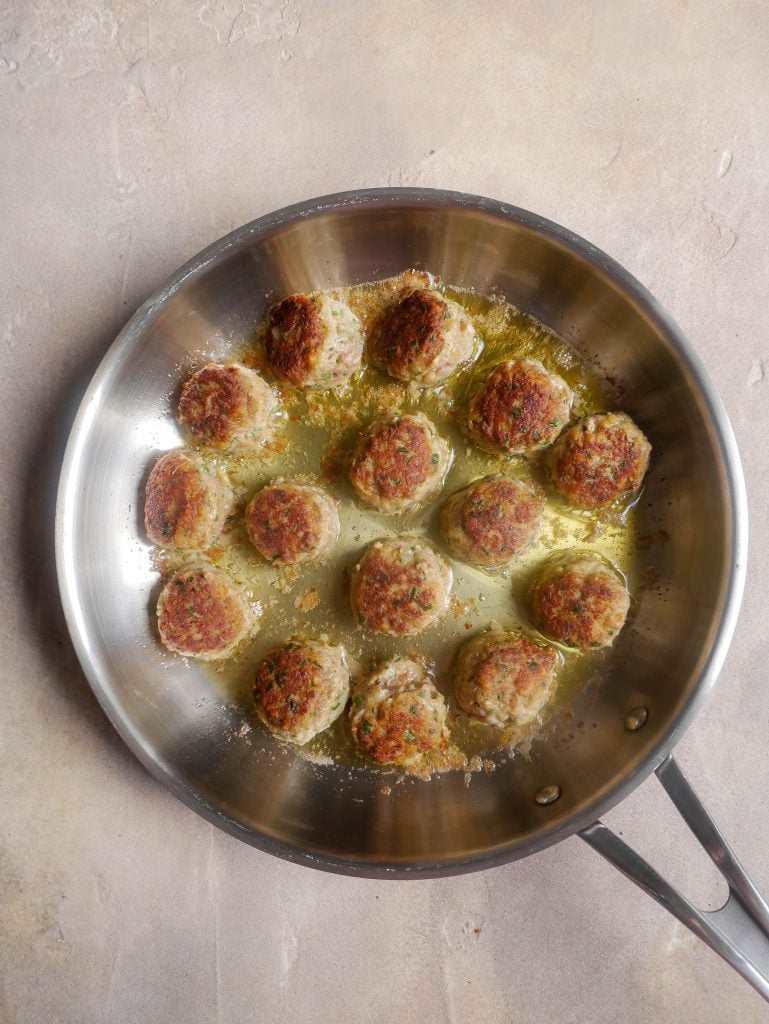 Can I freeze the meatballs?
This recipe is for a huge serving so you can absolutely store any leftover meatballs in the freezer. I freeze them in snap lock bags before they have been cooked. They will last for up to 3 months in the freezer. 
Can I freeze the sauce?
That's a big yes from me! This is my favourite sauce to make in bulk as I use it in so many different recipes. It will keep in the freezer for up to 6 months and I like to freeze it in individual portions sizes in a snap lock bag. 
Do I need to use a mix of three different meats for the meatballs?
This is not a requirement at all and you can use whatever mix of meats you like or all beef, pork or lamb. My preference is to use the holy trinity of meats.
If you make this recipe, please tag me on Instagram, Tik Tok or Pinterest so I can see your wonderful creations!
If you have any questions or would like to leave a review, please do so here! I always love answering your food and recipe related questions and hearing your feedback on my recipes.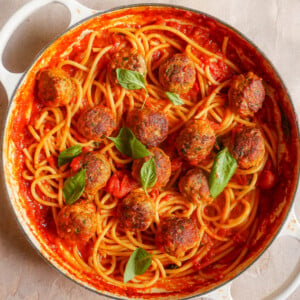 Spaghetti & Meatballs
This is my mum's spaghetti and meatballs and if you've ever been so lucky to eat them with her, you will hear them be introduced as our 100 year old family recipe.
Ingredients
Meatballs
6 slices stale white bread sliced
1/2 - 1 cup milk
500 g beef mince
250 g pork mince
250 g lamb mince
1 cup pecorino romano grated
2 brown onions very finely diced
1/2 bunch parsley finely diced
1 garlic clove grated
2 eggs
1 tsp freshly cracked black pepper
1 tsp flakey sea salt
Tomato & Basil Sauce
3 tbsp olive oil
4 garlic cloves
2 400g tinned tomatoes
4 tomatoes sliced and peeled
1 bunch fresh basil
salt to taste
1/4 - 1/2 cup water
500 g spaghetti
Instructions
Meatballs
Place the bread into a bowl and cover with the milk. Leave to sit until soft. Depending on how stale the bread you are using is, you may need the full cup of milk or only half.

Combine all ingredients into a large bowl. Using your hands, mix all the ingredients really well, squeezing together to incorporate. 

Using roughly 1 tablespoon of the mixture, roll it into golf sized balls. Place onto a large tray, cover and leave to set in the fridge for a minimum of 30 minutes. Begin making the sauce.

In a fry pan on a medium - high heat, add 4 tablespoons olive oil and fry your meatballs for 2 minutes each side or until they are golden and caramalised. Fry the meatballs in batches so the pan does not overcrowd. 

Bring a large pot of heavily salted water to the boil. Follow the instructions on the back of the pasta packet for al dente pasta and drain your pasta 1 - 2 minutes before the suggested cooking time. Reserve up to 1/2 cup of pasta water. 

While the pasta is cooking, add the meatballs to the tomato and basil sauce, making sure ¾ of their body is submerged in the sauce. Leave to cook for 8 minutes on a low - medium heat.  

Take the meatballs out of the sauce and set to the side. 

On a low heat, stir the pasta through the sauce, slowly incorporating the pasta water until you have a smooth and glossy texture. Place the meatballs back into the pan with the sauce and spaghetti and finish off with a sprinkling of fresh basil and pecorino romano. 
Tomato & Basil Sauce
In a large deep fry pan, bring the olive oil to heat. Turn the heat down immediately, add the garlic and cook for 2 - 3 minutes or until the garlic is slightly brown. Remove from the pan.

In the same pan, combine the tinned tomatoes, fresh tomatoes, water, a pinch of salt and pepper and ¾ of the basil. Bring to the boil then turn the heat all the way down and leave to simmer for 30 - 40 minutes. Depending on the tinned tomatoes you are using, your sauce may need a little sweetness. Keep tasting your sauce as it cooks and add more salt, pepper or sugar if needed.