This is the ultimate salad. It's filled with fresh veggies, avocado, shaved Pecorino Romano, crispy bacon bits and my famous crispy crumbed chicken.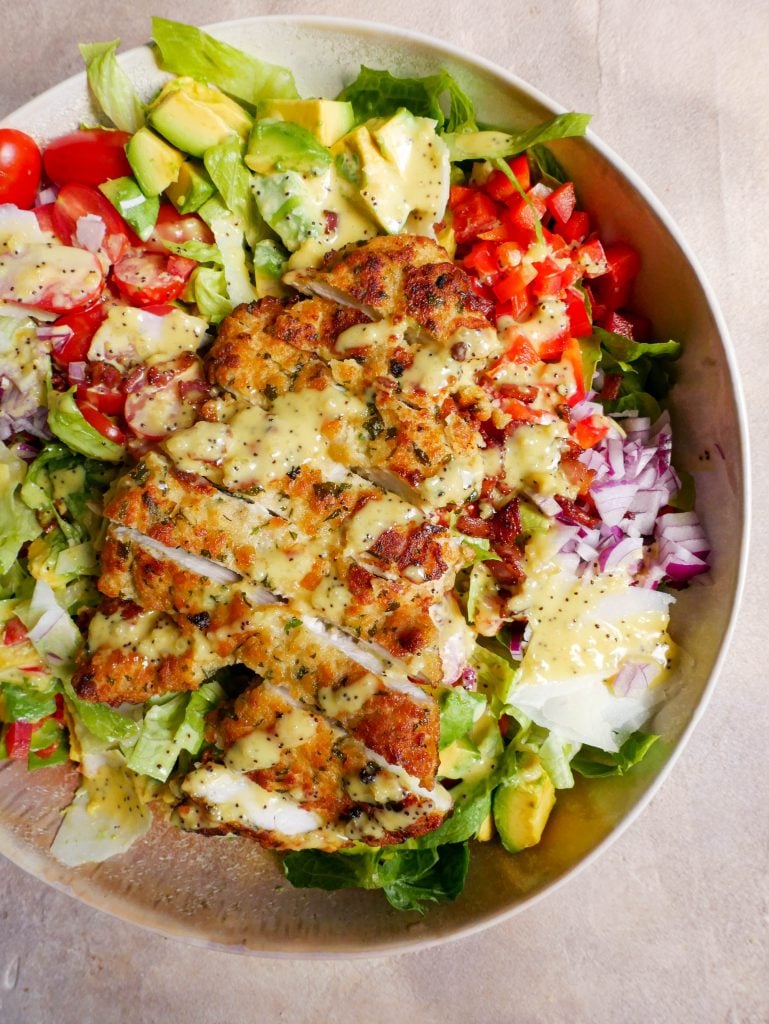 Crispy Crumbed Chicken & Bacon Salad
Fresh and crisp veggies, a succulent and golden piece of crumbed chicken, crispy chicken and sweet and tangy dressing come together to bring you the tastiest salad you may ever make. This salad is extremely filling and won't leave you feeling hungry. It works as both a side dish and main meal. The crispy bacon and chicken add a perfect crunchy element while the cheese and dressing give it a beautiful depth of flavour. My biggest piece of advice for when making the perfect salad, is to cut all your veggies quite small! It may sound tedious but it does make all the difference.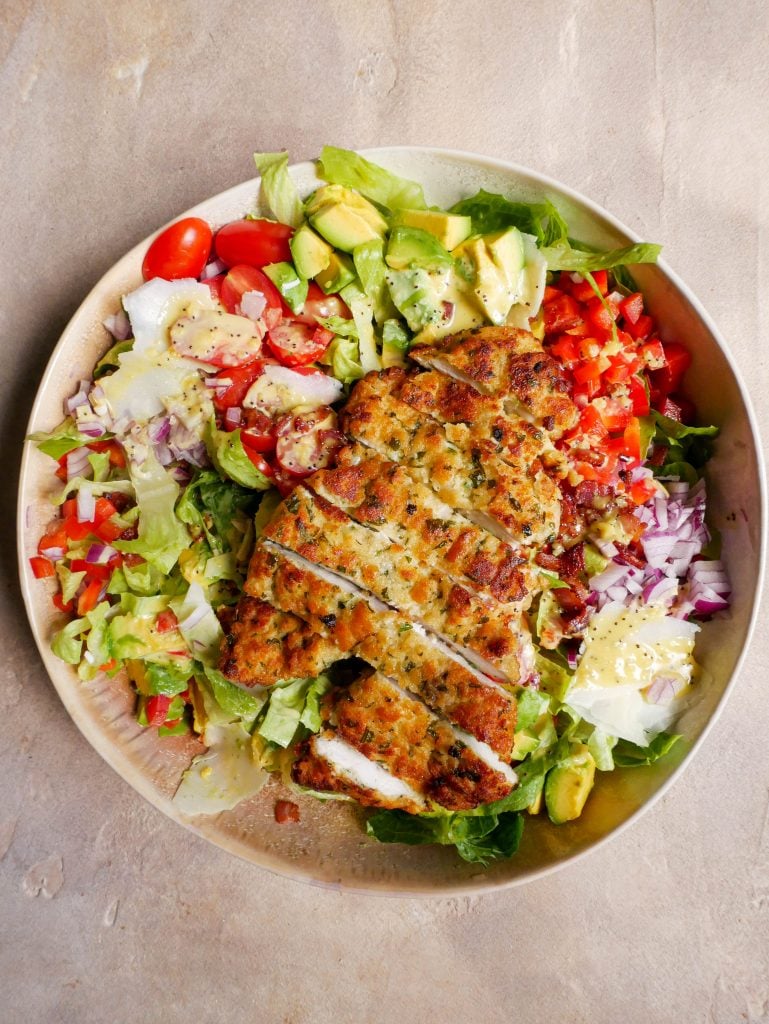 Salad Dressing
I have finished it off with Rich Glen's Poppy's Favourite Dressing that is tangy, sweet and creamy. It has a similar taste to a honey mustard dressing. If you can't get your hands on this dressing, I have provided an alternate salad dressing recipe that is extremely easy to make! All you need to do is combine all ingredients into a jar and shake well. The dressing will keep in the fridge for several weeks as well!
Crispy Crumbed Chicken
My mum's crispy crumbed chicken is famous for a reason. The breadcrumbs are homemade, we use garlic in our egg wash that creates a subtle garlic flavour throughout and a light olive oil is used for shallow frying the chicken as it creates that lovely golden colour and crispy crunch. This crumbed chicken can be used for so many meals from a crumbed chicken sandwich to this crispy chicken salad or chicken nuggets for the kids. It's extremely versatile and I can guarantee, it will be the only crumbed chicken recipe you will ever need.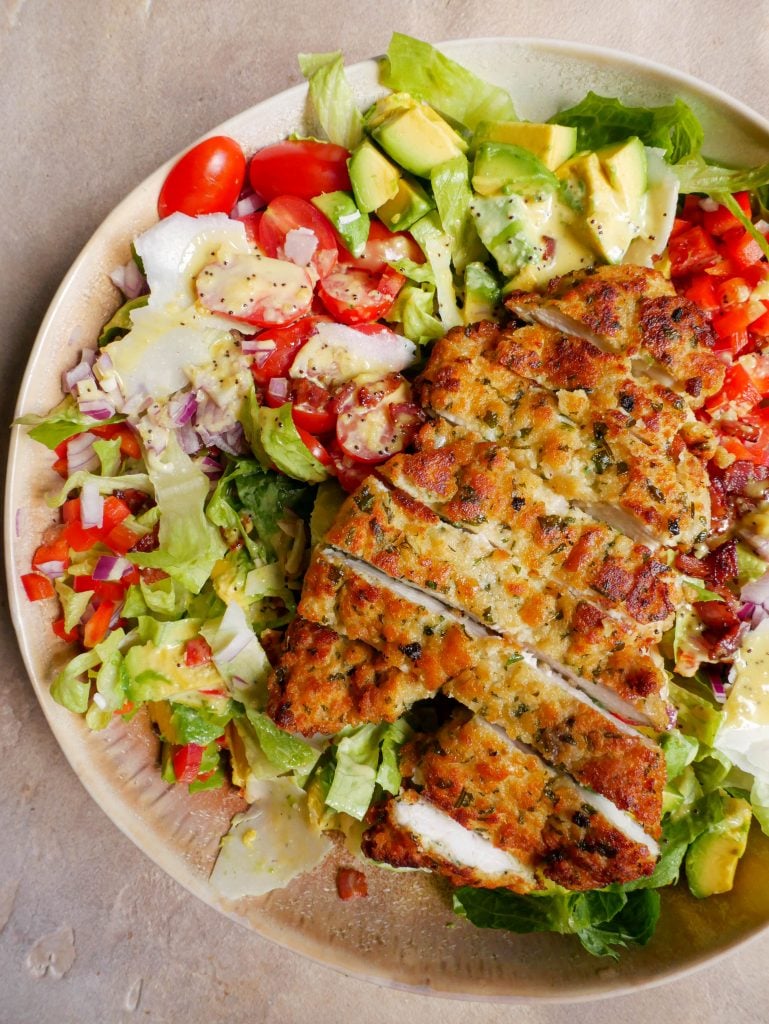 Making it in bulk
This crispy crumbed chicken is the ultimate meal to make in bulk and store in the freezer. I use one whole sandwich loaf to create enough breadcrumbs to make up to 2kg of crumbed chicken. Once the chicken has been crumbed, immediately individually wrap each piece in plastic wrap to avoid the breadcrumbs from going soggy and place into the freezer. It can be stored for up to 3 months.
If you make this recipe, please tag me on Instagram, Tik Tok or Pinterest so I can see your wonderful creations!
If you have any questions or would like to leave a review, please do so here! I always love answering your food and recipe related questions and hearing your feedback on my recipes.
This recipe was sponsored by Rich Glen Olive Oil.
Crispy Crumbed Chicken & Bacon Salad
This is the ultimate salad. It's filled with fresh veggies, avocado, shaved Pecorino Romano, crispy bacon bits and my famous crispy crumbed chicken.
Ingredients
Crispy Crumbed Chicken
1.5 kg chicken breasts
1 white sandwich loaf sliced
4 eggs
4 garlic cloves crushed
1 cup white all purpose flour
1 tsp salt
1 bunch fresh parsley roughly chopped and stalks discarded
1 tbsp fresh rosemary
olive oil extra virgin
Salad
2 cos lettuce hearts roughly chopped
1 capsicum finely diced
1 red onion finely diced
1 avocado cut into small squares
150 g cherry tomatoes sliced in half
100 g bacon
30 g pecorino romano shaved
3 tbsp Rich Glen Poppy's Favourite Dressing
2 pieces crispy crumbed chicken
Salad dressing alternative (lemon honey mustard)
1/2 cup olive oil
2 tbsp honey
1/4 cup lemon juice
1 tbsp dijon mustard
1 garlic clove crushed
zest from 2 lemons
salt and pepper
Instructions
Crispy crumbed chicken

Lay the bread out onto a baking tray and leave to dry out overnight.

Begin by making your egg wash. In a shallow wide bowl, whisk your eggs, garlic and water together and set to the side. By preparing this early the garlic will have time to release its flavour into the eggs.

Cut the tenderloin off the chicken breast but do not toss away as we will also be crumbing this part. Using a sharp knife, cut through the middle of the chicken breast horizontally so they half in thickness. Let the knife do most of the work, applying a small amount of pressure as the knife glides through crosswise. It's easiest when you place one hand on top of the chicken breast. Don't worry if this is not done too evenly! Repeat this step with all the chicken breast.

Place one piece of chicken between two pieces of plastic wrap. Using the smooth side of a mallet, pound the chicken from the centre outwards until the breast is roughly 2cm thick and has an even thickness throughout. This step is to ensure the chicken cooks at an even rate. Set your chicken to the side.

Roughly tear apart your bread and place into a food processor or blender with the parsley and  rosemary. Blend until the bread is still quite chunky and the herbs have been mixed through. We aren't looking for a fine and crumbly texture with this breadcrumb as its those chunky crusty parts that make the breadcrumb extra special. If you are using a small blender you will need to do this step in batches. Place your breadcrumbs into a large bowl.

In a shallow wide bowl, whisk together the flour and salt and then set up your dredging station. Begin with your flour, followed by the egg wash, followed by the breadcrumbs and then finished with a large clean plate or tray to place the crumbed chicken in.

Take one chicken breast and coat both sides evenly with the flour.  Then place into the egg wash and coat both sides evenly. Lastly, place into the breadcrumb mixture applying pressure with your hands when you flip the chicken over to ensure the breadcrumbs are evenly coated all over. Place the chicken breast onto the clean plate and then repeat this step with the remainder of the chicken.

In a large frying pan, add a very generous amount of olive oil until it's about 2 - 3cm deep in the pan. Bring the olive oil to heat. You can check if the olive oil is hot enough by placing a wooden skewer into it and seeing if bubble forms around the skewer. Turn the heat down to low - medium and fry 2 pieces of chicken for 2 - 3 minutes on each side or until they are golden and crispy. It's best to test out one piece of chicken to make sure your cook time and heat levels are accurate. Remember your chicken will continue to cook when you take it off the heat so take it off a few seconds before you feel it's ready. Place the cooked chicken onto a plate lined with absorbent paper.

Individually wrap the remainder of the crumbed chicken that you have not cooked in glad wrap and store in the fridge for 2 days or the freezer for up to 3 months.
Salad
In a dry pan on a high heat, fry the bacon until crispy. Remove from the pan with a slotted spoon.

In a large bowl combine all ingredients and toss together. Slice the crumbed chicken and place on top. Serve immediately. 
Salad dressing alternative (lemon honey mustard)
Combine all ingredients into a jar and shake well until well combined.