Indulge in a decadent meal with this simple and delicious buttered lobster pasta. This creamy and rich pasta is made with luxurious pieces of lobster tail that have been pan fried in lots of butter and tossed through jammy tomatoes.
Buttered Lobster Pasta with Cherry Tomatoes
There is no better way to my heart than lobster. Especially buttered lobster. And if you're anything like me, nothing says I love you more than a big bowl of buttered lobster pasta made with my favourite butter, Westgold. This pasta is creamy and rich and filled with beautiful pieces of lobster tail that have been panfried in lots of butter. The sauce is made from shallots, garlic, white wine and fresh cherry tomatoes that burst open, creating a lovely jammy texture and sweet taste. While this is a great meal to serve those you love on Valentines Day, it's also the perfect treat to spoil yourself with.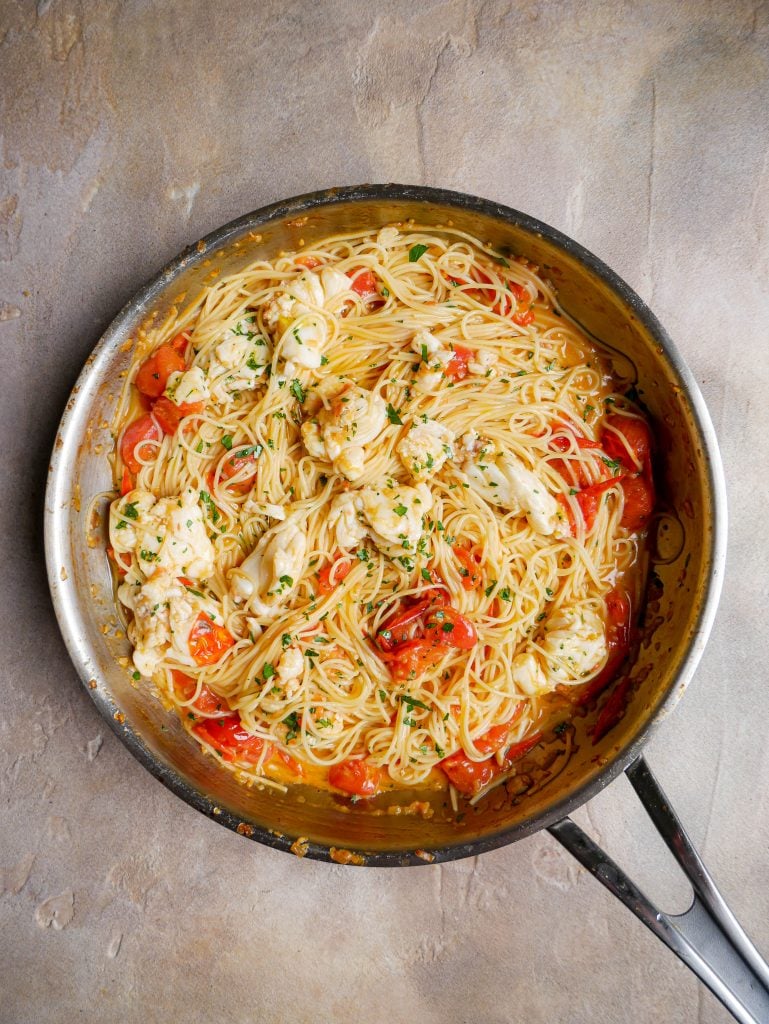 How to cook a lobster
Firstly, don't freak out! While the idea of cooking a lobster can be a little scary, it's actually rather simple. Since you have most likely spent an arm and leg on a lobster, you're going to want to get it right.  The most important thing you need to know when cooking a lobster tail is its weight. The weight will determine the cook time. A large lobster tail that weighs 500g / 18 ounces, like the ones we get in Australia, will need at least 12 – 14 minutes of cook time.  A smaller lobster tail that weighs 120g / 4 ounces will need only 8 minutes. Cook your lobster tail in a large pot of salted boiling water. Make sure it's heavily salted (it needs to taste like the ocean) as this will not only flavour the lobster while it cooks but also the water. Reserve the water as it turns into a lovely lobster stock and can be used to make a lobster bisque.
What you're going to need
Lobster – This is an obvious one however, I know how expensive lobster can be. For a cheaper alternative, you can use prawns or even a firm white fish! Either way, make sure you are buying high quality and fresh seafood where possible
Butter – I only use the best in the business and that is Westgold butter. This recipe was sponsored by our lovely friends over at Westgold.
White wine – You only need a splash yet my rule of thumb for when cooking with wine is to use wine you would want to drink. Cheap cooking wine is a myth and can completely ruin the taste of a beautiful meal.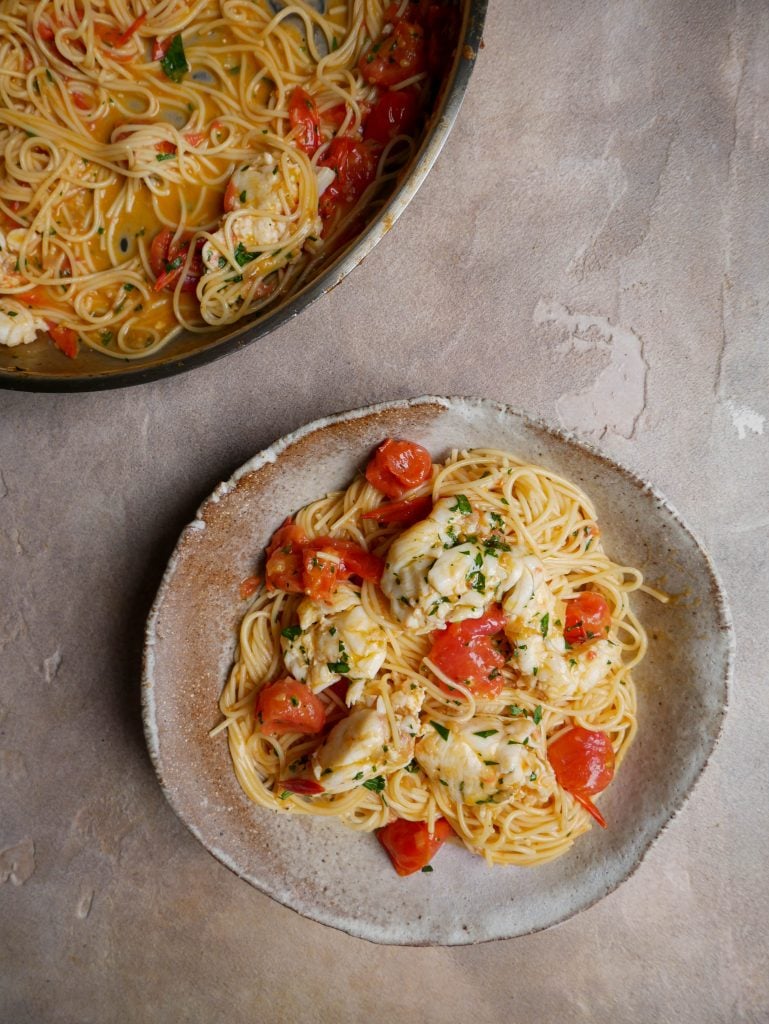 What you need cont…
Cherry tomatoes – These are the base of the sauce. When they are cooked at a low heat in aromatics such as shallots and garlic and beautiful olive oil, they will burst open and create a jammy and sweet tasting sauce.
Pasta – While I love this dish with thing angel hair pasta, you can really choose any pasta of your choice! However, I do think a long pasta shape such as spaghetti, tagliatelle or linguine works best.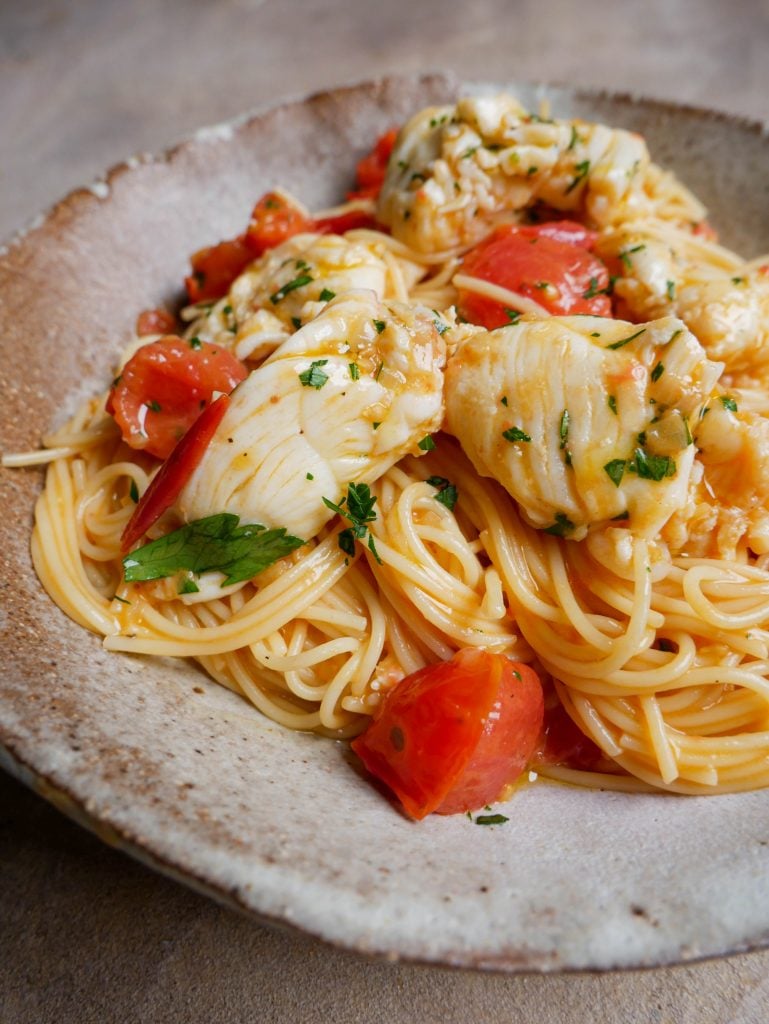 Check out my other seafood recipes
Garlic confit butter butterflied BBQ prawns
Slow roasted olive oil & citrus salmon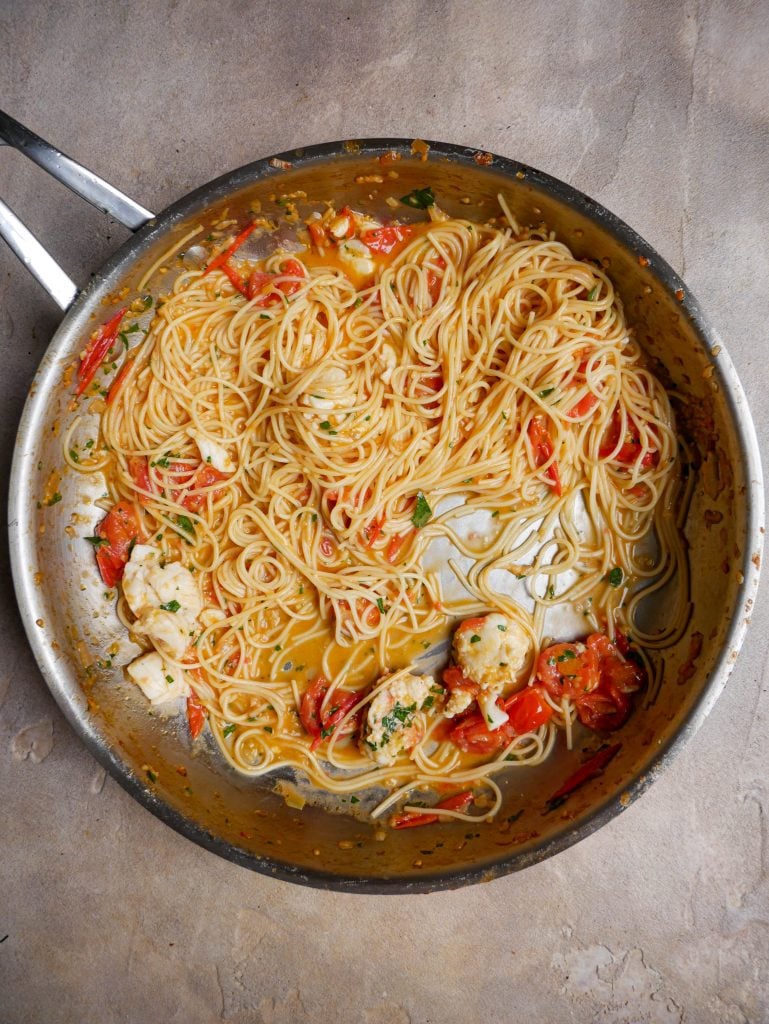 If you make this recipe, please tag me on Instagram, Tik Tok or Pinterest so I can see your wonderful creations!
If you have any questions or would like to leave a review, please do so here! I always love answering your food and recipe related questions and hearing your feedback on my recipes.
This recipe is sponsored by Westgold Butter.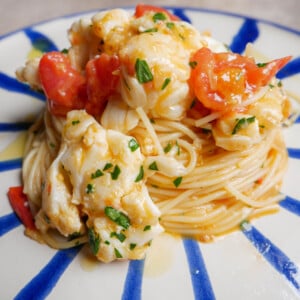 Buttered Lobster Pasta
Indulge in this decadent meal with this simple and delicious buttered lobster pasta. This creamy and rich pasta is made with luxurious pieces of lobster tail that have been pan fried in lots of butter.
Ingredients
150 g Westgold salted butter
1 lobster tail 500g - 1kg
1 tbsp olive oil extra virgin
1 shallot finely diced
2 garlic cloves finely diced
1/4 cup white wine
400 g cherry tomatoes
250 g angel hair pasta
parsley finely diced
1/4 lemon
salt and pepper to taste
Instructions
Bring a large pot of heavily salted water to the boil. 

Remove the lobster meat from the shell. Using shearing scissors, turn the tail over and cut down each side. Peel the shell away and remove the meat. Chop into large pieces.

In a deep dish saucepan on a medium heat, combine the olive oil and 50g butter. Once the butter has melted and is slightly foaming, add the lobster meat to the saucepan and cook for 3 - 4 minutes or until the flesh is white and pink. Remove the lobster from the pan with a slotted spoon and set to the side. 

Add the shallots and garlic to the saucepan and cook for 2 minutes while stirring occasionally. Deglaze the pan with the white wine and scrape off all of the brown parts from the pan. Cook until 80% of the wine has been absorbed. 

Turn the heat to low and add the cherry tomatoes to the pan. Cook for 10 - 15 minutes or until they have burst open and have created a jammy texture. 

Add the pasta to the pot of water and drain 2 minutes before the suggested cooking time while reserving 1 cup of pasta water. 

Add the pasta and 50 - 100g of butter to the saucepan with the tomatoes. Slowly incorporate the pasta water and butter until you have a silky and glossy texture. Add the lobster, a sprinkling of fresh parsley and lemon juice and stir through. Serve immediately.