This prawn risotto is made with a rich homemade prawn stock that utilises every last drop of flavour from the prawn heads. It's rich, creamy and the ultimate comfort food!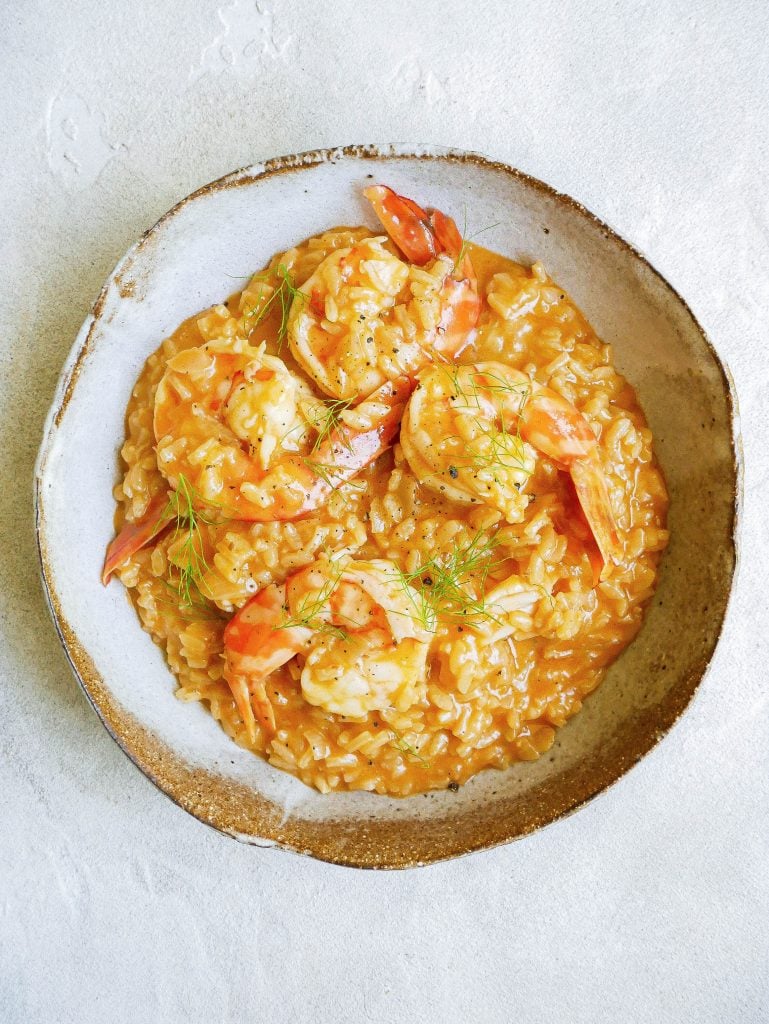 Creamy Prawn Risotto
Seafood lovers, this creamy prawn risotto with a homemade prawn stock is just for you! It's rich, creamy and tastes just like the ocean. What makes it stand out from the crowd is the prawn stock that is made with every last drop of flavour from the prawn heads. Before you turn up your nose, prawn heads is where the flavour is at and if you aren't using them then you are missing out! What brings this prawn risotto all together is the combination of butter and cheese. When stirred through the cooked prawn risotto, they create a luxuriously creamy and silky texture.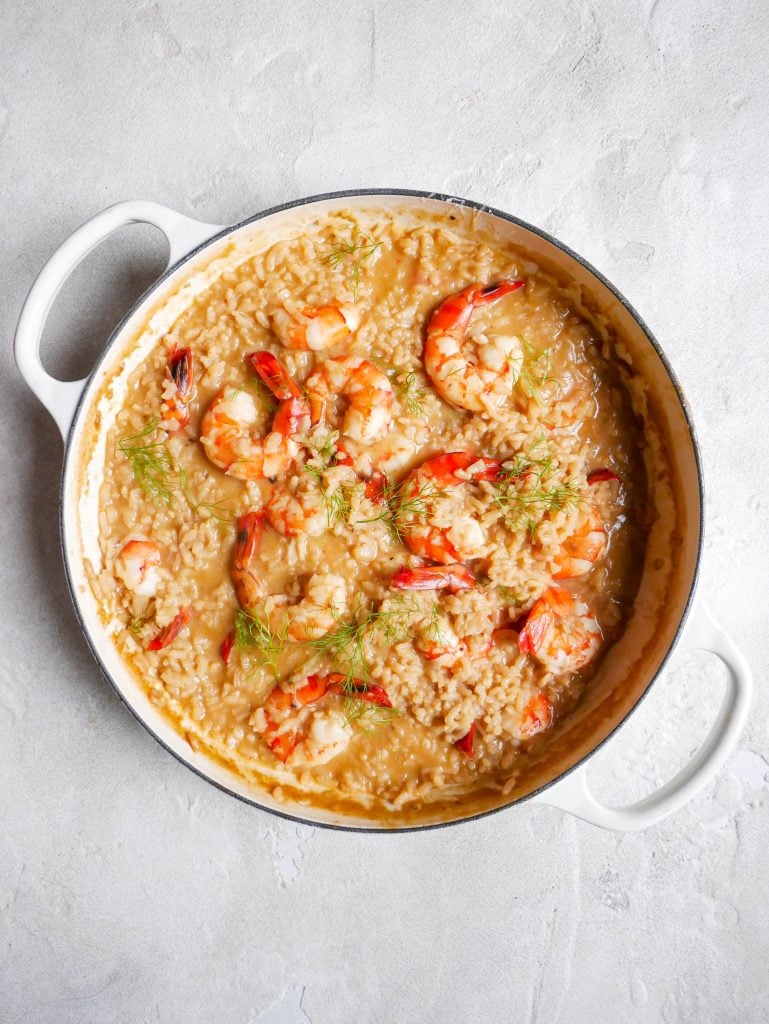 Prawn Stock
I have said it before and I will say it again, if you aren't using prawn heads in your prawn based meals then you are missing out on so much flavour! Prawn heads are little pockets of flavour. Not only by using them does it minimise food waste, but it also creates such a rich depth of flavour in anything you use them in. The prawn heads are fried off in lots of olive oil and then left to simmer with vegetables and salt and pepper for 1 hour to create a beautiful stock for the risotto. You can also use this prawn stock recipe is so many other seafood based recipes that require stock!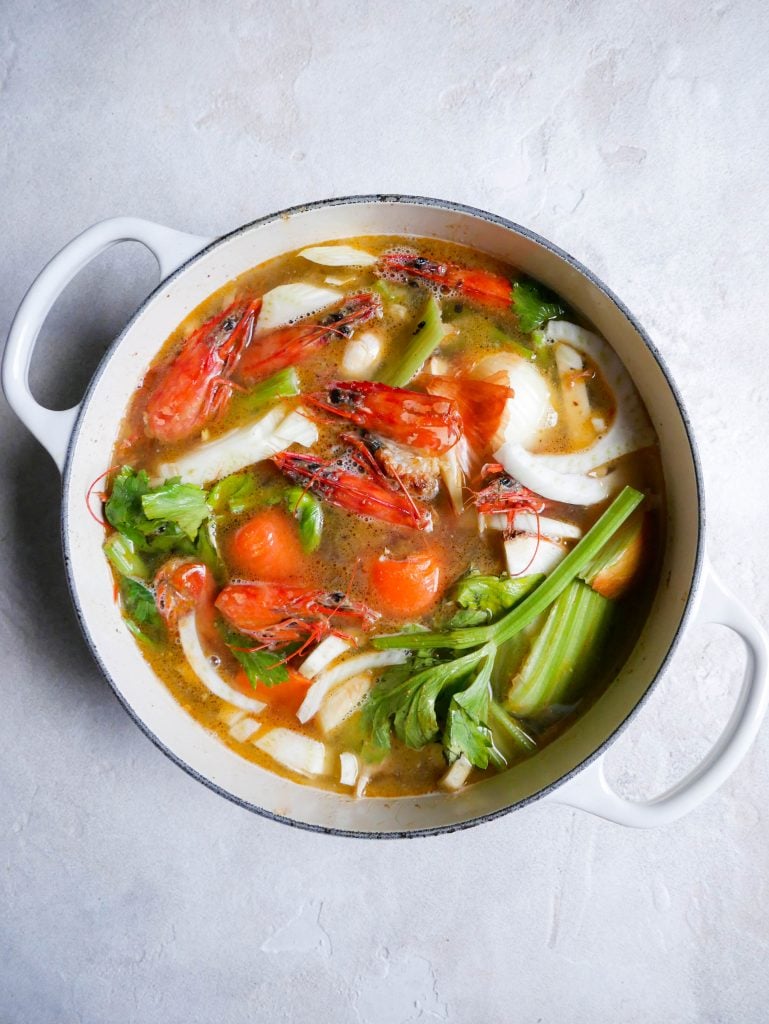 My tips on making the best risotto
I must admit, I was slightly terrified to make my first risotto. There is a misconception they require a lot of skill to make but this could not be further from the truth! While they ask for a fair bit of your time, they don't ask for any special skillset to make them. Follow my tips below for the best risotto result.
Stock – what makes an excellent risotto from a good risotto is the stock! I like to always use a homemade stock such as this prawn stock or my chicken stock. If you are short on time, make sure you are buying a high quality stock that is rich in flavour!
Rice – It's important you use arborio rice when making a risotto. It has a higher starch content which makes your risotto extra creamy but without the cream.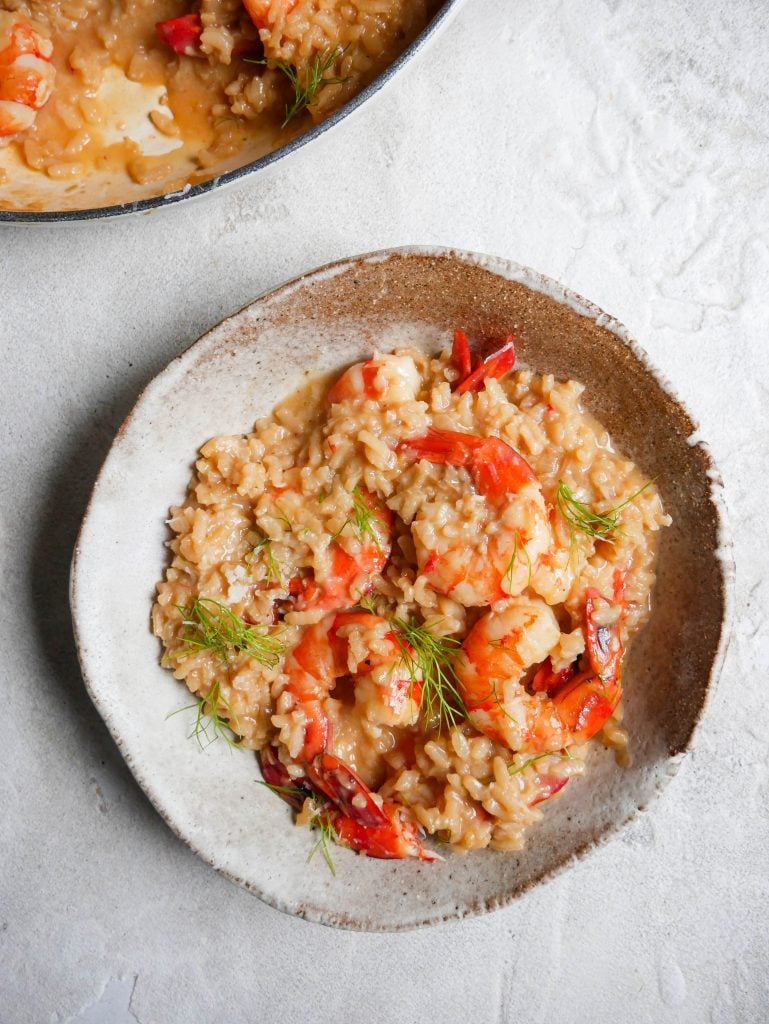 Patience – risotto is best served on a slow Sunday's evening as patience is key when making it! Time is of the essence when a ladel of stock as been added to the rice as it needs to be stirred through until the rice has fully absorbed it. This step cannot be rushed as it creates that beautiful silky texture you are after!
Butter & Cheese – this is what brings everything together in your risotto to create a beautiful creamy texture. I have used Westgold butter as it's of exceptional taste and quality!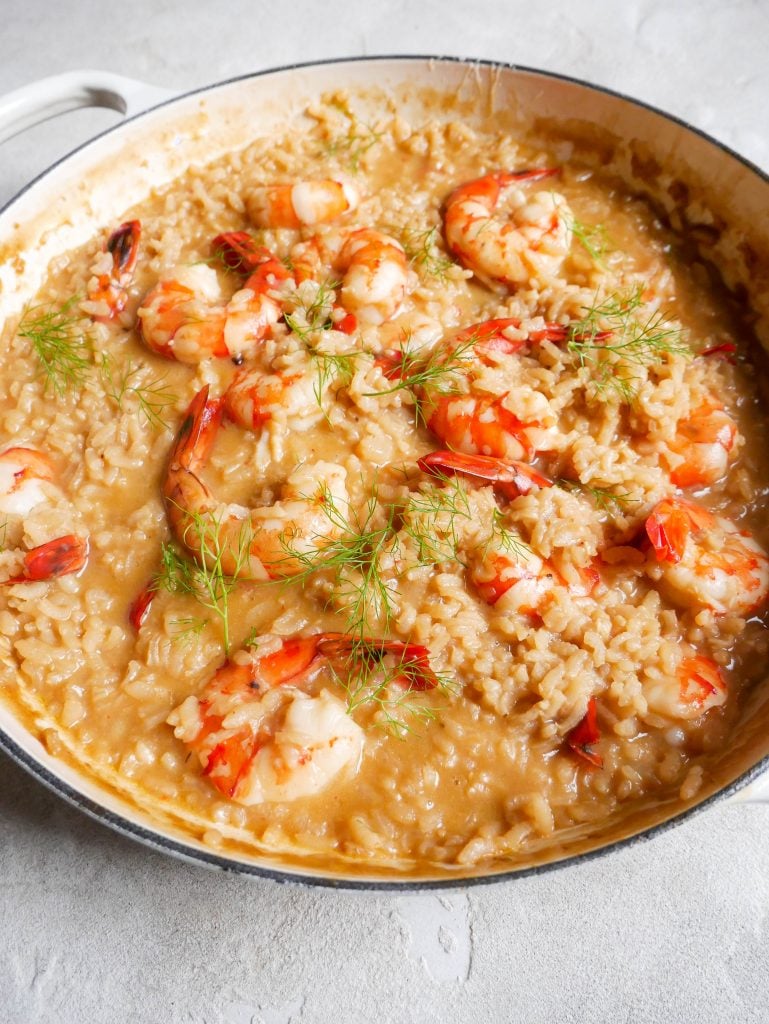 Check out my other seafood recipes here: 
Slow roasted olive oil citrus salmon
Lobster toastie with a lobster bisque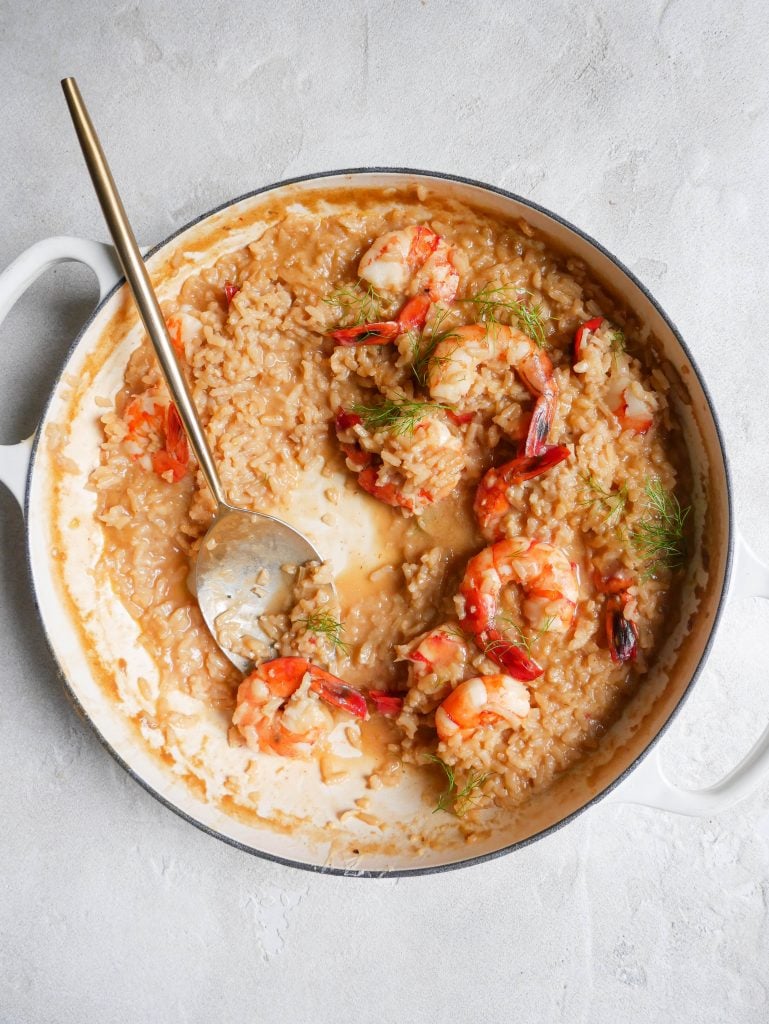 If you make this recipe, please tag me on Instagram, Tik Tok or Pinterest so I can see your wonderful creations!
If you have any questions or would like to leave a review, please do so here! I always love answering your food and recipe related questions and hearing your feedback on my recipes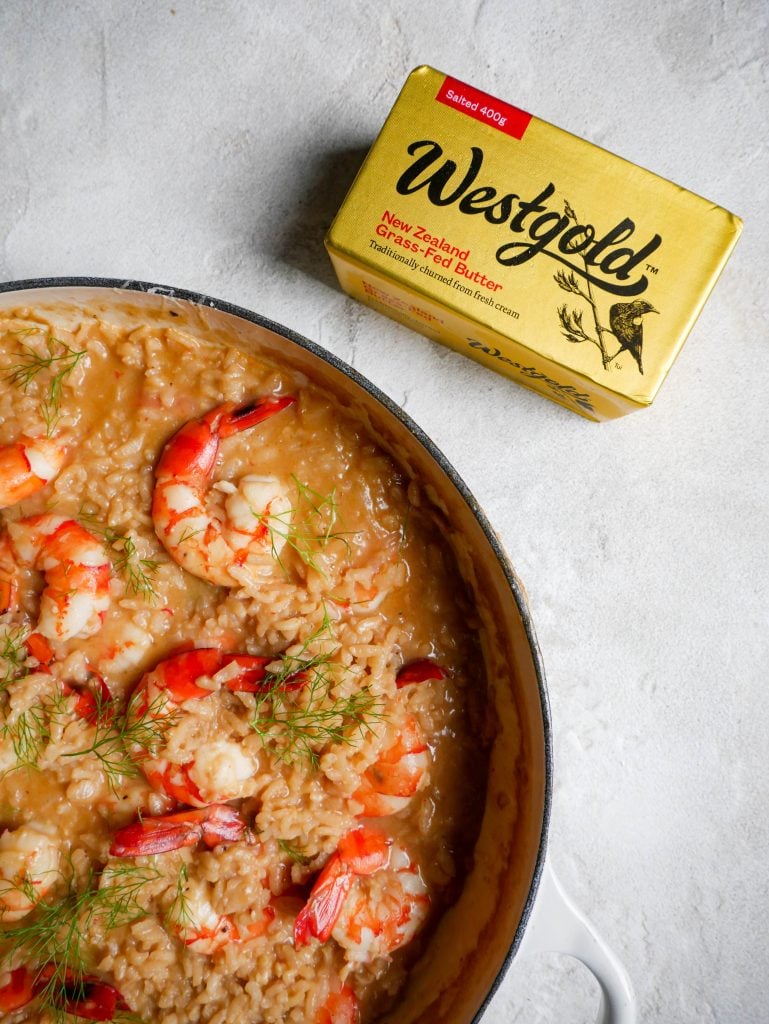 This recipe is sponsored by our friends at Westgold butter.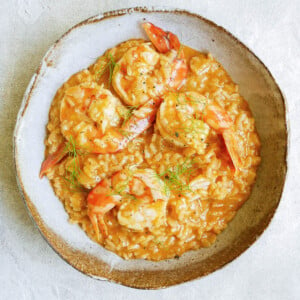 Creamy Prawn Risotto
This prawn risotto is made with a rich homemade prawn stock that utilises every last drop of flavour from the prawn heads. It's creamy, rich and the ultimate comfort meal.
Ingredients
Prawn Stock
1 kg prawn heads
2 tbsp olive oil
1 fennel bulb roughly chopped
1 carrot roughly chopped
2 onions with skin on and quartered
4 bay leaves
8 cups water
1/2 tbsp black peppercorns
salt
Risotto
1 kg prawns peeled and de-veined
3 tbsp olive oil
1 white onion diced
4 garlic cloves crushed
1/2 cup white wine
1 cup arborio rice
6 cups prawn stock
50 g Westgold butter unsalted
1/2 cup pecorino romano grated
salt and pepper to taste
1/2 lemon
fennel frond to serve
Instructions
Prawn Stock
In a large pot on a high heat, fry the prawn heads with the olive oil for five minutes or until they turn a deep red colour. Using a potato masher, mash the prawn heads to release all their flavour and juices. You want to use every last drop of that gorgeous flavour that lives in their heads!

Add the vegetables to the pot and fry them for 30 seconds. Add the water and bring to the boil with the lid on. Once boiling, turn the heat down and leave to simmer for 1 hour.

Drain your stock through a mesh colander into a clean pot. Leave on a very low simmer with the lid on.
Prawn Risotto
In a large pot on a low heat, bring the olive oil to heat. Fry the onion and garlic for 5 minutes or until translucent and fragrant. Stir occasionally to avoid them from burning.

In the same pot on a medium heat, add your rice and cook for 2 minutes or until the rice turns opaque. Add in the wine and keep stirring with the rice until all of the wine has been absorbed by the rice.

One cup at a time, add in the prawn stock and stir through until all the stock is absorbed. Repeat this step 5 more times until you have used up all of your stock. Your rice will start to become plump as it continues to cook and absorb the stock. It should take roughly 25 minutes to cook. When you have added your last cup of stock you want only 80% of the liquid to be absorbed.

Turn the heat to low and add the prawns, butter and cheese into the pot and stir through. Cook for 3 minutes or until the prawns flesh turns pink and is no longer translucent. Be careful not to overcook your prawns!

Take your risotto off the heat, squeeze the lemon and sprinkle some fennel fronds all over. Serve immediately and enjoy!