These BBQ butterflied prawns are charred to perfection and doused in the most decadently delicious garlic confit butter. They are super easy to make, a crowd pleaser and the perfect seafood addition at your next BBQ or Christmas lunch. 
Garlic Confit Butter Butterflied BBQ Prawns
You should all know by now that I love to cook with garlic confit in as many ways possible – it's a flavour bomb that adds depth and richness to any dish! This garlic confit butter is the perfect addition to these butterflied BBQ prawns.
It's made using Westgold's salted butter, 20 garlic confit cloves, chilli flakes and anchovies. The anchovies create a beautiful rich umami flavour that brings out the saltiness in the prawns. A sprinkle of chilli flakes gives the butter a subtle kick, awakening your taste buds with a little excitement!
When drizzled over the charred BBQ prawns, the garlic confit butter creates a meal that will melt in your mouth. If you're Australian like me, no Christmas lunch is ever complete without prawns. These BBQ garlic prawns will make the perfect addition on your Christmas lunch menu! Imagine the smiles on your loved ones' faces as they indulge in this mouthwatering delight, enjoying the flavours of the season and creating delicious memories that will last a lifetime.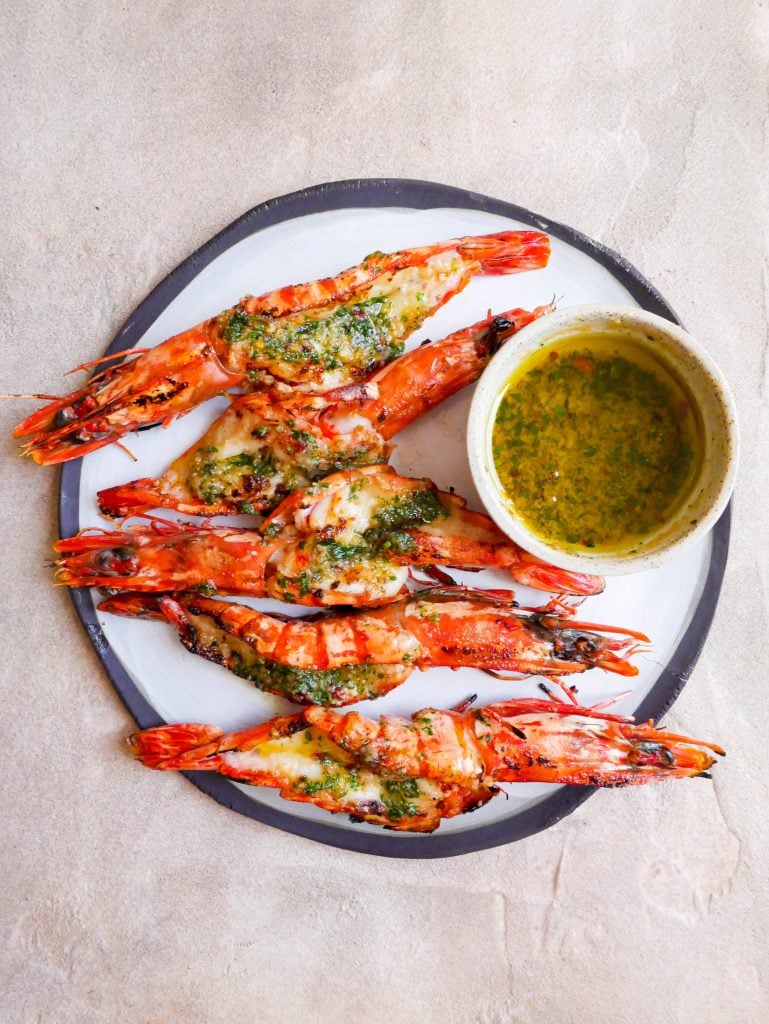 Throw Some Shrimp on the Barbie
This has become a common saying associated with Australians yet funnily enough, we don't say this at all! Our word for shrimp is actually prawns. And we call the barbie, the BBQ. BBQ prawns are a very iconic Australian meal. We love to throw meat and seafood on the BBQ for a Sunday family lunch. It works well with our hot and humid climate and embedded deep into our culture.
But why settle for ordinary when you can elevate your BBQ prawn game to new heights? That's where my garlic confit butter comes in. Picture this: plump, juicy prawns sizzling on the BBQ, their natural sweetness mingling with the irresistible aroma of garlic-infused butter. It's a marriage made in culinary heaven!
Creating delicious prawns
As your BBQ garlic prawns cook to perfection, the garlic confit butter works its magic, seeping into every nook and cranny, coating each prawn with a luscious, buttery goodness. The result? Prawns so succulent and flavourful that your guests won't be able to resist licking the shells clean to get every last drop of this delicious butter.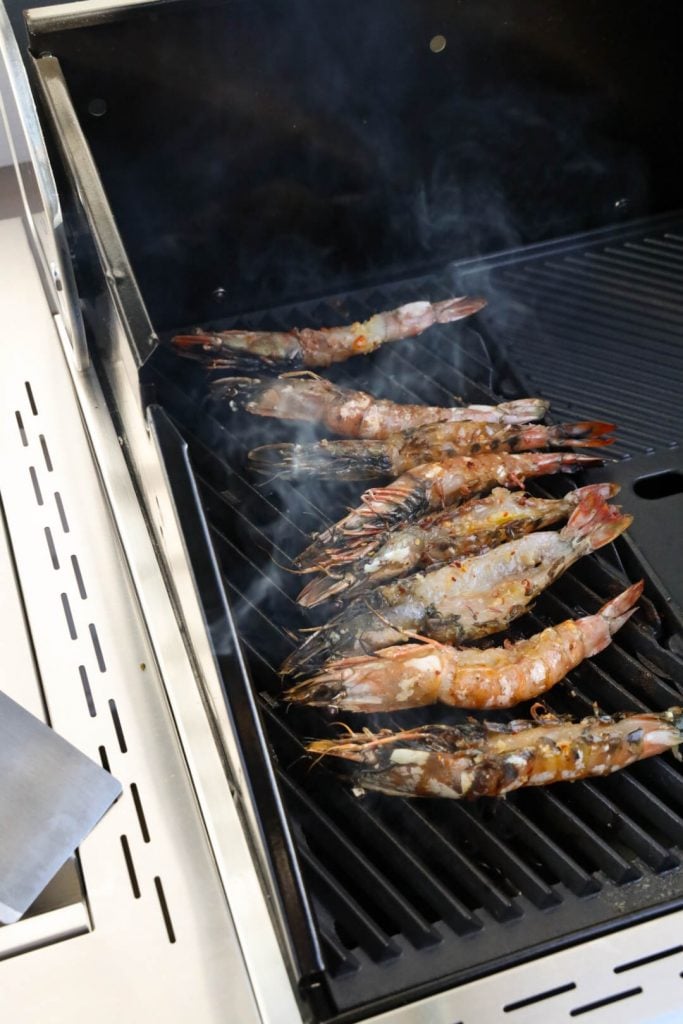 How to butterfly prawns
Wondering how to butterfly prawns? Surprisingly, it's easy! Once you follow these steps, you'll be butterflying prawns with ease!
Use a serrated knife
Prawns can be a bit tricky to handle – they have that beautiful, protective shell that needs some finesse to crack open. And that's why the best knife to use for butterfly prawns is one with a serrated edge. The teeth-like edge of a serrated knife provides a secure grip on the shell, allowing you to slice through it with precision and ease. It's like having a trusty sidekick by your side, making your prawn-butterflying adventures a breeze.
Follow the backbone
Lay your prawn on its side and grasp it with one hand. Use the other hand to push the knife into the backbone of the prawn, where the magic happens. Apply a fair bit of pressure to cut through but make sure you don't cut all the way through! You want to expose the flesh while still keeping the prawn intact.
Split the backbone open
Flip the prawn over and push it down onto your chopping board to expose as much flesh as possible. Remember, practice makes perfect, and each prawn you butterfly brings you one step closer to culinary greatness!
Cut into the head
Most of the flavour lives inside the head of the prawn head and while it may sound a little off-putting, you want to expose some of the prawns "head guts". Now, I'm sure there is a more elegant way to say that but this is what I like to call it! Straightaway, when your prawn hits the sizzling heat of the BBQ, it's those head guts that will caramelise and make the most delicious flavour!
Get ready to savour every succulent bite, as the caramelisation works its magic and brings your taste buds to life.
Garlic confit
Confit is a French cooking technique where something is cooked in lots of fat at a low heat and for a very long time. You're probably most familiar with duck confit, which is made by slow cooking the duck in its own fat. Garlic confit, on the other hand, involves bathing the cloves in a glorious pool of either butter or my personal favourite, extra virgin olive oil. It's like they're getting a spa treatment! They are there, just soaking up all that goodness and turning it into something truly magical.
You can use the garlic confit in almost anything from a pasta sauce, dips such as hummus, spreads on toast or sandwiches to the base of a comforting soup and salad dressing. I have used it here to make the most delicious compound butter. Slather it on warm crusty bread, melt it over a perfectly grilled steak or seafood, or use it to jazz up roasted vegetables. If your taste buds don't sing, I'll be very surprised!  Read more about garlic confit here.
Slow roasted olive oil and citrus salmon
Buttered lobster pasta with cherry tomatoes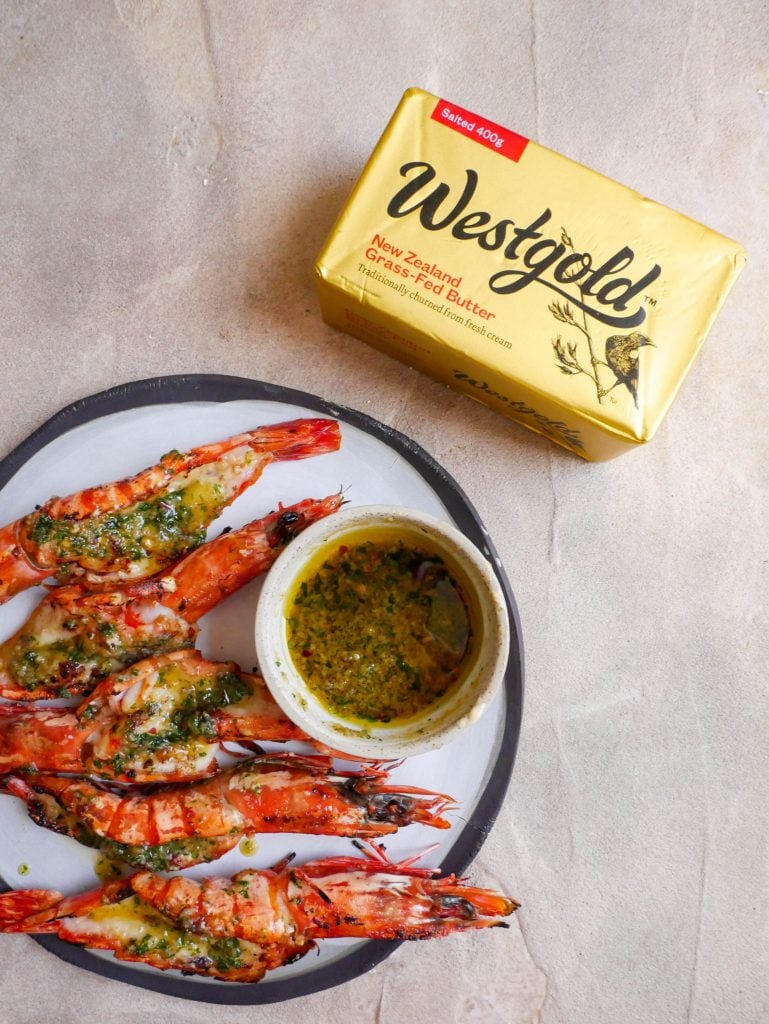 If you make this recipe, please tag me on Instagram, Tik Tok or Pinterest so I can see your wonderful creations!
If you have any questions or would like to leave a review, please do so here! I always love answering your food and recipe related questions and hearing your feedback on my recipes.
This recipe is sponsored by our friends at Westgold butter.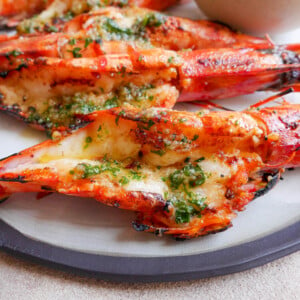 Garlic Confit Butter BBQ Butterflied Prawns
These BBQ butterflied prawns are charred to perfection and doused in the most decadently delicious garlic confit butter. They are super easy to make, a crowd pleaser and the perfect seafood recipe for your next dinner party.
Ingredients
500 g prawns Tiger or large prawns in shell
250 g Westgold salted butter at room temp
20 garlic confit cloves
1 tsp dried chili flakes
6 anchovy fillets
pinch of salt
1 tbsp finely diced fresh parsley
Instructions
Begin by butterflying your prawns. Using a serrated knife, cut down the backbone of the prawn ensuring you keep the tail and head intact. Remove the vein from the spine and press the prawns flat to expose the flesh as much as possible. Lightly season with salt and set to the side. 

In a food processor, combine the butter, garlic confit cloves, chilli flakes and anchovy fillets and pinch of salt. Blend until all ingredients are well combined. Brush the flesh of the prawns with the garlic confit butter. You will have left over butter that we will use as a dipping sauce. 

Ignite the BBQ and set the temperature to high on the grill side. Leave the lid closed to allow the temperature to reach 200 degrees celsius. 

Open the lid and place the prawns flesh side down onto the grill side so it cooks on direct heat. Close the lid and leave to cook on high for 2 minutes or until their flesh has turned pink and they are slightly charred. 

Using metal tongs, flip the prawns over and close the lid. Leave to grill for an additional 1 - 2 minutes. Remove the prawns from the BBQ and leave to rest. 

While the prawns are resting, melt the remaining butter until bubbling and frothy. Add the parsley in at the end and stir though. Pour 2 tablespoons of the garlic butter sauce over the prawns and the remaining into a small dipping dish. Peel the prawns and dip into the sauce. 

Serve immediately
Can I make garlic confit butter in advance to cooking the BBQ garlic prawns?

Yes, garlic confit butter can be made in advance and stored in the refrigerator for future use. Simply keep it in an airtight container, and when you're ready to use it, allow it to come to room temperature before brushing it onto your prawns or any other dish of your choice.
How can I ensure the BBQ prawns are cooked correctly?

Cooking prawns to perfection is all about timing and observation. Here are a few tips to help you achieve perfectly cooked prawns:

Keep an eye on the butterfly prawns as they cook and avoid overcooking them, as this can result in a rubbery texture.
The prawns should turn a beautiful pink colour with a slight char on the outside. This indicates that they are cooked through.
If you're unsure, you can make a small incision in one of the butterfly prawns to check that the flesh is opaque and no longer translucent. Remember, prawns continue to cook slightly after being removed from the heat, so a touch of pink in the centre is okay.
It's always better to slightly undercook the BBQ prawns rather than overcook them, as you can easily return them to the heat for a bit longer if needed.
Can I use frozen prawns for this recipe?

Yes, you can use frozen prawns for this recipe. However, it's important to thaw them properly before you butterfly the prawns and grill them. To thaw frozen prawns, place them in the refrigerator overnight or follow the instructions on the packaging for quicker thawing methods. Once thawed, pat them dry with a paper towel before butterflying and proceeding with the recipe.
Can I use the garlic confit butter as a dipping sauce?

Definitely! In fact, the remaining garlic confit butter can be melted until bubbling and frothy. Add a tablespoon of finely diced fresh parsley for a burst of freshness. Pour some of the garlic butter sauce over the BBQ garlic prawns, and serve the remaining butter in a small dipping dish. Peel the prawns and dip them into the sauce for an extra layer of flavour and indulgence.
What are some serving suggestions for the BBQ garlic prawns?

Here are some serving suggestions that you could use for your BBQ garlic prawns:

Salt and Pepper

Sprinkle a touch of salt and freshly ground black pepper over the BBQ prawns just before serving. This simple seasoning will enhance the natural flavours of the prawns and add a hint of savoury goodness. Remember, a little goes a long way!

Chopped Coriander

Add a pop of freshness to your butterfly prawns by garnishing them with finely chopped coriander. The bright green leaves will not only provide a visual appeal but also lend a refreshing herbal note that pairs beautifully with seafood. Scatter the coriander over the prawns just before serving.

Lemon Zest

Grate some lemon zest over the BBQ prawns to bring a burst of citrusy aroma and tanginess. The lemon zest adds a bright and zesty element that cuts through the richness of the prawns and complements their natural sweetness. It's a simple but effective way to elevate the flavours.

Lemon Juice

Squeeze some fresh lemon juice over the BBQ garlic prawns just before serving. The acidity of the lemon juice will balance the richness of the prawns and add a bright, tangy flavour. It also helps to enhance the overall taste and provides a refreshing element.