With a golden and crispy outside layer, a lobster filling that is oozing with brie cheese and a rich and creamy bisque to finish it all off, this is indeed the most indulgent toastie you will ever sink your teeth into.
Australia's Most Indulgent Toastie
When I hear the word indulgence, I immediately think of lobster. When I hear the words, Australia's most indulgent toastie, I immediately think of lobster and d'Affinois cheese. This lobster Le Fromager toastie served with a lobster bisque is indeed, Australia's most indulgent toastie. In case you didn't know, Toastie is also the Australian word for a grilled cheese.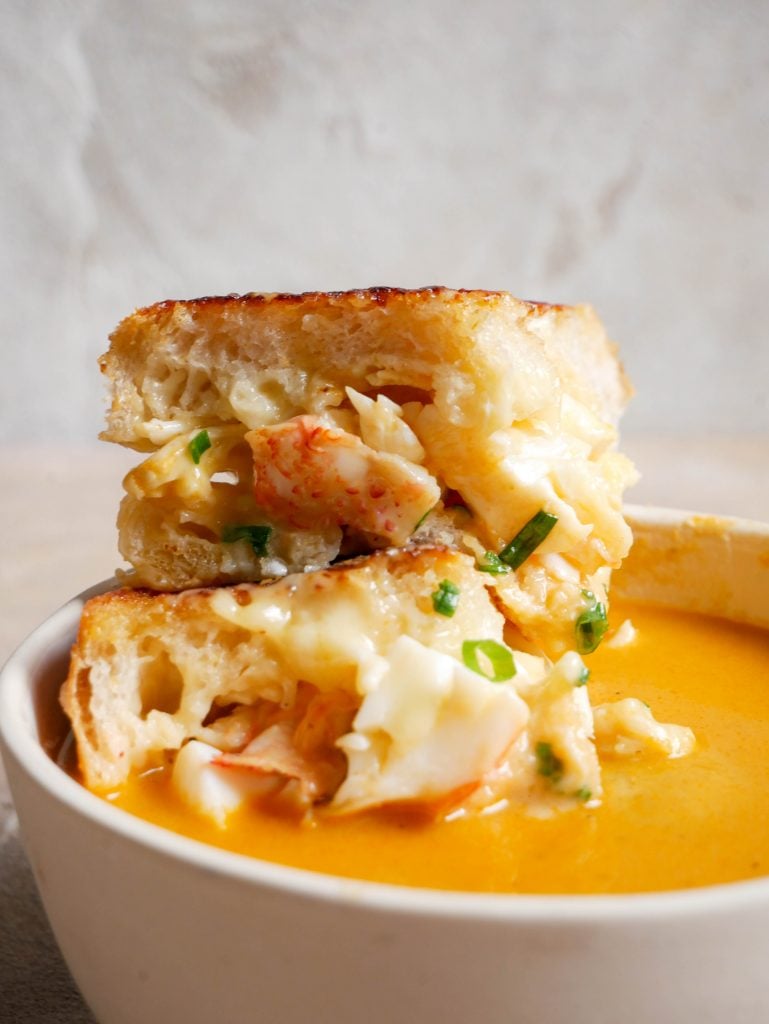 How to make the best toastie
I can't believe it's not butter – my mother in law gave me her hot tip on how to get the crispiest and most golden toastie and that's to use mayo! While there is a common misconception that spreading butter on your bread will result in a golden and crispy outer layer, mayonnaise is actually the real winner! 
The golden trifecta – mayonnaise, butter and olive oil. While I use mayonnaise as a spread on the outer layers, I like to fry my toastie in lots of butter with a drizzle of olive oil. The butter will assist with that crunchy and golden outside and the olive oil will prevent the butter from browning. It's the toastie golden trifecta! 
Cheese – picking the right cheese for your toastie is crucial. You may be a cheese pulling girl, more of that oozing cheese girl (just like me) or both! Whichever one you are and whatever you do, pick the right cheese and don't skimp on it! I also like to use a high quality cheese which is why I have used d'Affinois. 
Bread – I have tried every variety of bread possible and always seem to go back to a white sourdough. It's soft and firm enough to hold your toastie together.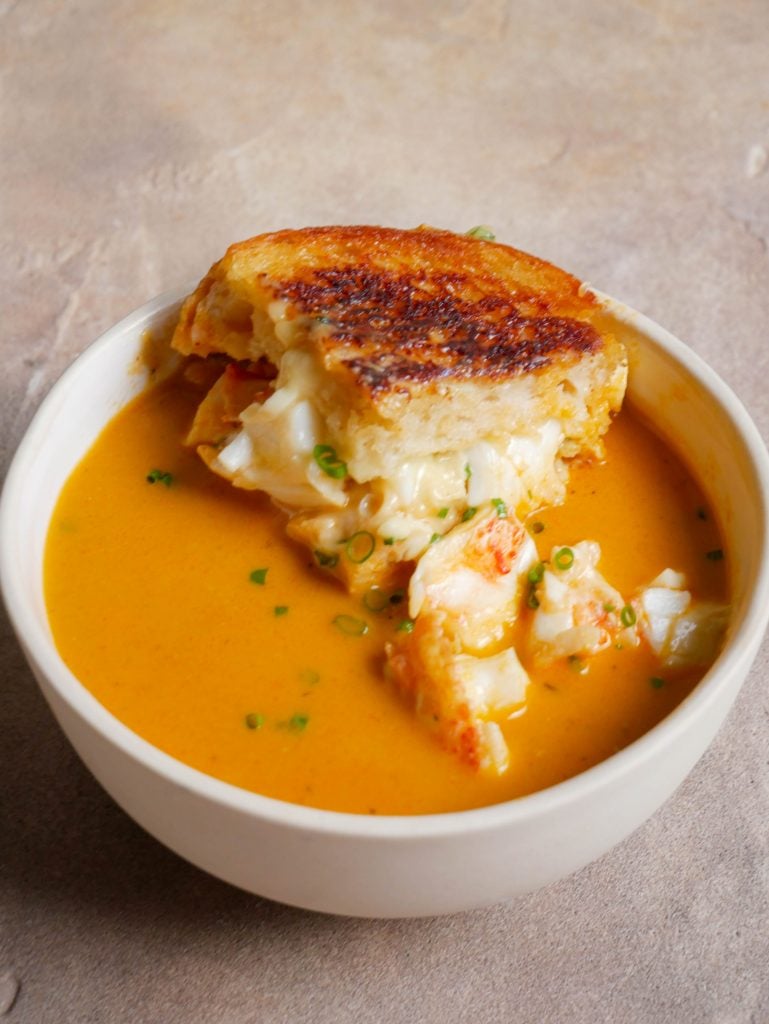 Nothing goes to waste
If you're anything like me, you love to put on an incredible spread when hosting those nearest and dearest to you. No party of mine is ever complete without a cheese board and seafood. On those rare occasions that there is leftover food, this is the recipe you need to turn to as it gives new life to any leftover cheese and seafood you may find yourself with. This toastie utilises every last part of the lobster from the water that the lobster is cooked in to the shells for the bisque and the precious lobster tail meat. No part of the lobster goes to waste!
How on earth do I cook a lobster?
Firstly, don't freak out! While the idea of cooking a lobster can be a little scary, it's actually rather simple. Just think to yourself, if Mrs. Doubtfire can do it, so can I! The most important thing you need to know when cooking a whole lobster is its weight. The weight will determine the cook time. I would recommend cooking a 1kg lobster for 15 minutes and an additional minute for every 100g added. You're also going to need a very large pot to hold the lobster. Make sure the water the lobster is cooking in is heavily salted (it needs to taste like the ocean) as this will not only flavour the lobster while it cooks but also the water. Reserve the water as it turns into a lovely lobster stock. You can view more of more seafood recipes here. 
Lobster Bisque
As I said earlier, every last part of the lobster is used in this recipe as the bisque is created from the lobster shells and stock. This lobster bisque is smooth, rich and creamy with strong notes of lobster throughout. I couldn't think of a better dipping sauce for a lobster toastie than a lobster bisque. Think tomato soup with a cheese toastie but fancy. While a bisque may sound and taste complex, it's really very simple to make! It relies on minimal ingredients to create deep flavour.
If you make this recipe, please tag me on Instagram, Tik Tok or Pinterest so I can see your wonderful creations!
If you have any questions or would like to leave a review, please do so here! I always love answering your food and recipe related questions and hearing your feedback on my recipes.
This recipe was sponsored by Fromager d'Affinois cheese.
Lobster Toastie with a Lobster Bisque
With a golden and crispy outside layer, a filling that is filled with lobster meat and oozing with cheese and a rich and creamy bisque to finish it all off, this is indeed the most indulgent toastie.
Ingredients
Bisque
1 kg lobster in shell
4 cups lobster stock
100 g butter
1 tbsp olive oil
2 celery stalks roughly chopped
2 carrots roughly chopped
1 onion roughly chopped
3 garlic cloves
8 sprigs fresh thyme
1 tbsp tomato paste
1/2 cup white wine
Lobster toastie (makes 2)
1 lobster tail (250g) cut into large chunks
100 g Fromager D'affinois Le Fromager sliced into thick strips
4 tbsp lobster bisque
fresh chives finely cut
squeeze of lemon juice
4 slices white sourdough
4 tbsp mayonnaise
50 g butter
1 tbsp olive oil extra virgin
Instructions
Lobster Bisque
Fill a large pot with 6 liters of water and ½ cup salt and bring to the boil. Carefully place the lobster head first into the pot making sure it's fully submerged in water. Partially cover the pot with a lid and boil for 12 - 15 minutes depending on the size of the lobster. 

Remove the lobster from the pot and reserve 4 cups of the water the lobster was cooked in. Allow the lobster to slightly cool before removing the meat from the shell. 

To remove the meat from the lobster, hold the body of the lobster and twist the head off. Using a tea towel, firmly grasp the lobster tail until the shell cracks. Work your thumb under the shell and begin to break the shell away while keeping the lobster tail meat intact. Squeeze the bottom of the tail shell with your hand and twist the meat out. Set the lobster tail to the side and reserve the shells. 

In a large deep dish pan on a medium heat, melt the butter and bring the olive oil to heat. When the butter is slightly foaming, add in the celery, carrots, onions, garlic cloves, thyme and salt and pepper. Cook for 7 minutes or until they are soft and fragrant.  

Turn the heat to high and add the tomato paste to the pan. Cook for 3 minutes stirring quite often until it turns a deep red colour and is almost sticking to the pan. Deglaze the plan with white wine and cook for several minutes or until it has reduced by half. 

Add the lobster shells and lobster stock to the pan and bring to the boil. Once boiling, turn the heat to low and cook for 45 - 60 minutes with a lid partially covering the pan. 

Allow the liquid to slightly cook and remove the lobster shells. Using an immersion blender or blender, blend until you have a smooth consistency. Pass the soup through a fine mesh strainer to remove any lumps. 
Lobster Toastie
Spread 1 tablespoon of mayonnaise onto the bottom piece of bread for your toastie and flip over. For each toastie, begin with a layer of Fromager D'affinois Le Fromger, followed by the lobster meat that has been divided in half and then 2 tablespoons of lobster bisque drizzled over the lobster meat. Finish off with a sprinkling of fresh chives, squeeze of lemon and pinch of salt and pepper. 

Top the toasties with a slice of bread and spread 1 tablespoon of mayonnaise over the top. 

In a cast iron pan on a low heat, melt the butter and bring the olive oil to heat. When the butter is slightly foaming, place the toastie into the pan and cook on a very low heat for 10 minutes per side or until golden and crispy. 

Cut the toasties in half and serve dipped into the lobster bisque.