I love a fish burger. Crunchy, savoury, delicious. There are so many variations of this, but my beer battered fish topped with tartar sauce and sandwiched between a brioche bun really is the best version of it. Move aside Filet-o-fish, there is a new fish burger in town!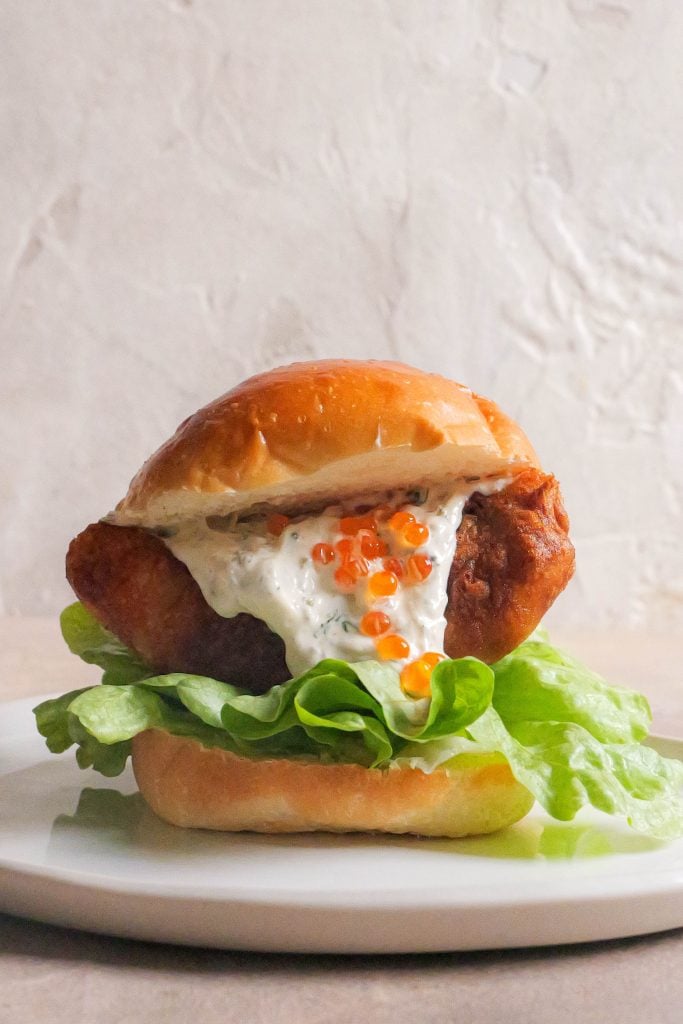 Crispy beer battered fish burger
It's a simple recipe for a crispy beer battered fish burger: delicious beer battered fish with the crisp crunch of lettuce. Or, if it suits your taste, cabbage or a slaw could also be used in place of lettuce. Just any sort of salad that is crisp, fresh and light. It's more of a texture component than it is for the taste. My secret to this burger though? A touch of caviar! I know it might sound a bit strange but it's a decadent addition to an already gorgeous burger – trust me!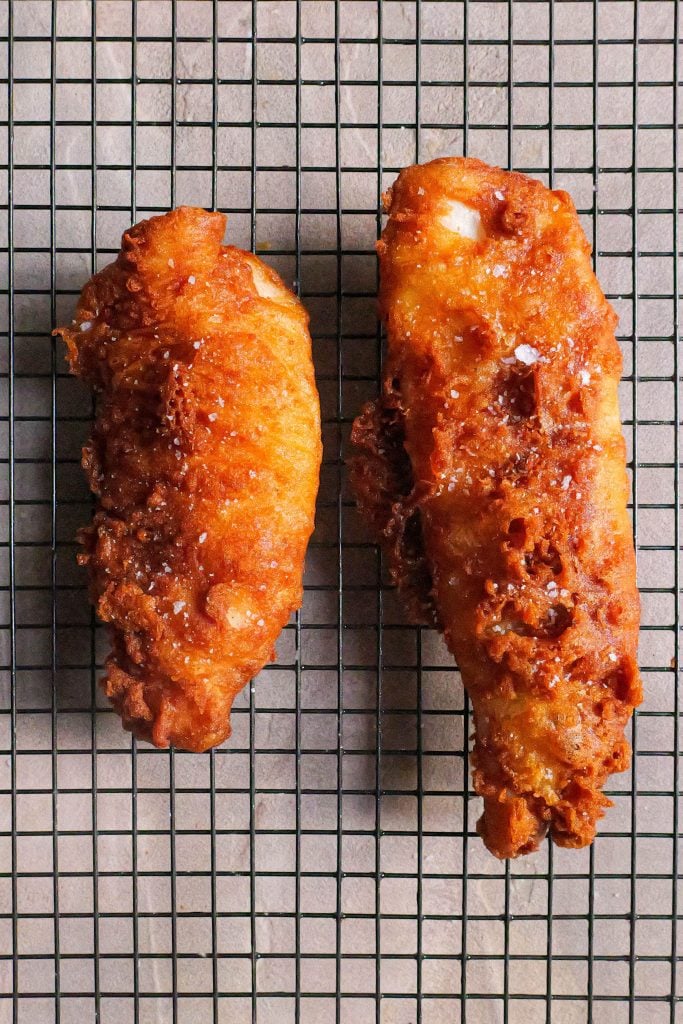 What about grilling it?
Although a grilled fish burger can be nice, that's best for a sandwich. For this burger it is hearty and filling. For side dishes, you can't go past a bowl of chips – but I guarantee, this burger is so filling you won't need any sides!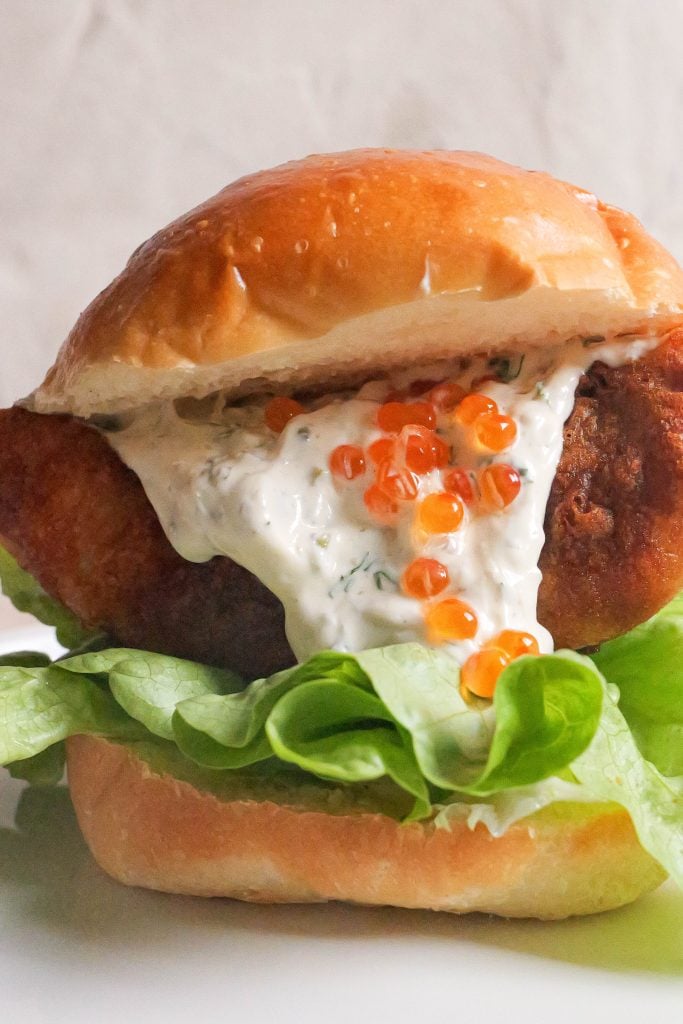 My tips to get the crispiest fish
Rice flour – it really helps get that batter crispy. It will also leave you with a light batter that isn't heavy or sticking to the fish!
Fry hot and quick – Deep fry your fish for a short amount of time at a very high heat (190 C). This will prevent the fish from releasing moisture and creating a soggy batter.
Keep your batter cold! When the cold batter hits hot oil it will leave you with the crispiest batter. It will even stay crispy for 30 minutes or more! Just make sure you lay your fish onto a cooling rack to avoid steam from being created.
And, most importantly – use beer! The yeast in beer makes the batter puff up when it cooks so it's thin and light and not heavy or soggy.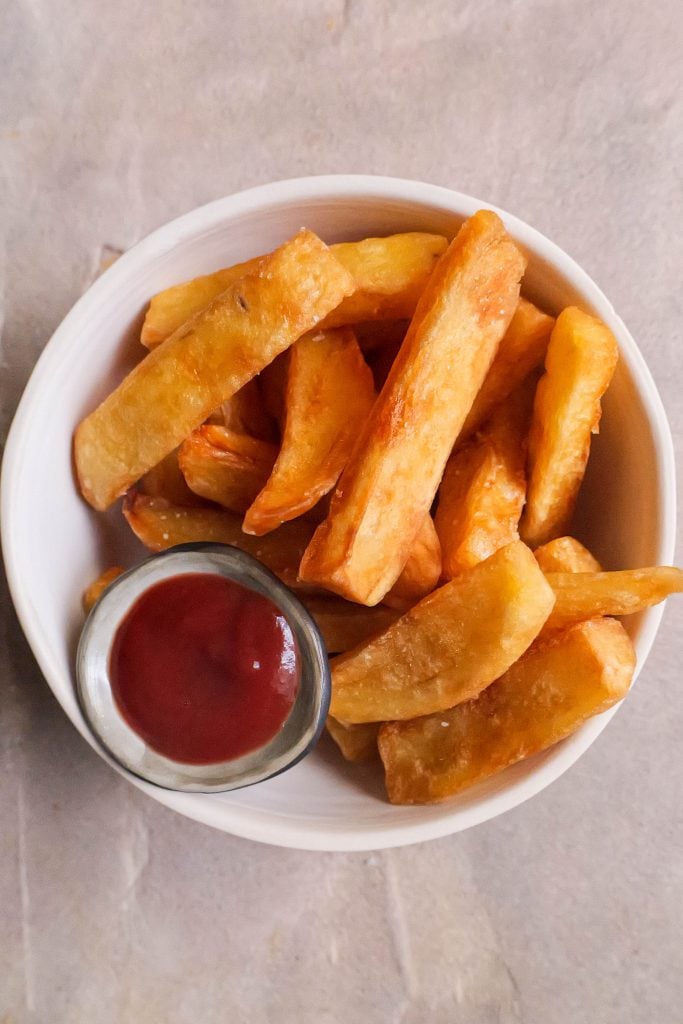 Frequently Asked Questions
Which fish is best? 
Any firm white fish such as snapper, rockling, flake or barramundi is perfect for a beer batter. Being an Australian, I always love snapper for my fish burger!
Which beer should I use?
I always recommend a light lager for when making a beer batter such as Peroni or Corona beer.
Which bread should I use?
While you can use a regular white burger bun, a buttery brioche bun that has been toasted in butter will bring your fish burger to new heights! 
Check out my other seafood recipes
Garlic confit butterflied BBQ prawns

If you make this recipe, please tag me on Instagram, Tik Tok or Pinterest so I can see your wonderful creations!
If you have any questions or would like to leave a review, please do so here! I always love answering your food and recipe related questions and hearing your feedback on my recipes.
Crispy beer battered fish burger
Crunchy, savoury and a classic - this one has a twist.
Ingredients
Beer Battered Fish
4 snapper fillets (600g)
75 g white all purpose flour
75 g white rice flower + 1 cup for coating
2 g baking soda
2 g flakey salt
340 mL beer such as Corona
2 L vegetable or grapeseed oil
Flakey sea salt
Tartare sauce
1 cup mayonnaise
1 large handful dill finely chopped
1 tbsp capers finely chopped
6 small gherkins finely chopped
1/2 shallot finely diced
1 lemon juiced
1/2 tbsp red wine vinegar
Burger
4 brioche buns sliced in half
25 g lettuce
Caviar (optional)
Instructions
Beer Battered Fish
Begin by making the beer batter. In a medium size bowl, combine the all purpose flour, rice flour, baking soda and salt. Using a whisk, slowly stir through the beer until there are no clump and you have a runny and smooth batter. Make sure you don't over whisk the batter as this will effect the crispiness later on! Cover and leave to sit in the fridge for a minimum of 30 minutes.

In a large pot, heat the oil to 190 degrees Celsius.

Season the snapper with salt and pepper on both sides. Coat each fillet of fish with rice flour and then with the beer batter. Hold the fish up over the bowl so any excess batter can drip off.

Slowly lower the fish into the pot of oil and cook for 2 – 4 minutes depending on the thickness of the fish. Cook 2 fillets at a time.

Using a slotted spoon, remove the fish from the oil and place onto a cooling rack to allow any excess oil to drip off. Season with flakey sea salt.
Tartare sauce
Combine all ingredients into a small bowl and whisk until well combined. Set to the side until ready to serve.
Burger
On a medium heat in a frypan, melt the butter and toast the brioche buns for 4 minutes or until golden and crispy.

To assemble the burger, place 1 – 2 pieces of lettuce onto the bottom piece of the bun, followed by a piece of crispy beer battered fish, 1 – 2 tbsp of tartare sauce and lastly a teaspoon of caviar if using. Top with the other half of the brioche bun and serve immediately.