If you haven't yet gathered, I love pasta. It's the cornerstone of so many mediterranean diets and it is so versatile. Pasta, to me, is the ultimate comfort food. But, it wasn't until a couple of years ago that I started making homemade egg pasta from scratch. So, I want to give you my never fail homemade egg pasta recipe so you can also experience the love that is homemade egg pasta dough.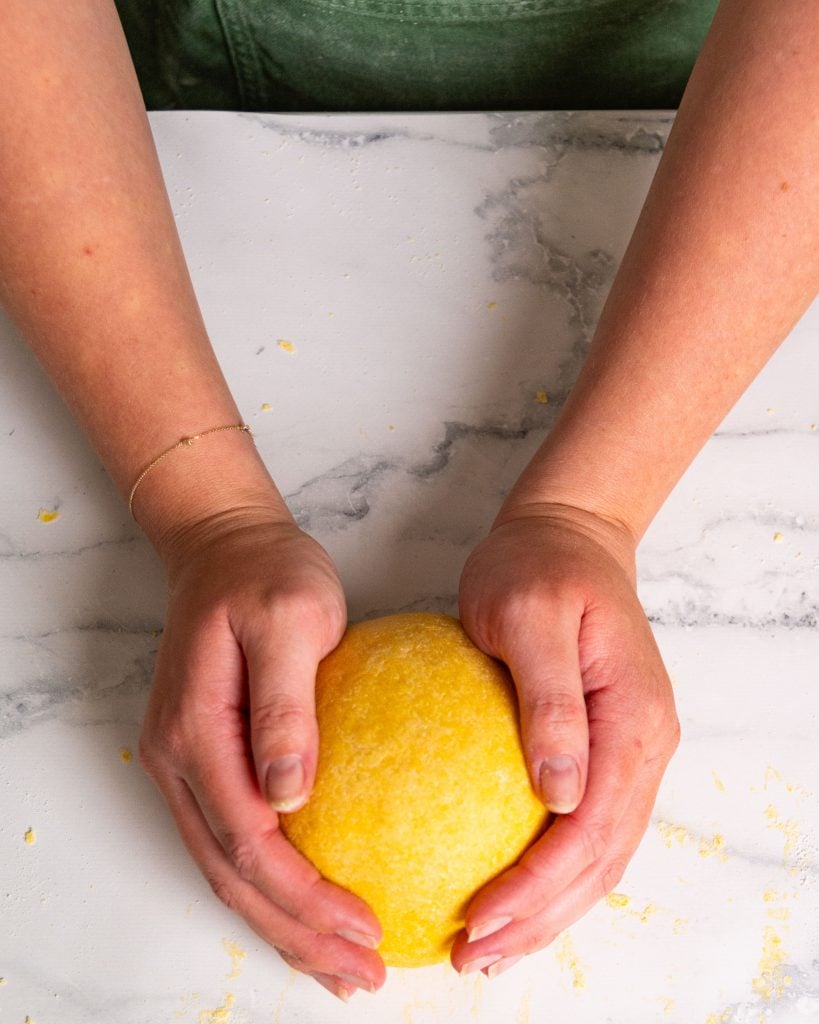 Homemade egg pasta
A few months before COVID struck, I walked into a second-hand shop and found a pasta machine on sale for $5. Having no prior pasta-making experience, I was hesitant to add more clutter to my already overstocked pantry. But it had been reduced from $10 to $5. Who could walk away from a bargain like that? I'm glad I made the purchase. Learning how to make pasta was one of the few things that got me through living in what was dubbed 'the most locked-down city in the world'. I studied every pasta book I could get my hands on and participated in online pasta-making classes. I was determined to learn the art of pasta-making and, I'm happy to say, I did.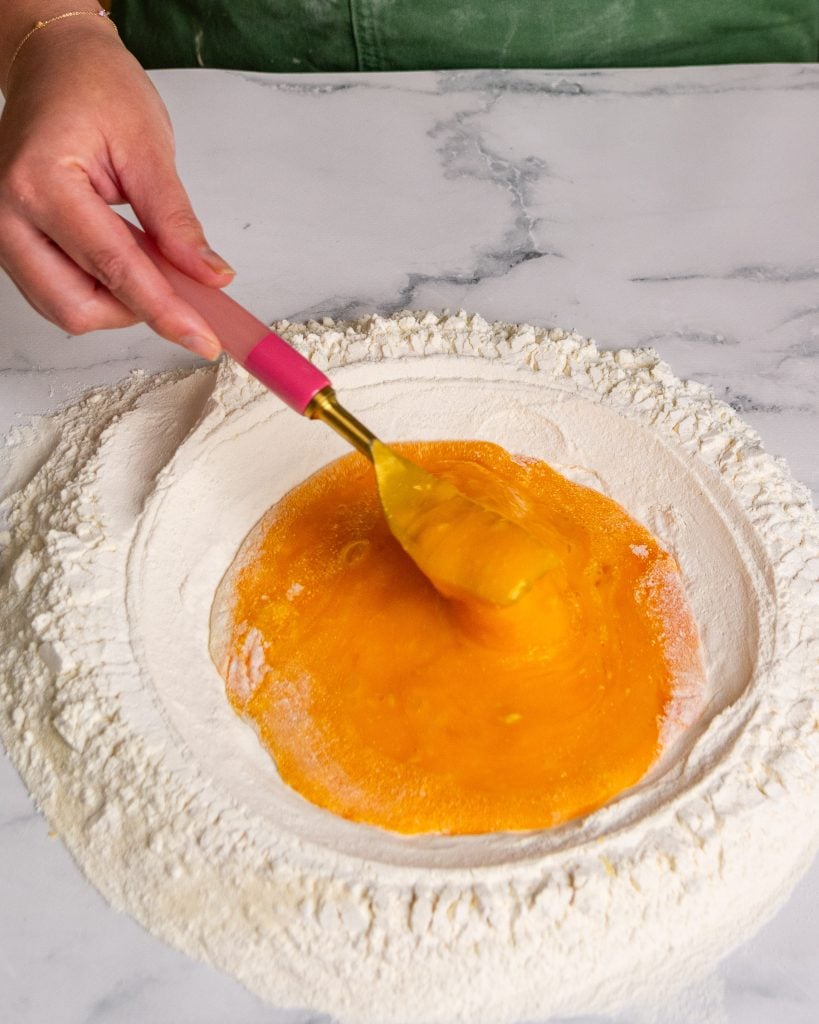 Why is homemade egg pasta dough so important for me?
Making pasta from scratch sounds like a huge undertaking, but it can be surprisingly simple and meditative. When your day has a slower rhythm to it and your house is quiet, I suggest preparing homemade egg pasta. It can be done with your friends, over a glass of wine. It can be done with your kids, get their hands dirty. Pasta is a love language, and a love letter to all those around you.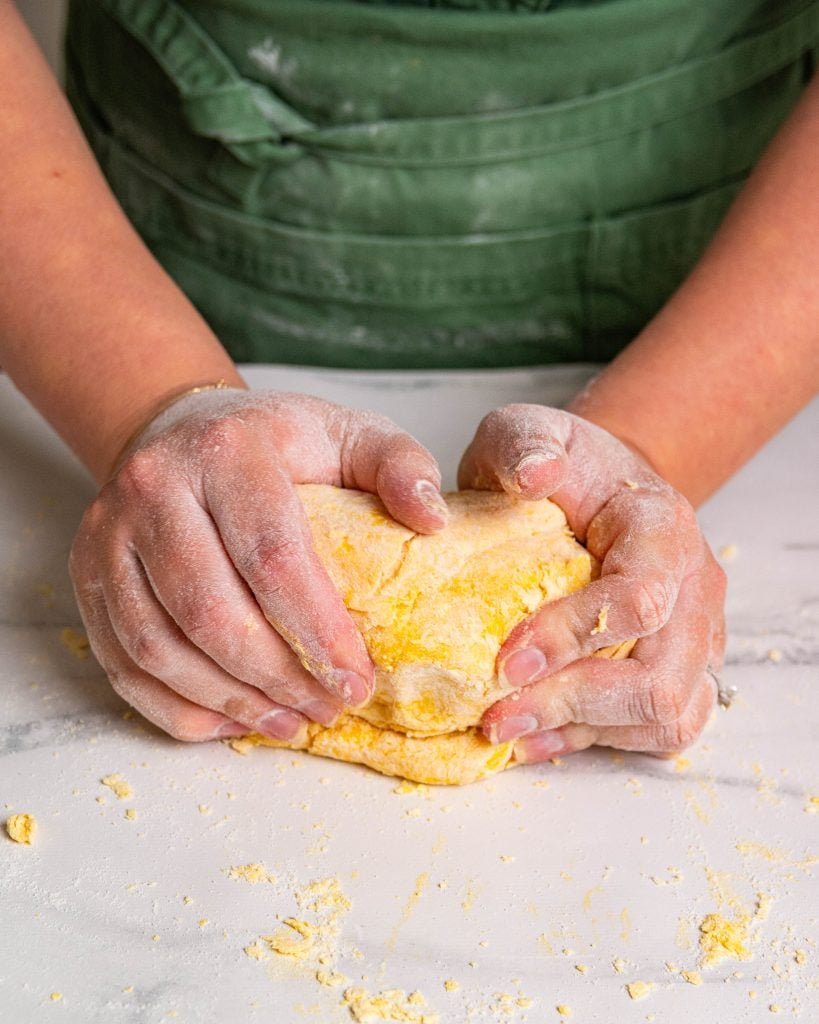 Ingredients
It's important we use high quality ingredients as this recipe relies on very minimal ingredients. The less ingredients, the higher quality for my homemade egg pasta.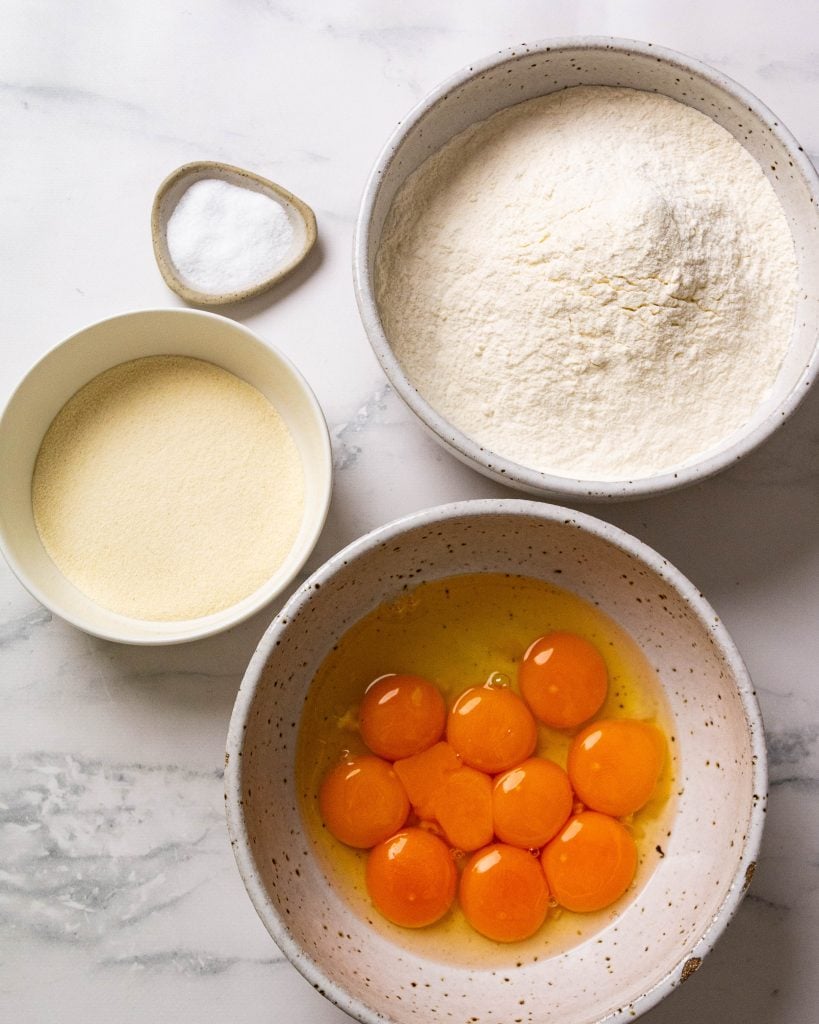 00 flour 
This is finely milled flour and is what high quality, traditional pasta is made from. While you can use all purpose flour, I highly recommend using 00 where possible for the most authentic tasting pasta. I have tried every brand possible and I keep coming back to Caputo flour.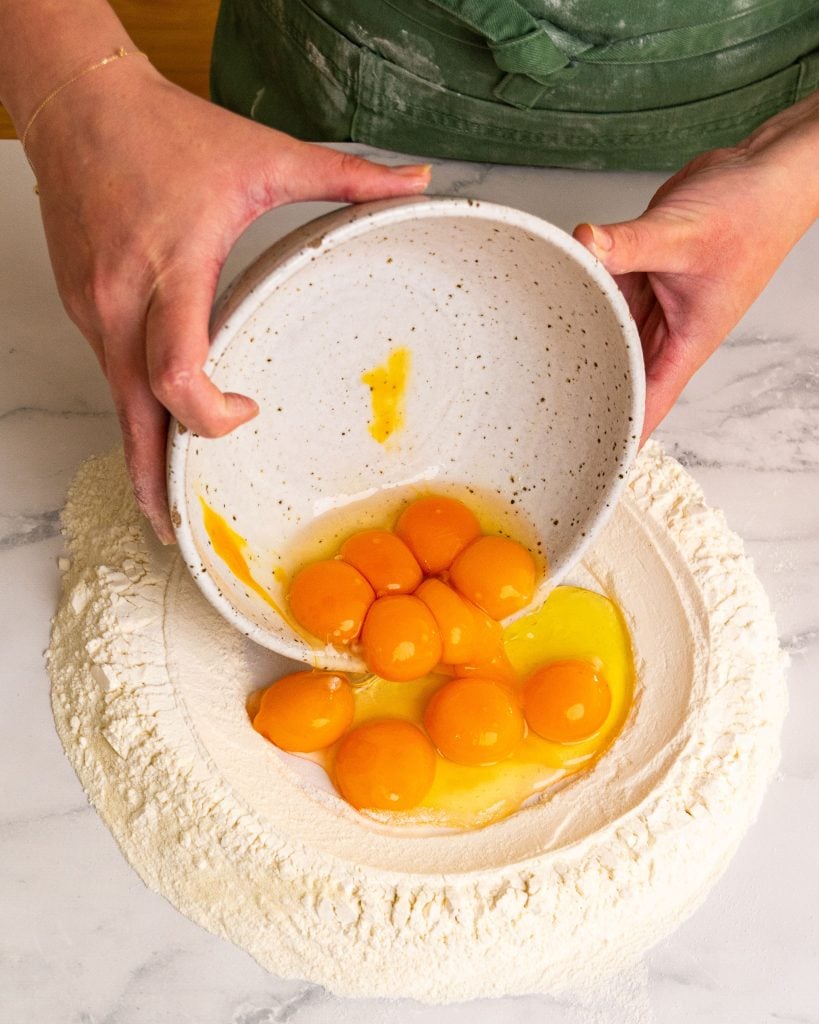 Semolina flour
Semolina flour is extremely high in gluten which will help your pasta hold its shape when cooking it. It's not essential but I do prefer my pasta doughs when they include it.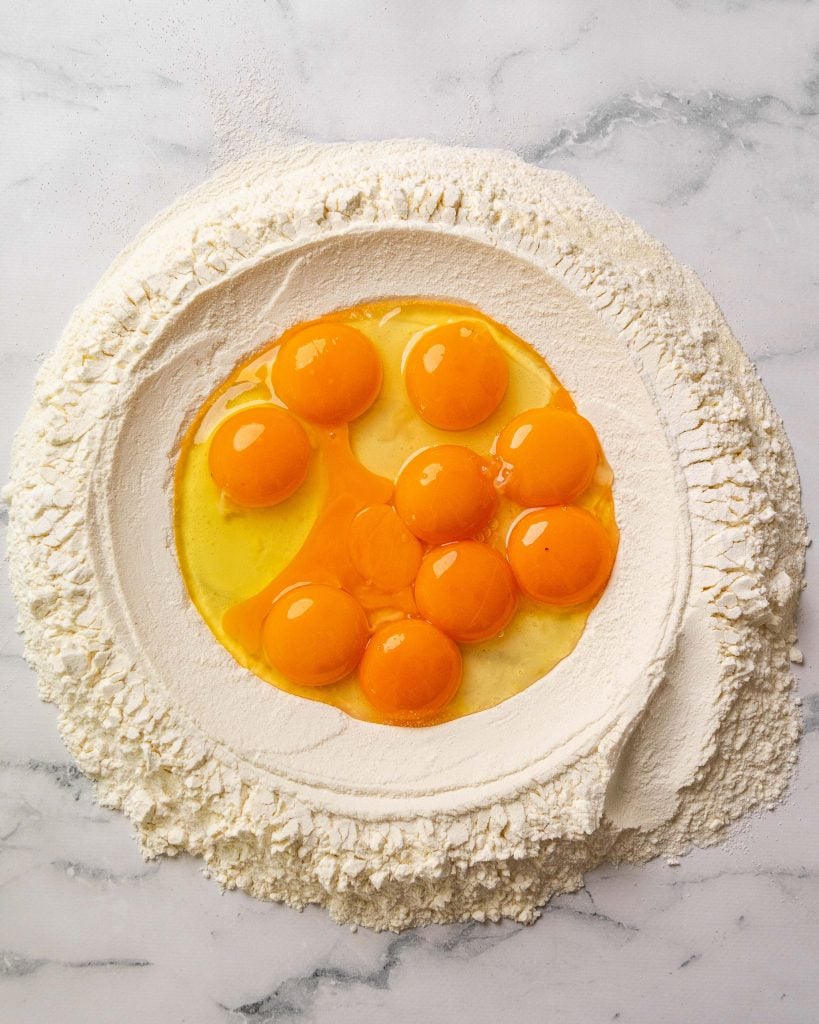 Eggs
I cannot stress this enough, use high quality eggs when making pasta dough. I always look for the freshest eggs that are organic and free range. The yolks will be vibrant, golden and delicious and will turn your pasta dough from good to great. The better quality the eggs means the better-quality diet the hens who have laid them have had. They are most likely being fed green leafy vegetables and grubs to create that gorgeous orange yolk. I also like to use a mix of whole eggs and egg yolks.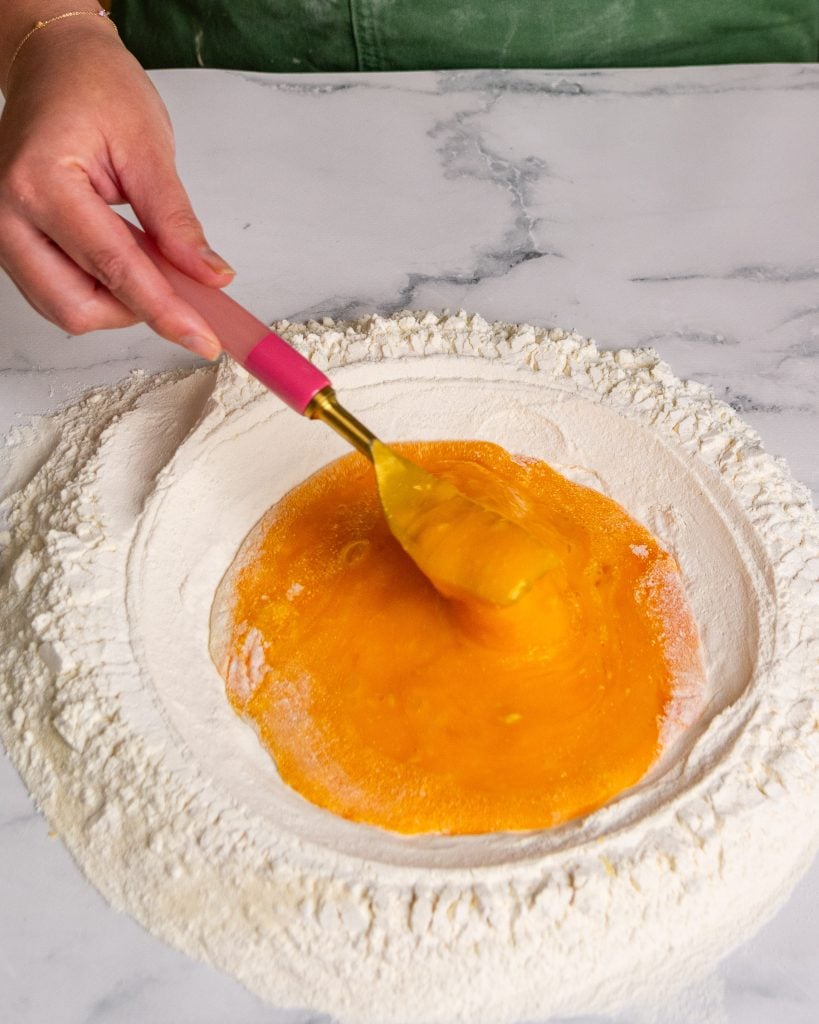 Salt 
You can use any salt you like here as its purpose is to flavour the dough. A fine sea salt works best but flakey sea salt will also do the tricky!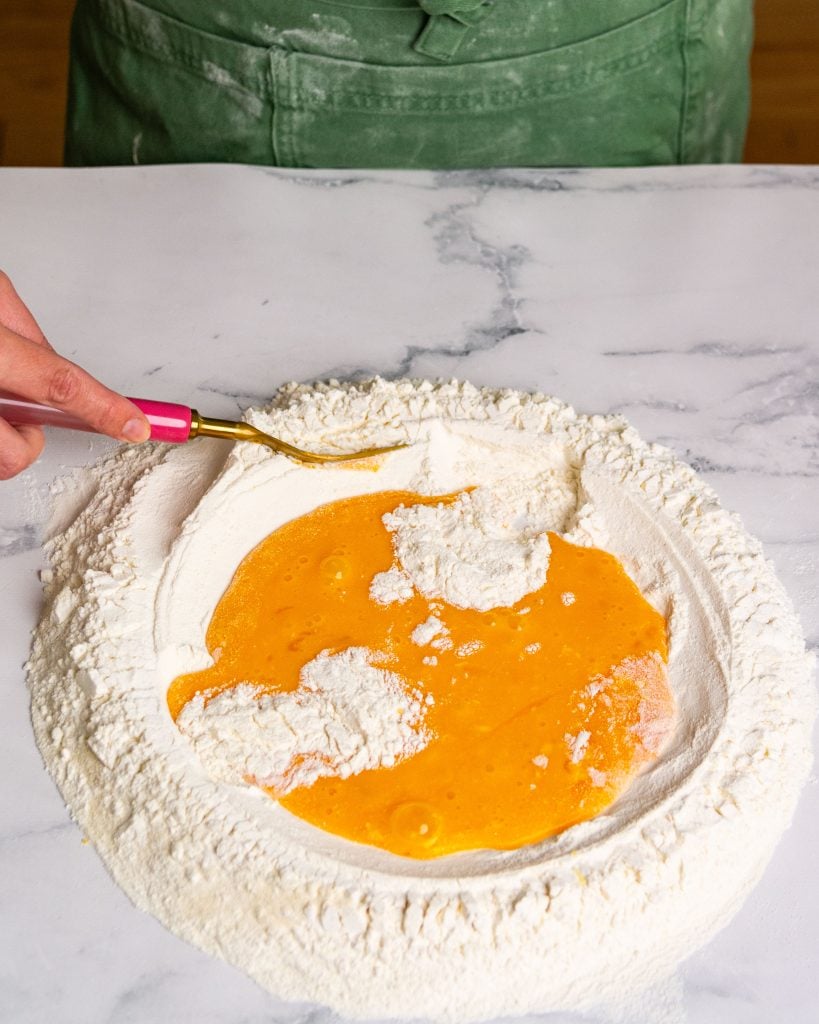 Your egg dough pasta kit
Contrary to what you may think, you don't need a lot of special equipment to make pasta dough. At the end of the day, you can make do with just a fork, your hands and rolling pin.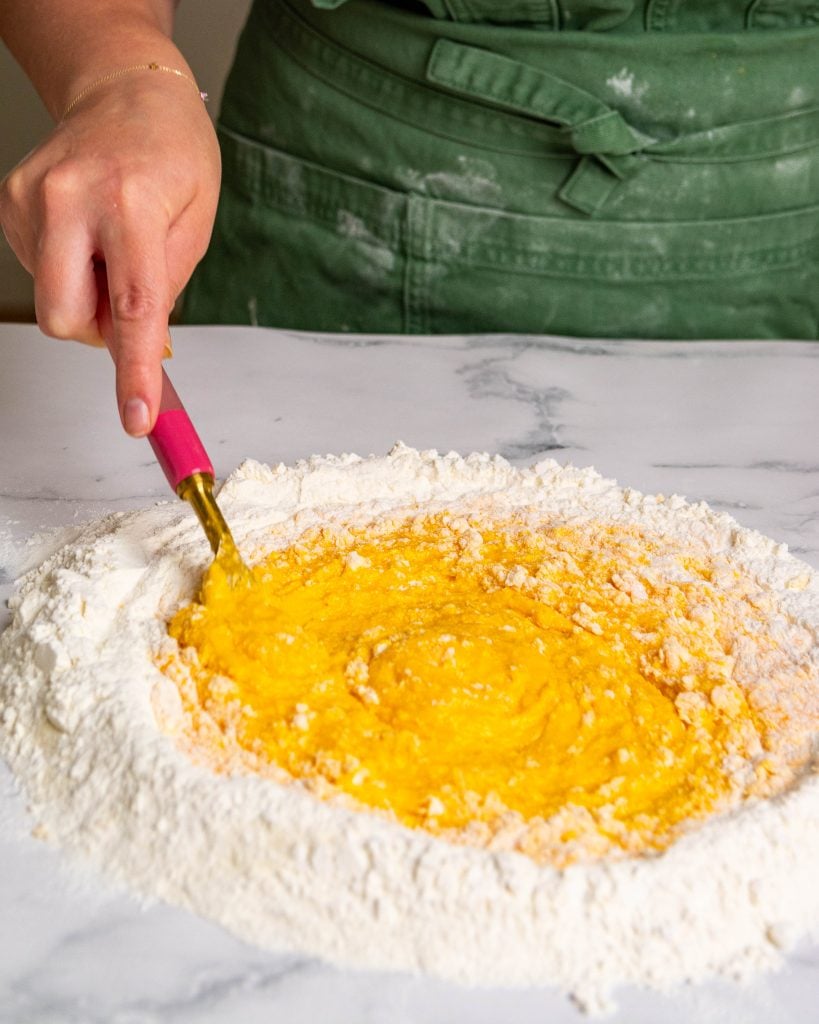 Pasta board
Pasta boards have a lip under them so they don't move around when you are rolling out or kneading your dough. They are wooden and should only be used to make pasta so the pasta is not flavoured by any food that was used on the board. If you don't have a pasta board, you can use a marble surface. Just ensure the surface has enough grip so you can easily work the dough.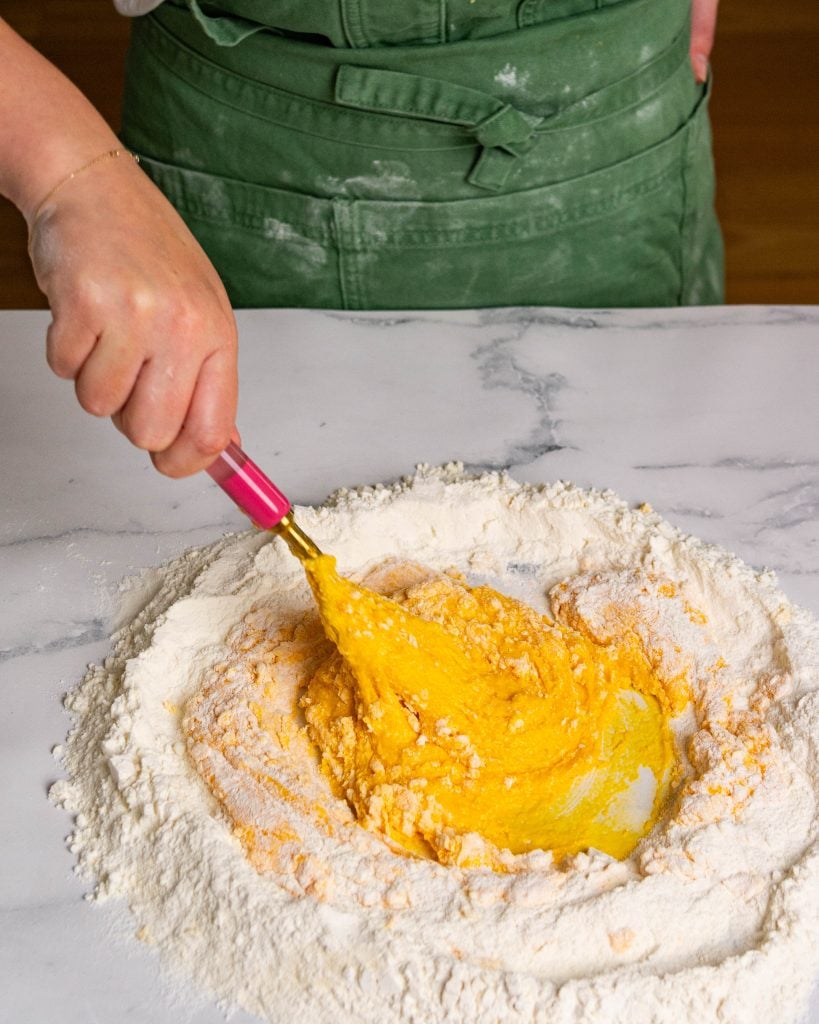 Scales
As I said, it's so important we weigh our ingredients so I always recommend having digital scales close by.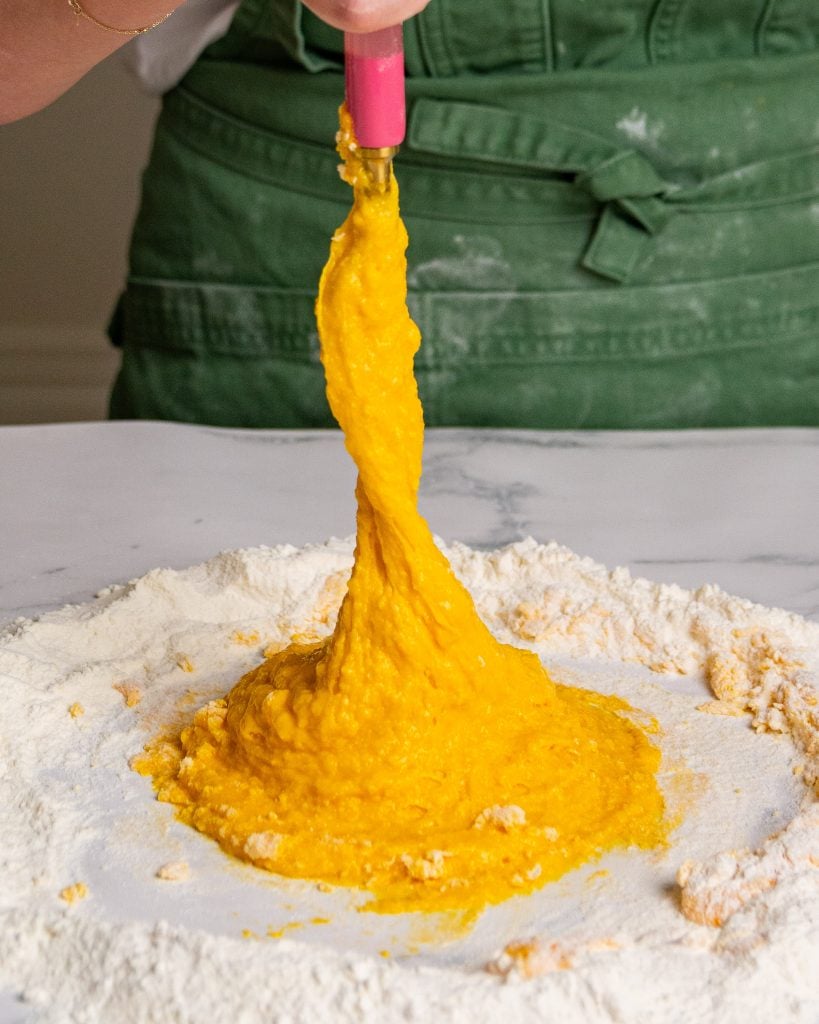 Rolling pin 
If you do not have a pasta machine, you can roll your pasta out with just a rolling pin as the nonnas do! Just make sure it's a very long rolling pin so you don't have to cut the dough up into smaller pieces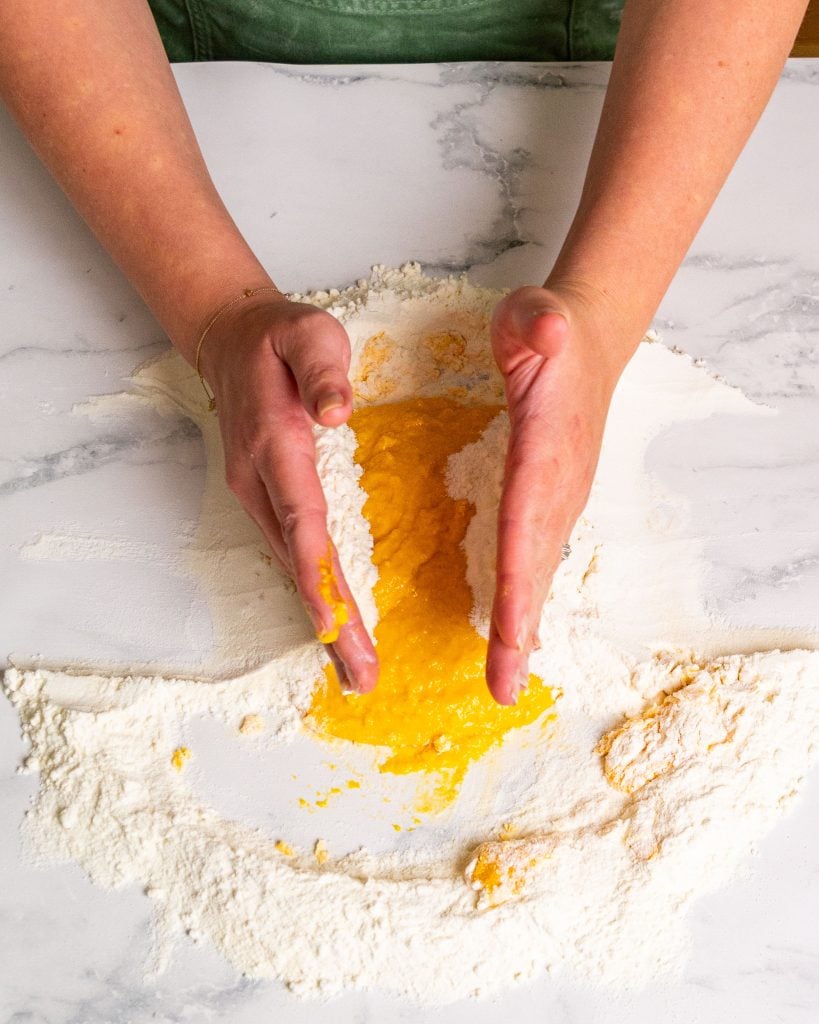 Pasta machine 
While pasta can indeed be made without a pasta machine, I do prefer making mine with one! It's a lot easier and a lot less muscle and upper body strength is required.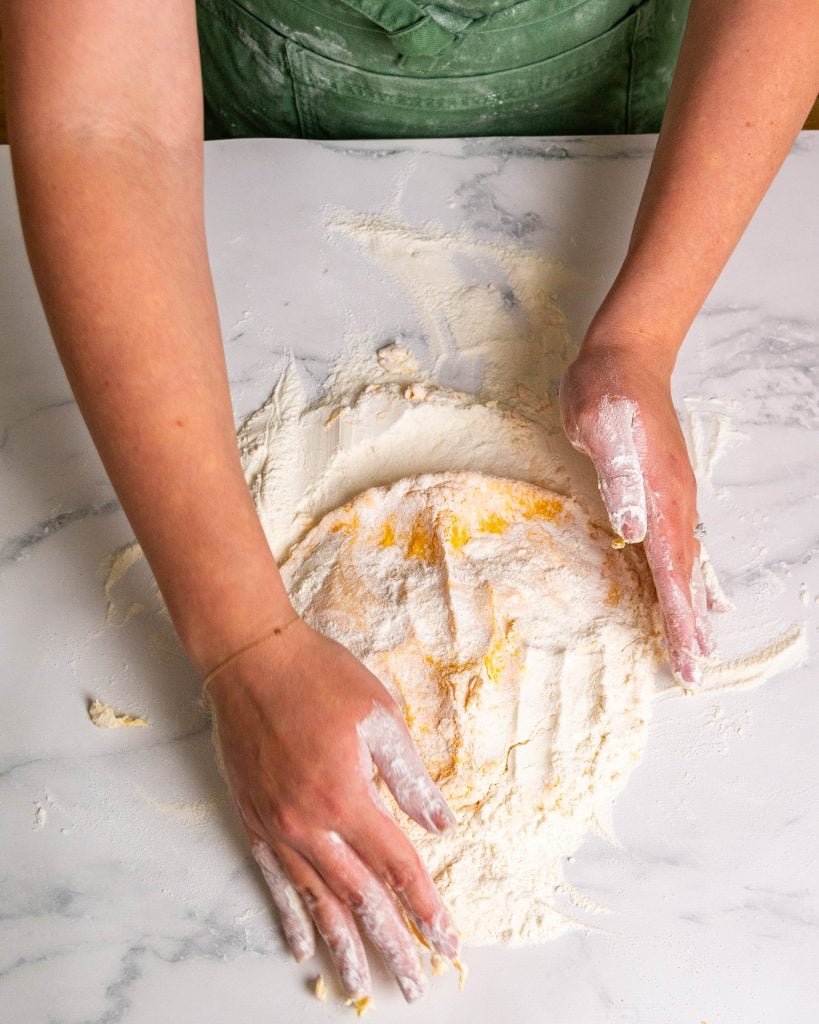 Weighing your ingredients 
It's so important that you weigh your ingredients when making pasta. There are so many elements that can affect the ingredients you are working with but by weighing them, we are ensuring we are using the right amount every time.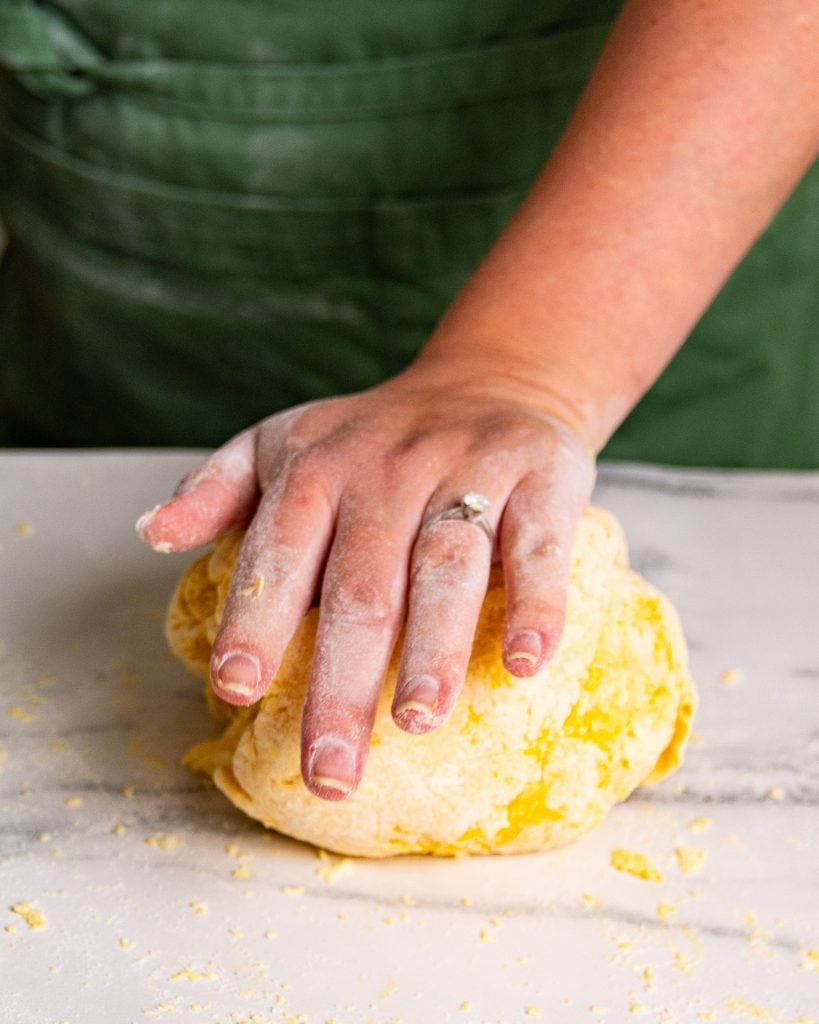 Touch and feel 
Making pasta from scratch is also very dependent on the weather and will come down to feel and touch. The more practice the better as you will slowly start to teach yourself what to feel and look for. You want your pasta to be dense and firm yet have a slight spring to it. When you have kneaded your pasta ball, push into it with your index finger to make sure it springs back. This is the perfect consistency! 

Making pasta in advance
Prepare the ingredients – I keep harping on about this, but weigh all of your ingredients and set them aside for when ready to make the dough. My pasta dough recipe is for 4 people. I always allow 100g of uncooked fresh pasta per person.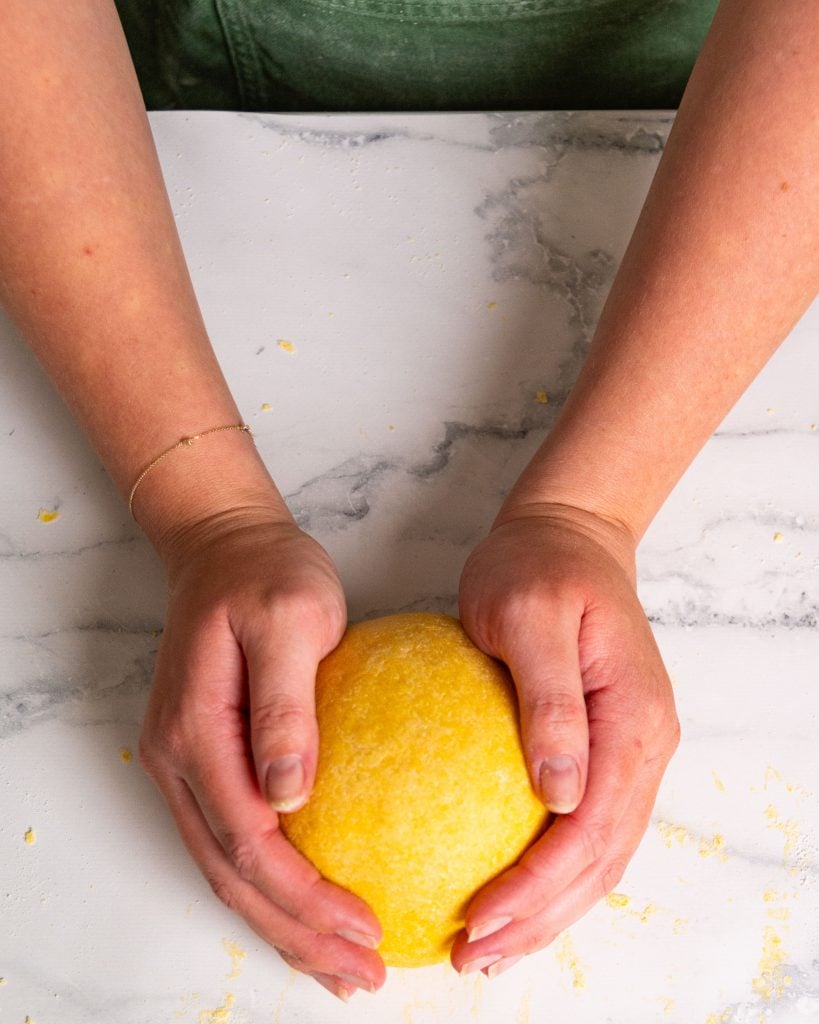 Well, well, well
Create your well – Mix the 00 flour, semolina flour and salt in a bowl then tip it onto your working surface or pasta board. Create a well in the centre of the flour by placing the bottom of your bowl into the centre of the flour and moving it outwards. Make sure the well is wide and deep enough to hold the eggs so they do not escape.
Mix it real good
Mix the eggs – drop the eggs into the centre of the well and mix them together with a fork. Slowly incorporate the flour from the edges of the well into the centre with the eggs until you cannot move your fork through it anymore. A thick custard like paste should form. At this point you can cave in the flour walls and mix in the rest of the flour with your hands or a bench scraper.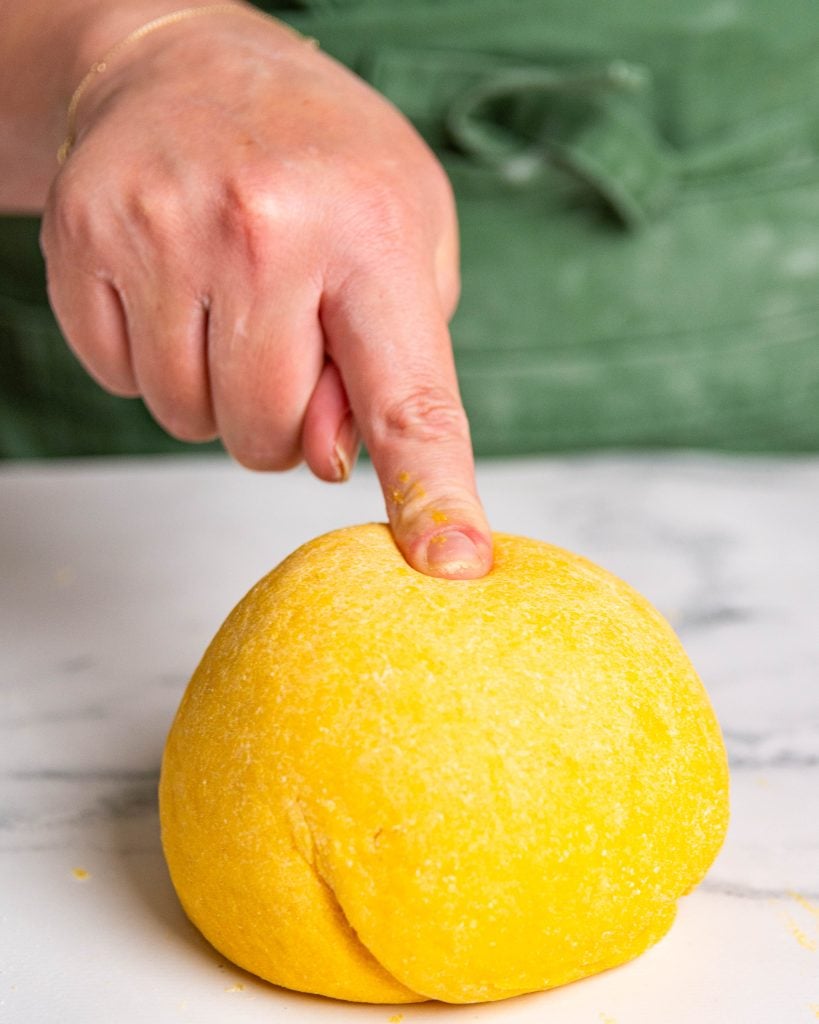 You knead to do this
Knead the dough – this step needs to be done for at least 10 minutes! You want to knead the dough until its firm and smooth. The best way this was described to me was from an excerpt in Pasta Grannies where they described your hands as waves; the heels of hands push the dough away from you while your fingers pull it back. Once it becomes a log, rotate it 90 degrees, fold it in half and continue to knead.
Leave the dough to rest – leave it to rest in a bowl that is covered with either plastic wrap or a damp tea towel for a minimum of 30 minutes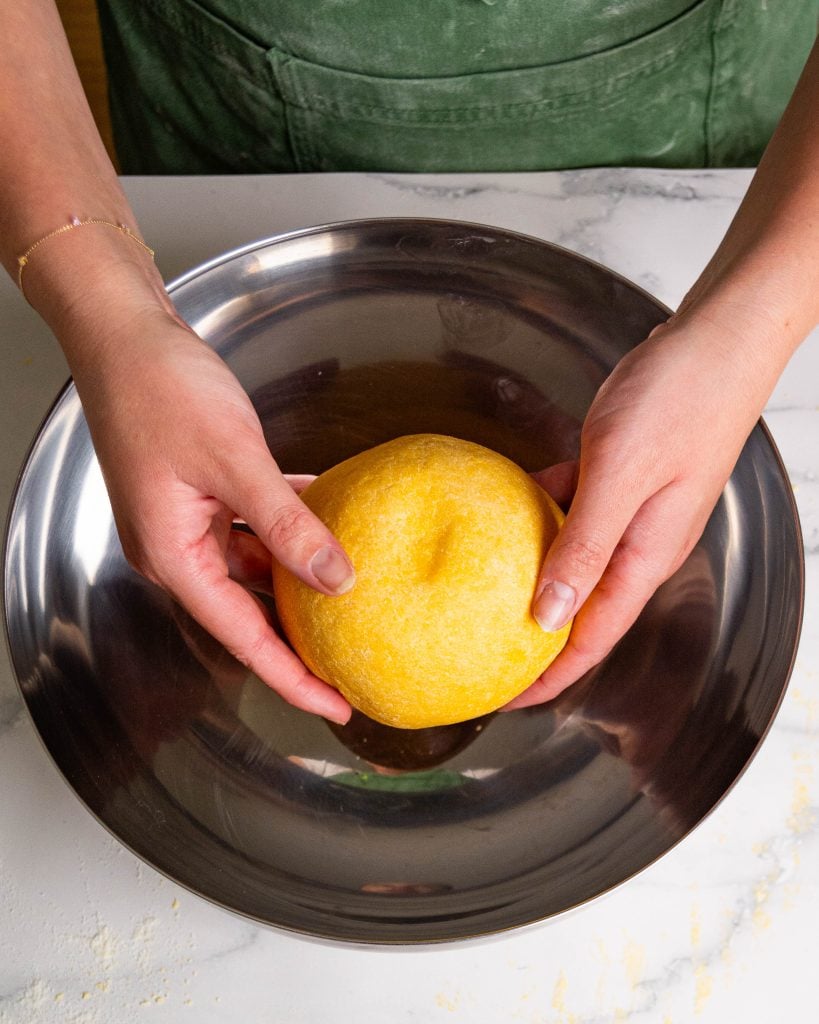 keep rollin' rollin' rollin'
Roll out the dough – This is where my pasta machine comes in handy! Firstly, I divide the dough into 4 equal sections so I can easily work with ¼ at a time. Secondly, I fluor it and slightly roll it out with my rolling pin so it will be thin enough to fit through my pasta machine. I then set my pasta machine to the widest setting and roll it through. To ensure the dough is strong and will hold its shape when cooking, I like to fold each edge into the middle and then roll the pasta through again but the opposite way. I repeat this step two more times on the widest setting before moving down to a thinner setting. I like to move down a maximum of 2 settings so the pasta does not tear from the machine.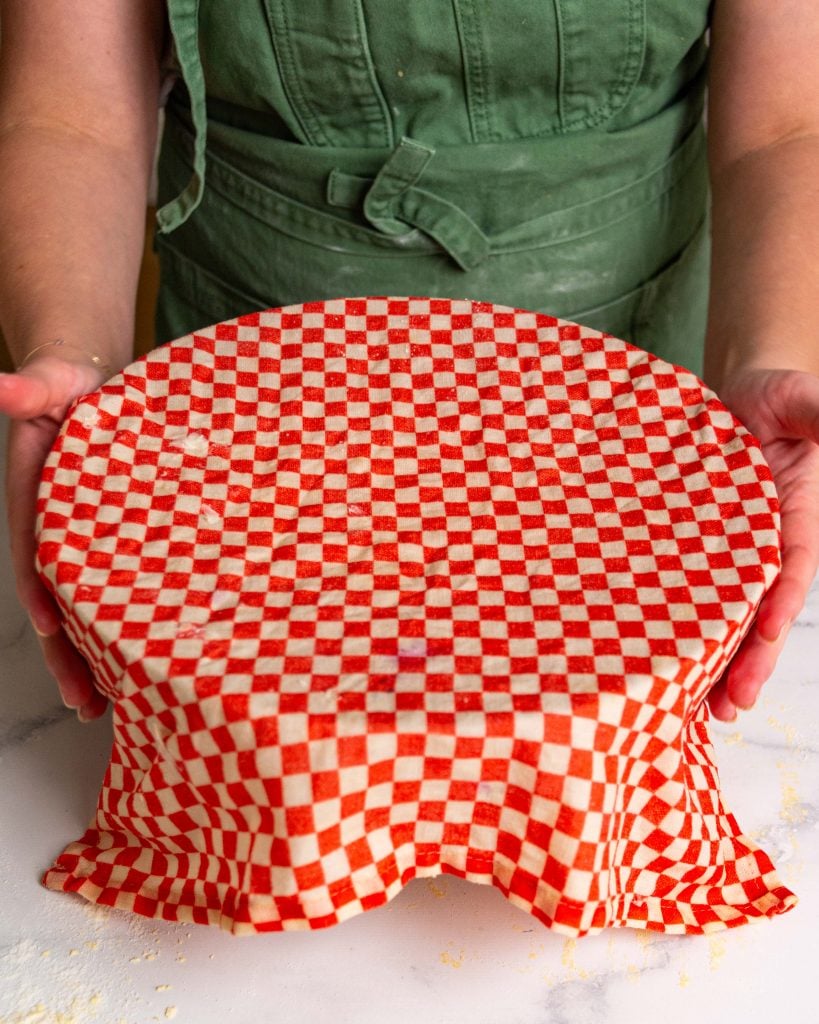 cure all
Cure the dough – curing dough just means to slightly dry it out. This is so your dough is not too wet or sticky for when we want to shape it. I like to lay my pasta sheets out onto my dining room table for this step. 
If you make this recipe, please tag me on Instagram, Tik Tok or Pinterest so I can see your wonderful creations! If you have any questions or would like to leave a review, please do so here! I always love answering your food and recipe related questions and hearing your feedback on my recipes.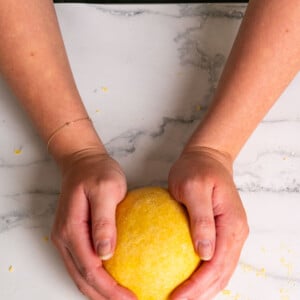 Homemade egg pasta
If pasta is my love language, than this is my letter.
Ingredients
400 g tipo 00 flour extra for dusting
50 g semolina flour extra for dusting
1 tsp sea salt
255 g eggs roughly four whole eggs + 2 yolks
Instructions
Combine the flour, semolina and salt in a large bowl. Transfer the mixture to a pasta board or clean work surface. Make a well in the centre of the flour that is deep and wide enough to hold the eggs.

Place the eggs in the middle of the flour well and whisk together with a fork. When you're whisking, slowly combine the flour from the edges of where the eggs are sitting and whisk it through the eggs until a thick, custard-like paste forms. When you can no longer whisk the flour and egg with a fork, bring the flour from the edges into the well with your hands or a pasta scraper and begin to knead the dough into a ball.

Knead the dough for 10 minutes until a firm smooth dough ball forms that is moist and not sticky. Every dough is different so you will need to go by feel. If your pasta dough is too wet, very gradually add small amounts of flour. If it's too dry, lightly wet your hands and continue to knead it.

Place the dough in a bowl and cover well with plastic wrap or a damp towel. Leave to rest for a minimum of 30 minutes on your bench top.

Uncover the dough and cut it into quarters. Take one-quarter of the dough and cover the remainder so it does not dry out.

Place a piece of dough on a lightly floured pasta board or work surface. Roll the dough out with a rolling pin into a rectangular shape that is 3mm thick. Roll the dough through a pasta machine on the widest setting (number 7 on my pasta machine). Fold the dough in half, then flatten with a rolling pin. Turn the dough 90 degrees and roll it back through the machine. Repeat. Roll the dough through a narrower setting and fold the dough in half (number 4 or 5 on my pasta machine). Repeat this step twice.

Finally, roll the dough on the second-narrowest setting (number 2 on my pasta machine) until you have a long rectangular pasta sheet that is roughly 10 cm wide and 1 mm thick. Dust the pasta sheet with flour, lay it on a floured surface and leave the dough to slightly cure (dry out) for 5–10 minutes. Repeat with the remaining dough. You can shape the dough into whatever pasta shape you like but this recipe was for lasagna pasta sheets.