Pasta alla vodka has been around for years but it was Gigi Hadid who gave it a resurgence. And quite the glamorous one at that.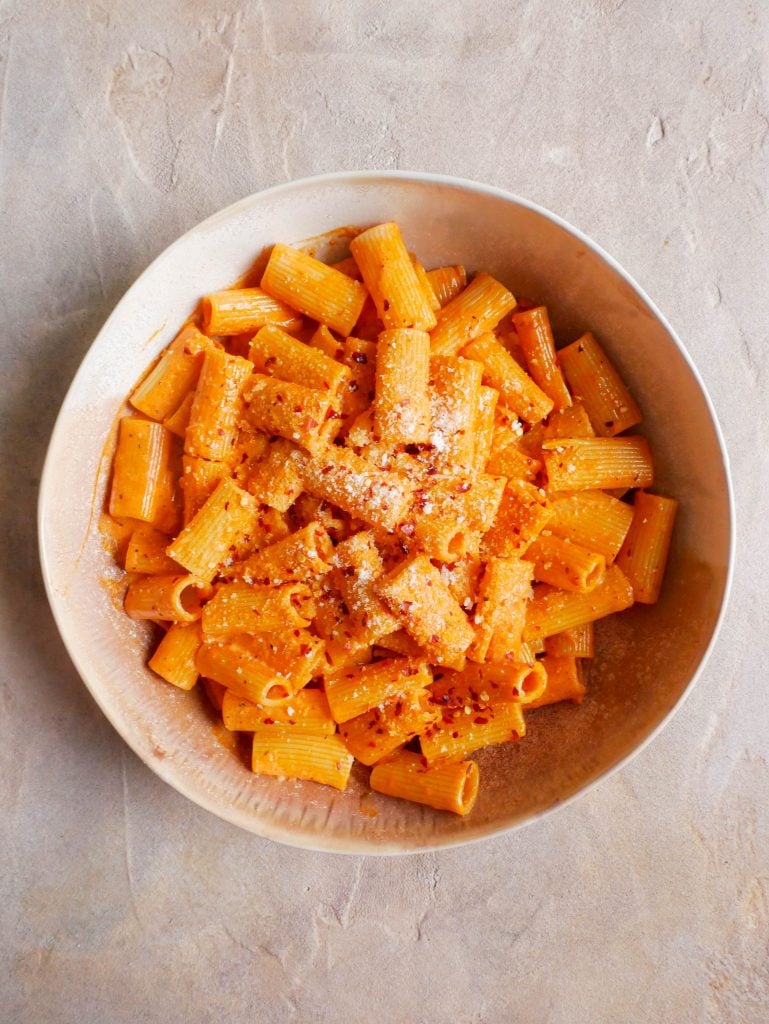 Pasta alla vodka
Nothing quite says comfort then a big bowl of pasta served in a bowl that is just as delicious to look at as the pasta is to eat. When I crave pasta, most of the time it's during the winter seasons and specifically a red sauce pasta with lots of cheese.It's made with a whole tin or tube of tomato paste that is mixed through with vodka and all the dairy delights such as cream, cheese and butter.
Pasta water is liquid gold
While it would be hard to go wrong with this combination of ingredients, the secret to the success of a vodka sauce is to fry off the tomato paste until it turns a deep red colour and has caramalised. What else makes this sauce great is the use of vodka. It sweetens the tomato paste and enhances the fruity flavour within the sauce. But the magic really happens when the sauce is brought together by stirring through the butter and cheese with lots of pasta water as you will be left with the silkiest, glossiest and creamiest of sauces. Pasta water is liquid gold and should always be utilised when any pasta sauce is being made.
Frequently Asked Questions
Can I substitute the vodka?
While vodka does give this sauce its unique taste, it's perfectly fine to replace it with chicken stock and a squeeze of lemon or half a cup of white wine
Can I leave out the onion?
Yes you definitely can! It won't change the taste of the sauce too much.
Can I serve this with a different shaped pasta?
You absolutely can however, the traditional way to serve it is with rigatoni or large tubular shaped pasta.
If you make this recipe, please tag me on Instagram, Tik Tok or Pinterest so I can see your wonderful creations!
If you have any questions or would like to leave a review, please do so here! I always love answering your food and recipe related questions and hearing your feedback on my recipes
Pasta all Vodka
Pasta alla vodka has been around for years but it was Gigi Hadid who gave it a resurgence. And quite the glamorous one at that.
Ingredients
3 tbsp olive oil
1 brown onion finely diced
2 garlic cloves crushed
1 tsp dried oregano
1/2 tsp dried chili flakes
140 g tomato paste
100 ml vodka
1 cup heavy cream
1/2 cup pecorino romano grated
50 g butter unsalted
pinch of flakey sea salt
500 g pasta penne or rigatoni
Instructions
Bring a pot of heavily salted water to the boil and cook your pasta el dente. Follow the instructions on the back of the pasta packet for al dente pasta and drain your pasta 2 minutes before the suggested cooking time as it will continue to cook when it's stirred through the sauce. Reserve 1/2 - 1 cup of pasta water.

In a deep dish pan on a low heat, bring the olive oil to heat and fry the onions and garlic for 5 minutes or until fragrant and translucent. Stir occasionally to avoid the garlic from burning. Add the oregano and chilli flakes and fry for a further 2 minutes. 

In the same pan on a high heat, fry the tomato paste for 2 - 3 minutes or until it has caramalised, turned a deep red colour and is almost sticking to the pan. Turn the heat to medium and add the vodka. Cook until 80% of the liquid has been absorbed. Add in the cream and cook for 1 minute on a medium heat or until the cream has foamed and is bubbling. Turn the heat to low and stir the cream through the sauce with a pinch of salt until all ingredients are well combined.

Add the cooked pasta to the pan and stir through with the pecorino romano and butter. Slowly incorporate the pasta water until a silky and glossy texture forms. Finish off with an extra sprinkling of cheese and chilli flakes. Serve immediately.