Delicious, nutritious and extremely affordable and easy to make, this cheesy broccoli pasta will be your new favourite midweek meal.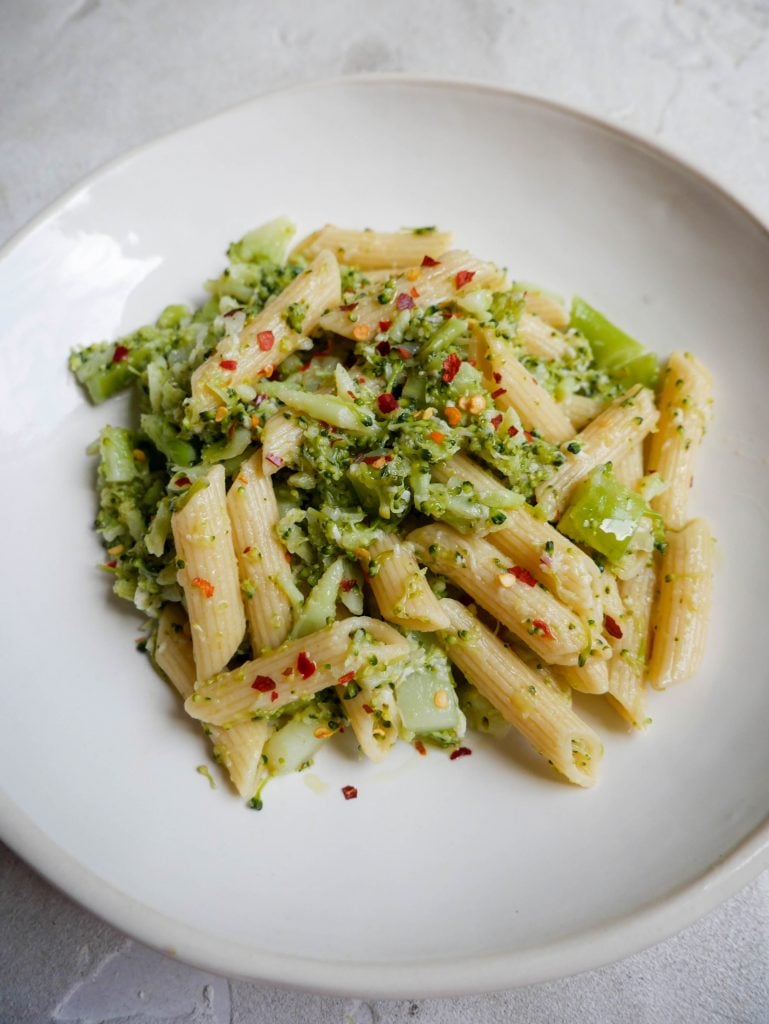 Cheesy Broccoli Pasta
This cheesy broccoli pasta is one delicious yet easy meal to whip together! It's my go-to on those nights that I find myself staring into my fridge wondering what I am going to cook for dinner. I can guarantee that you will have most of the ingredients needed on hand in either your fridge or pantry. It's also a great way to use up an old broccoli sitting in your fridge. This recipe utilises all parts of the broccoli (yes, that includes the stem) making it a meal with zero waster. It's also my daughters favourite meal so win win!
What you need for Broccoli Pasta
What makes this broccoli pasta so wonderful is that you will already have most of the ingredients needed to make them on hand.
Broccoli – broccoli is such a nutrient dense and versatile vegetable. It's the star of this recipe that calls for all parts of the broccoli to be used. Don't be scared to use the broccoli stem! The stem crispy and juicy and is actually my favourite part.
Pasta – traditionally broccoli pasta is served with orecchiette however, I have used San Remo Penne Pasta. It's an accessible pasta shape that can be found in almost any store. The shape also pairs beautifully with the cheesy broccoli sauce.
Garlic & olive oil – It wouldn't be a Daen's Kitchen dish without garlic and olive oil. Fresh is always best when it comes to garlic and I always recommend to use a high quality extra virgin olive oil.
Cheese – and lots of it! While I like to use just pecorino romano, you can definitely mix it up from parmeson, cheddar to gruyere or even all three!
Pasta water – or what I like to call, liquid gold. Pasta water is what brings the entire dish together! If you're looking for that silky and glossy texture to your broccoli pasta sauce, then do not toss out that pasta water!
Chilli flakes – this one is optional but will bring your pasta from delicious to amazing! I leave them out when I am making this recipe for my daughter and she still absolutely adores this dish.
Lemon – A squeeze of lemon juice at the end adds the perfect amount of citrus!
Check out my other vegetable pasta dishes:
Roasted Pumpkin & Garlic One Pot Pasta Sauce
Cheesy Broccoli Pasta
Delicious, nutritious and extremely easy to make, this cheesy broccoli pasta will be your new favourite midweek meal.
Ingredients
2 cups San Remo Penne pasta
1 head broccoli
3 tbsp olive oil
3 garlic cloves finely sliced
1 tsp white pepper
1/2 tsp flakey sea salt
1/2 cup pecorino romano grated
1/2 lemon
1 cup pasta water
Instructions
Bring a large pot of heavily salted water to boil. Cut the broccoli into small pieces, including the stem, and cook in the water for 5 minutes. 

While the broccoli is cooking, bring the olive oil to heat in a large fry pan. Add the garlic to the pan and cook for 3 minutes on a low heat or until fragrant and translucent. Transfer the broccoli to the pan with 1 cup of broccoli water and cook for 10 minutes on a low - medium heat. Reserve the broccoli water in the pot. 

While the broccoli continues to cook, cook your pasta. Add San Remo penne pasta to the pot of broccoli water. Drain your pasta 2 minutes before the suggested cooking time (10 minutes) as it will continue to cook when it's stirred through the sauce. Reserve 1/2 - 1 cup of pasta water.

With a potato masher, mash the softened broccoli to a texture of your liking. Add the pasta, pecorino romano and salt and pepper to the pan with the broccoli. Slowly incorporate the pasta water and stir through on a low heat until you have a smooth and silky texture. Take off the heat and finish off with a squeeze of lemon and sprinkling of chili flakes.