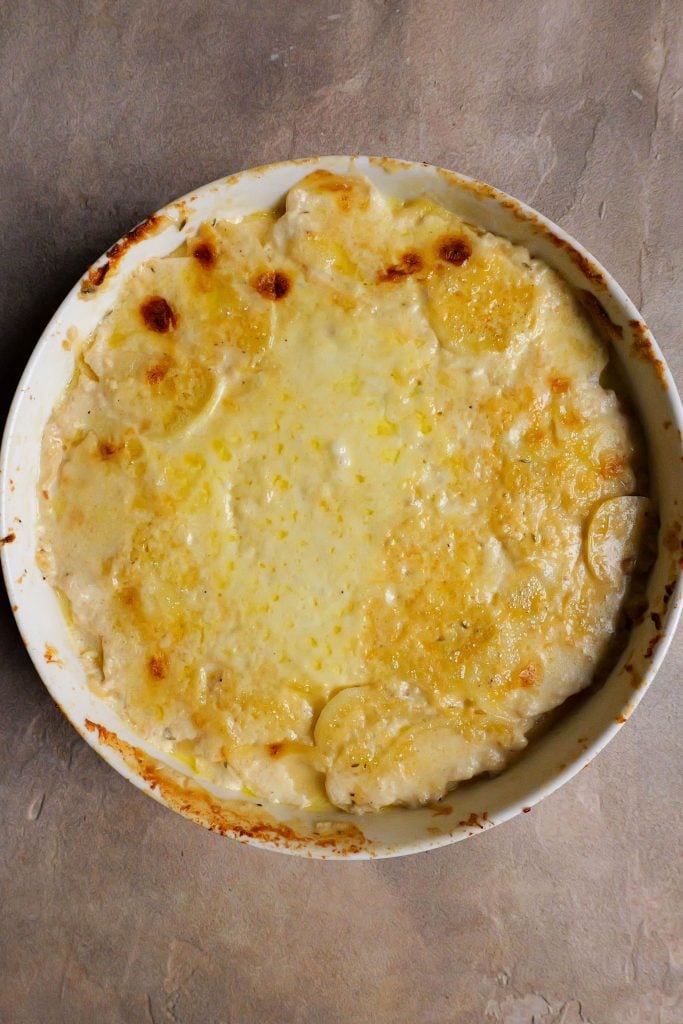 There is something so pleasing, so satisfying, so comforting about cheesy, creamy potatoes. Potato gratin is the ideal side to… well… anything. A Sunday roast, a perfectly seared steak, my Veal Cotoletta.
A bit of a classic, my take on gratin is all about garlic. The perfect accompaniment to the cheesy, creamy potato delight is, of course, garlic confit. Bringing an extra element of flavour, the garlic confit will lift this from just a side dish to perhaps even the main event of the meal.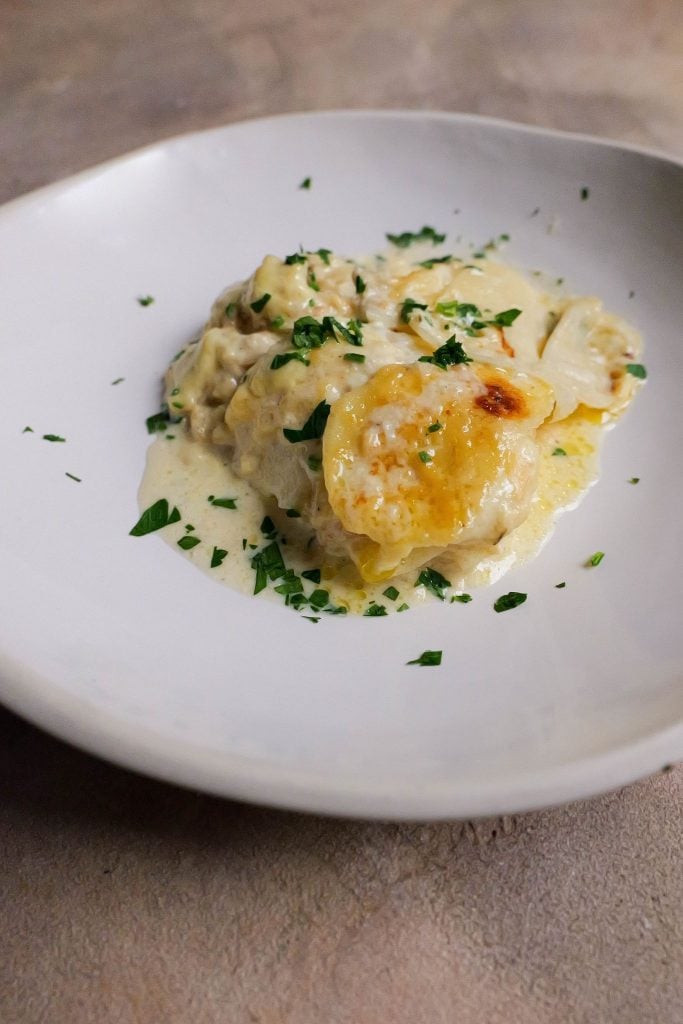 Garlic Confit
It's the focal point for so many of my recipes, and for good reason: garlic confit is a flavour builder. Bringing the garlic to this dish will elevate it to another level, without the cheese doing all the heavy lifting. It's a necessary step that is guaranteed to result in a delicious depth of flavour, and have your guests going back for seconds (and thirds).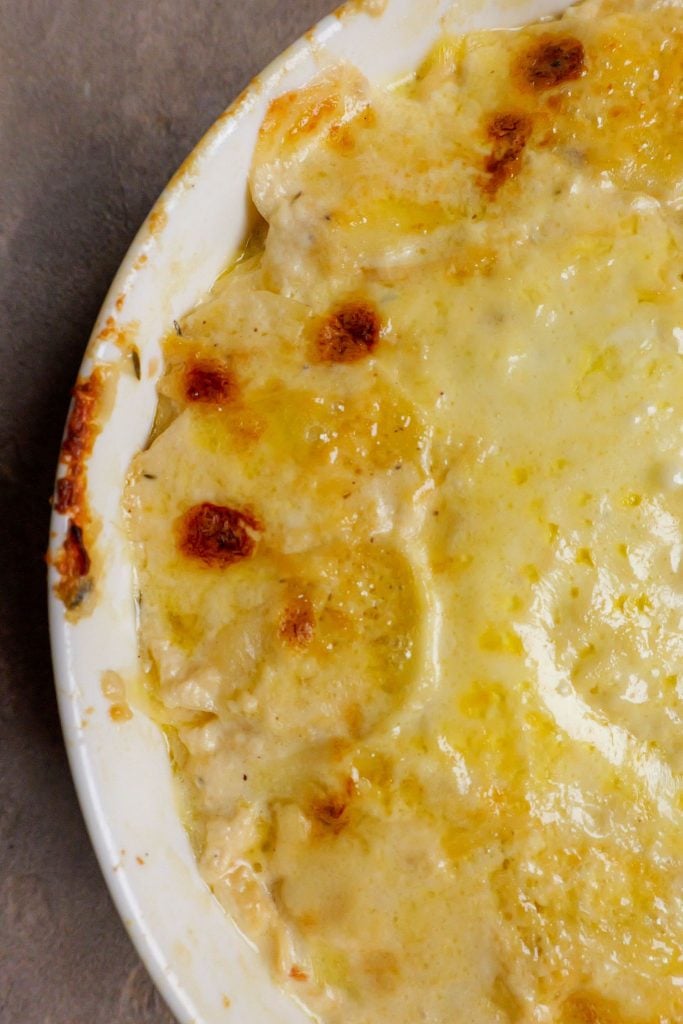 Easy Cheesy
Cheese is a necessary part of the Gratin. A mellow but melty mozzarella can disperse throughout and give that classic cheese pull that is drool-worthy, and finishing it off with a sharp parmesan will cut through that creamy goodness underneath. It's a flavour explosion!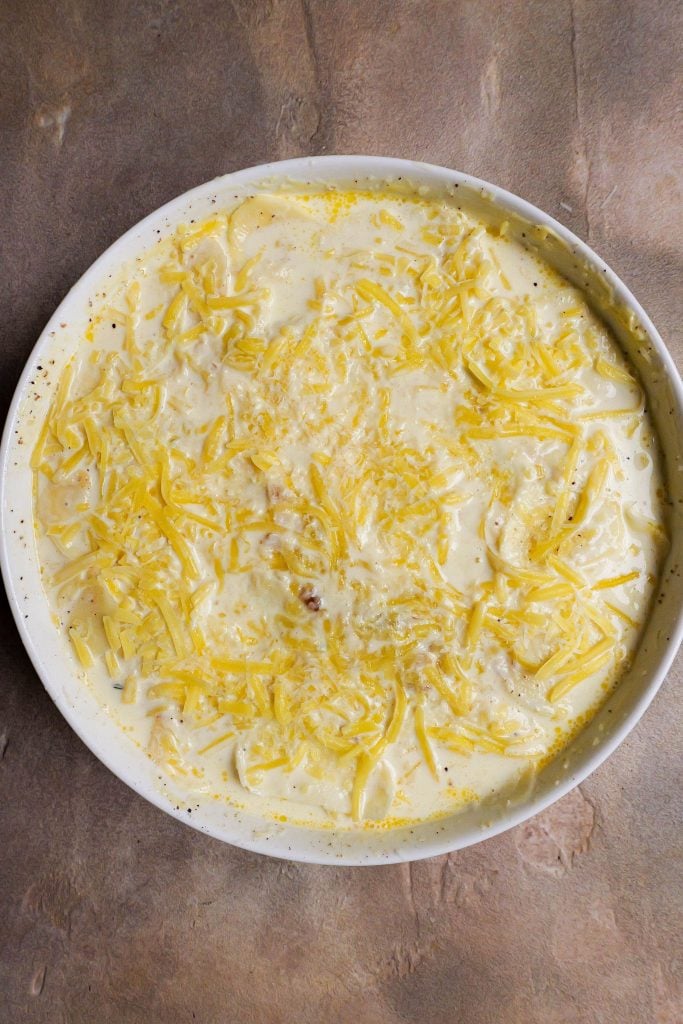 Potato Gratin versus Potato Dauphinoise
Potato Gratin is often confused with Potato Dauphinoise, and although similar, there are significant differences between both ingredients and technique.
For Gratin, you'll have to prep the potatoes, beyond just slicing. Making sure that they soften through an ice bath is essential so you get tender, soft potatoes in the end. For a Dauphinoise, no pre-work on the spuds is necessary, but it is missing a key Gratin ingredient: cheese. And, for me, the cheesier, the better.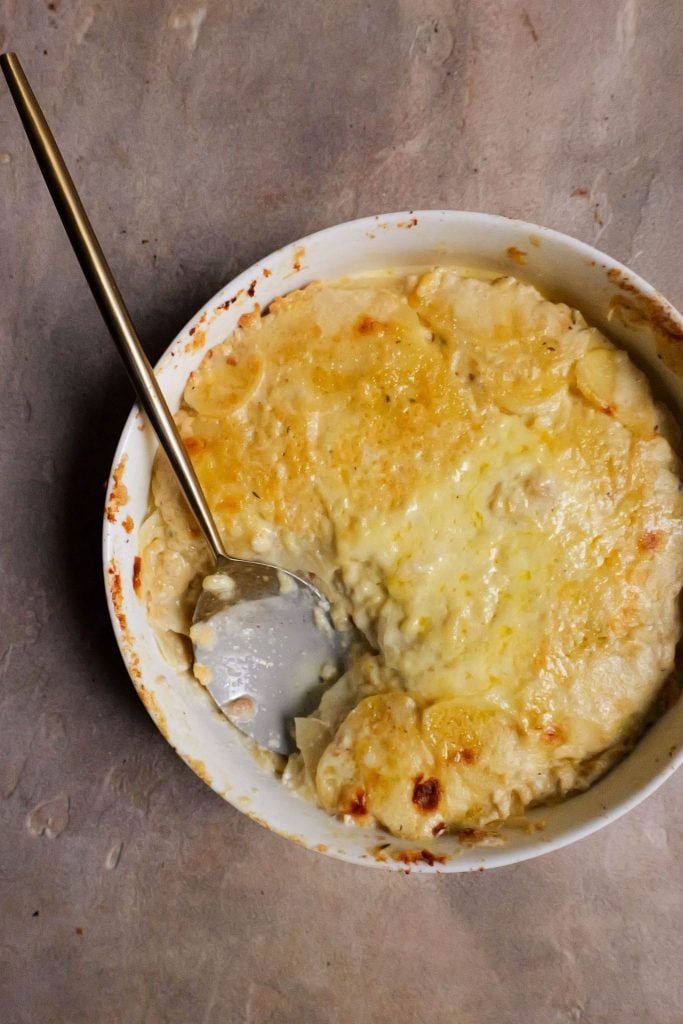 Tips for nailing the classic
The biggest tip for making sure that this recipe is perfect is patience. The ice bath for the potatoes will soften them up, and waiting for 20 minutes before serving will allow the dish to set.
Whichever way you like your potatoes, there is one thing for sure, this family staple is enough for anyone to melt over.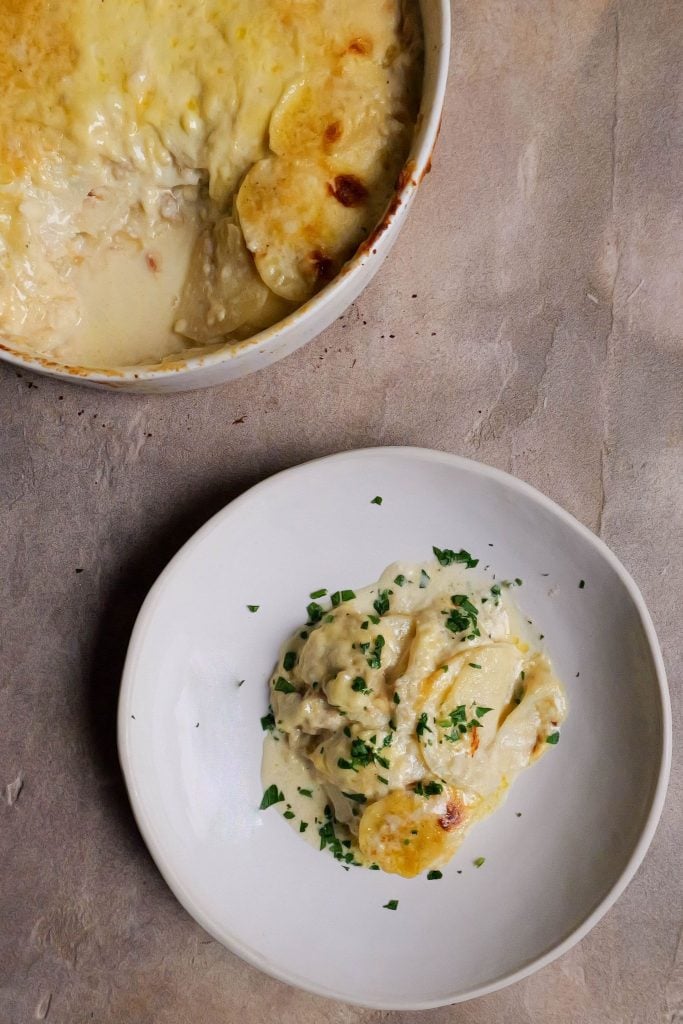 If you make this recipe, please tag me on Instagram, Tik Tok or Pinterest so I can see your wonderful creations!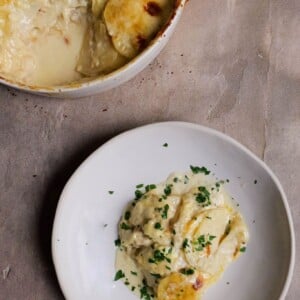 Potato Gratin
Easy, cheesy, delicious. A Sunday roast staple.
Ingredients
1 kg Russet or Sebago potatoes peeled and finely sliced
2 cups heavy cream
1 cup full cream milk
1 sprig thyme
24 garlic confit cloves or 4 fresh garlic cloves finely sliced
25 g butter
50 g Gruyere or mozzarella grated
30 g Parmesan grated
flaky sea salt
cracked black pepper
Fresh parsley to serve
Instructions
Place the finely sliced potatoes into an ice bath and leave to sit for a minimum of 30 minutes and maximum 4 hours. Drain the potatoes and place onto a working surface that is pre-lined with paper towels. Using additional paper towels, press down onto the potatoes to remove as much moisture as possible.

Preheat the oven to 180 degrees C.

In a medium sized saucepan on a low heat, combine the cream, milk, garlic and thyme and bring to a low simmer. Simmer for 10 minutes or until slightly thickened.

In a large circular baking dish, rub the butter all over the edges and bottom. Begin to layer the potatoes and season with salt and pepper after every layer. Pour the cream mixture over the potatoes and then sprinkle with the cheese. Cover the dish with alfoil and bake for 2 hours. Remove the al-foil and bake for a further 15 minutes or until the cheese is bubbling and golden. 

Leave to sit for 20 minutes before cutting into it. Sprinkle with fresh parsley and serve.