It can be referred to as the dish that "even when it's bad it's good", so what about when it's incredible? Well, then, in that case – it's the best dish! And my Salami, pesto & burrata pizza has all the flavours to make your mouth sing! This is definitely one to try. And everything is made from scratch – even the dough! It might seem like a labour of love but this is definitely a love story.
Salami pesto burrata pizza
Pizza toppings are such a personal preference. People would go to war over the pineapple on pizza debate! But I'm here to tell you that this salami pesto burrata pizza is the king of all toppings. It's creamy, a little bit spicy and nutty from my walnut pesto. It's got all the elements, and I guarantee that this pizza topping combo will put all future debates to bed – this is truly the best!
D'oh! I mean, dough!
Dough can terrify people. Under the impression that making dough from scratch is for only top chefs, but it's not! The most basic of home cooks can make dough. It's also the start of you being able to have your own pizza party where people can add all the crazy toppings they want to their heart's desire! But, there are (of course) some tips for nailing the dough.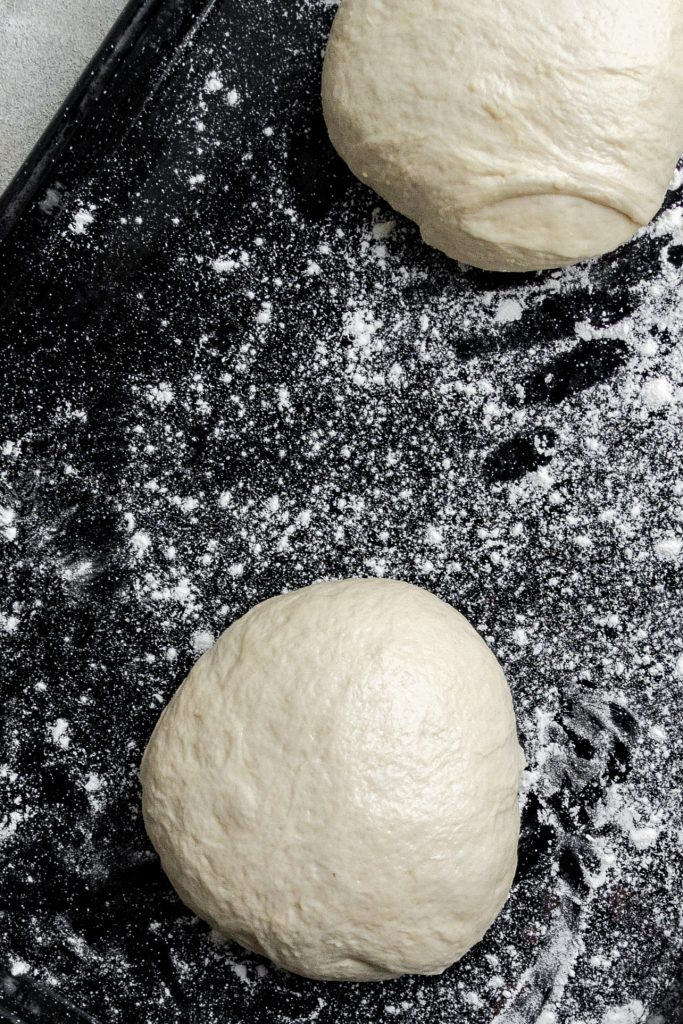 My top tips for nailing salami pesto burrata pizza
Tip 1)
Put the rolling pin away! It's important we don't use a rolling pin when shaping the dough. You want to do this by hand when shaping your pizza bases so the little air pockets are not popped. Otherwise you will be left with a dense and chewy dough.
Tip 2)
Room temperature! When stretching out your pizza bases, it's important your dough is at room temperature. This will make it much easier to stretch out and it will also cook at a more even rate. No one wants a dough that's overcooked somewhere and undercooked somewhere else.
Tip 3)
Hydration! The most famous pizza in the world is the Neapolitan pizza. It has a hydration of 58 – 64 percent resulting in it being tender, light and moist. I have followed this calculation for my pizza dough recipe with it sitting at 64 percent hydration. If your dough is too hydrated it will fall apart in the pizza oven.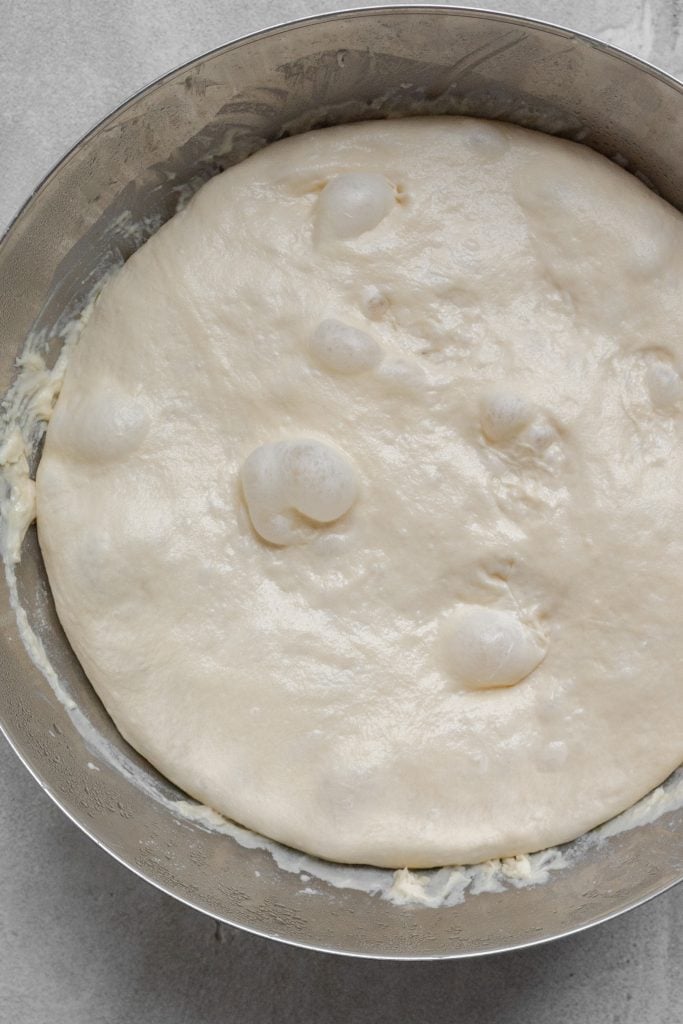 Tip 4)
Shaping! Shaping the pizza dough can take a little practice! In fact, in some areas of the world it's even an art! But don't be deterred if it doesn't work out the first few times for you as practice will make perfect. If you make tears in your dough it unfortunately won't work in a hot pizza oven and you will need to restart. 
Tip 5)
Stretching the dough! By draping the dough over your knuckles and rotating it back and forth, you are giving yourself the best chance at stretching the dough easily! This will become common practice after a few tries.
Pesto is the besto! 
Pesto is one of those sauces or dips that is so flexible to people's individual flavours. Some like pinenuts, but for this one, I've used walnuts. It gives it such a beautiful subtlety that sometimes pine nuts can detract from.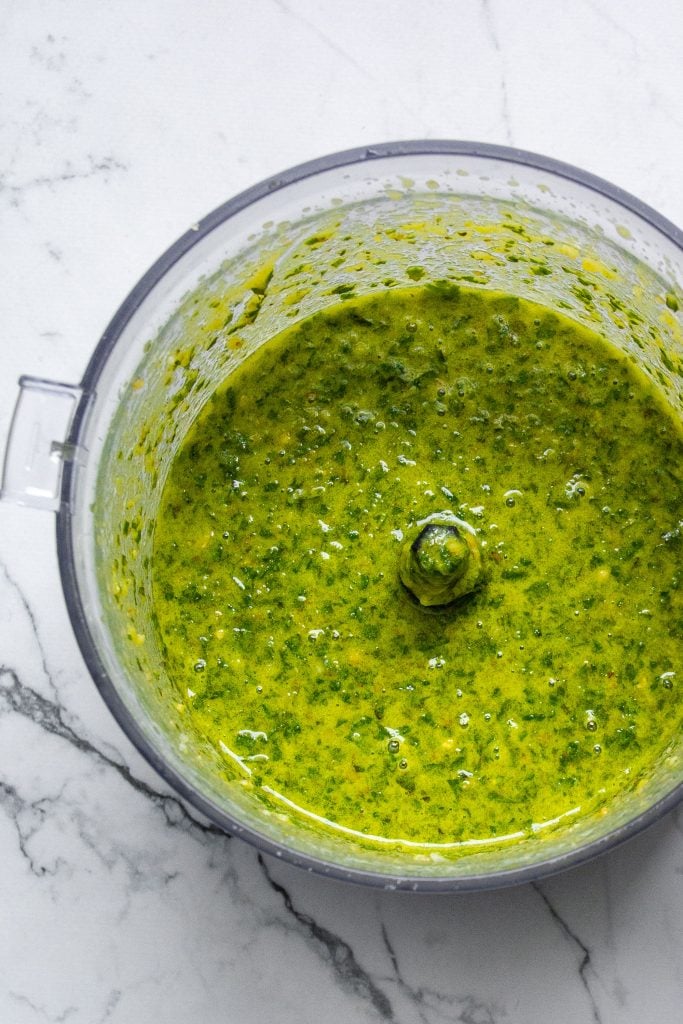 Neapolitan
As the name suggests, Neapolitan has its origins in Napoli – the birthplace of pizza! It's not hard to make Neapolitan sauce from scratch – and I implore you to try this one over the tinned one, you will not be disappointed!
Salami
It's a classic topping on pepperoni, and for good reason! It's undeniably tasty! I use one with a bit of bite to cut through the nuttiness of the pesto and the richness of the cheese. It gives it a light kick and another dimension on flavour. Vegetarian? Skip the salami!
Burrata
This is where traditions take a bit of a left turn as I add burrata to the top. But hey! It's pizza! You're serving it to a crowd so why not make it a spectacle.
How to make salami pesto burrata pizza
This is all about the oven! And the heat! Bring it on! My tips to making the best pizza – regardless of what crazy flavours you choose.
Hot, hot, hot baby!
You want the pizza oven extremely hot as a traditional pizza only needs 90 seconds to cook. Preheat your oven to 400 – 450 degrees Celsius for the ultimate temp. 
Flour that pizza peel!
This is something I wish I knew the first few times I made pizza as my dough stuck to the peel which caused lots of tears and holes in my dough. You can use semolina flour or regular flour. 
Rotate the pizza!
As the oven only has a flame on the left side and back of the oven it needs to be rotated as it cooks. 
If you make this salami pesto burrata pizza, please tag me on Instagram, Tik Tok or Pinterest so I can see your wonderful creations!
If you have any questions or would like to leave a review, please do so here! I always love answering your food and recipe related questions and hearing your feedback on my recipes.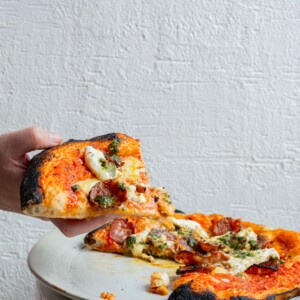 Salami pest and burrata pizza
They say "even when it's bad it's good", but this pizza is the best!
Ingredients
Pizza Dough (makes 5 pizzas)
800 g 00 flour
520 g lukewarm water
4 g yeast
16 g fine sea salt
Neapolitan sauce
400 g tinned tomatoes
1/4 cup olive oil
2 garlic cloves peeled
flakey sea salt
1 tbsp brown sugar (optional)
Walnut pesto
2 garlic cloves
1/2 cup walnuts chopped
1 bunch fresh basil
1/4-1/2 cup extra virgin olive oil
30 g parmesan grated
30 g pecorino romano grated
flakey sea salt
Pizza topping (for 1 pizza)
100 g salami
50 g mozzarella cut into strips
1/4-1/2 cup Neapolitan sauce
2 tbsp walnut pesto
100 g burrata
1/4 tsp chilli flakes
extra virgin olive oil to serve
Instructions
Pizza dough
In a small bowl, combine the water, yeast and honey. Whisk to combine then leave to sit for 5 minutes to allow the yeast to activate. You will know the yeast is active when bubbles form at the top of the water.

In a large bowl, combine the flour and salt and whisk together. Pour in the water and bring the dough together with your hands until all of the flour is moist and a shaggy dough forms. Cover with plastic wrap and leave to sit at room temperature for 20 minutes.

Remove the dough from the bowl and place onto non floured work surface and slap and fold it for 2 minutes. Using slightly damp hands, pick up the far side of the dough, pull it up towards your body, then slap it down and over the surface of the remaining dough that is sticking to the surface. Rotate the dough and repeat until the dough is smooth. Place back into the bowl, cover with plastic wrap or a damp tea towel and leave to sit for 10 minutes. Remove from the bowl and repeat the slap and fold for an additional 2 minutes or until the dough forms into a smooth bowl.

Transfer the dough to a bowl that has been drizzled with extra virgin olive oil, cover very well with plastic wrap and leave to sit in the fridge for 14 – 18 hours.

When ready to use the dough, uncover and punch all of the air out of it. Cut the dough into 5 equal sections. Each section should weigh 250g. Use a scale to measure them.

Form each piece of dough into a round by pinching the edges of the dough together and folding them over themselves. Place the dough rounds, seam side down, on an unfloored work surface and roll each into a smooth ball by cupping your hand into a C-Shape and rolling the dough back and forth. It's important this step is done on a work surface that has friction and has not been floured. Place the dough balls onto a large baking tray roughly 4 fingers a part as they will rise and grown in size. You may need more than one baking tray. Cover with plastic wrap or a damp tea towel and leave to sit in a warm spot for 2 – 4 hours.

When ready to assemble the pizza, take one pizza dough and place onto a heavily floured work surface. Push around the edges of the ball to remove as much air as possible and shape the dough into a flat pizza shape. Punch down the middle of the dough, leaving a thin boarder. Pick the dough up and drape it over your fists and knuckles while rotating it to stretch it out into a 10 – 12 inch round circle.
Neapolitan sauce
Strain the tomatoes in a colander to remove any excess liquid. Place the strained tomatoes, garlic cloves and olive oil into a food processor and blend until you have a very smooth texture. Stir through salt to taste and the sugar if using. Blend again for a smooth texture.

Optionally, you can pass the sauce through a fine mesh strainer to remove excess pulp however, this step is not necessary.
Walnut pesto
Place the walnuts, garlic cloves and big pinch of salt into a food process and blend until you have a chunky texture. Add the basil leaves to the processor and blend while slowing pouring in the olive oil. Stir through the grated cheese.
Pizza assembly
Preheat pizza oven to 450 degrees Celsius / 850 degrees Farenheit.

Assemble the pizza on a floured work surface. Top with the pizza sauce followed by slices of cheese and then salami. Place onto a floured pizza peel.

Place the pizza into the oven and cook for 60 – 90 seconds while rotating the pizza as it cooks.

Remove from the oven and place onto a chopping board. Top with the burrata, pesto, chili flakes and drizzle of olive oil. Slice and serve immediately.