Jump to Recipe Print Recipe Jump to Video
My avocado toast obsession started very late in life for me. It wasn't until I was pregnant that  I would find myself craving a perfectly ripe, nutty and creamy slice of avocado toast. As with most addictions, it began small and simple until I slowly fell deeper and deeper into the avocado toast rabbit hole.  Avocado with caviar, avocado with goats cheese and lime juice and avocado with every type of egg you can imagine. I literally could not get enough of it yet I was always brought back to that classic variation. A slice of avocado toast that was sprinkled with chili flakes, freshly cracked pepper and flakey sea salt and finished off with a drizzling of olive oil.
I am particular about many things when it comes to food, but like most people who have grown up in a Mediterranean household, when it comes to olive oil, I am a true elitist. Olive oil is a part of my genetic makeup and runs through my veins. It wasn't until I found myself at the centre of an online debate around the use of olive oil that I discovered not everyone has the same love affair with it as I do. It's an extremely luxurious fat that elevates the rich and fatty taste of an avocado. If you are using high quality olive oil it brings with it a beautifully deep herb and fruity flavour and acts as a seasoning to your dish. 
As much as I would love to say that avocado is the star of this show, it's actually the one you would least expect –  a golden and crunchy piece of olive oil fried bread. Frying your bread in olive oil basically turns into one large crouton. You only have to know two things to achieve the perfect piece of fried bread: cook low and slow. It requires a little patience, and if you are like me it's the perfect time to put the little one to bed and enjoy a cup of coffee, as it takes up to 10 – 15 minutes per side. 
So there you have it. The perfect slice of avocado toast, according to me.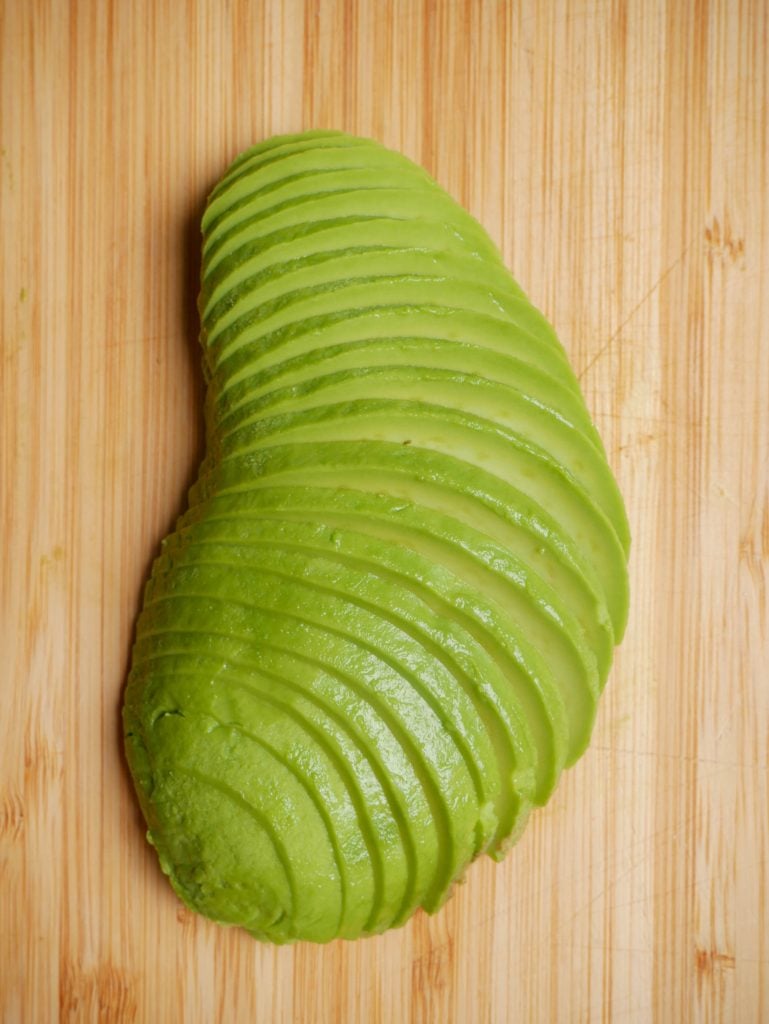 Frequently Asked Questions
How do you get your bread so golden and crunchy?
The trick is to drizzle the bread with olive oil and cook it on a low heat and for at least 10 minutes per side. The olive oil will create the most beautiful golden colour.
What type of bread do you use?
I always use a white sourdough that I buy at my local bakery.
How do you pick your avocados?
You know an avocado is ripe if it's soft to touch at the top of its core. Use your thumb to gently press at the top of the avocado. The softer to touch the more ripe your avocado will be.
How do you store your avocados?
If my avocado is quite underripe, I will leave it on the counter for a few days to further ripen. If my avocado is ripe and soft to touch, I will store it in a brown bag in my fridge.
If you make this recipe, please tag me on Instagram, Tik Tok or Pinterest so I can see your wonderful creations!
If you have any questions or would like to leave a review, please do so here! I always love answering your food and recipe related questions and hearing your feedback on my recipes.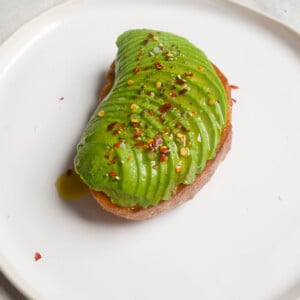 The Perfect Slice of Avocado Toast
The perfect slice of avocado toast, according to me.
Ingredients
1 avocado
2 Sourdough slices
olive oil
flakey sea salt
freshly cracked black pepper
chili flakes
Instructions
Drizzle each side of your sourdough slice with olive oil and place into a cast iron pan. Cook on a very low heat for roughly 10 - 15 minutes each side. 

Using a sharp knife, cut your avocado in half and remove the pit. One half at a time, cut the nose off the avocado. Place your finger between the flesh and skin of the avocado and very gently peel back the skin. Slice the avocado on a diagonal angle, creating 1cm slices. Gently push the avocado slices away from one another. Place a spatula or flat surface tool such as a large knife under the avocado and place onto your piece of olive oil fried bread.