Oh, the humble hot chip. Chippy. Fries. Whatever it is that you call it, it's a staple, a favourite. It's not a meal at the pub without a bowl of them on the table, nor a picnic on the beach without a side of them to snack on. Hot chips are indeed a delicious treat and, my triple cooked chips will be the only recipe you'll need.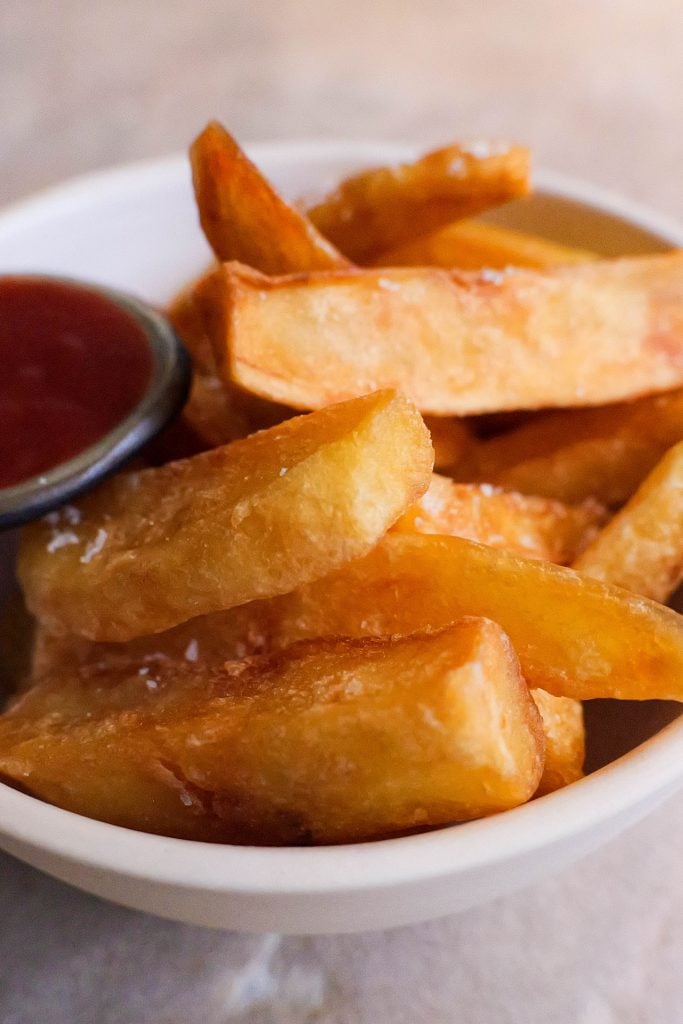 Triple cooked chips
There seems to be no bounds to the imagination that one can have one starting with a bowl of hot chips. In Canada, cheese curds and gravy are added for the local delicacy of poutine. In America, flavoured chilli is added to them for a loaded fries that is filling enough for a meal. And, in Australia, we add the coveted chicken salt – a savoury and umami flavour hit that stands out.
What to serve chips with
It's an endless selection of side dishes for hot chips. From burgers to my fish and chips, you'll find no recipe that isn't going to taste delicious with these chips.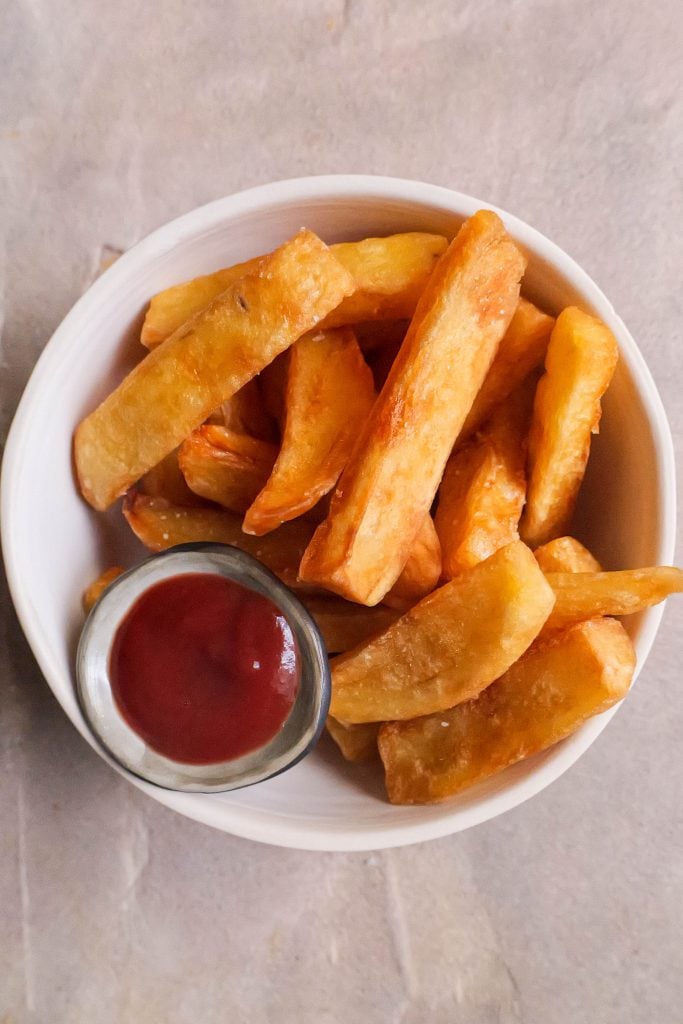 What you're going to need
The first thing you need for this recipe is patience. It can't be done without the parboil and the time in the freezer. Why, you ask? Because it's these small steps that create perfectly crunchy on the outside and fluffy on the inside chips. And, that crunch can only be made by not once, not twice, but thrice frying. Also, lots of oil! This is emulating your local fish and chip shop but even better – so don't skimp on the oil or you'll end up with an undercooked soggy and unappealing chip.
FAQ
What seasonings can I add?
The world is your oyster! Add garlic salt, chilli flakes, a squeeze of lemon. Or, follow our friends over the pond in England and add some malt vinegar.
Why triple cooked?
It might seem like a waste of time, but you won't be saying that when your chips snap in the middle and deliver the perfect crunch. There's just simply nothing better!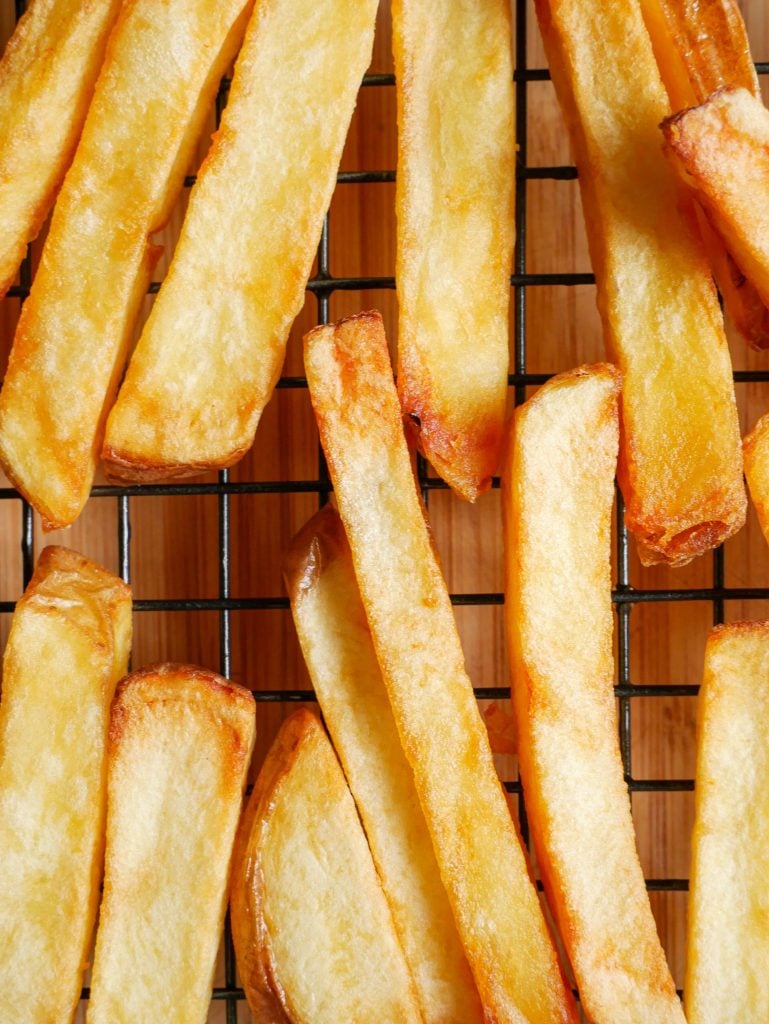 If you make this recipe, please tag me on Instagram, Tik Tok or Pinterest so I can see your wonderful creations!
If you have any questions or would like to leave a review, please do so here! I always love answering your food and recipe related questions and hearing your feedback on my recipes.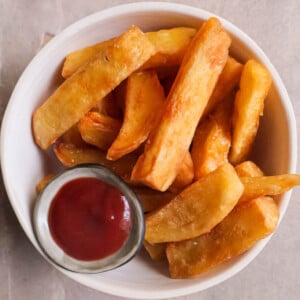 Triple cooked chips
Delicious, thrice cooked chips that will become a weekend staple.
Ingredients
1.5 kg russet potatoes peeled
2 L vegetable or grapeseed oil
flakey sea salt
Instructions
Square off the potatoes by trimming off the edges until you have a square shape. Cut the potato into chip shapes that are roughly 2 x 6cm.

Place the cut chips into a bowl of cold water and rinse well until the water turns cloudy. This is the starch that has been removed from the potato. Drain into a colander and rinse again under cold water.

Place the chips into a large pot and cover with cold water. Season with a generous amount of salt. Place the pot onto the stove on a high heat and start the timer for 20 minutes as soon as you turn the heat on. Once the water is boiling, turn the heat to medium. Cook the potatoes until they are fork tender. Drain and place the chips onto a cooling rack to allow all the moisture to drip off. Place the cooling rack into the fridge or freezer until the chips are cold, not frozen. 30 minutes in the freezer and up to 2 hours in the fridge.

Fill a large pot with vegetable or grapeseed oil and bring to 140 degrees Celsius. Using a slotted spoon, carefully place the chips into the hot oil and fry for 8 minutes. Using a slotted spoon, remove the chips from the oil and place back onto the cooling rack. Place the chips back into the fridge or freezer until cold.

For the second fry, use the same oil but heat it to 180 degrees Celsius this time. Using a slotted spoon, carefully place the chips into the hot oil and fry for 4 – 6 minutes or until golden and crispy. Using a slotted spoon, remove the chips from the oil and place back onto the cooling rack. Season generously with flakey sea salt and serve.