Yes, it's another sandwich! This veal schnitzel parma sandwich is one for the ages. With a schnitzel that's been fried to perfection in clarified butter, a garlic confit aioli and crispy prosciutto to finish it all off, you will be questioning why you didn't make this one sooner!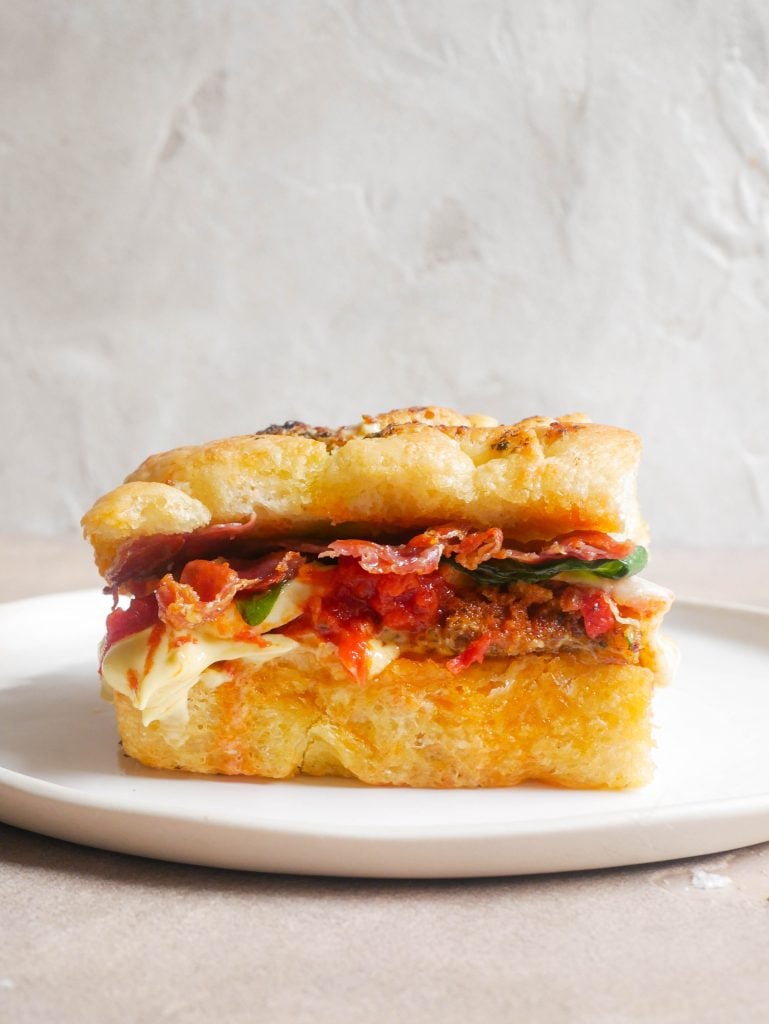 Veal Schnitzel
Veal plays such an important role in my Italian heritage. And while this schnitzel hasn't been cooked the traditional Italian way in lots of olive oil (stay tuned as that recipe is coming) it's extremely tender and delicious. I have cooked the veal in clarified butter which is the Austrian way to do it. To clarify butter, you must melt it on a low heat to separate the milk solids and then scoop them out. You will be left with a translucent and golden butter that contains only pure butterfat. 
As my mum describes it, veal is soft to the mouth and a joy to eat. It has a velvet like texture which works perfectly with a crispy and golden breadcrumb. It's juicy on the inside and crunchy on the outside making it the perfect addition to this sandwich.
Garlic confit aioli
If you're new around here, I love garlic. I'm a garlic girl and love to find new ways to use my garlic confit. This garlic confit aioli is definitely a win! It uses 10 garlic confit cloves that adds a lovely depth of flavour. Making aioli from scratch is extremely easy, especially when you have a stick blender. It's important that in the first few stages you don't move the stick blender as this will prevent the oil and egg from emulsifying. When you start to see the ingredients come together, that's your sign to start moving your blender up and down until you have a thick and creamy consistency.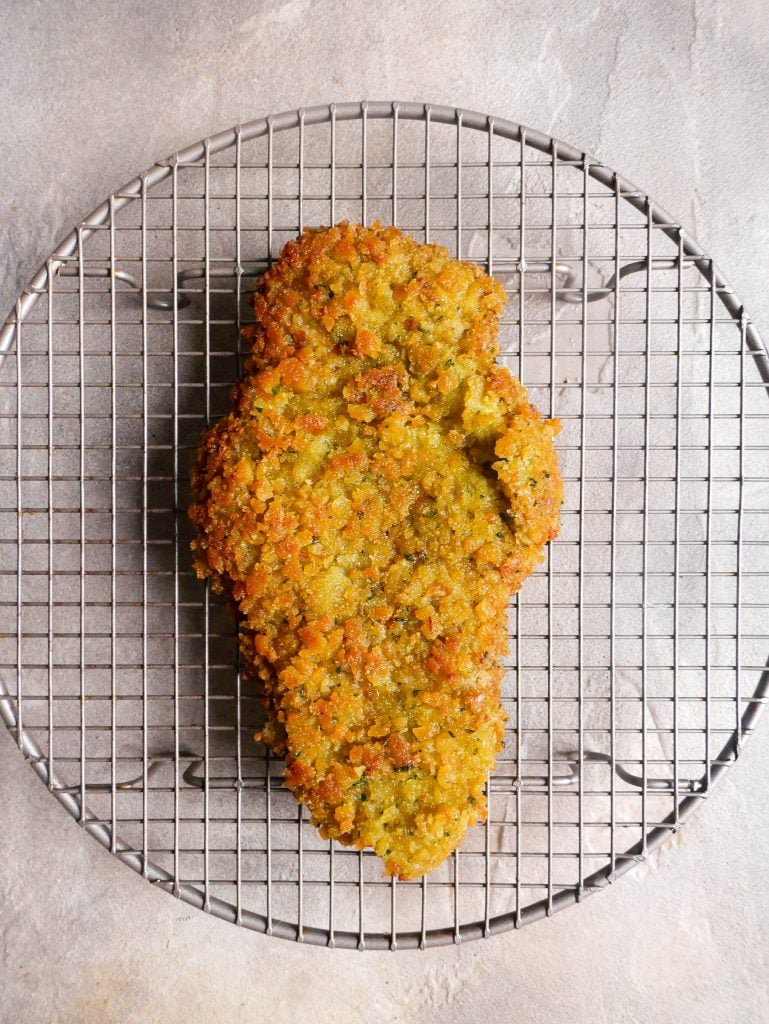 You can view my garlic confit recipe here and focaccia recipes here.
If you make this recipe, please tag me on Instagram, Tik Tok or Pinterest so I can see your wonderful creations!
If you have any questions or would like to leave a review, please do so here! I always love answering your food and recipe related questions and hearing your feedback on my recipes.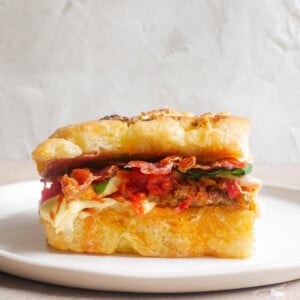 Veal Schnitzel Focaccia Sandwich
This sandwich has a schnitzel that's been fried to perfection in clarified butter, a garlic confit aioli and crispy prosciutto to finish it all off. You could say it's the perfect sandwich!
Ingredients
Veal schnitzel
4 veal sizzle steaks
1 white sandwich load sliced
2 eggs
4 garlic cloves crushed
1/2 cup flour
1 tsp flakey sea salt
1 tsp cracked black pepper
1/2 bunch fresh parsley
200 ml clarified butter
Garlic confit aioli
10 garlic confit cloves
1 egg
1 cup garlic confit olive oil
1 tbsp lemon juice
pinch of flakey sea salt
Tomato & basil sauce
3 tbsp olive oil
4 garlic cloves peeled
2 400g tinned tomatoes
1 bunch fresh basil
1/2 cup water
Veal schnitzel sandwich (makes 1)
2 slices pesto focaccia
2 tbsp garlic confit aioli
1 veal schnitzel
3 tbsp tomato and basil sauce
100 g buffalo mozzarella sliced into 4 slices
fresh basil leaves
100 g prosciutto
Instructions
Veal schnitzel
Lay the bread out onto a baking tray and leave to dry out overnight. It's important your bread has been dried out or is a few days old and stale as this will give you the crispiest breadcrumbs. 

Begin by making your egg wash. In a shallow wide bowl, whisk your eggs and garlic together and set to the side. By preparing this early the garlic will have time to release its flavour into the eggs.

Roughly tear apart your bread and place into a food processor or blender with the parsley and  rosemary. Blend until the bread is fine and crumbly. Place your breadcrumbs into a large bowl.

In a shallow wide bowl, whisk together the flour, salt and pepper and then set up your dredging station. Begin with your flour, followed by the egg wash, followed by the breadcrumbs and then finished with a large clean plate or tray to place the crumbed veal on. Take one veal cutlet and coat both sides evenly with the flour. Then place into the egg wash and coat both sides evenly. Lastly, place into the breadcrumb mixture applying pressure with your hands when you flip the veal over to ensure the breadcrumbs are evenly coated all over. Place the veal onto the clean plate and then repeat this step with the remainder of the veal. Place the veal into the fridge for 30 minutes to allow the breadcrumbs to set. 

In a large frying pan, add a generous amount of clarified butter until it's about 2 - 3cm deep in the pan. Bring the butter to heat. You can check if the butter is hot enough by placing a wooden skewer into it and seeing if bubbles form around the skewer. Turn the heat down to medium and fry 1 - 2 pieces of veal cutlets at a time for 2 minutes per side or until they are golden and crispy. It's best to test out one piece of veal to make sure your cook time and heat levels are accurate. Remember your veal will continue to cook when you take it off the heat so take it off a few seconds before you feel it's ready. Place the veal to rest onto a cooling rack so the oil can drip off and the bottom does not get soggy. 

Individually wrap the remainder of the crumbed veal cutlets that you have not cooked in glad wrap and store in the freezer for up to 3 months.
Garlic confit aioli
Place all ingredients into glass container or jug that is just wide enough to fit an immersion blender. Using an immersion blender, blend all ingredients together being careful to not move the blender up and down. Once the ingredients begin to emulsify, move the blender up and down while slowly incorporating all of the oil. Continue until you have a thick consistency.

Store in an airtight container or jar in the fridge for up to 3 days.
Tomato & basil sauce
In a large deep fry pan, bring the olive oil to heat. Turn the heat down immediately, add the garlic and cook for 2 - 3 minutes or until the garlic is slightly browned. Remove from the pan.

In the same pan, combine the tinned tomatoes, water, a pinch of salt and pepper and ¾ of the basil. Bring to the boil then turn the heat all the way down and leave to simmer for 30 - 40 minutes. Depending on the tinned tomatoes you are using, your sauce may need a little sweetness. Keep tasting your sauce as it cooks and add more salt or pepper if needed. 
Sandwich
In a dry pan on a high heat, fry your prosciutto for 2 - 3 minutes on each side or until crispy.

Cut your focaccia into thirds lengthways. Slice 1 piece of the focaccia in half.

Assemble your sandwich by beginning with a layer of the garlic confit aioli, followed by the veal schnitzel, tomato and basil sauce and mozzarella cheese.

Place the sandwich under the grill or broiler for 5 minutes or until the cheese has melted. Finish off with a sprinkling of fresh basil leaves and pieces of crispy prosciutto. Top with the other half of focaccia and cut in half.