This is the ultimate big breakfast but in a toastie!. This breakfast toastie has bacon, eggs, sauteed greens and even a shot of coffee! It's rich, cheesy and sweet on the inside while golden and crunchy on the outside.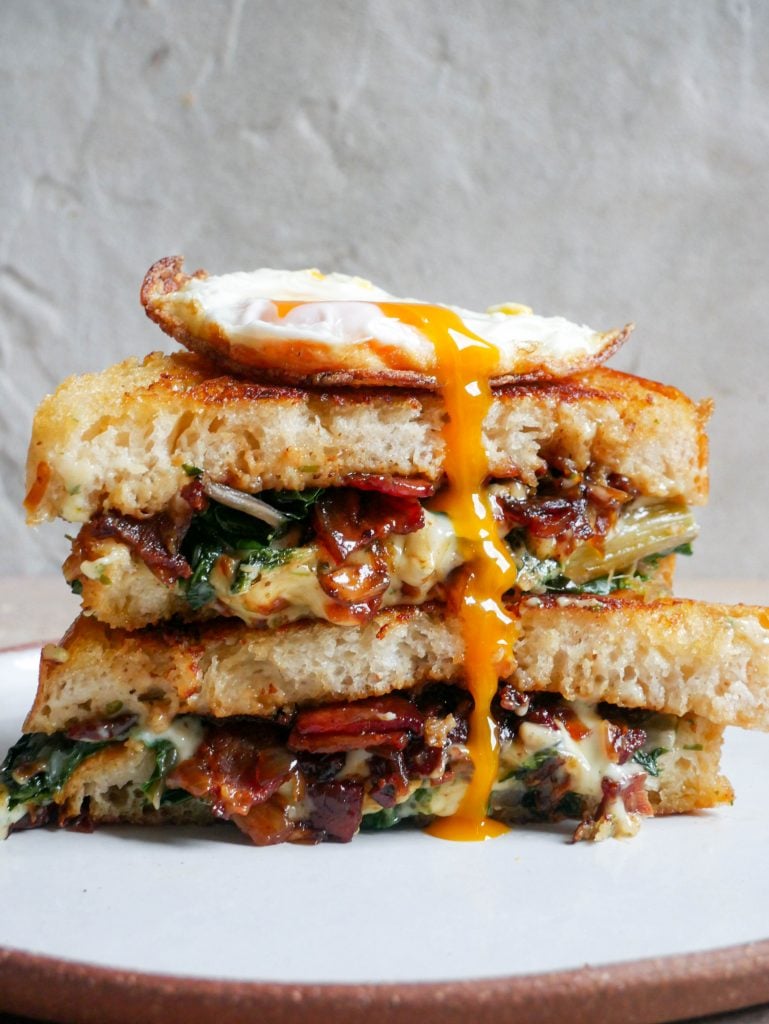 Breakfast Toastie with Bacon Jam & Brie
I absolutely love a big breakfast on a Sunday morning with bacon, eggs, sautéed greens and a cup of black coffee. I have taken all my favourite flavours from a big breakfast and turned them into one indulgent toastie that is oozing with Fromager d'Affinois brie with garlic and herb. This breakfast toastie is rich, cheesy and sweet on the inside while golden and crunchy on the outside. I have jazzed up every breakfast element. Instead of plain bacon, I have made a sticky and sweet bacon jam that even includes a shot of coffee! The greens are sautéed in lots of olive oil and garlic and the egg has been fried to crispy perfection! This breakfast toastie is not for the faint hearted.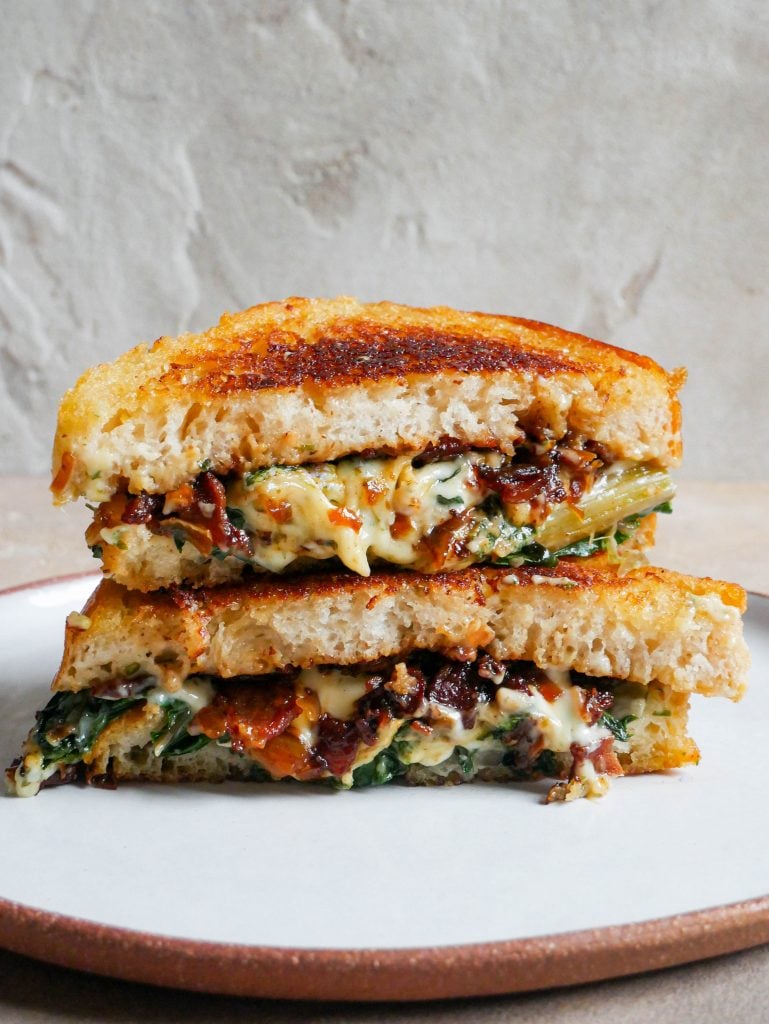 Bacon Jam
If you have not been introduced to bacon jam, your breakfast game is about to change! It's sweet, sticky and salty and will level up anything that you smear it on! If you can make jams with fruit, why not bacon? The bacon is cooked to crispy perfection and the onions are caramalised in the delicious bacon fat, a sticky balsamic, maple syrup and a shot of coffee. If you have never thought of reserving your bacon fat then think again! While it's not a fat to be used in everyday cooking, it's perfect for those indulgent meals.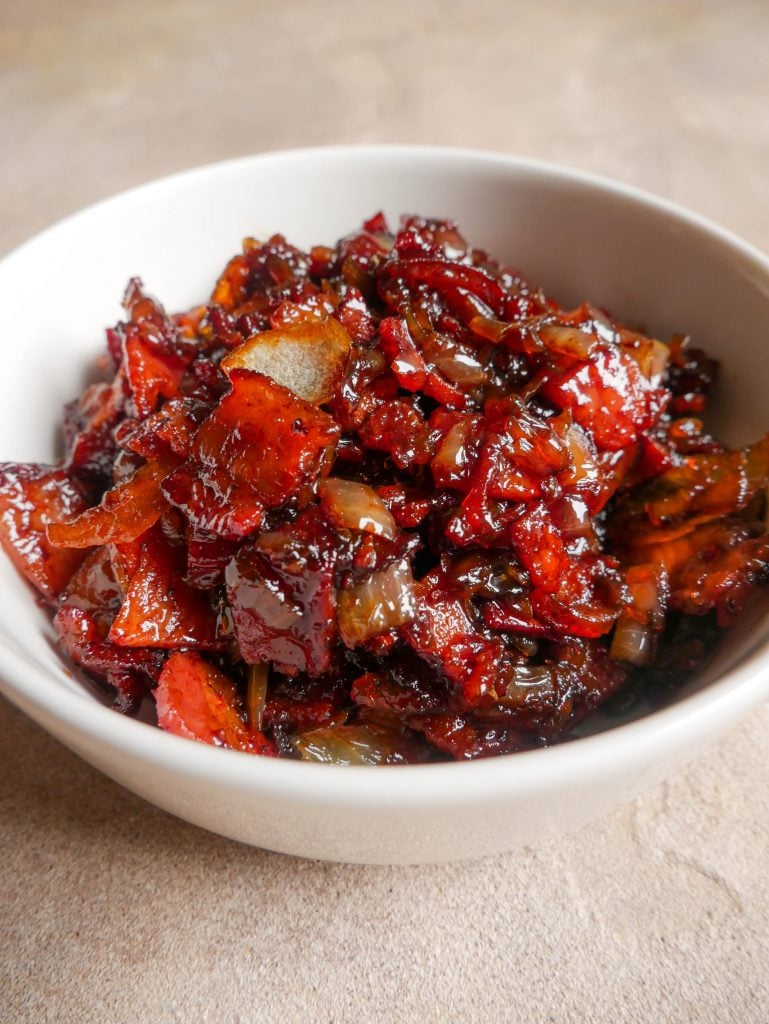 What can I serve bacon jam with?
Bacon jam can be served in so many delicious meals! While I like to serve it with a soft and creamy brie in a toastie, you can also use it on toast with scrambled eggs, in a bacon and egg roll or even a puff pastry tart. It also works perfectly as a condiment for your next hot dog or burger station. I have even made a batch of bacon jam to be served on my cheeseboard!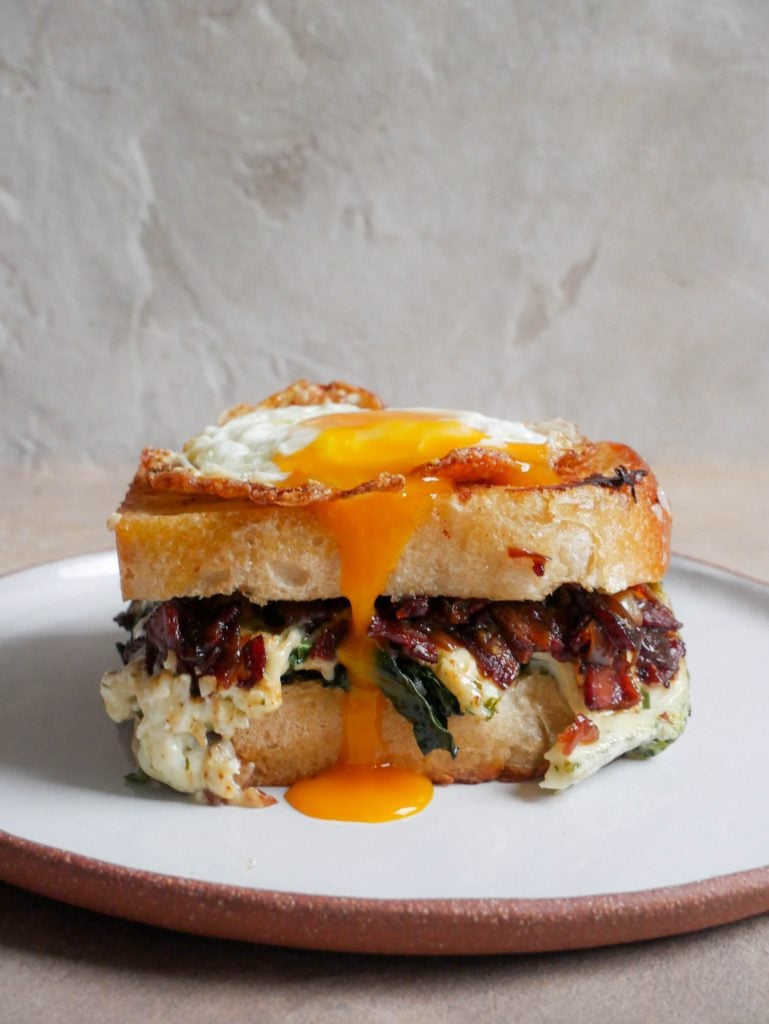 What you need for your toastie
This recipe takes all my favourite flavours from a big breakfast (including a cup of black coffee) and combines them into a toastie.
Bacon jam – not to be dramatic, but bacon jam will change your life! It add the perfect salty, sticky and sweet element to this toastie
Sauteed greens – I like to use silverbeet but you can easily use baby spinach if you prefer. The greens add a fresh element to this rich and indulgent toastie
Brie cheese – if you're using brie then it must be the best in the business, Fromager d'Affinois. I have used their herb and garlic for those subtle notes of garlic and herbs throughout.
Fried egg – this egg is fried to crispy perfection! To get those crispy edges, runny yolk and cooked whites, fry your egg in piping hot olive oil. Spoon the hot oil over the whites to further cook them.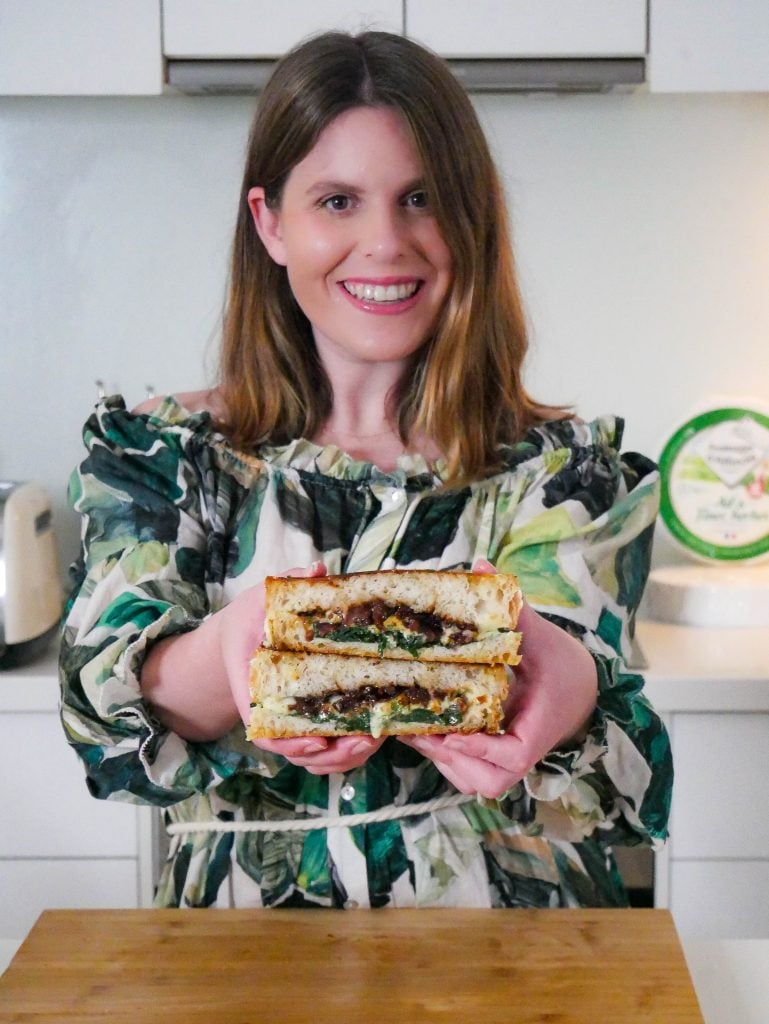 Check out my other toastie recipes
Lobster toastie with a lobster bisque
Triple cream brie & hot honey toastie
If you make this recipe, please tag me on Instagram, Tik Tok or Pinterest so I can see your wonderful creations!
If you have any questions or would like to leave a review, please do so here! I always love answering your food and recipe related questions and hearing your feedback on my recipes
Breakfast Toastie with Bacon Jam
This is the ultimate big breakfast but in a toastie! It's rich, cheesy and sweet on the inside while golden and crunchy on the outside.
Ingredients
Bacon Jam
350 g streaky bacon finely diced
1/2 cup water
1 onion finely diced
2 tbsp sticky balsamic glaze
1 shot black coffee 50ml
1 tbsp maple syrup
Sauteed greens
1 bunch silverbeet roughly chopped
2 garlic cloves crushed
2 tbsp olive oil
pinch of salt and pepper
Breakfast toastie (makes 2)
4 tbsp bacon jam
100 g Fromager d'Affinois Ali & Fines Herbes
100 g sauteed greens
2 eggs
2 tbsp olive oil + 1 tbsp for toastie
4 tbsp mayonnaise
50 g butter
Instructions
Bacon jam
In a large cold fry pan, add the bacon and water. Turn the heat to high and fry the bacon until the water has evaporated and it's crispy and golden. Using a slotted spoon, scoop the bacon out of the pan and reserve the fat. If there is too much bacon fat, scoop some out of the pan making sure you leave 1 - 2 tablespoons behind. 

Turn the heat to low and add the onions and balsamic glaze. Cook for 30 minutes or until the onions have caramalised. Stir occasionally.

Add the bacon, coffee and maple syrup to the pan with the onions and cook for 20 minutes on a medium heat until you are left with a sticky, thick and jam-like consistency. 
Sauteed greens
In a large fry pan on a medium heat, combine the silverbeet, olive oil, garlic and salt and pepper. Cook for 5 minutes or until the silverbeet has wilted but still has a slight crunch to it. Set to the side. 
Breakfast Toastie
Spread 1 tablespoon of mayonnaise onto the bottom piece of bread for your toastie and flip over. For each toastie, begin with a of 2 tablespoons of bacon jam, followed by 50g of sliced Fromager d'Affionois Ail & Fines Herbes cheese and lastly the sauteed greens.

Top the toasties with a slice of bread and spread 1 tablespoon of mayonnaise over the top. 

In a cast iron pan on a low heat, melt the butter and bring the olive oil to heat. When the butter is slightly foaming, place the toastie into the pan and cook on a very low heat for 10 minutes per side or until golden and crispy. While the toastie is cooking, fry your eggs. 

Bring the olive oil to heat in a medium sized pan. Once there is a slight haze coming from the pan, crack the eggs directly into the pan. Fry for 2 minutes on a high heat or until the edges are crispy. Carefully drizzle the hot olive oil over the whites of the egg to further cook them. 

Place the fried egg on top of each toastie and serve immediately.