Take all your favourite flavours from a cheese board and turn them into a delicious grilled cheese or toastie. This triple cream blue brie, pear, prosciutto and hot honey toastie is extremely indulgent, sweet, salty and spicy.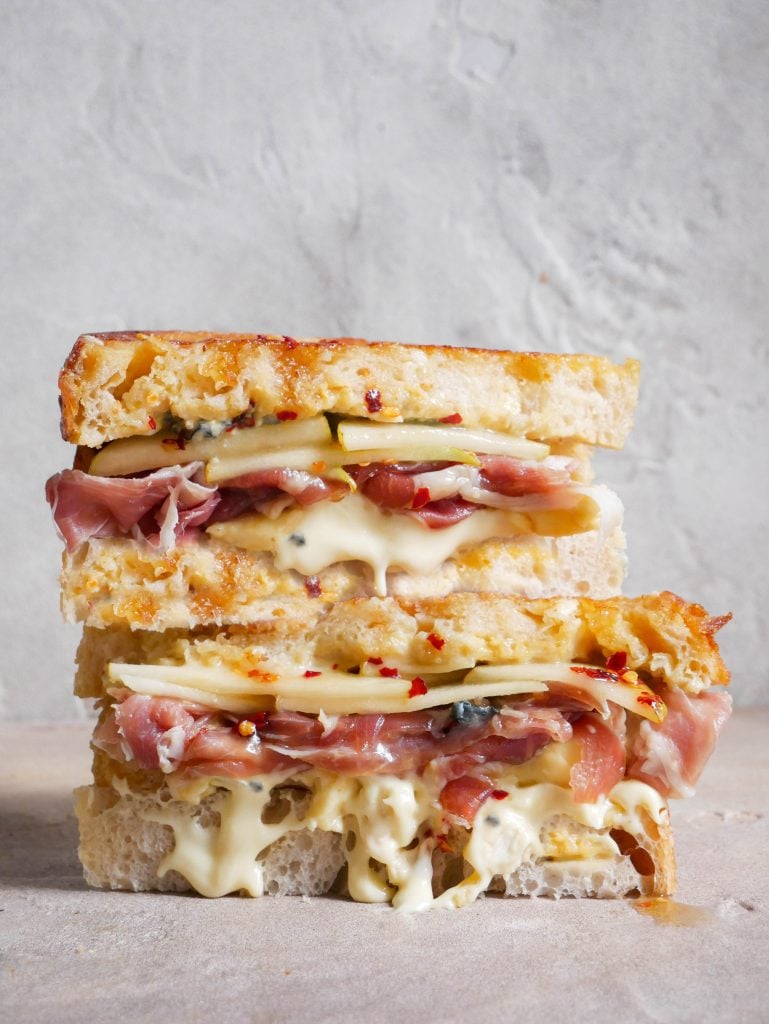 Triple Cream Blue Brie & Hot Honey Toastie
d'Affinois bleu is the perfect introduction to blue cheese. It's mild, rich and creamy making it the most beautiful pairing to this sweet and savoury toastie. This is definitely a jazzed up version of a more traditional and humble toastie. Not only does it use the most indulgent cheese going around thanks to d'Affinois, it's also filled with salty prosciutto, juicy sliced pears and hot honey. The sweet and spicy honey perfectly balances the mildly sharp taste of the blue cheese.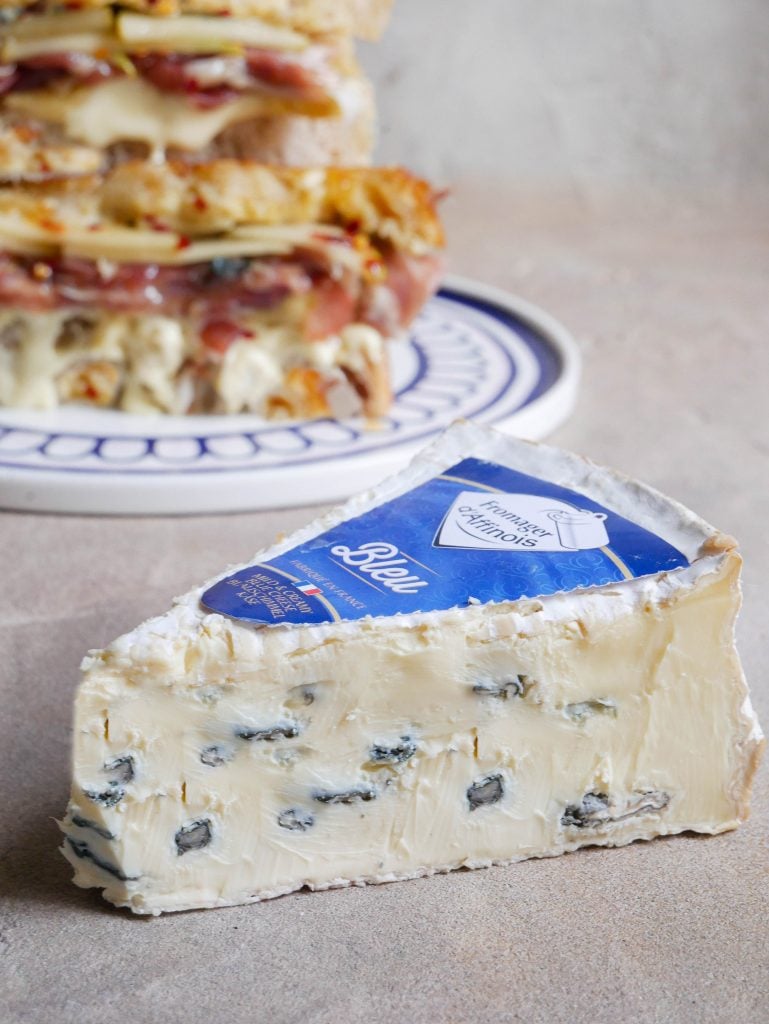 What is a toastie? 
If you aren't from Australia, you may be thinking: what on earth is a toastie? A toastie is simply what we Australians call a grilled cheese. Growing up, toasties were usually filled with one or three different types of cheeses and dipped into tomato sauce. This triple cream brie and hot honey toastie is definitely a step up from the humble toastie we have all grown up with!
Hot honey
Hot honey is very on trend at the moment and for good reason! It's sweet, spicy and makes for the perfect condiment to drizzle on almost anything from pizza toppings to this toastie. It pairs beautifully with the saltiness from the prosciutto and creaminess from the brie. I recommend making a large batch as it can be stored in a dark pantry for up to 6 months.
What you need to make this triple cream brie & hot honey toastie
d'Affinois bleu brie – If you are new to d'Affinios, it's the most decadent and scrumptiously delicious cheese going around. It originated in France and the French definitely know what they are doing when it comes to cheese. The d'Affinois bleu is also the perfect addition to this toastie as it's mild and has a soft blue cheese taste
Dijon Mustard – This ingredient may seem a little strange in a toastie but trust me on this one! It creates a lovely balance between all of the rich flavours and definitely can't be left out. 
Pears – Sweet and juicy pears not only create a crunchy element but also a fresh and crispy flavour element, I recommend using Packham pears for when creating this toastie. 
Prosciutto – I'm an absolute sucker when it comes to salty cured meats and prosciutto is always at the top of my list and something I never skimp on when it comes to cost. Buying high quality prosciutto makes all the difference. 
Hot Honey – Hot honey will be your new best condiment friend! It can be drizzled on almost anything and will take your toastie to a new level of flavour
Mayonnaise – my mother in law gave me her hot tip on how to get the crispiest and most golden toastie and that's to use mayo! While there is a common misconception that spreading butter on your bread will result in a golden and crispy outer layer, mayonnaise is actually the real winner!
If you make this recipe, please tag me on Instagram, Tik Tok or Pinterest so I can see your wonderful creations!
If you have any questions or would like to leave a review, please do so here! I always love answering your food and recipe related questions and hearing your feedback on my recipes.
This recipe was sponsored by Fromager d'Affinois. Check out my other toastie recipes here.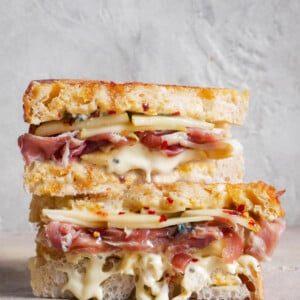 Triple Cream Brie & Hot Honey Toastie
Take all your favourite flavours from a cheese board and turn them into a delicious grilled cheese or toastie. This triple cream blue brie and hot honey toastie is extremely decadent and indulgent.
Ingredients
Hot Honey
500 ml honey
2 tbsp chilli flakes
1 tsp tabasco sauce
2 tbsp lemon juice
Toastie (makes 1)
2 slices white sourdough
50 g Fromager d'Affinois Bleu cheese cut into thick strips
1/2 pear finely sliced
50 g prosciutto shaved
1 tbsp hot honey
2 tbsp mayonnaise
50 g butter
1 tbsp olive oil
Instructions
Hot Honey
Combine all ingredients into a small pot. On a medium heat, cook until the honey is bubbling and has a runny consistency. 

As this makes a large batch, store in a sterilised jar for several months in your pantry. 
Toastie
Spread 1 tablespoon of mayonnaise onto the bottom piece of bread for your toastie and flip over. Begin with a layer of dijon mustard, followed by the Fromager D'affinois Bleu cheese, topped with slices of pear and lastly the prosciutto. Finish off with a drizzling of hot honey. 

Top the toasties with a slice of bread and spread 1 tablespoon of mayonnaise over the top. 

In a cast iron pan on a low heat, melt the butter and bring the olive oil to heat. When the butter is slightly foaming, place the toastie into the pan and cook on a very low heat for 10 minutes per side or until golden and crispy. Serve immediately.