I love tacos. A fresh and vibrant food originally from Mexico, tacos are a popular food for both snack and a meal. But, for my take on the classic street food, it's all about bringing the brightness from a tomatillo salsa.
What goes into my taco to make it an absolute flavour explosion? Let's explore the summer classic, and I promise you, no flight to Texas or Tulum needed.
Cajun prawns
If there's one thing I love, it's prawns. Prawns lend themselves to taking on lots of flavours, from garlic confit to a creamy risotto, every prawn dish is a delicious treat. 
But for this one, we're bringing the fire, baby! The cajun kick is the perfect partnership for an abundance of bright and light toppings.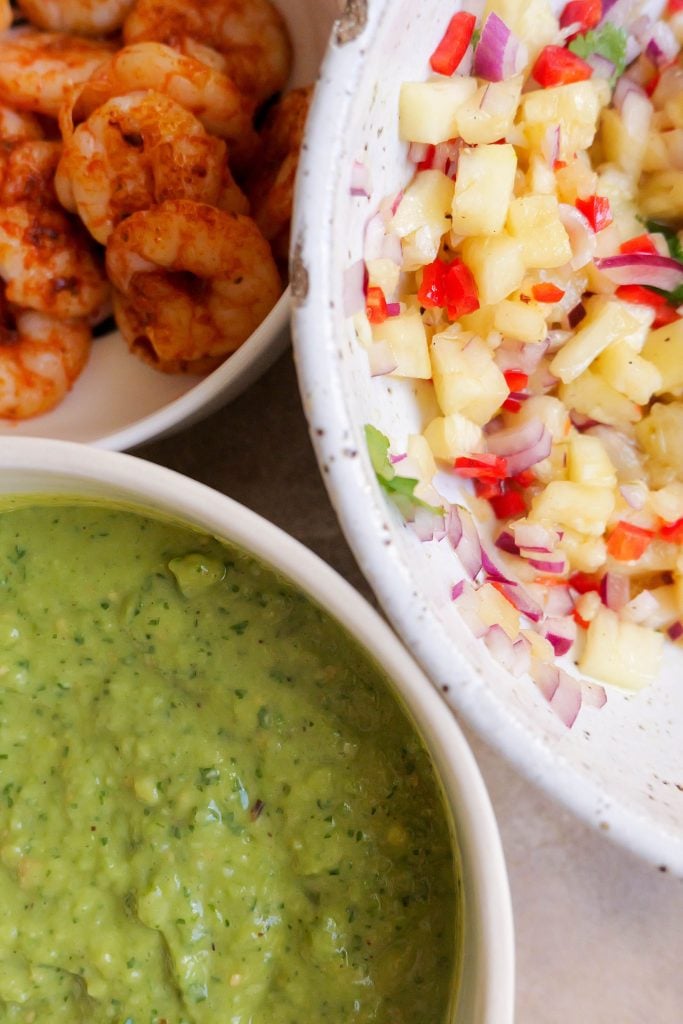 Tomatillo
"What is a tomatillo?" I hear you asking. Tomatillos are, unsurprisingly, a cousin of tomatoes. But they're a vibrant green with a more acidic taste than their Italian friends. Native to Mexico, tomatillos won't be as sweet, but rather punchy, and be able to cut through the strong and spicy flavour of prawns.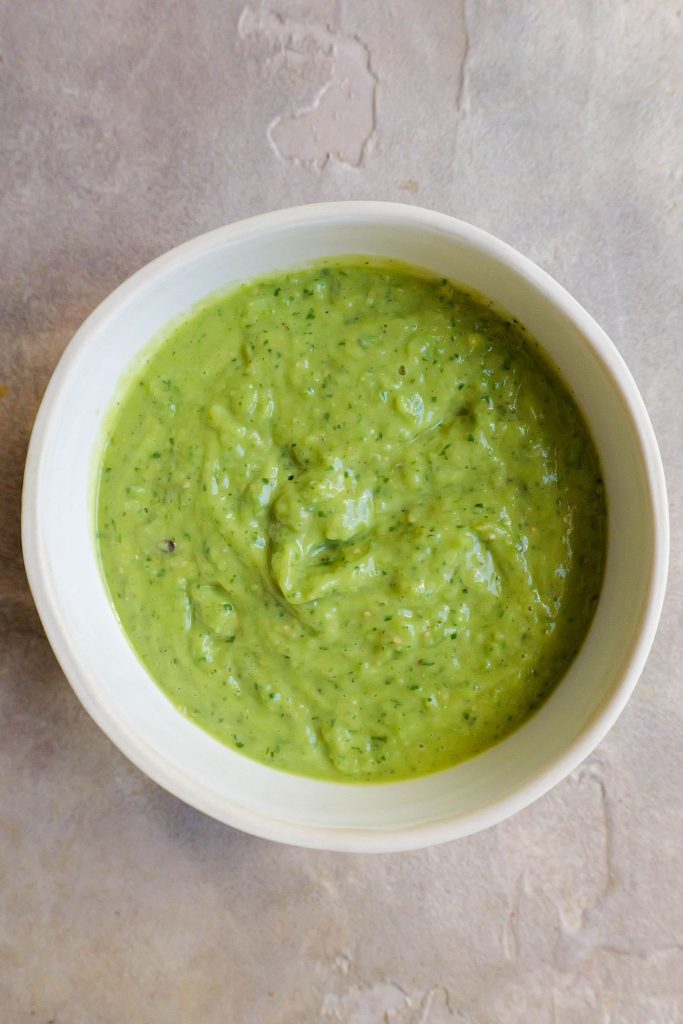 They're available from farmer's market and some grocery stores, you'll just need to keep your eyes peeled for the bright green.
If you can't find tomatillos, they can be substituted with under ripe tomatoes and a dash of lime juice, but I promise, it's worth the hunt for the slightly more unusual fruit.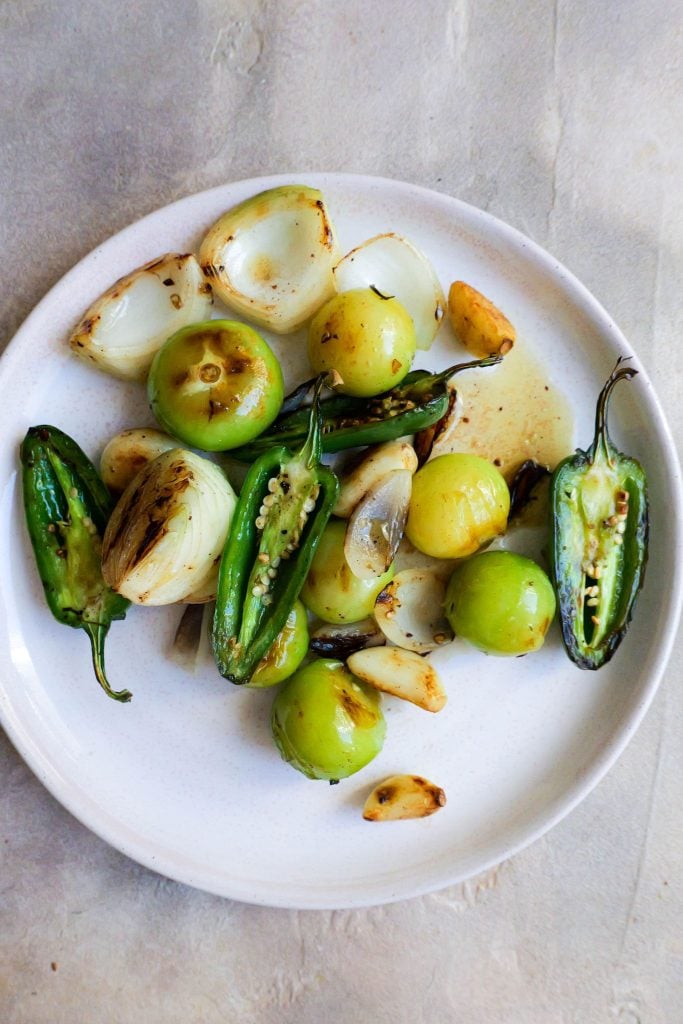 Pineapple salsa
Leave the pineapple on pizza debate with the Italian tomatoes in Italy, because these tacos need the pineapple. Fresh, bright, sweet, this salsa has coriander and a chilli to keep the party going in your mouth that the cajun already started. 
Flour tacos
Corn versus flour is one debate that I will leave to you. However, after trial and error, I was left to the tasty conclusion that flour tacos suit this recipe better.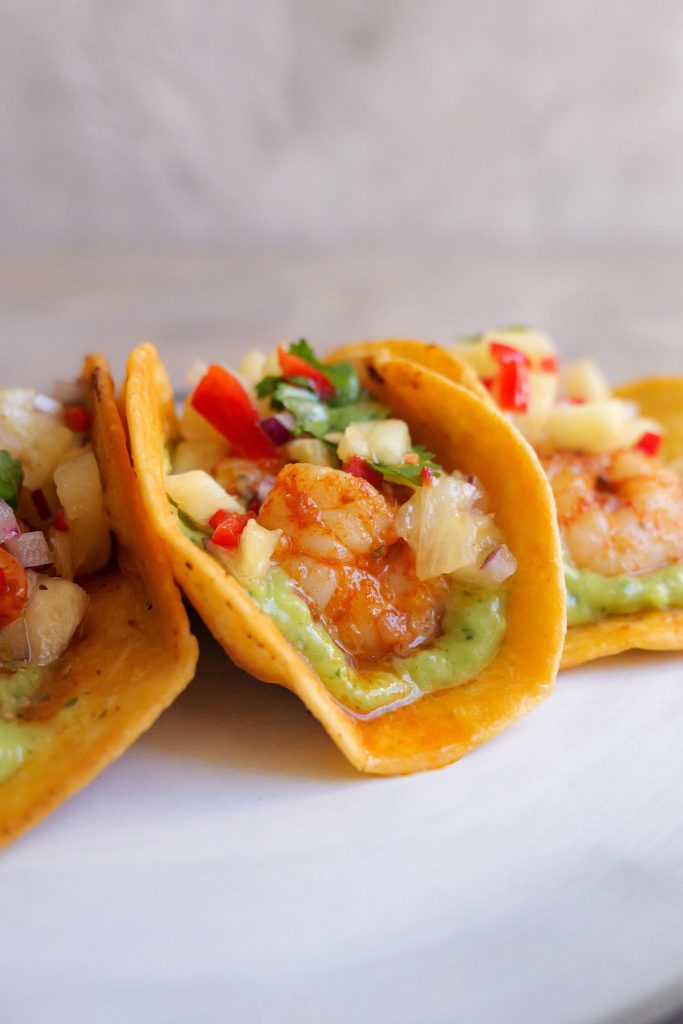 Method
When cooking your tacos, there's one important step that can't be missed – cooking them in the same pan the prawns were cooked in. The flour tacos have a more mellow flavour. This means they pick up all that delicious cajun seasoning. It soaks into the taco, meaning that every single bite is positively dripping with flavour.
The only thing you'll need when you're done (besides, of course, more tacos), is a big serviette to wipe down your chin from all the delicious tomatillo, prawn and pineapple juices.
If you make this recipe, please tag me on Instagram, Tik Tok or Pinterest so I can see your wonderful creations!
If you have any questions or would like to leave a review, please do so here! I always love answering your food and recipe related questions and hearing your feedback on my recipes.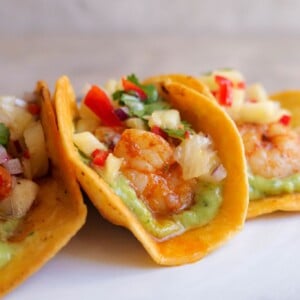 Prawn and Tomatillo Tacos
These prawn tacos are made with a tangy and vibrant tomatillo salsa.
Ingredients
Tomatillo salsa
200 g tomatillo
2 jalapenos halved
6 garlic cloves peeled
1 white onion quartered
1 large handful coriander
2 tbsp olive oil
flaky sea salt
Pineapple salsa
1/2 ripe pineapple cut into small pieces
1 large red chilli finely diced
1/4 red onion finely diced
1 handful fresh coriander
1/2 lime
2 tbsp olive oil
salt and pepper to taste
Cajun prawns
300 g raw prawns peeled
2 tbsp sweet paprika
2 tbsp dark brown sugar
2 tsp garlic powder
1 tsp mustard powder
1 tsp onion powder
1/2 tsp dried oregano
1/2 tsp grounder coriander
1/2 tbsp olive oil
salt and pepper to taste
Tacos
8 soft flour tortillas
hot sauce optional
Instructions
Tomatillo salsa
Place all ingredients except the coriander into a large bowl and season with salt and 1tbsp olive oil. Mix well.

On a high heat on a grill plate, cook all ingredients for 4 minutes or until slightly charred. Toss occasionally. 

Place into a food processor or blender with the coriander and 1tbsp olive oil. Blend until well combined. Set to the side.
Pineapple salsa
Place all ingredients into a bowl and mix to combine. Set to the side.
Cajun prawns
Combine all spices into a bowl and mix together. This makes a large batch so store the remaining spices in a jar in your pantry for several months. 

Combine the prawns, 1 tbsp of the spice mixture, olive oil and pinch of salt in a medium bowl. Mix well to combine.

On a medium – high heat in a frypan, cook the prawn for 1 – 2 minutes on each side or until they are pink and no longer opaque. Set to the side.
Tacos
Cook the flour tortillas in the same pan the prawns were cooked in for 1 minute on each side.

Assemble the tacos by starting with a tablespoon of the tomatillo salsa, followed by the prawns and lastly the pineapple salsa.