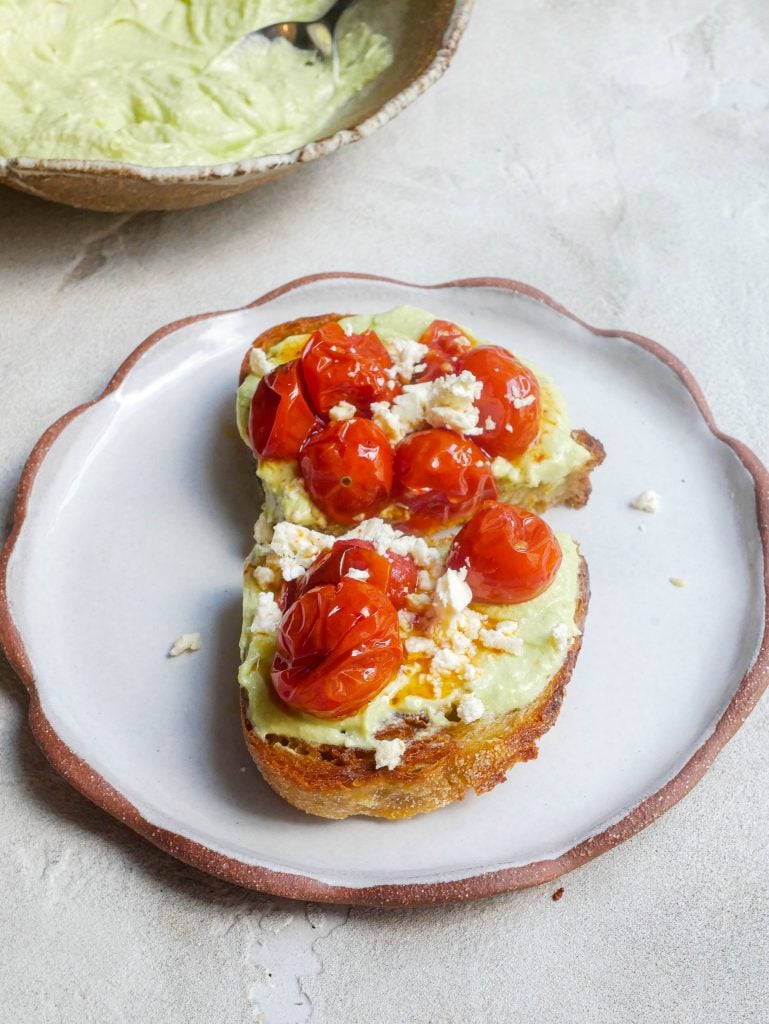 There is one thing that you will always find tucked away in my fridge and that is a spread of some sort. It seems to always be the answer on those days that time of the essence and I'm looking for a nourishing and filling breakfast, and even sometimes lunch, option. Smear it onto a piece of sourdough and call it a day! I also like to top this spread with slow roasted tomatoes when I have a little extra time on my hands.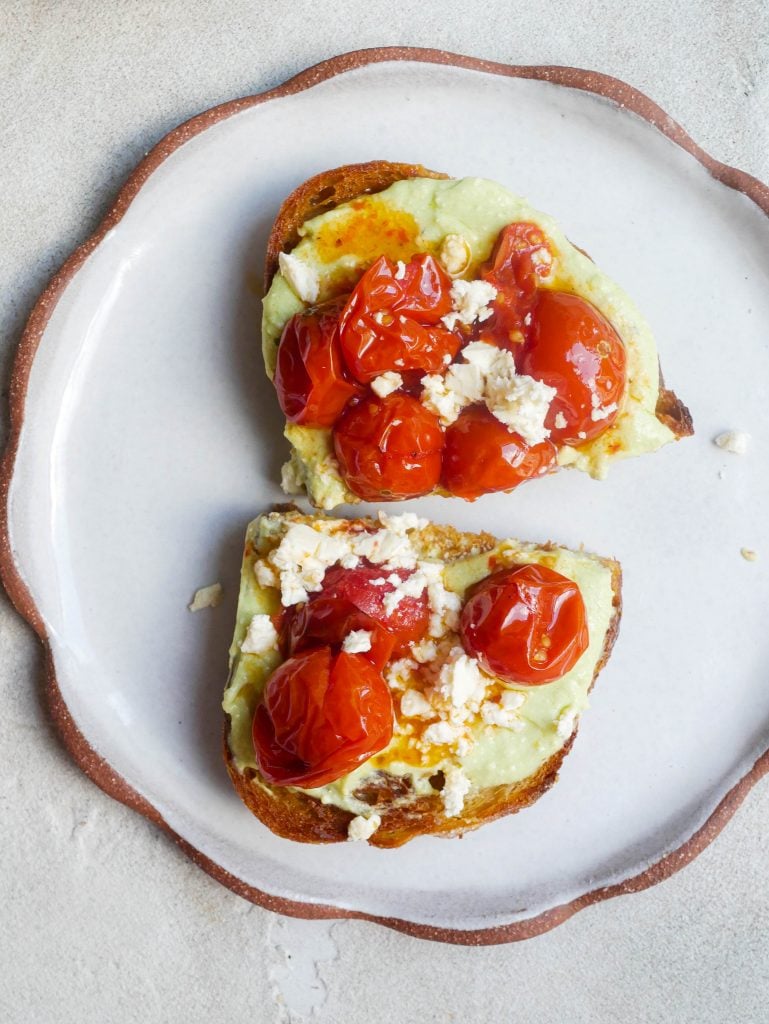 What makes this spread even more fantastic is that it can easily be transformed into a dip. Plate it into a bowl and serve it with crackers, olive oil fried pieces of sourdough or lots of delicious slices veggies such as carrots, cucumbers, radishes and capsicums. It will be your new favourite party favour! 
Not only is it one extremely good looking spread, it's also extremely tasty! Made with only 7 ingredients, each bite highlights every flavour component from the avocado, cream cheese and feta to the honey, lemon and olive oil.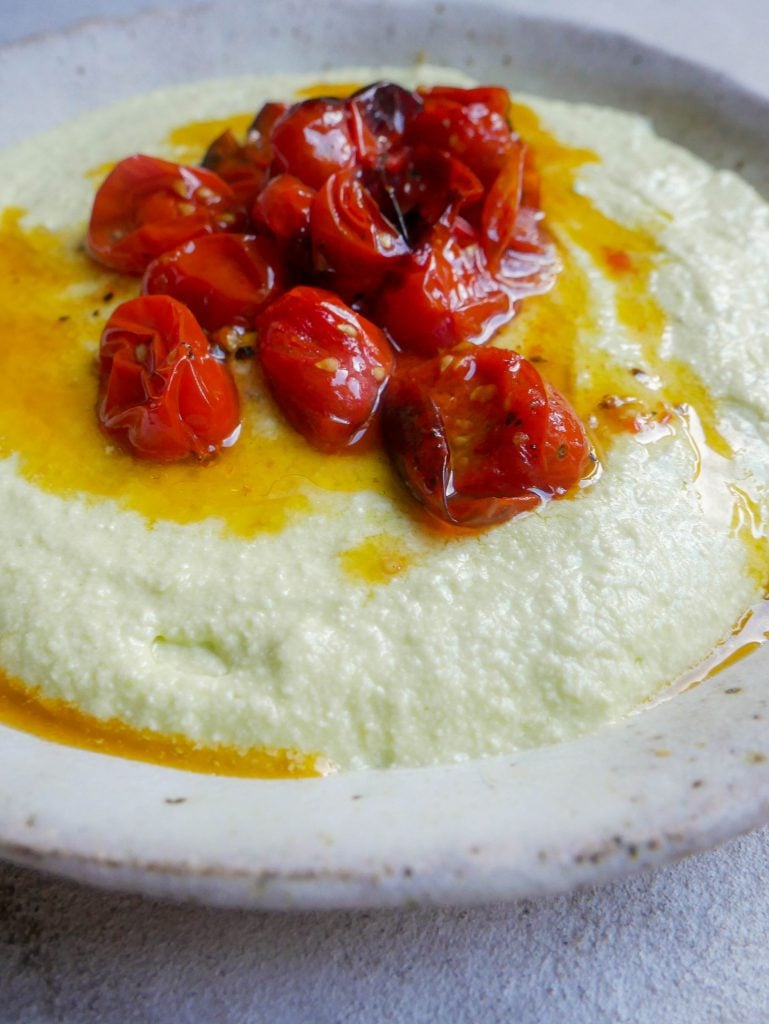 Frequently Asked Questions
Can I make this spread in advance?
You absolutely can! The dip will keep for up to one week in your fridge which is why I always make a large batch to eat throughout the week. 
How do you store this spread?
Store it in an airtight jar or container in the fridge for up to one week. 
Do you need a food processor to make this spread?
A processor is the best tool to achieve a smooth and creamy texture however, if you have a strong blender or stick blender you can use that instead.
What else can I top the spread with?
Some toppings I love this spread with are roasted olives, an extra crumbling of feta cheese, chopped nuts such as walnuts, sliced veggies such as cucumbers or my favourite, slow roasted tomatoes.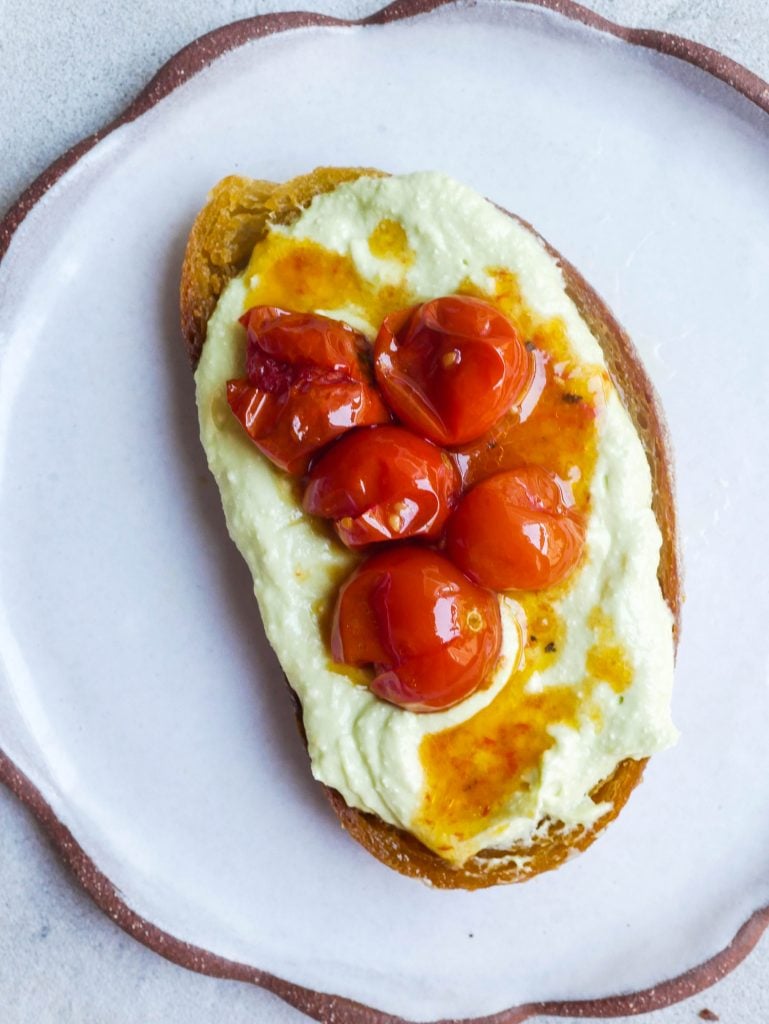 If you make this recipe, please tag me on Instagram, Tik Tok or Pinterest so I can see your wonderful creations!
If you have any questions or would like to leave a review, please do so here! I always love answering your food and recipe related questions and hearing your feedback on my recipes.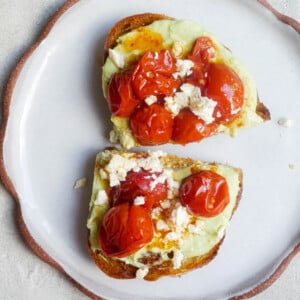 Whipped Avocado & Cream Cheese Spread
A creamy, tangy and sweet spread perfect for toast or to be used as a dip!
Ingredients
Whipped avocado & cream cheese spread
1/2 avocado
150 g feta cheese
50 g cream cheese
1 tbsp honey
1/4 cup olive oil
1/2 lemon juice + zest
salt & pepper
Slow roasted tomatoes
250 g cherry tomatoes
2 tbsp olive oil
1 tsp flakey sea salt
1 tsp cracked black pepper
Instructions
Whipped avocado & cream cheese spread
Peel and deseed the avocado.

Place all ingredients into a food processor and blend until you have a smooth and creamy texture. Serve immediately or store in an airtight container or jar in the fridge for up to one week.
Slow roasted tomatoes
Pre-heat the oven to 160 degrees celsius.

Place all ingredients into a small oven proof dish and bake for 1.5 hours or until the cherry tomatoes have slightly browned and caramelised.