There are so many variations of baked eggs. Some people call it baked eggs, some call it shakshuka, some even call it eggs in purgatory. Mine is a mix of all of these things. It might not be 100% traditional, but it is 100% delicious!
Baked eggs
The best thing about baked eggs is that, sure – it's traditionally a breakfast or brunch option, but it's so filling with so many different flavours – this is suitable for any time of day! In fact, my recipe even includes chorizo – which is definitely not traditional, but I think it's a step that can't be missed.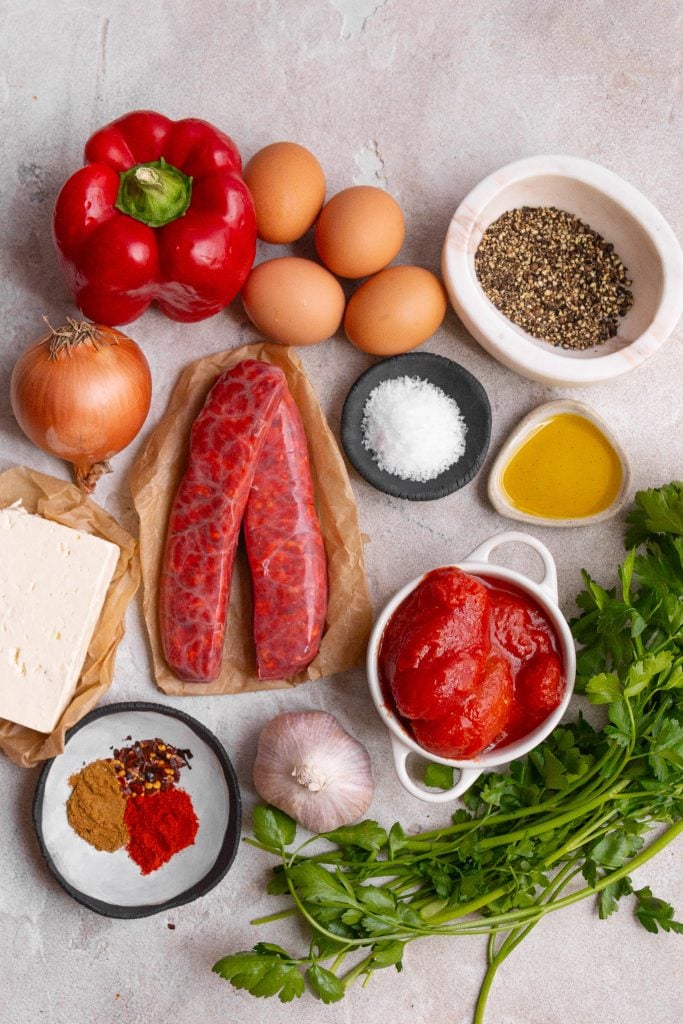 Egg-cellent!
Eggs are just one of those ingredients that I feel incomplete without. They're versatile, filling and just delicious. I always use great quality, free range eggs – this helps the yolks to not crack, which is a key component of baked eggs. They also have a vibrant orange yolk!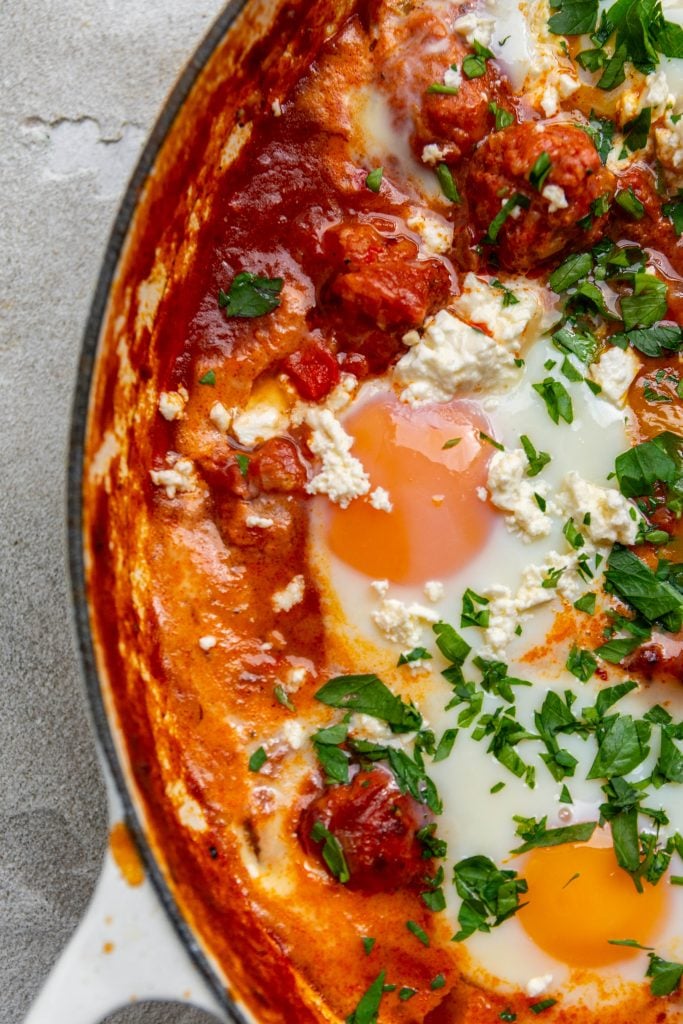 Chorizo, you say?
Yes! Chorizo I say loud and clear! This step can be omitted – and it will still be delicious (so for all my vegetarian followers, this can be done!). But, personally, the meaty and spicy addition is a perfect addition. Especially when you fry it up first so you can cook the tomatoes in that delicious chorizo fat.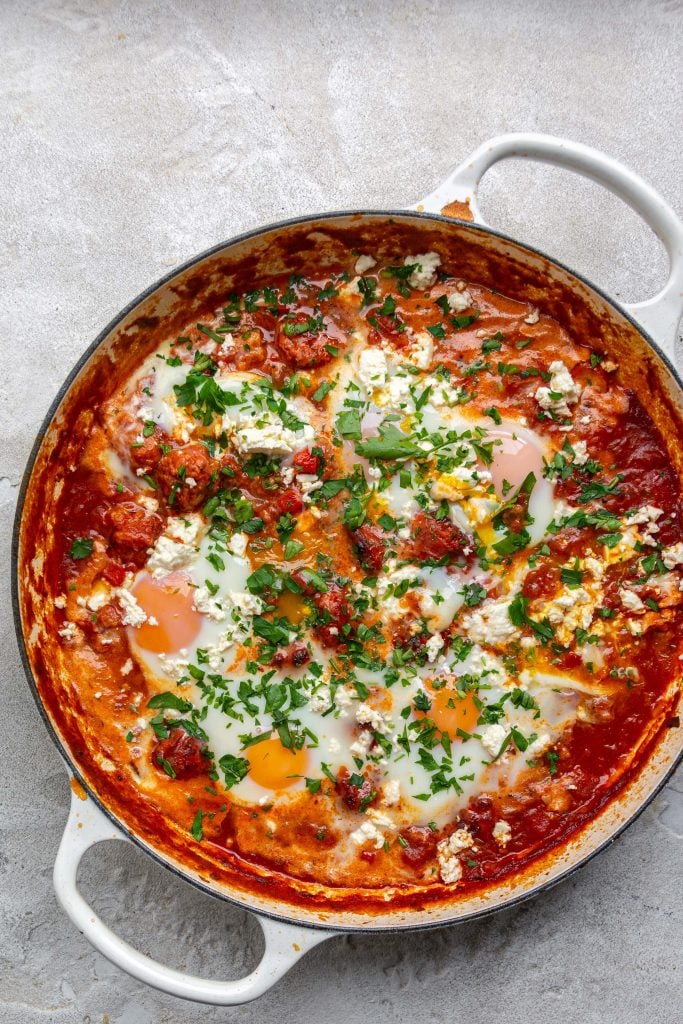 Tinned tomatoes?
Tinned tomatoes are best for this because you need all that tomato juice to form the base in which the eggs will bake. It's a messy and slurpy meal that requires bread for all the juices, so opt for the tin this time!
Spicy!
The thing that really elevates baked eggs is the spices you add. I use paprika, cumin and chilli flakes to make this a dish with a kick.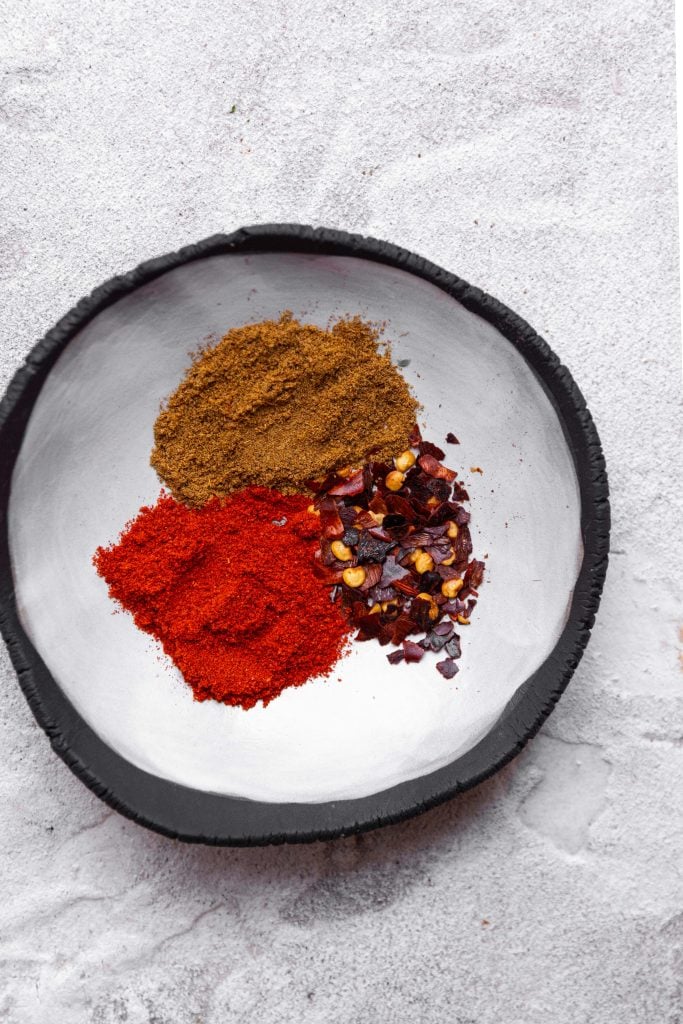 Feta is better!
I also use feta in mine as I'm serving. The creamy yet sharp cheese cuts straight through the acidic and spicy sauce. It's all about flavour balance with this meal!
How to master baked eggs?
Mastering baked eggs is about one thing – steam! This is how the eggs are cooked. You need to steam them so that the whites and yolks are evenly cooked and there is none of the clear white part left when you serve them. It also leaves you with the perfect yolk!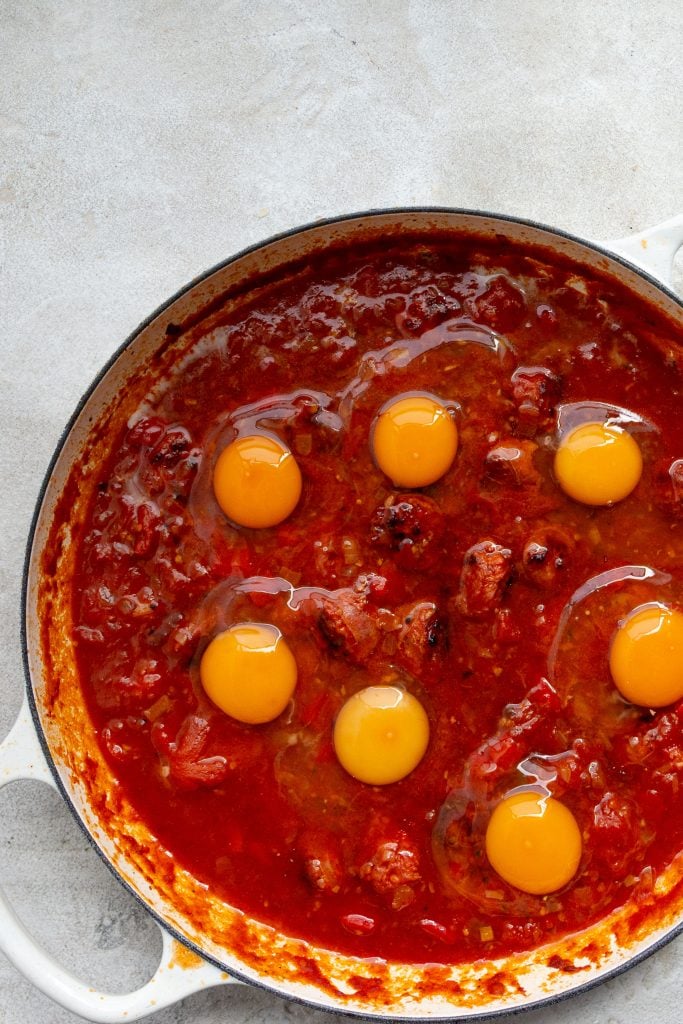 Serving suggestions for baked eggs
The way that I serve this delicious, tasty meal is with crusty bread cooked in olive oil to run all the way through the dish, breaking the yolks. I also sprinkle on parsley and of course, the feta! A little squeeze of lemon wouldn't go astray.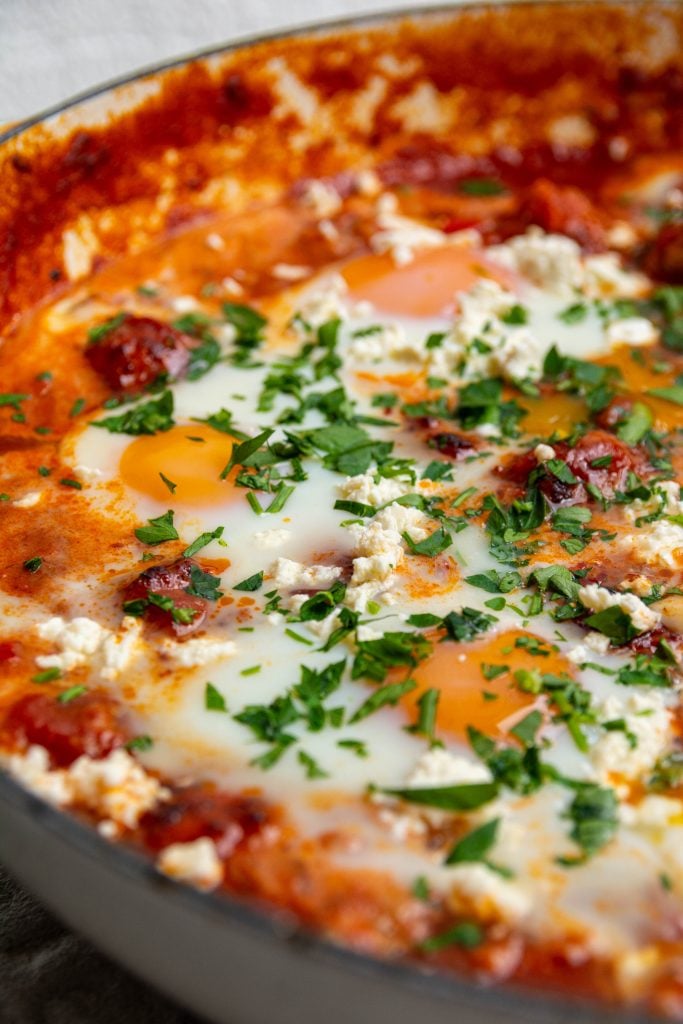 If you make this recipe, please tag me on Instagram, Tik Tok or Pinterest so I can see your wonderful creations!
If you have any questions or would like to leave a review, please do so here! I always love answering your food and recipe related questions and hearing your feedback on my recipes.
Baked eggs
No matter what you call this dish, it's always a winner.
Ingredients
280 g chorizo sliced
2 tbsp olive oil
1 red capsicum finely diced
1 onion finely diced
3 garlic cloves cruhed
1 tbsp sweet paprika
1/2 tbsp cumin
1 tsp chilli flakes
400 g tinned whole tomatoes
1/2 cup water
1/2 tbsp brown sugar optional
7 eggs
fresh parsley to serve
50 g feta to serve
toasted sourdough
Instructions
In a large deep-dish frypan on a high heat, bring the olive oil to heat. Add the chorizo to the pan and cook for 3 minutes on each side or until slightly charred and crispy. Using a slotted spoon, scoop out of the pan, ensuring you reserve the chorizo fat in the pan. Turn the heat to medium and add the capsicum, onion and garlic cloves to the pan with the olive oil and chorizo fat. Fry for 3 – 5 minutes or until the onion turns fragrant and translucent. Stir occasionally.

Add the spices to the pan with a generous amount of salt and pepper and fry for 1 – 2 minutes or until fragrant. Add the tomatoes and water to the pan and the sugar if using. Bring to the boil then turn the heat to low - medium and simmer for 10 minutes.

Crack the eggs into the pan, cover and cook for 5 – 7 minutes on a medium heat or until the eggs are cooked to your liking.

Scatter over fresh parsley and feta and serve with toasted sourdough.