Another weeknight pasta meal is on the menu tonight! I'm determined to make all working mum's lives easier by providing a plethora of healthy meals for fussy little ones (or big ones!). The best thing about creamy pastas is you can disguise lots of veggies in them – the perfect trick! And so, another veggie-stocked recipe to fill hungry bellies – creamy mushroom pasta!
Creamy mushroom pasta
The thing I really love about making creamy mushroom pasta is that it takes such little prep time. Mushrooms are a very forgiving vegetable that can taste even better when slightly overcooked – so this one is for all the basic home cooks. It can also be something that you can shape to suit your taste buds, or do a fridge clean out. Have some spare rocket? Throw that in! A jar of olives that you're waiting to use? That would suit it perfectly!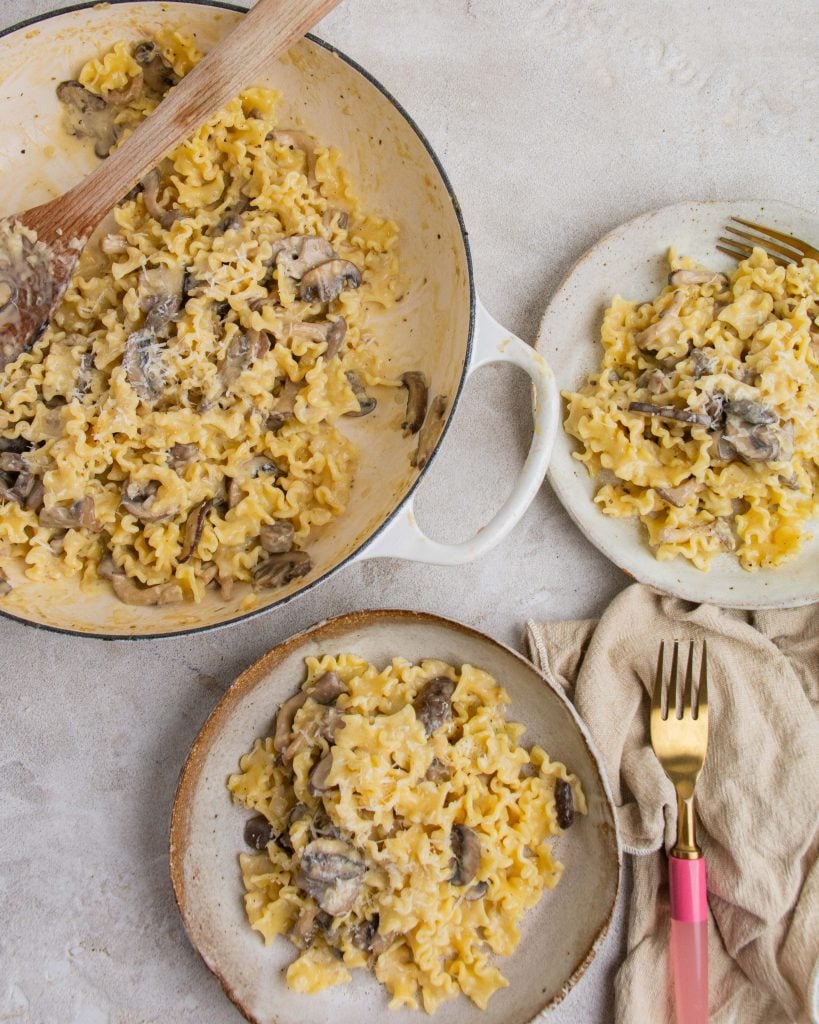 Much room for mushrooms!
This recipe has an unprecedented three different types of mushrooms in it. I've settled on three, sure, but you can grab whatever you can find from the shops. After all, this should be about making your life easier at dinner time. The thing that you're really looking for is the earthy flavour. I've gone with Swiss, Shiitake and Shimeji. All the different shapes give the dish a lovely and playful texture.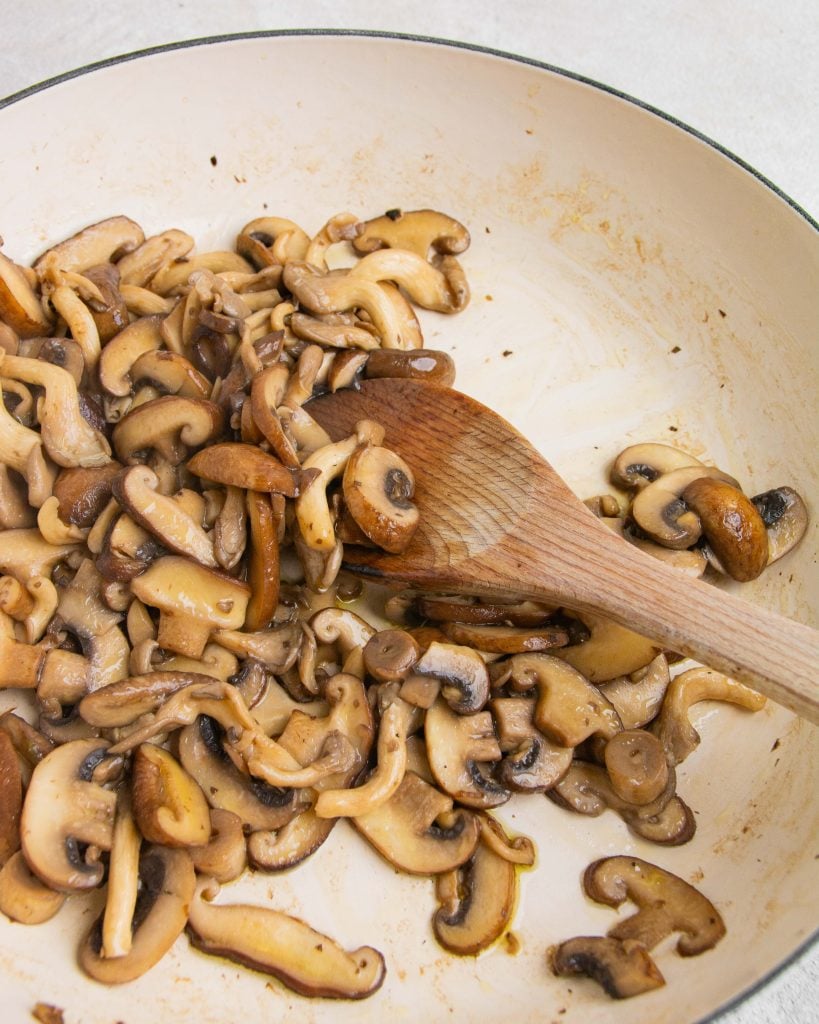 Dreamy and creamy
For an extra creamy and silky sauce, you want to use heavy or thickened cream – of course. But, also, store away some of that pasta water to add in and incorporate. The starchy water will emulsify the butter and cream and bring it such a silkiness.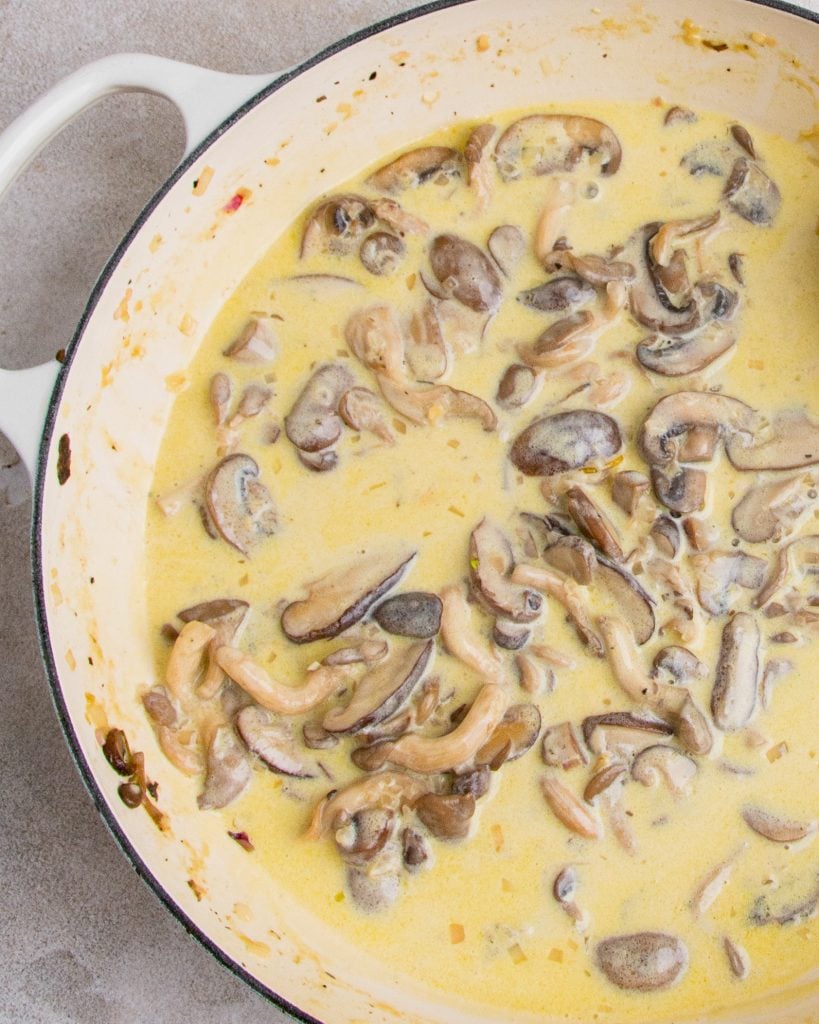 FAQ for creamy mushroom pasta
I don't drink, do I have to use wine?
You don't have to use wine, although cooking it does cook out the alcohol! You can substitute it with white wine vinegar or apple vinegar.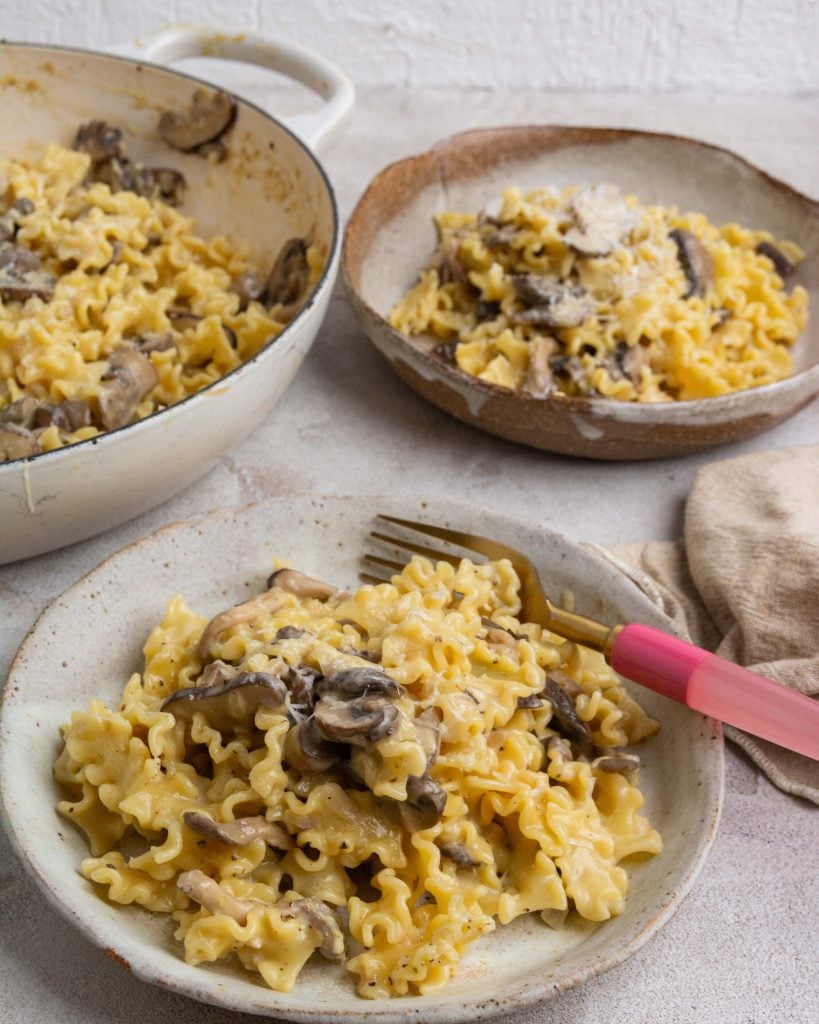 What else can I add?
You can add anything to this! Chilli flakes, kale, fresh herbs, a fried egg! Whatever your fridge offers. My mum told me she added spinach to the leftovers I gave her!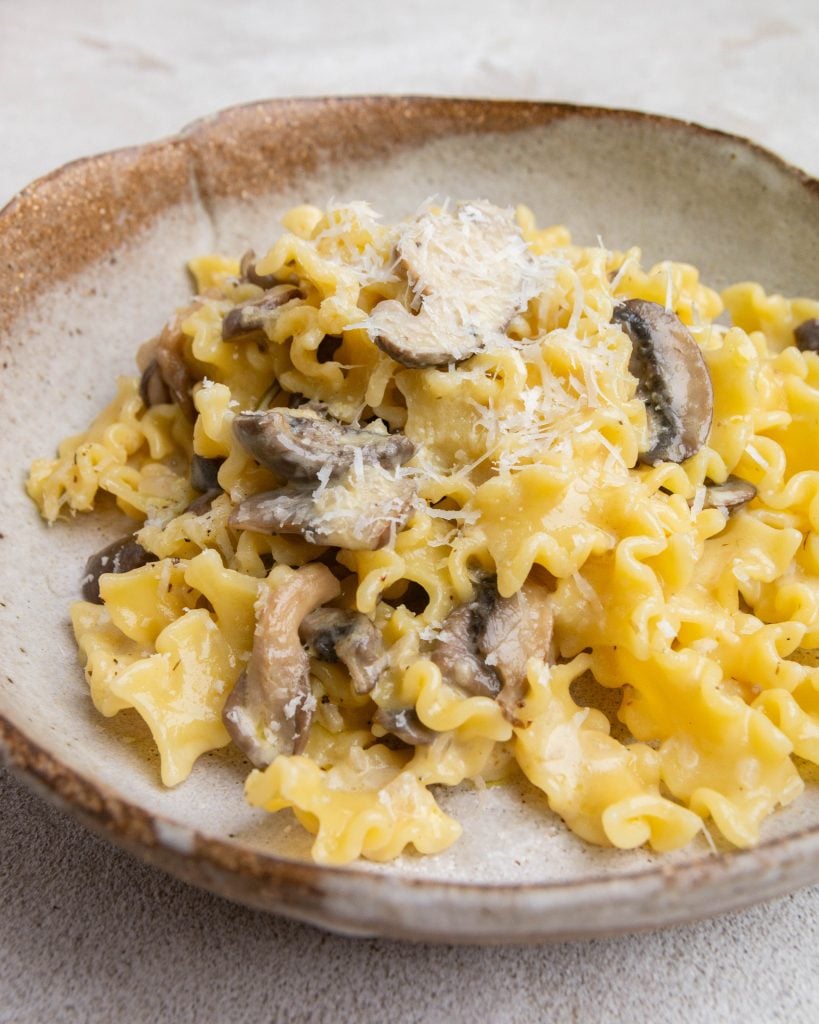 If you make this creamy mushroom pasta, please tag me on Instagram, Tik Tok or Pinterest so I can see your wonderful creations!
If you have any questions or would like to leave a review, please do so here! I always love answering your food and recipe related questions and hearing your feedback on my recipes.
Images by Alanna Penna Photography.
Creamy mushroom pasta
Another weeknight pasta meal to hide veggies in!
Ingredients
200 g Swiss brown mushrooms sliced
100 g Shiitake mushrooms sliced
100 g Shimeji mushrooms slived
100 g butter
2 tbsp olive oil
12 garlic confit cloves or 4 raw garlic cloves
1 shallot finely diced
1 cup heavy or thickened cream
1/2 cup white wine
250 g pasta
50 g parmesan
salt and pepper
Instructions
Bring a large pot of heavily salted water to the boil.  Follow the instructions on the back of the pasta packet for al dente pasta and drain your pasta 1 - 2 minutes before the suggested cooking time. Reserve up to ½ - 1 cup of pasta water.

In a large fry pan on a medium heat, melt 50g of butter. Add the olive oil to the pan and bring to the heat. Add the mushrooms to the pan and cook for 8 minutes, stirring occasionally.

Add the garlic, shallot and remaining butter to the pan. Cook for 5 minutes or until the shallot is fragrant and translucent. Deglaze the pan with white wine and cook until 80% of the liquid has been absorbed. Add the cream to the pan and bring to the bubble. Season generously with salt and pepper. Turn the heat to low and simmer for 5 minutes or until the sauce has slightly thickened.

Add the pasta to the pan. Slowly incorporate the pasta water and the cheese until you have a silky and glossy texture. You may not need a full cup of pasta water so do this step slowly.

Serve with a drizzle of olive oil and extra sprinkling of cheese.