It's tomato and garlic confit. It's pasta. Of course, it's tomato and garlic confit pasta – basically the trifecta of things I've become well-known for.
Tomato and garlic confit pasta
If there's one thing that will make it onto my table at least once a week it's a dish that has pasta and tomato. For this particular one, it's a great, fairly hands-off recipe. It relies on really cooking down the tomato and garlic and then whizzing it into a thick yet creamy sauce.
Cherry tomatoes this time!
I definitely to and fro between how much I love cherry tomatoes or big, juicy heirlooms. They both have an important place in my heart and in my recipes. But, for this one, I think a focus on using cherry tomatoes is preferred because they cook down really well and are easy to whizz up with a stick blender.
Garlic, because – of course
It's no secret at all that I love garlic, and luckily for me, garlic and pasta are a match made in heaven. While developing this recipe, I found that the garlic flavour was crucial.
Rosemary
Herbs, herbs, herbs. I've said it before and I'll say it again – I think that fresh herbs are such a crucial part of flavourful cooking. Rosemary suits this one perfectly.
FAQ for Tomato and garlic confit pasta
What type of pasta suits this one?
I prefer a shorter pasta for this recipe – so I think a penne it's great for it. But, it is what suits your taste and what you've got leftover in your pantry.
What about some meat?
If you're looking to add some meat, I think some prawns or some chicken would pair fantastically with this sauce.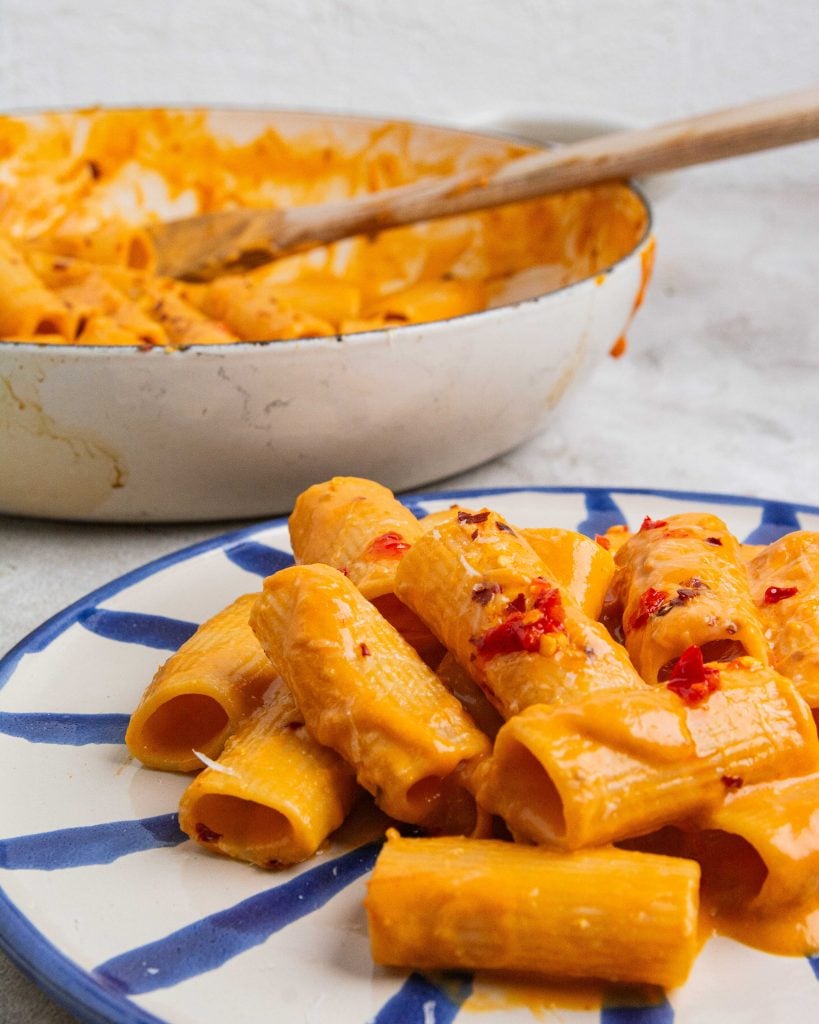 If you make this tomato and garlic confit pasta, please tag me on Instagram, Tik Tok or Pinterest so I can see your wonderful creations!
If you have any questions or would like to leave a review, please do so here! I always love answering your food and recipe related questions and hearing your feedback on my recipes.
Tomato and garlic confit pasta
It's the season for tomatoes!
Ingredients
500 g cherry tomatoes
2 bulbs garlic peeled
6 shallots peeled
1 spring rosemary
1 cup olive oil
3/4 cup cream
50 g pecorino romano or parmesan +extra to serve
300 g penne pasta
1 tsp chilli flakes optional
Instructions
Preheat oven to 150 degrees Celsius / 300 degrees Fahrenheit.

In a large baking dish or oven proof pan, combine the tomatoes, garlic cloves, shallots, rosemary, olive oil and generous amount of salt. Bake for 1 hour or until the tomatoes and garlic are soft. Reserve 2 tbsp of olive oil the pan and store the rest of the oil in a jar to be used when making any other dish that requires olive oil. It will have a beautiful tomato and garlic flavour.

Bring a large pot of heavily salted water to the boil.  Follow the instructions on the back of the pasta packet for al dente pasta and drain your pasta 1 - 2 minutes before the suggested cooking time. Reserve up to ½ - 1 cup of pasta water.

While the pasta cooks, place the pan on the stove and bring to a slow simmer on a medium heat. Add the cream and cook for several minutes or until bubbling. Remove the rosemary sprig and discard. Using an immersion blender or blender, blend the ingredients until smooth and well combined.

Add the pasta to the pan and reduce the heat to low. Slowly incorporate the pasta water and the cheese until you have a silky and glossy texture. You may not need all of the pasta water so do this step slowly.

Serve immediately with a sprinkling of chili flakes and extra cheese.