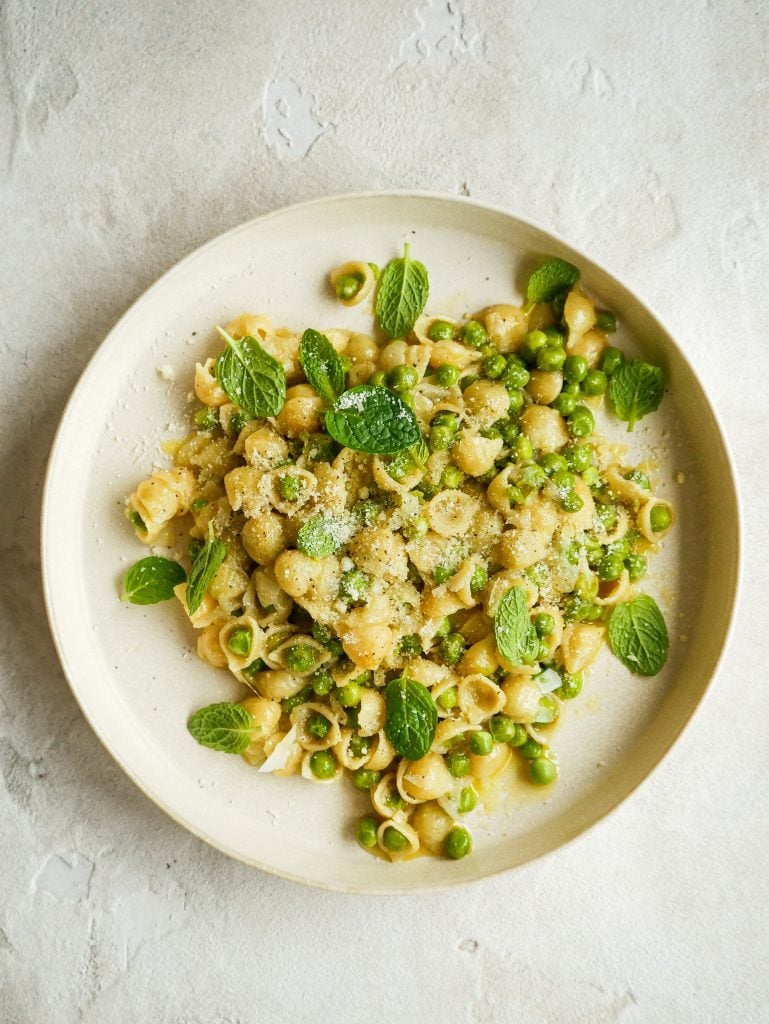 Known as being the poor man's dish in Naples Italy, this recipe takes no time at all to make, comes together in an instant and tastes like Spring in a bowl. My Nanna made Pasta e Piselli for herself almost every week and her advice for when making this yourself was to use high quality olive oil and to be extremely generous with it. My version is slightly different to my Nanna's but it still plays with the same flavours and is just as silky and rich as hers was. The sound of the pot bubbling away on the stove as all ingredients cook together will always bring on a sense of nostalgia for when my brother and I would eat this meal in my Nanna's tiny brown brick apartment.
Our version of Pasta e Piselli is a one pot wonder. All ingredients are thrown into the one pot, including the pasta, and are left to cook as the pasta expands and absorbs the stock. It's the perfect comforting meal to make for a mid week dinner.
If you make this recipe, please tag me on Instagram, Tik Tok or Pinterest so I can see your wonderful creations!
If you have any questions or would like to leave a review, please do so here! I always love answering your food and recipe related questions and hearing your feedback on my recipes.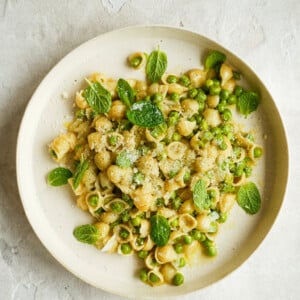 Pasta e Piselli
A one pot pasta dish made with peas, chicken stock and garlic.
Ingredients
3 tbsp olive oil
1 brown onion diced
3 garlic cloves crushed
2 cups chicken stock
1 cup peas
1 cup small shell pasta
30 g pecorino romano grated
30 g parmeson grated
1/2 lemon
1/2 tsp freshly cracked pepper
fresh mint to serve
Instructions
In a large pot on a high heat, bring your olive oil to heat. When there is a slight haze coming from the pot turn the heat all the way down to low and fry your onion and garlic for 7 minutes or until they turn fragrant and translucent. Stir occasionally to avoid the garlic from burning.

Add your chicken stock, peas, pasta and salt and pepper to taste to the pot and bring to the boil. Once boiling, turn the heat to medium and keep at a rapid boil for 15 minutes or until 80% of the moisture has evaporated and your pasta is cooked. Stir occasionally when cooking.

Turn the heat off and stir through your cheeses and lemon juice. Give your pasta a little taste and see if it needs more salt and pepper. Serve with a sprinkling of parmeson and fresh mint all over.