I've always stressed the importance of simple meals done well, with the highest quality ingredients. As a busy mum, I value nothing more than a healthy, cheap and quick weeknight meal, and there's nothing easier than a no cook tomato pasta. That's right, no cooking except for the spaghetti noodles.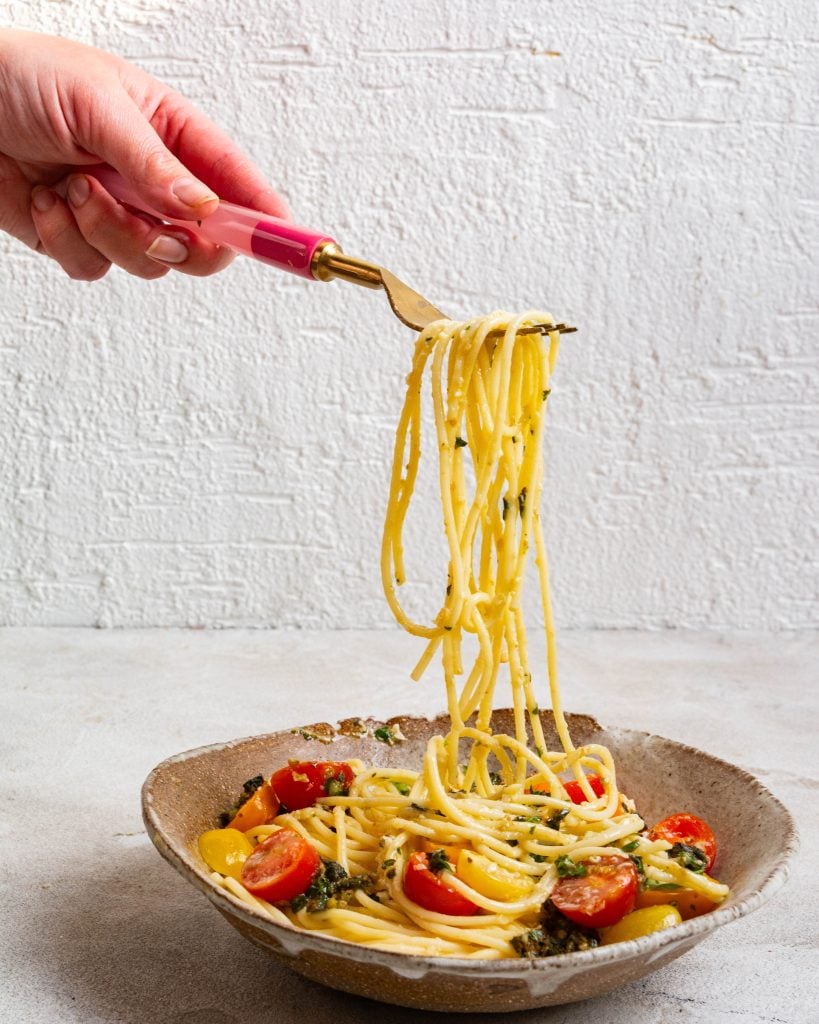 No cook tomato pasta
What is so important in this meal? Say it with me now – good ingredients! We won't be cooking out any of the flavour of the raw ingredients this time, so splash out the high quality stuff. 
And, it won't be too much of a splash out as we have not many ingredients at all.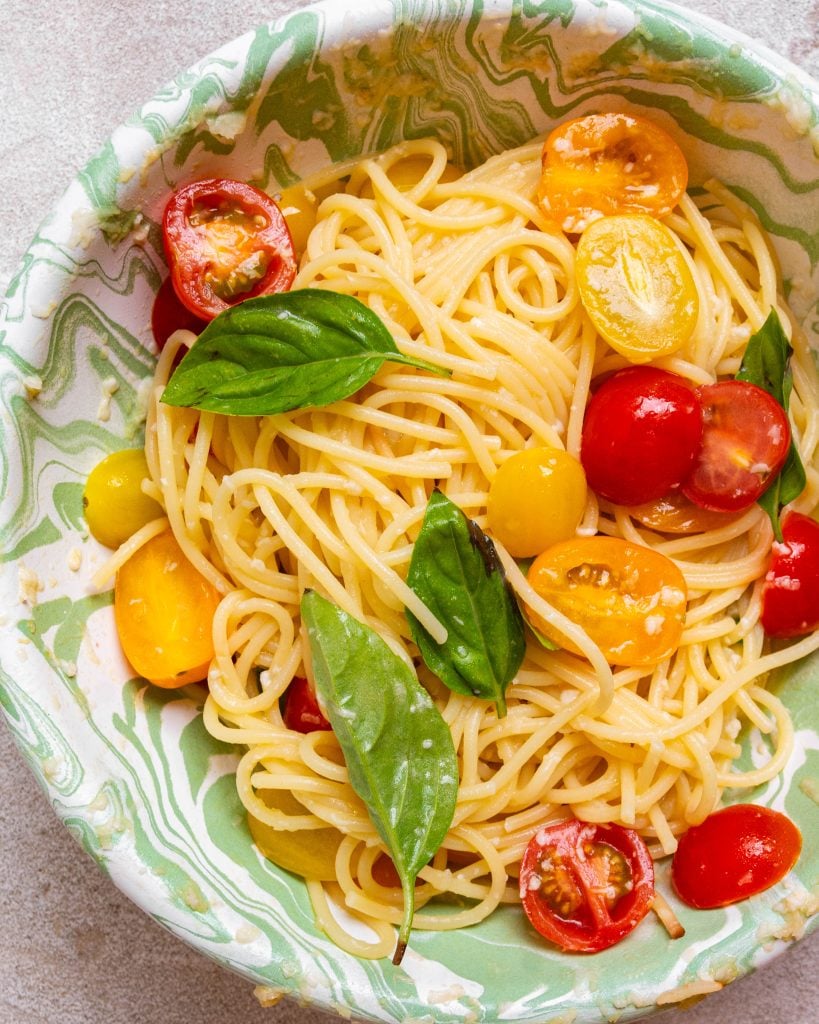 Tomato, of course, for the no cook tomato pasta
What's a no cook tomato pasta without tomato? It's just a big ol' bowl of plain spaghetti. For this one, I use cherry tomatoes. They are so sweet and bright and they're really great raw. Larger tomatoes sometimes demand cooking, but these are such great little bites of fun. They are marinated in red wine vinegar, lots of good quality extra virgin olive oil and a generous amount of salt.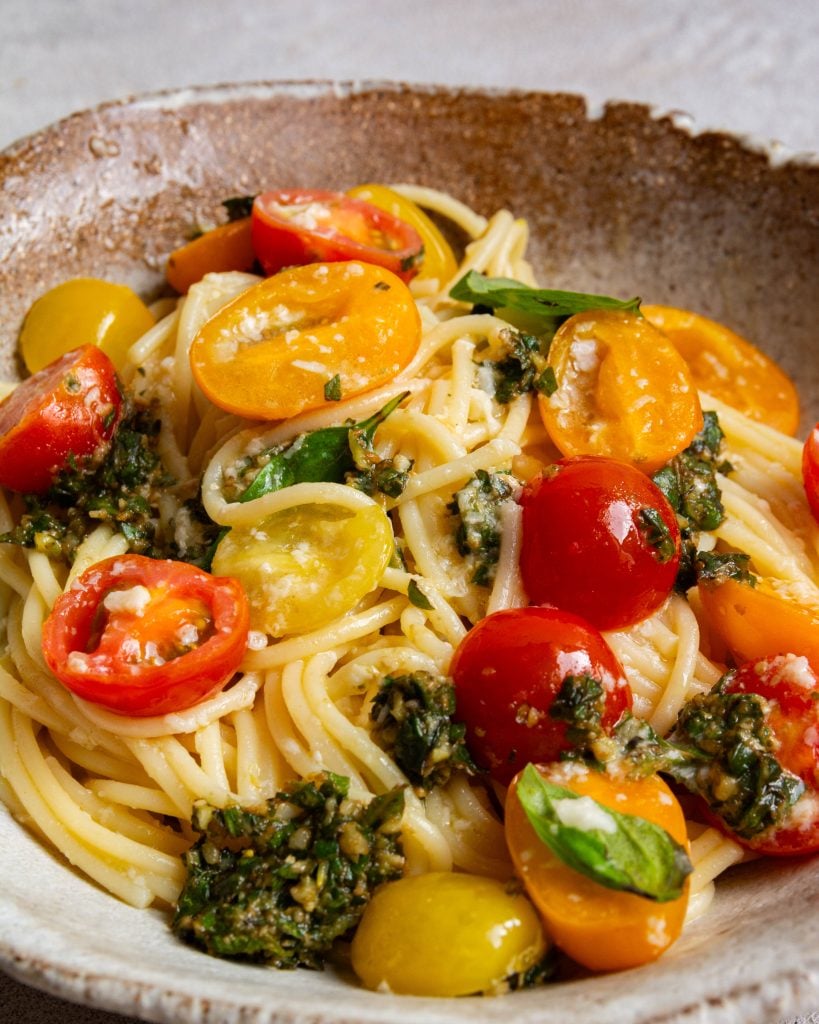 Pesto if you please
I've always said that my recipes are building blocks for other recipes. In fact, it's what I based my book around! And nothing is more true than my pesto. We've got pesto pasta, pesto eggs, pesto pizza. And now, a couple of spoons of my pesto will bring this dish to another level. Although you can skip this step, I recommend you keep it.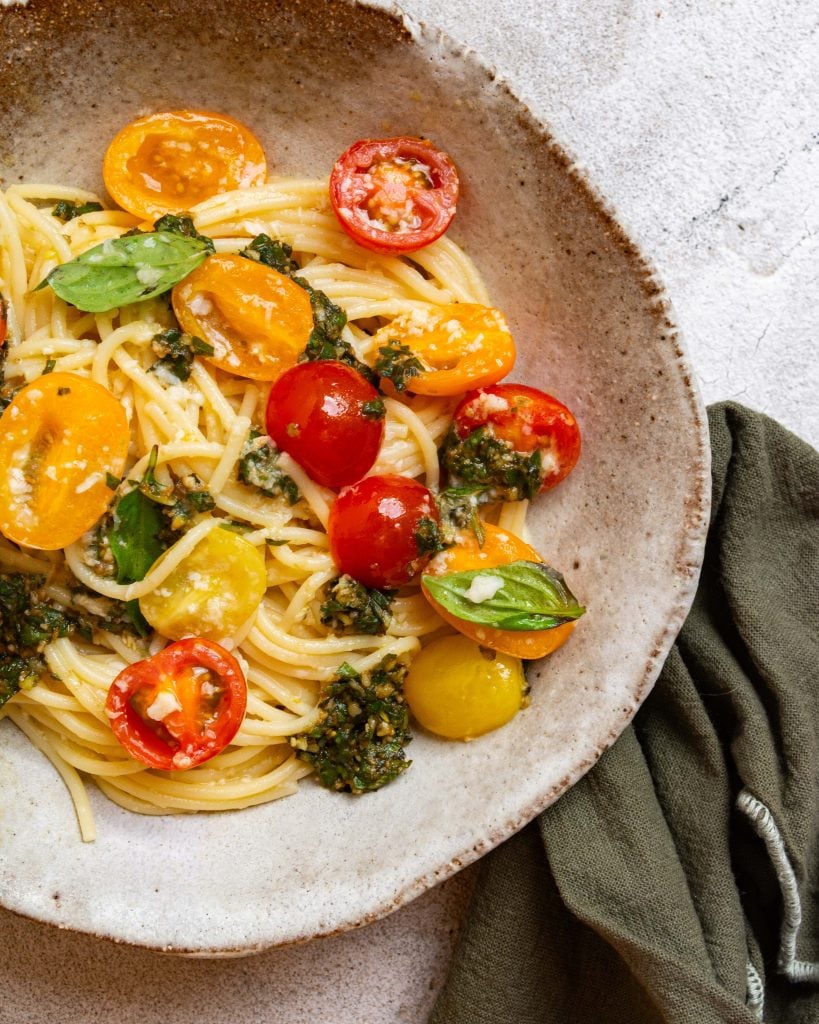 FAQ for no cook tomato pasta
What else can I add?
Oh, the places you can go with this recipe. This can be a fridge clean out. If you want to add some prosciutto or salami to give it some meat. Or if you like protein you could fry up an egg to add.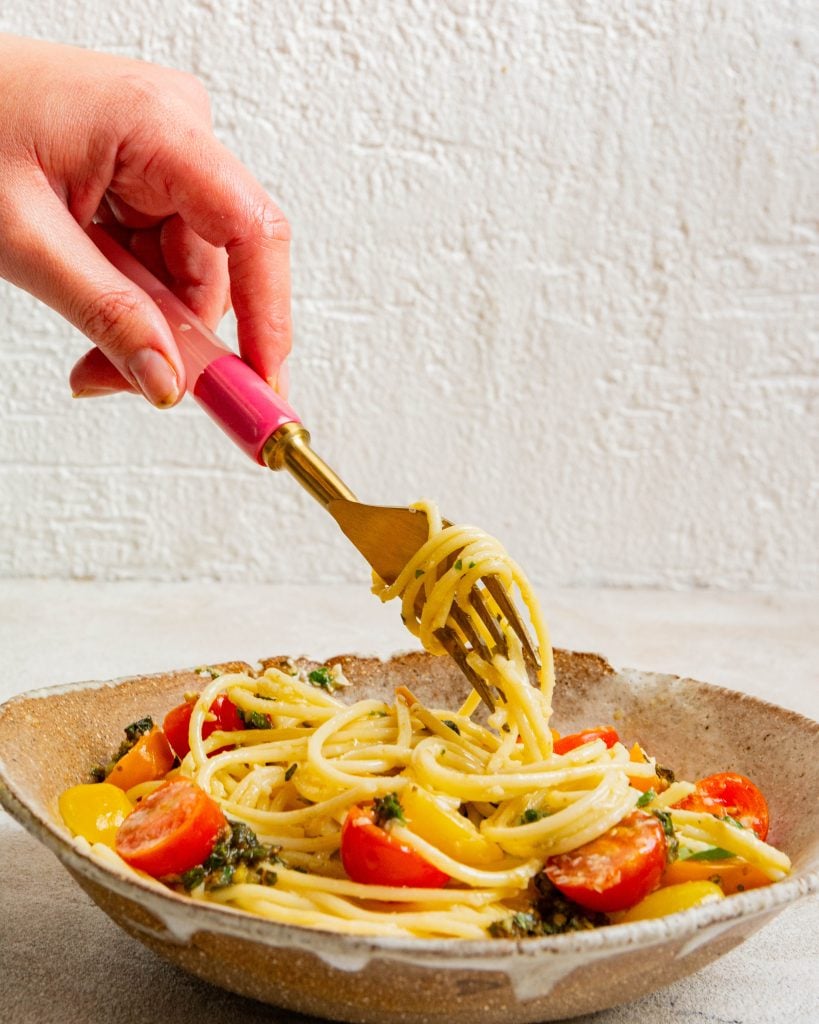 Is it really no cooking?
There is some cooking – like boiling water and putting in your pasta. But, that is it. Keep the pasta water to mix into the sauce, but no other heat is needed.
What about spice?
Add some chilli flakes, or if you're bold, some raw chilli to bring the heat and fire to this recipe!
What pasta shape is best?
Oh, this is totally up to you! The long noodles will pick up more of that sauce, but the short ones will make it easier to have mouthfuls of pasta with the delicious raw tomatoes.
If you make this recipe, please tag me on Instagram, Tik Tok or Pinterest so I can see your wonderful creations!
If you have any questions or would like to leave a review, please do so here! I always love answering your food and recipe related questions and hearing your feedback on my recipes.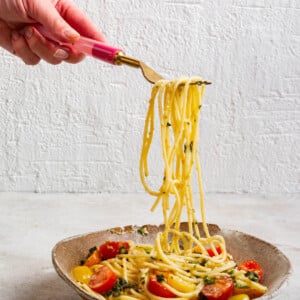 No cook tomato pasta
This is the most simple meal to date!
Ingredients
250 g cherry tomatoes
1 garlic clove grated
1/2 tbsp red wine vinegar
2 tbsp olive oil +1 extra to serve
25 g butter
50 g parmesan grated
250 g spaghetti
salt and pepper
2 tbsp pesto optional
Fresh basil to serve optional
Instructions
Bring a large pot of heavily salted water to the boil.  Follow the instructions on the back of the pasta packet for al dente pasta and drain your pasta, reserving up to 1 cup of pasta water.

While the pasta cooks, prepare the sauce. In a bowl, combine the tomatoes, garlic, red wine vinegar, olive oil and generous pinch of salt and pepper. Stir to combine and leave to sit until the pasta is ready.

Add the pasta and butter to the bowl with the tomatoes. Stir the pasta through the sauce while slowly incorporating the pasta water and cheese until silky and glossy. You may not need the full cup of pasta water so do this step slowly until the pasta is at a consistency of your liking.

Drizzle with extra olive oil and serve with some fresh basil and pesto if using.