This lemon curd meringue roulade is light and sweet with all the rights amount of citrus. It has a marshmallow centre, crunchy exterior and is topped with extra whipped cream and lemon curd.
Lemon Curd Meringue Roulade
This lemon curd meringue roulade makes for the perfect Summer party or Christmas dessert. It's light and airy and just as much impressive to look at as it is delicious to eat. It's made with a light and marshmallow meringue that is filled with a buttery and rich lemon curd and fresh whipped cream. We like to call this a pavlova roll in Australia as the meringue is also made with whipped egg whites and sugar. As a bonus, this dessert is gluten free!
Lemon Curd
While store bought lemon curd will work just as fine in this recipe, I love to make my own! You will be surprised at just how easy it is to whip together. This recipe will also leave you with leftovers that can be stored in your fridge for up to 4 weeks. Lemon curd is great to dip fruit into, fill into a tart or drizzle over ice cream. It's zesty, buttery and rich and is a great use for any egg yolks that you need to use up! This is one of the reasons I love to incorporate lemon curd into my meringue or pavlova recipes.
How to roll a roulade
There's a bit of an art to making a roulade but once you master the skill and give yourself a little time and patience, you will be whipping them up with no hesitation! I follow Mary Berry's roulade technique. She recommends making a small score with a sharp knife into the cooked meringue a few centimetres in from the bottom. Being sure to not cut all the way through! This was the best tip I could have ever learnt as it helps start the roll of the roulade. Once you have folded it over once, allow the baking paper to guide you by pulling it back towards yourself and then rolling the meringue over itself away from yourself. Continue to do this until you have rolled your roulade. It should only need 3 rolls.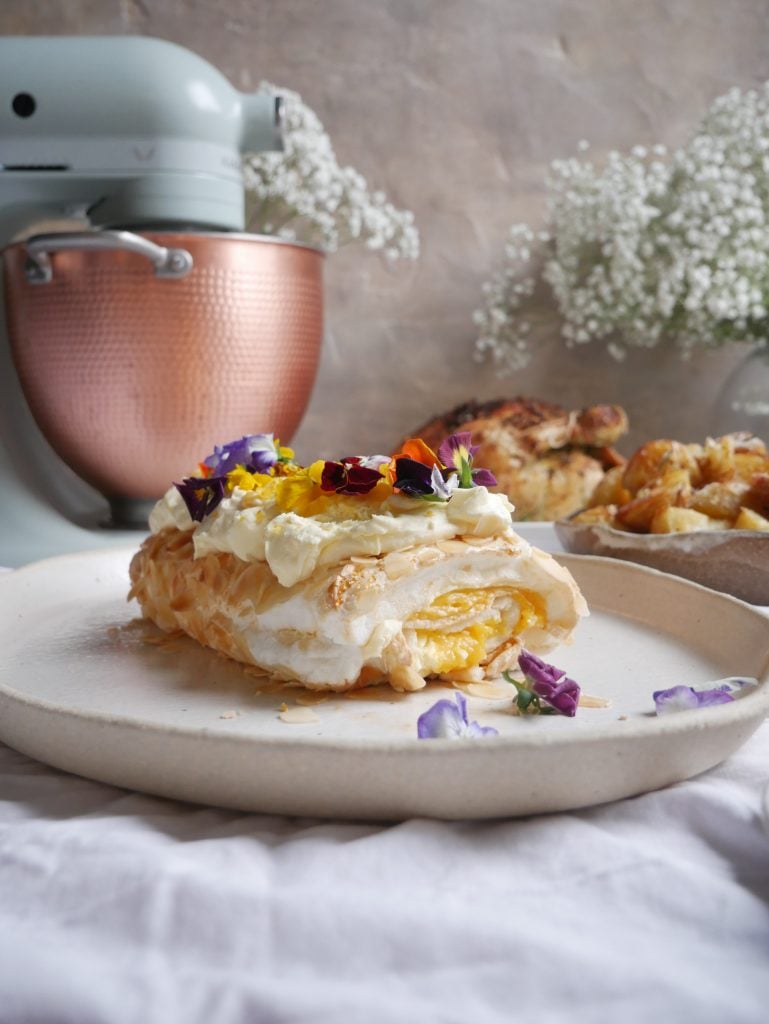 Check out more of my lemon sweets
Lemon, blueberry and ricotta olive oil cake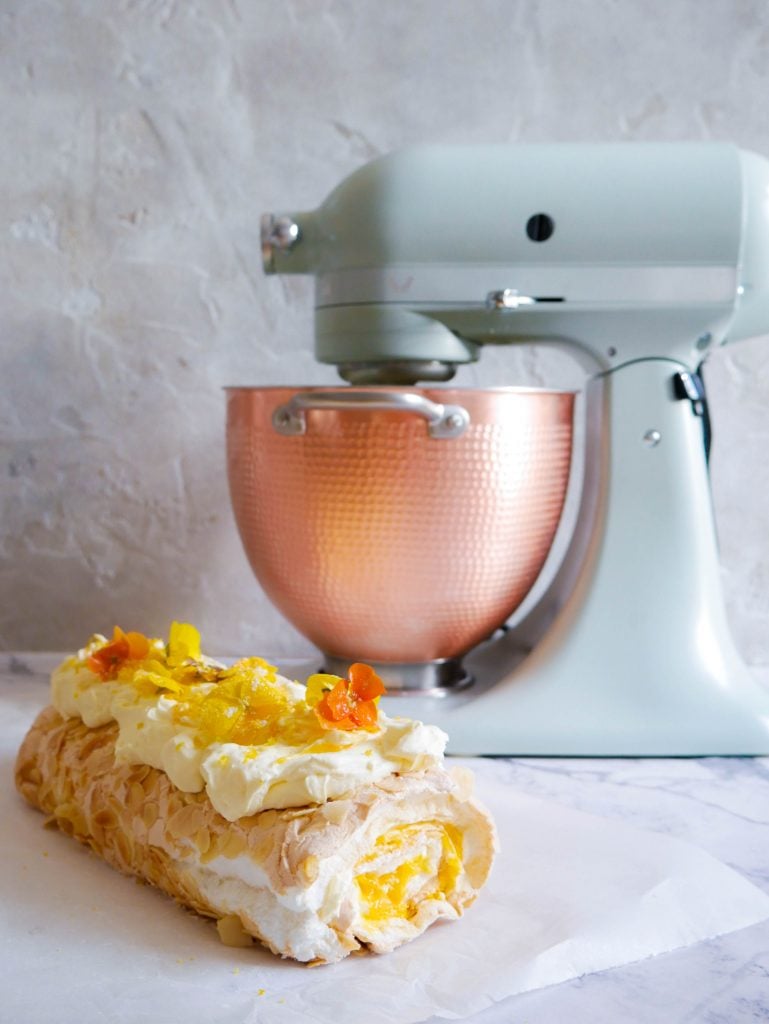 This recipe was sponsored by KitchenAid Australia
If you make this recipe, please tag me on Instagram, Tik Tok or Pinterest so I can see your wonderful creations!
If you have any questions or would like to leave a review, please do so here! I always love answering your food and recipe related questions and hearing your feedback on my recipes.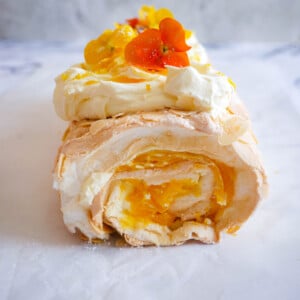 Lemon Curd Meringue Roulade
This lemon curd meringue roulade is light and sweet with all the rights amount of citrus. It has a marshmallow centre, crunchy exterior and is topped with extra whipped cream and lemon curd. 
Ingredients
Lemon Curd
6 egg yolks
3/4 cup sugar
100 g unsalted butter
1/2 cup lemon juice
1 tbsp lemon zest
Whipped Cream
300 ml thickened cream
1 tbsp icing sugar
Meringue
6 egg whites room temperature
3/4 cup caster sugar
1 tsp white vinegar or lemon juice
1 tsp cornflour
1 cup flaked almonds
edible flowers to serve optional
Instructions
Lemon Curd
In a large bowl use an electric hand mixer to whisk together the egg yolks, lemon zest and sugar until pale and smooth but not frothy.

In a ceramic deep dish pan or saucepan on a low heat, melt your butter then combine with the lemon juice. Stir through with a spatula.

Add the egg yolk and sugar mixture to the pan and stir constantly for 7 - 10 minutes with a spatula until it thickens and turns a deep yellow colour. Set to the side to cool and bring to room temperature.
Whipped cream
In a stand mixer on a medium speed, whisk together the cream and icing sugar for 3 - 4 minutes or until it thickens. Store in the fridge until ready to use.
Meringue
Preheat the oven to 180 degrees celsius. Lightly grease a 23 x 33cm baking tin with olive oil and then line with baking paper. This will ensure the baking paper doesn't stick to the tin.

In a stand mixer on the highest speed, mix the egg whites until they become stiff. Once the egg whites are stiff, gradually add the sugar 1 tablespoon at a time in 1 minute intervals. Whisk until the egg whites are stiff, smooth and glossy.

In a small bowl, mix together the cornflour and white vinegar or lemon juice to make a slurry. Fold the slurry through the meringue with a spatula.

Spread the meringue mixture onto the pre-lined baking tray with a spatula. Ensure the meringue has been evenly spread throughout. Sprinkle with flaked almonds all over. Bake in the oven for 8 minutes then turn the heat down to 140 degrees celsius and bake for 20 minutes until the almonds are golden brown and the meringue is firm to touch and has a slight spring to it.

Take the meringue out of the oven and turn upside down onto a piece of clean baking paper. Remove the meringue from the baking tin and then carefully peel the baking paper off. Leave to cool for 10 minutes.

Using a palette knife, spread an even layer of whipped cream over the cooled meringue followed by 4 - 5 tablespoons of lemon curd. Reserve 1/4 of the whipped cream for the topping. There will be remaining lemon curd that can be stored in a sterilised airtight jar in the fridge for 4 weeks.

Slightly score the meringue roughly 5 cm from the edge as this will help you fold and roll the roulade. Use the baking paper to guide you and tightly roll the roulade.

Dollop some whipped cream and lemon curd on top and finish off with a sprinkling of edible flowers.