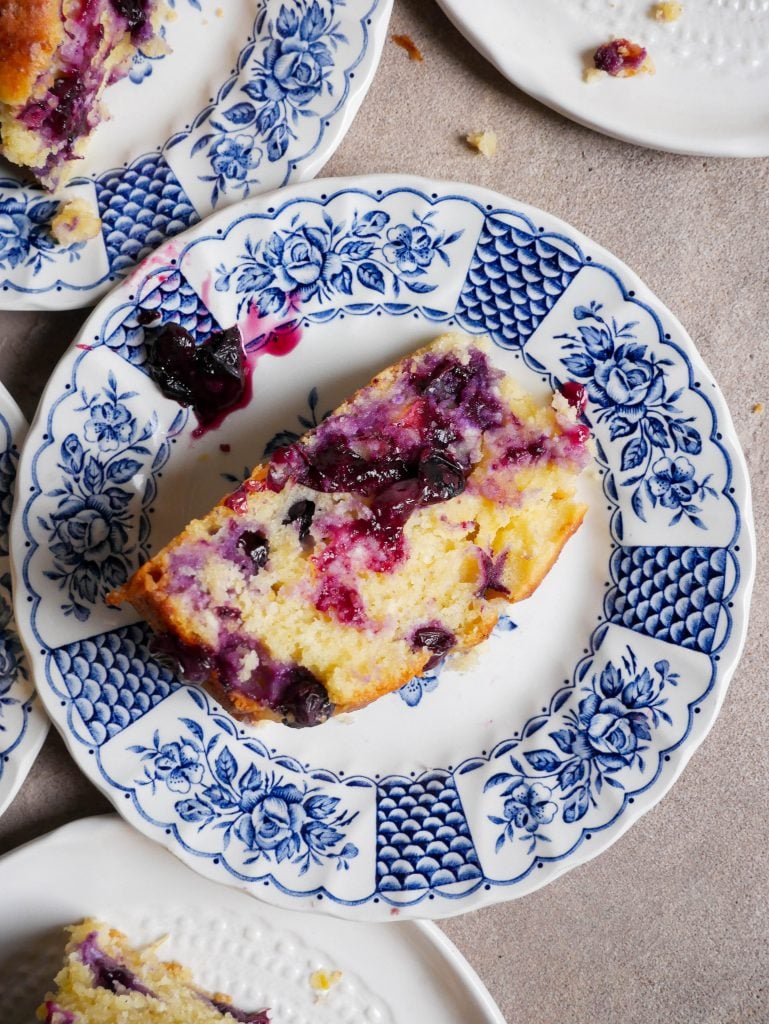 This blueberry, lemon & ricotta olive oil cake is simple to whip together, bursting with citrus flavours and takes advantage of blueberry season for all my Southern Hemisphere friends! This cake is perfect served just as it is as the blueberries create the most rich and sweet jam throughout. 
Blueberry, Lemon & Ricotta Olive Oil Cake
I absolutely adore a simple cake that can work as both a breakfast cake with a side of coffee or a dessert cake with a side of ice cream. This is that cake. It uses minimal ingredients but does not skimp on flavour. It's also a light and fluffy cake as it uses olive oil as opposed to butter. When the cake is baking away, the blueberries burst open and create the most lovely purple jam throughout. Not only is it aesthetically pleasing, but it's also extremely tasty! 
There are strong notes of citrus throughout from the use of both lemon juice and zest. To take the citrus flavour even further, I have rubbed the sugar and lemon zest together to infuse it with that lemony taste.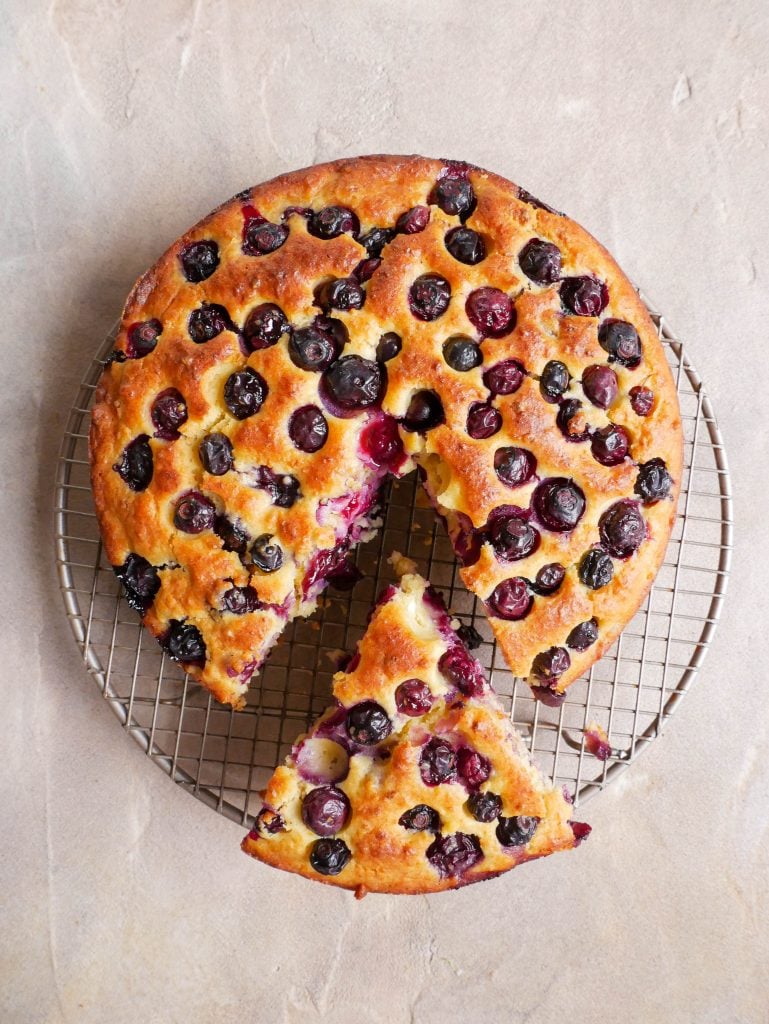 Olive Oil in a cake?
Yes! You read correctly. This cake uses olive oil making it extremely moist, fluffy and light. Olive oil based cakes also have a fruity flavour and tender crumb. Another bonus about baking with olive oil as opposed to butter is that you don't need any fancy equipment to make this cake. There is no need for a stand mixer! All you need is a spatula and large bowl. And while it's a simple cake to make, it is by no means simple tasting. It's fancy and sophisticated enough to take to a dinner party and just as easy to dress down and serve with a cup of coffee for breakfast.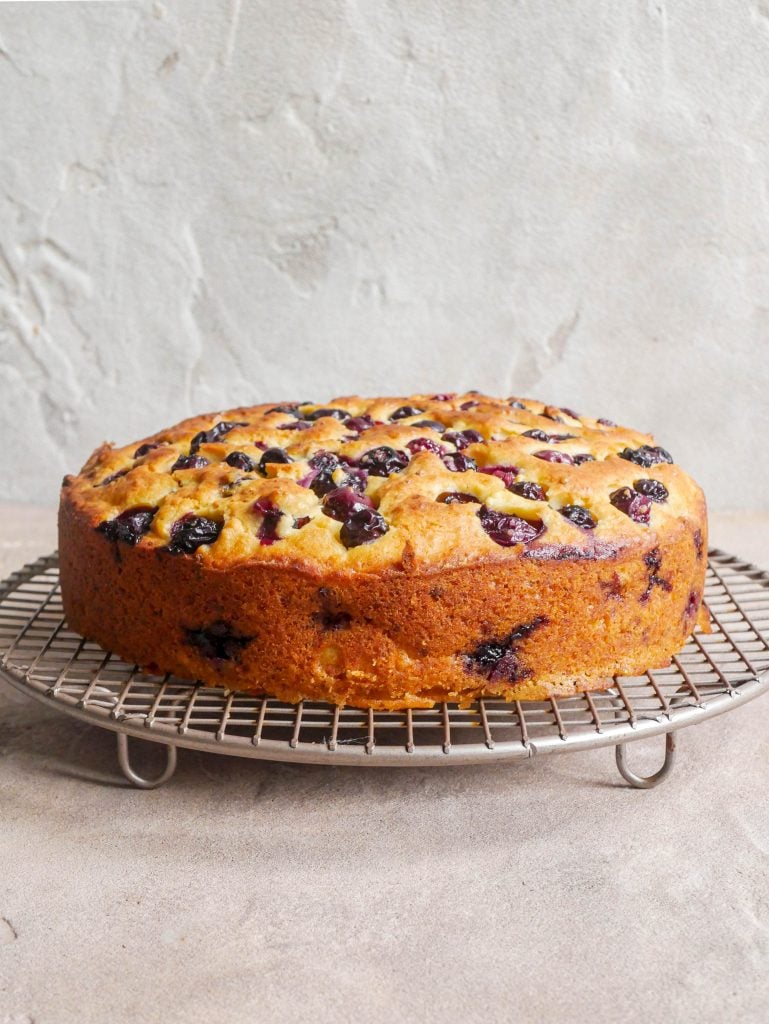 How to make this cake the best it can be
Pick the right olive oil – Olive oils come in all shapes and sizes from a more robust and heavy flavour to a more light and fruity taste. It really does come down to personal preference and while most cakes call for a light and fruity olive oil, I do like to use Rich Glen Frantoio Olive Oil as it has notes of green fruit and herbaceous apple and is of high quality. 
Infuse your sugar – to take that citrus flavour to the next level, it's crucial to rub the lemon zest and sugar together to further infuse it with a lemon taste. You can do this by rubbing the sugar and zest together with your fingertips
Keep it simple – olive oil cakes are more dense and rich and do not need an icing. I like to dust my olive oil cakes with icing sugar and sprinkle some extra lemon zest on top!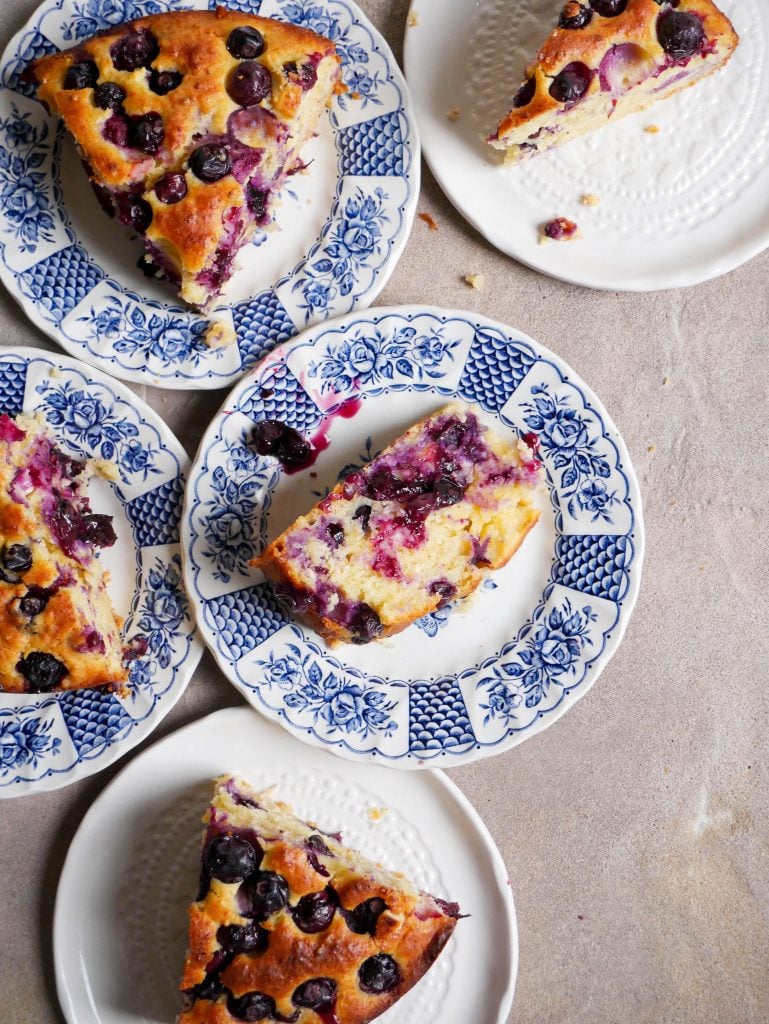 If you make this recipe, please tag me on Instagram, Tik Tok or Pinterest so I can see your wonderful creations!
If you have any questions or would like to leave a review, please do so here! I always love answering your food and recipe related questions and hearing your feedback on my recipes.
View more of my sweet and dessert recipes.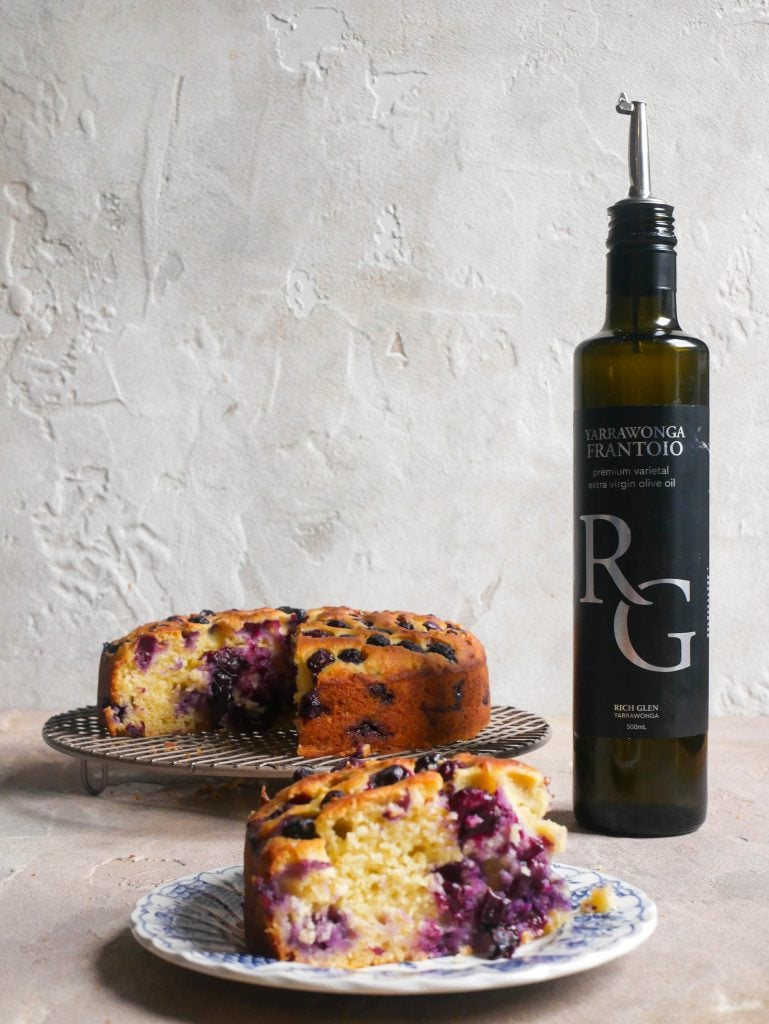 This recipe was sponsored by Rich Glen Olive Oil.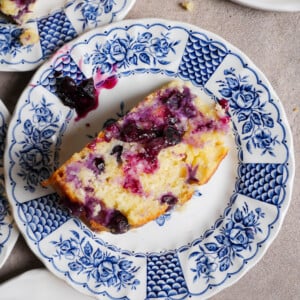 Blueberry, Lemon & Ricotta Olive Oil Cake
This blueberry, lemon and ricotta olive oil cake is simple to whip together, bursting with citrus flavours and takes advantage of blueberry season.
Ingredients
1 cup caster sugar
2 tbsp lemon zest
3 eggs
1/2 cup lemon juice
3/4 cup Rich Glen Olive Oil
200 g ricotta
1 tsp vanilla essence
2 cups white all purpose flour
2 tsp baking powder
2 punnets blueberries 400g
Instructions
Preheat the oven to 170 degrees celsius and pre-line a 20cm baking tin.

In a large mixing bowl, combine the lemon zest and sugar and rub the two together with your fingers to flavour the sugar. Add the eggs and whisk until pale, smooth and frothy. 

In the same bowl, combine the lemon juice, olive oil, ricotta and vanilla essence and whisk until all ingredients are well combined. Sift in the flour and baking powder and gently combine the wet and dry ingredients with a spatula. Add 1 punnet of blueberries and gently fold through. 

Transfer the cake batter to the baking tin and smooth out on top with a spatula. Scatter the remaining blueberries on top and push them into the batter so their tops are slightly exposed. 

Bake for 50 minutes or until golden on top and a skewer comes out clean when poked into the middle. Leave to cool for 15 minutes in the tin then transfer to a cooling rack. Serve on its own or with ice cream.