This no bake mango cheesecake tastes exactly like a mango Weiss Bar but with a buttery biscuit base. With ribbons of mangoes throughout a creamy filling, this rich and indulgent dessert will be the ultimate sweet treat.
No bake mango cheesecake with a biscuit base
Keep those ovens off friends! How fabulous is it to find a dessert that requires no oven to be turned on and very minimal effort to be made. This no bake mango cheesecake with a biscuit base offers all of that and more! It's extremely rich, indulgent and decadent but will leave you asking for more with every bite. It has ribbons of mangoes throughout that have been folded through a creamy cheesecake filling. The buttery biscuit base is made with Arrowroot biscuits and the delicious Westgold Butter.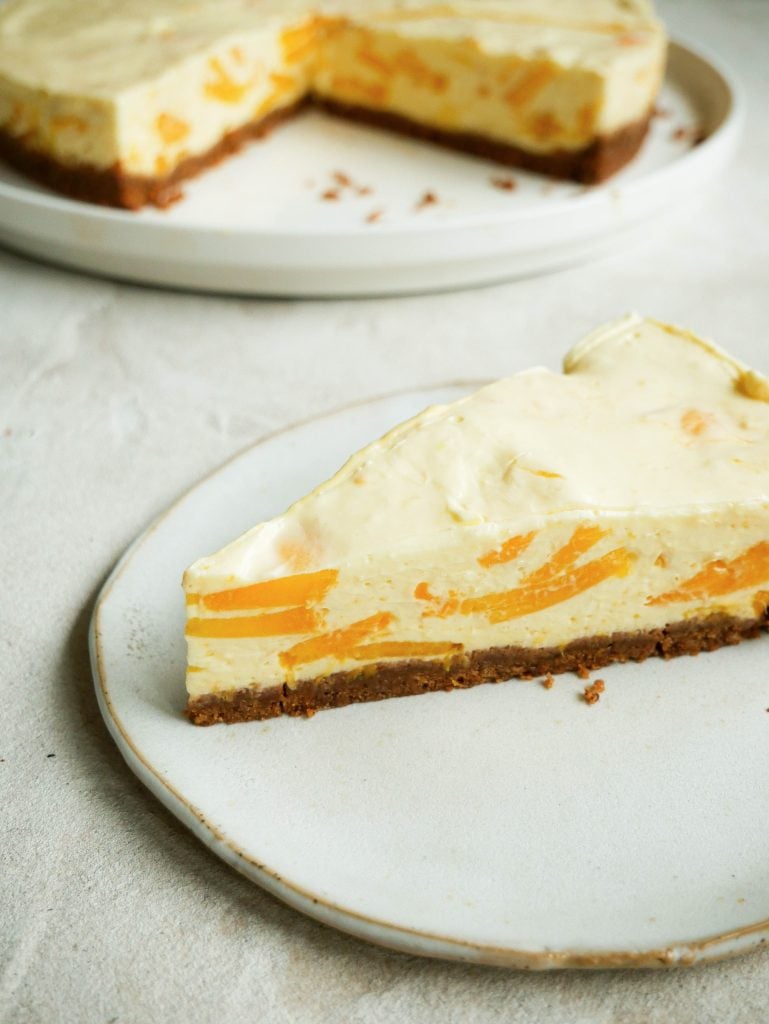 A no bake dessert?
This mango cheesecake requires no heat to be made, making it the ultimate summer dessert. We love to serve it on a humid Australian Christmas Day because who wants to turn their oven on a hots summer day? As there are no eggs or ovens needed, no bake desserts are usually made with a binding substance such as gelatin. They are then left to set overnight in the fridge which means you can make this the night before! As this requires no baking, you also don't have to worry about cracked or overcooked cheesecakes.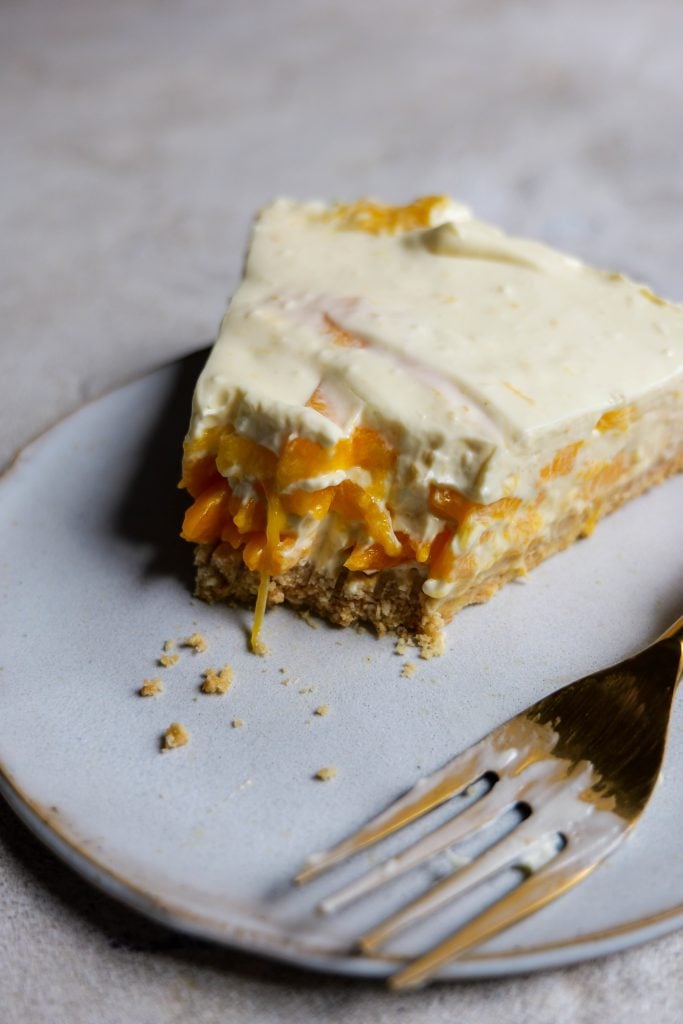 A buttery biscuit base
Who knew you could do more with plain biscuits than just dunk them into tea? Arrowroot biscuits are the perfect vessel for your biscuit base as they are mildly sweet and have a simple taste. This is why we have jazzed them up with a little extra sugar and lots of butter. The butter is what holds the biscuit base all together. It should have a wet sand like texture and hold when scrunched between your fingers. If your biscuit base is too dry, add a little extra melted butter or if it's too wet, add some more blended up biscuits.
What you need for this no bake mango cheesecake
You really don't need a lot to make this delicious dessert!
Mangoes – It's best to use mangoes that are very ripe and at peak juiciness.
Cream cheese – Keep your cream cheese on the counter several hours before making this recipe so it can come to room temperature. It will mix much easier that way!
Cream – I like to use thickened cream or heavy cream.
Biscuits – I recommend using arrowroot biscuits for their simple taste however, this base can be made with any biscuit (or cookie) you like!
Butter – We always like to use the best butter we can find which is why we always turn to Westgold Butter
Check out my other sweet recipes:
Blueberry, Lemon & Ricotta Olive Oil Cake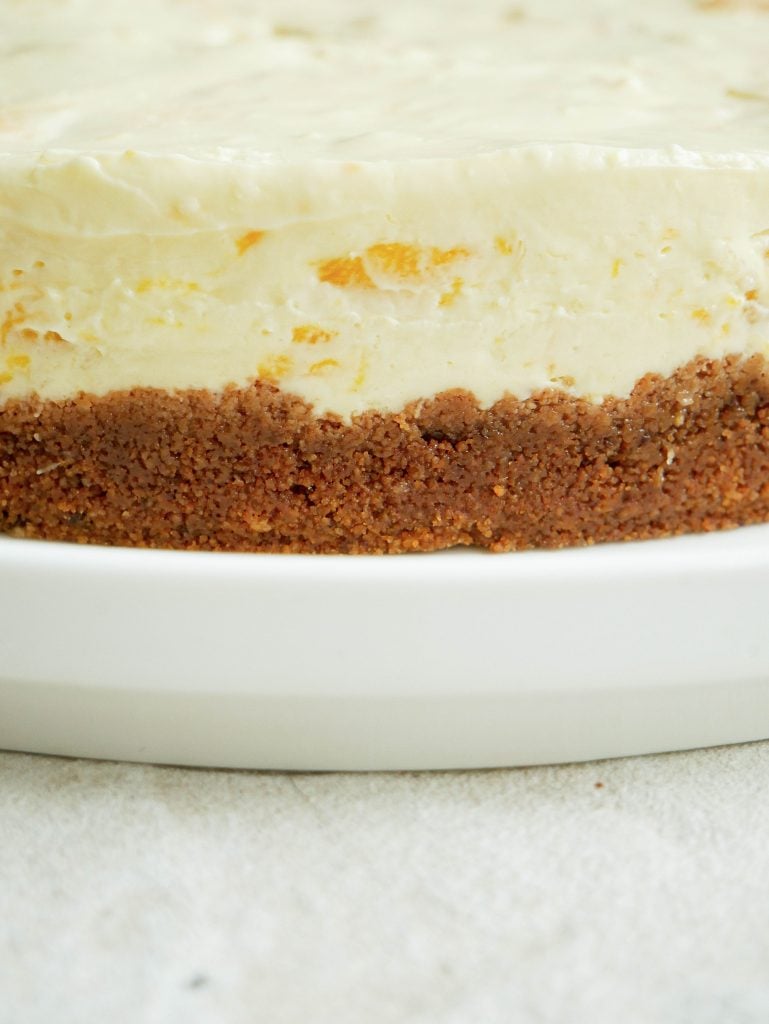 If you make this recipe, please tag me on Instagram, Tik Tok or Pinterest so I can see your wonderful creations!
If you have any questions or would like to leave a review, please do so here! I always love answering your food and recipe related questions and hearing your feedback on my recipes.
This recipe was sponsored by our friends at Westgold Butter.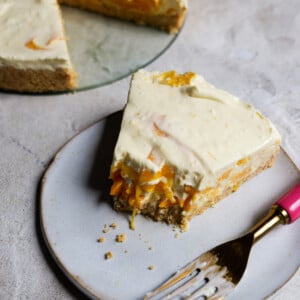 No Bake Mango Cheesecake
This no bake mango cheesecake tastes exactly like a mango Weiss Bar but with a buttery biscuit base. With ribbons of mangoes throughout a creamy filling, this rich and indulgent dessert will be the ultimate sweet treat.
Ingredients
Biscuit Base
300 g Arrowroot biscuits
1 tbsp brown sugar
200 g Westgold butter unsalted and melted
Mango Cheesecake
3 mangoes large and ripe
500 g cream cheese softened
1/2 cup icing sugar sifted
1 tsp vanilla essence
2 cups thickened cream (600ml)
1 tbs gelatin
Instructions
Biscuit Base
Place the biscuits and sugar into a food processor. Blend for 30 seconds. Continue to blend and slowly pour in the melted butter until you have a wet sand-like crumb. The crumb should be able to hold together when pinched between your fingers.

In a 25cm cake tin with a removable base, add the biscuit crumb and flatten with your hands until you have a firm base. Place your cake tin into the fridge and leave to set while you prepare the cream cheese filling.
Mango Cheesecake
Separate the mango flesh from the seed and scoop the flesh out with a spoon. Set one mango flesh to the side as we will be using this later. Slice the mango flesh from the other two mangoes into long ribbons. Set to the side.

In a small bowl or cup, mix the gelatin with 1/4 cup hot water until it's lump free. Set to the side and leave to slightly cool. 

Combine the cream cheese, icing sugar and vanilla essence into the food processor and blend for 60 seconds or until the ingredients are well combined. Add the cream to the processor and pulse several times until the cream has mixed through with the other ingredients. Add the gelatin and mangoes to the processor and fold through the with a spatula. Using your hands, squeeze the flesh of the third mango into the cream cheese filling so it creates a thick puree. Fold through with the spatula.

Take the cake tin with the biscuit base out of the fridge and pour the cream cheese filling into it. Smooth out with a spatula. Cover and leave to set in the fridge for a minimum of 6 hours or ideally overnight.