There's two things I really love in life: pizza and focaccia. So, I got thinking. Why not combine the two? Like the city of Chicago has their deep dish pizza, I thought about a thick crunchy base with delicious toppings and voila – pizza focaccia. The ultimate dish for kid's parties to please parents and kids alike!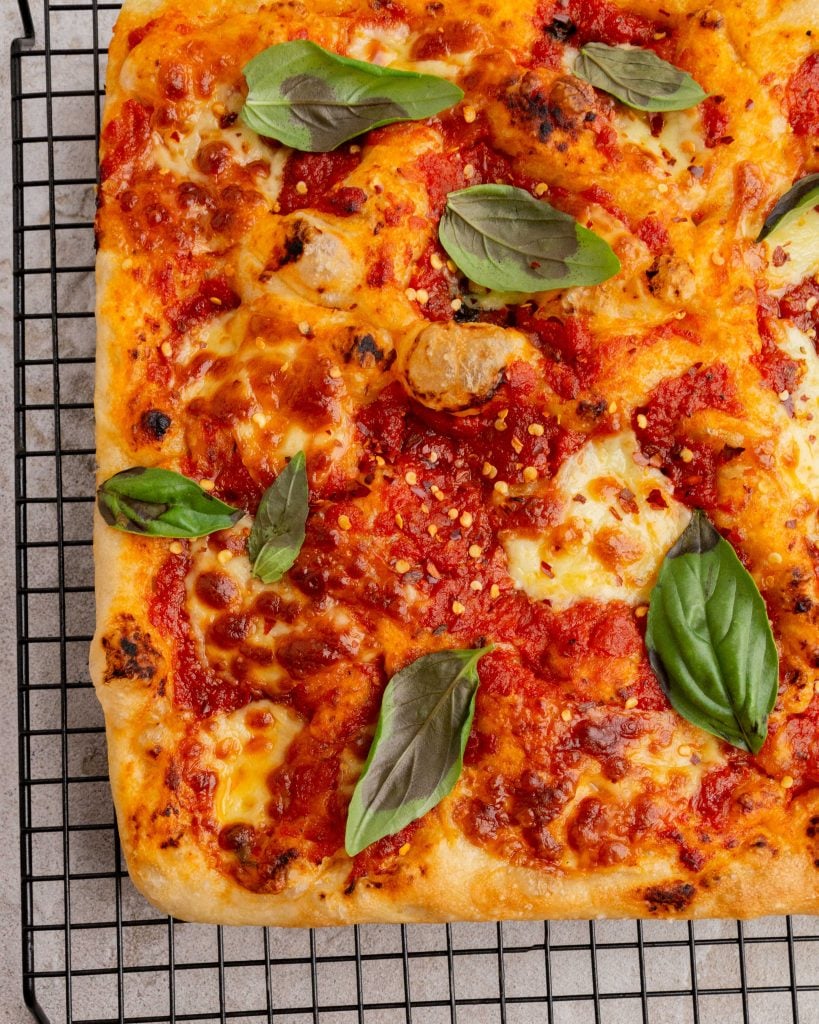 Pizza focaccia
When experimenting with something like pizza focaccia, it's about making the topping basic to begin with. I've kept it clean and simple with tomato and basil. It's a great base to start to build on and add your favourite flavours.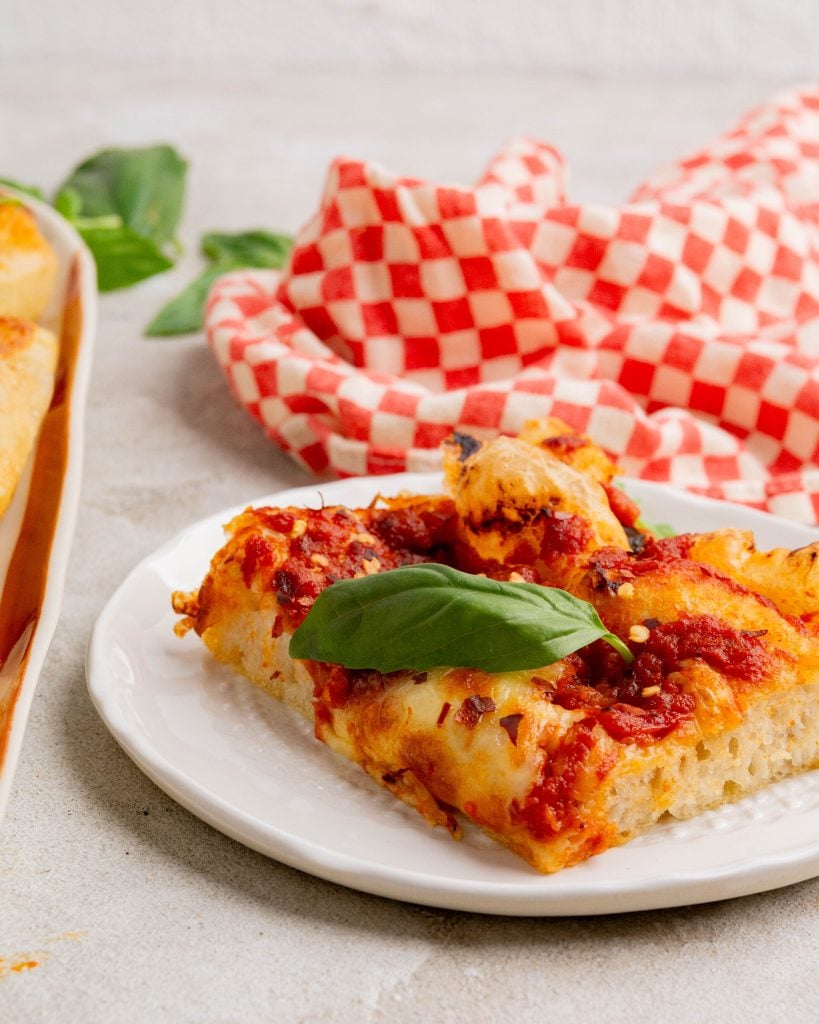 Thick crust
Some people don't like the crusts on a pizza but I think this recipe is great for the people who tear off the crusts and leave them because there isn't a specific crust. Instead, it's a bouncy and thick piece of focaccia. Springy and light, focaccia is about being the vessel for all the delicious toppings. 
Top of the world!
Toppings, toppings, toppings. You can really get to understand someone by their pizza toppings. Do they love a bit of the controversial pineapple? Do they like a little bit of spice? Perhaps the classic pepperoni is more their style. Well, this pizza base and topping is all about making it yours. It can even be a bit of a fridge clean out.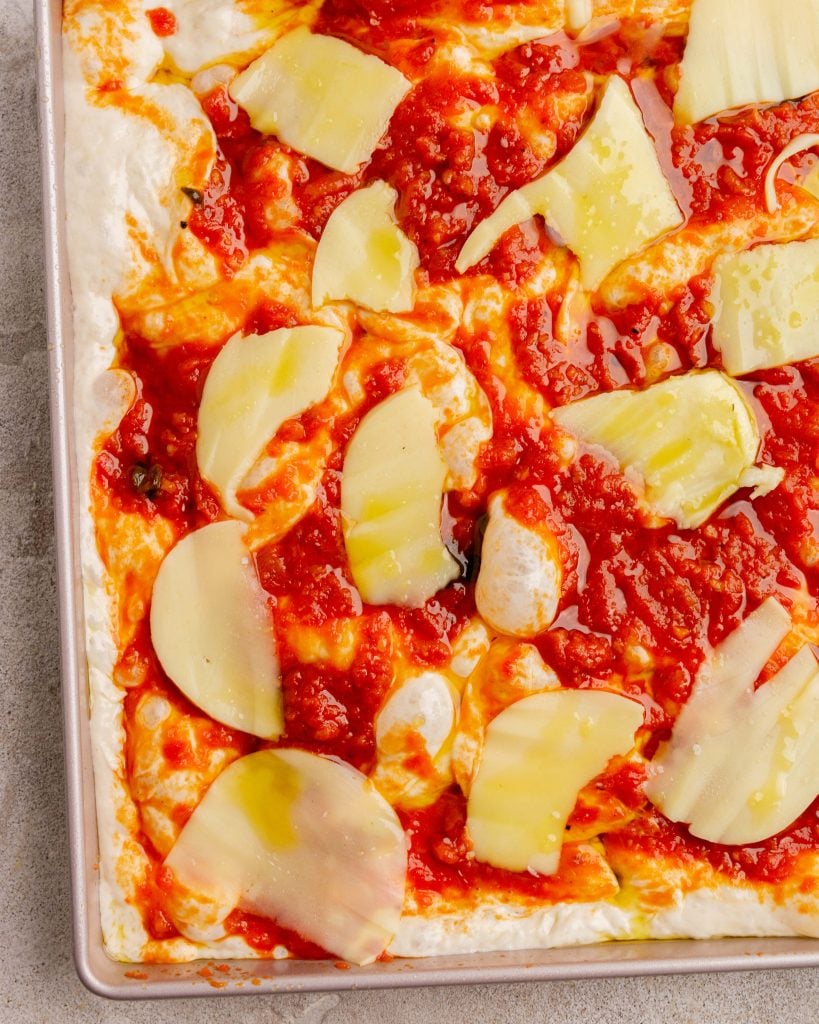 Leftover chicken? Add that to the top. Some bacon or pepperoni even. Top with fresh or dried herbs and some chilli flakes, a drizzle of truffle oil. This pizza is a show stopper and you can add whatever you please!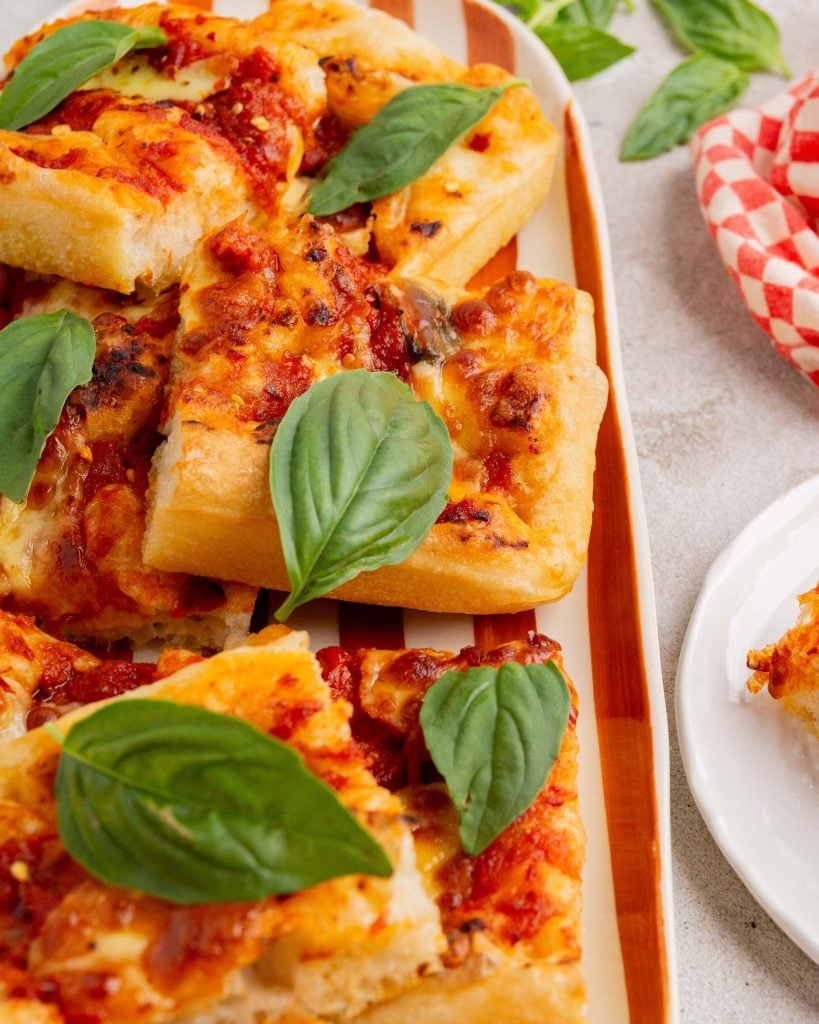 Baking bread
We've delved right into baking bread on this channel and that's because it's so much easier than it looks! For an in depth tutorial on how to make focaccia, I've delved into it here. I promise that following these instructions you'll be the talk of the bread town! It's just that simple.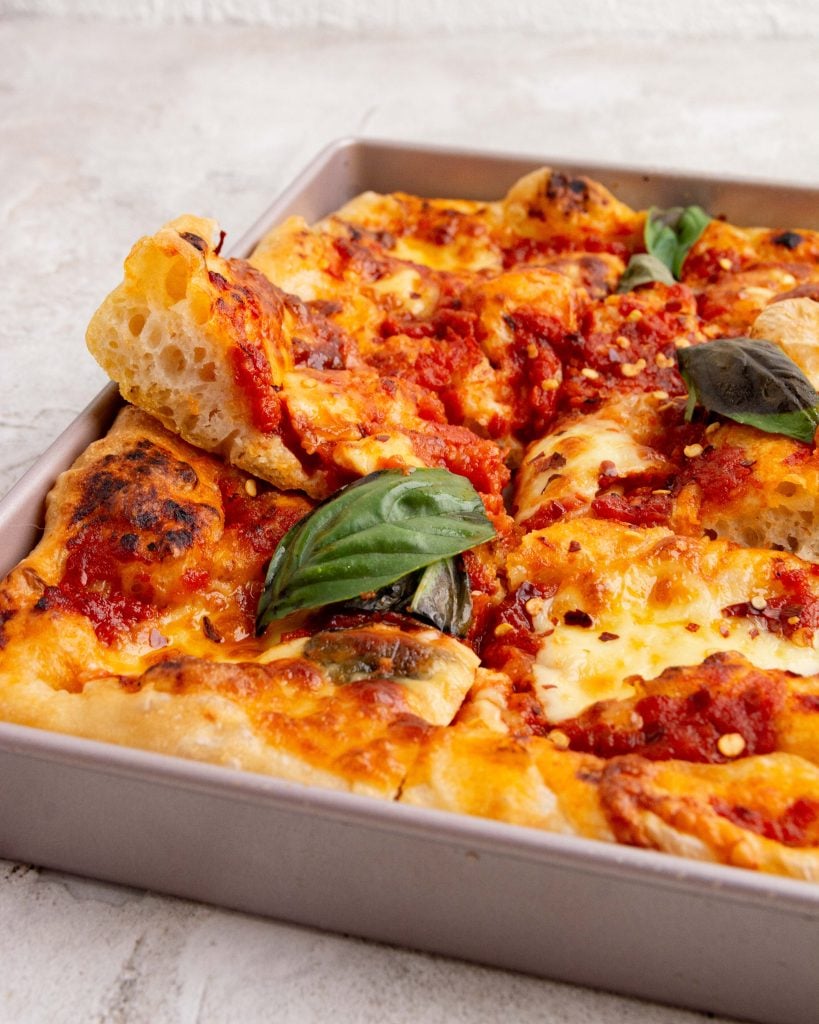 If you make this recipe, please tag me on Instagram, Tik Tok or Pinterest so I can see your wonderful creations from Daen's Kitchen!
If you have any questions or would like to leave a review, please do so here! I always love answering your food and recipe related questions and hearing your feedback on my recipes.
Images by Alanna Penna Photography.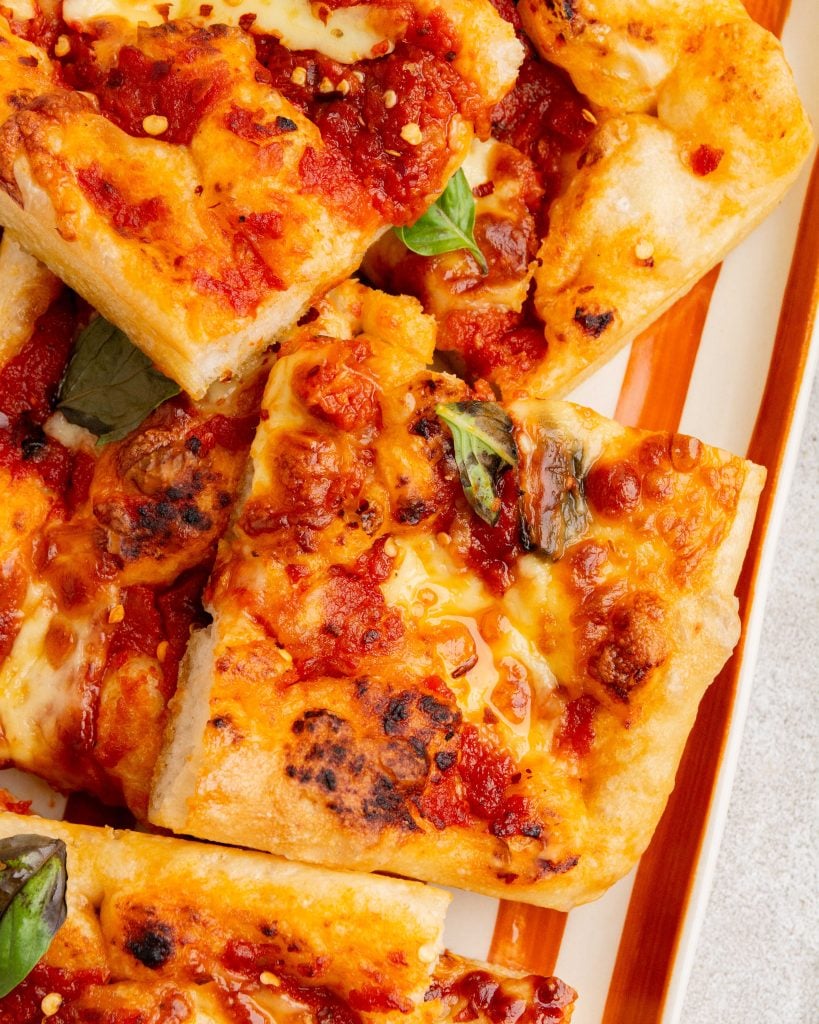 Pizza focaccia
Springy dough with delicious toppings? Yes, please!
Ingredients
Tomato and basil sauce
3 tbsp olive oil
4 garlic cloves
2 tins 400g tinned whole tomatoes
1 bunch fresh basil
1/2 cup water
salt and pepper
1 tbsp brown sugar optional
Focaccia
700 g bread flour
680 g lukewarm water (100 degrees F / 34 degrees C) – 95% hydration)
7 g dry yeast
12 g fine sea salt
1 tbsp honey or maple syrup optional
60 g extra virgin olive oil
6 tbsp tomato and basil sauce
50 g mozzarella sliced
1 tsp chilli flakes
fresh basil leaves to serve
Instructions
Tomato and basil sauce
In a large deep fry pan, bring the olive oil to heat. Turn the heat to low, add the peeled garlic cloves and cook for 2 - 3 minutes or until the garlic is slightly golden and has flavoured the olive oil. Using a slotted spoon, remove the garlic from the olive oil

If using whole tinned tomatoes, squeeze the tomatoes with your hand to slightly puree them.

In the same pan, combine the tinned tomatoes, water, a generous amount of salt and pepper and ¾ of the basil. Bring to the boil then turn the heat to low and leave to simmer for 30 - 40 minutes until the sauce has slightly thickened. Depending on the tinned tomatoes you are using, your sauce may need a little sweetness, taste and add sugar if needed.
Focaccia
In a medium bowl, mix together the lukewarm water, yeast and honey with a whisk and leave to sit for 5 minutes or until the yeast has foamed. This will indicate that your yeast is active.

In a large bowl, combine the flour and salt and whisk together. Add the yeast water to the bowl with the flour and bring together with a wooden spoon or your hands until the flour and water is combined and there are no dry parts. The dough should be wet and sticky. Cover with plastic wrap or a damp tea towel and leave to sit for 10 minutes.

Uncover the dough and begin to stretch and fold. To do this, wet your hands, then take a section of the dough and stretch it up and fold it onto itself on the opposite side. Rotate the bowl and repeat this step three more times until you have gone all the way around the bowl. Cover and leave to rest for 10 minutes.

Repeat the stretch and fold method until a neat ball has formed.

In a clean bowl, drizzle 20g of extra virgin olive oil all around the sides and into the bottom. Transfer the dough to the oiled bowl and cover very well with plastic wrap. Leave to rest in the fridge for a minimum of 18 hours and maximum of 72 hours. This is proof 1.

Prepare a baking tin by greasing it with 20g of extra virgin olive oil. Transfer the proofed dough to the oiled baking tin. Using your fingers, stretch the dough out slightly into a rough rectangular shape. There is no need to stretch the dough out to the edges of the pan as the dough will rise and spread. Cover the tin with a damp tea towel and leave the dough to rise in a warm area of your house for 2 - 3 hours. If your dough is uncovered there is risk of too much air getting into the dough and creating a dry and crusty layer on top.

Preheat the oven to 200 degrees C / 390 degrees F

Once the dough has risen, use your fingers to dimple the dough. Spread the tomato and basil sauce over the dough. Top with sliced mozzarella cheese and a drizzle of olive oil. This will help the crust of the dough get golden and crispy when baking. Finish off with a sprinkling of flakey sea salt and chili flakes if using. Bake for 30 minutes or until the dough has developed a golden crust on top.

Let the bread slightly cool before removing it from the baking tray. Place onto a wire rack and leave to rest for 30 minutes before slicing into it. Serve with fresh basil leaves.