If you're looking for a no fuss, delicious and small serve of homemade bread, then look no further. This mini no knead focaccia is fluffy on the inside, crispy on the outside and the perfect size for one to two people.
Mini No Knead Focaccia 
Remember my no knead focaccia you all loved? Well I have made an adorable mini version that's the perfect size for 1 – 2 people. It only uses 1 cup of flour and you only need a bowl and your hands or wooden spoon to be make it. This mini no knead focaccia is fluffy on the inside and golden brown on the outside. While I have topped it with olives, garlic confit and a sprinkle of salt, you can use whatever you like! From onions, cherry tomatoes and chilli flakes to a simple herb and kosher salt topping, this mini focaccia will be delicious and full of flavor every single time!
What is focaccia? 
I like bread. I really like homemade bread. But I absolutely love focaccia! Focaccia is an Italian style yeasted flatbread that is similar to pizza dough. It's best served as a side dish to soups, salad, turned into sandwiches or on its own with a side of olive oil and balsamic for it to be dipped into. What makes a focaccia so unique and delicious is the use of extra virgin olive oil and how the dough is dimpled. A good focaccia needs lots of olive oil. Olive oil is what gives it it's golden and crispy outside layer and unique taste. The dimples are also there for a reason as they reduce the air bubbles in the dough and prevent it from rising too quickly. They are also my favourite part of making focaccia!
Focaccia Toppings
I also love focaccia because it can be so versatile. You can top the dough with anything you please from something as simple to just flaky sea salt, olives, cherry tomatoes or herbs to something a little more extravagant such as my garlic confit with fresh rosemary and teaspoons of chili flakes. You can also create the best tasting sandwiches with your homemade focaccia!
My top tips for making the best focaccia
Leave the dough to rest and rise or proof as long as you can – if you have the time, I recommend leaving it for 24 hours in the fridge or at least 2 hours in a warm spot as this will result in a fluffier and lighter dough.
Use a high quality extra virgin olive oil and don't be shy with it – this is a recipe that relies heavily on extra virgin olive oil not just for the taste but also for the texture and that golden and crunchy crust. It's important we are not skimping on the quality which is why I recommend using Daen's Kitchen olive oil. If you are not a fan of adding the garlic confit, you can simply omit this from the recipe and use Rich Glens Wild Garlic Olive Oil or their signature extra virgin blend.
Find a warm spot in your house for the second rise / proof – a room temperature environment will help the dough rise for its second rise. Make sure you cover it with a damp tea towel or plastic wrap so the top doesn't dry out. If you are making your focaccia in winter, a little trick I learnt is to leave the light on in your oven and let the focaccia dough rise in there.
My top tips continued
Use the right flour – while bread flour will leave you with a chewier texture, it can be a little hard to find! All purpose flour will work just as well!
It's all about the baking pan – for this mini focaccia, you don't need a large bowl or pan. You can use a loaf pan or a pan that is 18 cm diameter x 4cm high. Grease it well with olive oil to get that crispy bottom!
Rise baby rise – You can use instant yeast or dry yeast for this recipe. If you're using an active dry yeast, it needs to feed off honey in warm water. Leave it to sit in the bowl for 5 minutes or until bubbles start to form. This will indicate your yeast is alive.
Check out my other focaccia bread recipe:
Cheesy focaccia with tomato & garlic confit
Spicy garlic confit butter focaccia
If you make this recipe, please tag me on Instagram, Tik Tok or Pinterest so I can see your wonderful creations!
If you have any questions or would like to leave a review, please do so here! I always love answering your food and recipe related questions and hearing your feedback on my recipes.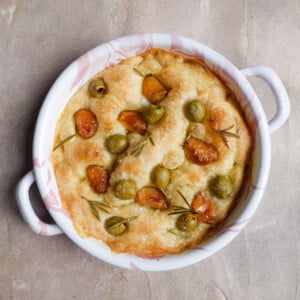 Mini No Knead Focaccia
If you're looking for a no fuss, delicious and small serve of homemade bread, then look no further. This mini no knead focaccia is fluffy on the inside, crispy on the outside and the perfect size for one to two people.
Ingredients
110 g lukewarm water
1 tsp honey or sugar
3 g yeast
120 g bread flour 1 cup
2.5 g flakey sea salt + extra for topping
4 tbsp olive oil
Instructions
In a small jug, combine the honey, yeast and lukewarm water. Stir together and leave to sit for 5minutes or until bubbles form at the top. This will indicate that your yeast is active and ready to use.

In a small bowl, combine the flour and salt and whisk together. Drizzle in 1 tablespoon of olive oil and pour in the yeast water. Mix together with your hands until a shaggy and sticky dough forms. Take the dough out of the bowl and coat the bowl with 1 tablespoon of olive oil. Place the dough back into the bowl, ensuring all parts of the dough are coated in the olive oil. Cover and leave to rest overnight in the fridge or in a warm spot in your house for 2 hours. It should double or triple in size.

Uncover the bowl and fold the dough over itself in quarters. Gather up each edge of the dough with your hands and fold it over itself while turning the bowl. The dough will become smooth while you shape it into a neat ball.

Drizzle 1 tablespoon of olive oil into a small baking dish or loaf pan and place the dough into it. Using your fingers, carefully stretch the edges of the dough out to the corners. Cover and leave to rest for 2 hours in a warm spot in your house or until the dough doubles in size.

Preheat the oven to 190 degrees Celsius.

Uncover the dough and drizzle 1 – 2 tablespoons of olive oil onto it. Slightly dampen your finger tips with olive oil. Dimple the dough by pressing firmly into the dough with your fingers. Top with any toppings you like! I have used garlic confit, rosemary and flakey sea salt.

Bake for 20 minutes or until golden and crispy on top.