Pretzels may feel like an overwhelming feat to achieve at home, but I promise you, it's an easy recipe and the pay-off is worth it. These are soft, buttery pretzels, with their iconic twist that give Auntie Anne's a run for their money. 
My advice to those cooking this delicious recipe is to read it through from start to finish before you begin, so you can realise that it's not hard, but there are a few steps involved to mastering the art of the traditional German snack – the pretzel.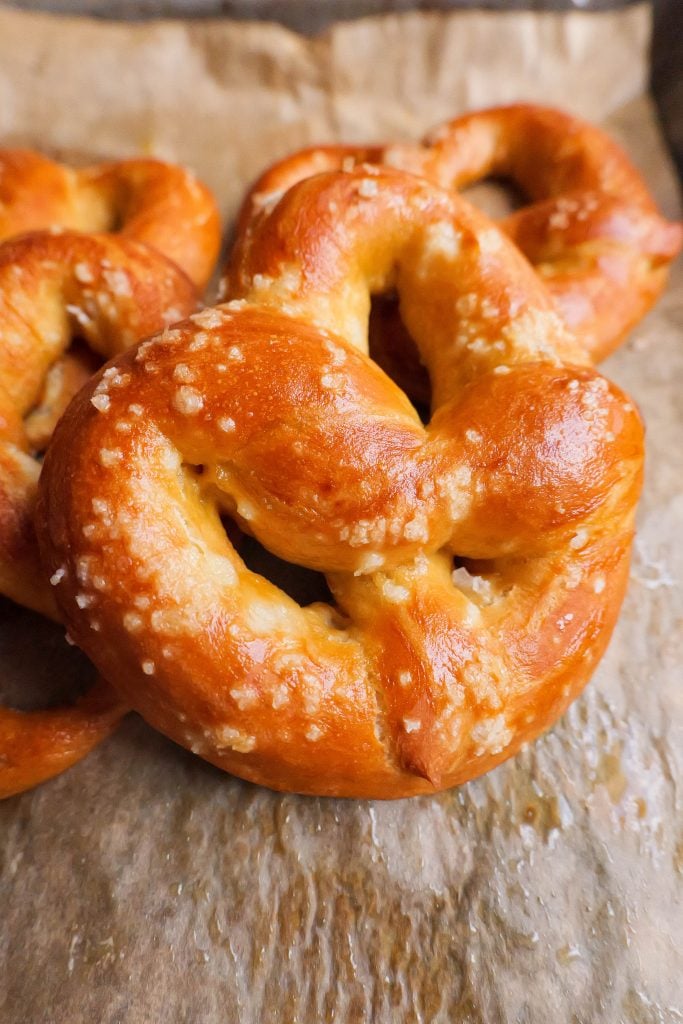 Soft, buttery, twisted pretzels
Here are my tips on how to make the best soft and buttery twisted pretzels: 
Sticky dough: For one, it's a very wet dough that you'll be working with, so if it feels a bit sticky, don't fear. This is nothing like a pasta or pizza dough, so it's completely normal to have it sticky. Slightly flour your working surface, tools and hands so you can easily work with the dough.
Bicarb soda bath: The other thing to pay attention to is the bicarb soda bath. It might feel a bit weird, bathing dough – but it is for good reason. When you bath the dough in bicarb, it gelatinises the outside of the pretzel. This prevents it from fully springing back which gives pretzels their iconic, unique and delectable crunchy outside with a soft centre. So, when you're giving your pretzels a little bath, know that it's for a very good reason.
Warm water: To activate the yeast, we need luke warm water that sits at 105 – 115 degrees F /  35 – 49 degrees C. If the water is too hot, it will kill your yeast and if it's too cold your yeast will not activate. It's a fine line and I suggest you use a thermometer!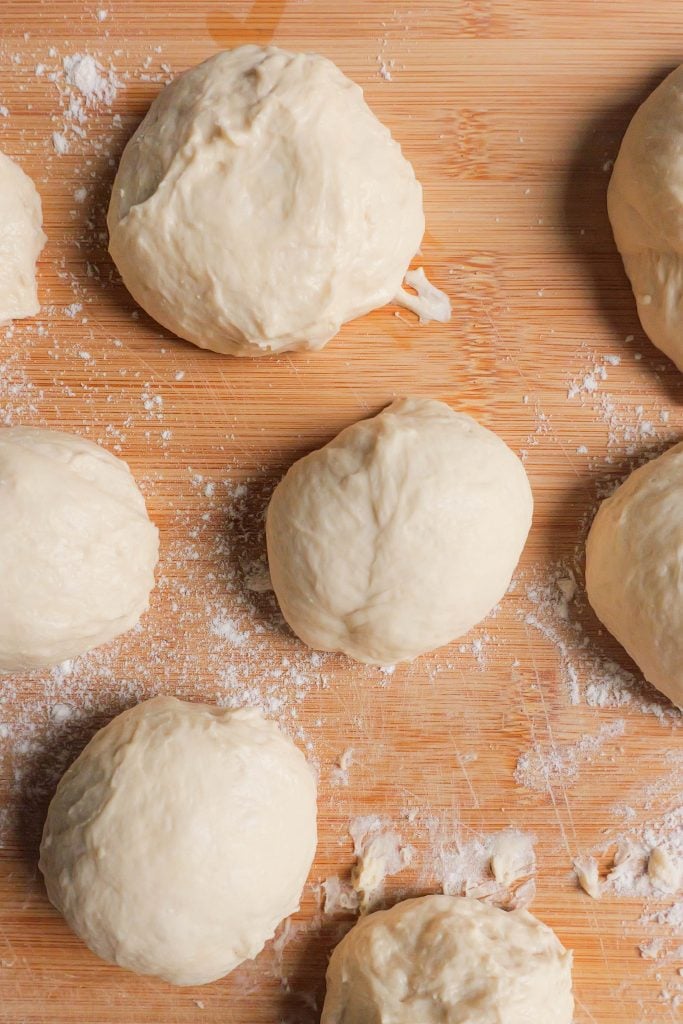 Tips Cont…
Proofing the dough: I have seen some pretzel recipes that don't need any proofing time at all. While this step can be missed, I do believe proofing your dough for at least 1 hour will result in softer pretzels. Leave your dough in a warm spot in the house to allow it to rise and double in size. If you are making your pretzels in a cold environment, you can pop the dough in the oven (don't turn it on!) with just the oven light switched on. This will create enough heat for the dough to rise!
Put those eggs away: There is no need for an egg wash when making pretzels! My pretzels are perfectly golden in colour and have zero eggs used. The toppings will stick to the pretzels if sprinkled on when they are taken straight out of their bicarb soda bath.
Don't overcrowd the pot: When boiling the pretzels, do this step in batches. This will allow the pretzels to cook evenly and for the water bath to not overflow and spill.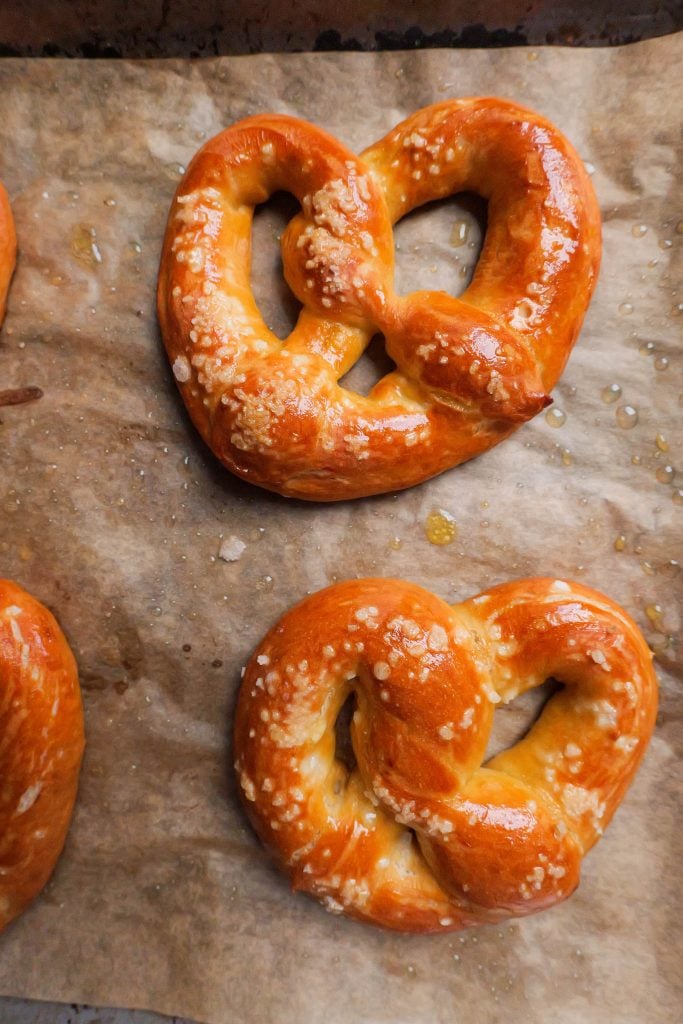 Toppings & Shaping
Pretzels are also a great thing to master because they are so adaptable. You can make them sweet or savoury, depending on the mood. If you wanted to tasty breakfast snack, dousing it in my everything but the bagel seasoning. This will give it the pretzels a tasty, savoury time flavour. But, if the mood strikes, you could melt some chocolate and add flaky sea salt. Or, even use the lemon drizzle from my lemon cupcake and drizzle recipe!
Pretzels are known for their iconic twisty shape, which can be a little intimidating to master. But, I promise, it's not that tricky! However, if you're looking for an easier option, you can just tear the dough apart and create little pretzel bites. You can even create different flavours for each one! A lucky dip and smorgasbord of culinary experiments and sensations – YUM!
Frequently asked questions
Can I store the pretzels? 
Yes, store in airtight container for up to 3 days. Or straight into the freezer to keep that freshness
Do I have to boil the pretzels? 
Absolutely! This is what gives them their unique texture and taste
Does shape matter?
No! In this house shape never matters, so do bites, twists, play with the dough and make any shape you want, even create letters to spell out little pretzel messages!
How much should each pretzel weigh? 
Each pretzel should weigh roughly 75g before baked. However, I am not too fussy when it comes to making pretzels and think it is fine if some are a little larger or smaller than others.
Where is the lye?
Traditional pretzels are made with lye as this gives them their unique colour and shine. Being based in Australia, lye is very hard to get your hands on and is something I am not familiar cooking with. This is where bicarb soda comes in as it's a great alternative to lye! I promise you won't be able to tell the difference…. almost.
Check out my other bread recipes:
The most garlicky garlic bread
Wild confit & rosemary focaccia
Cheesy focaccia with tomato & garlic confit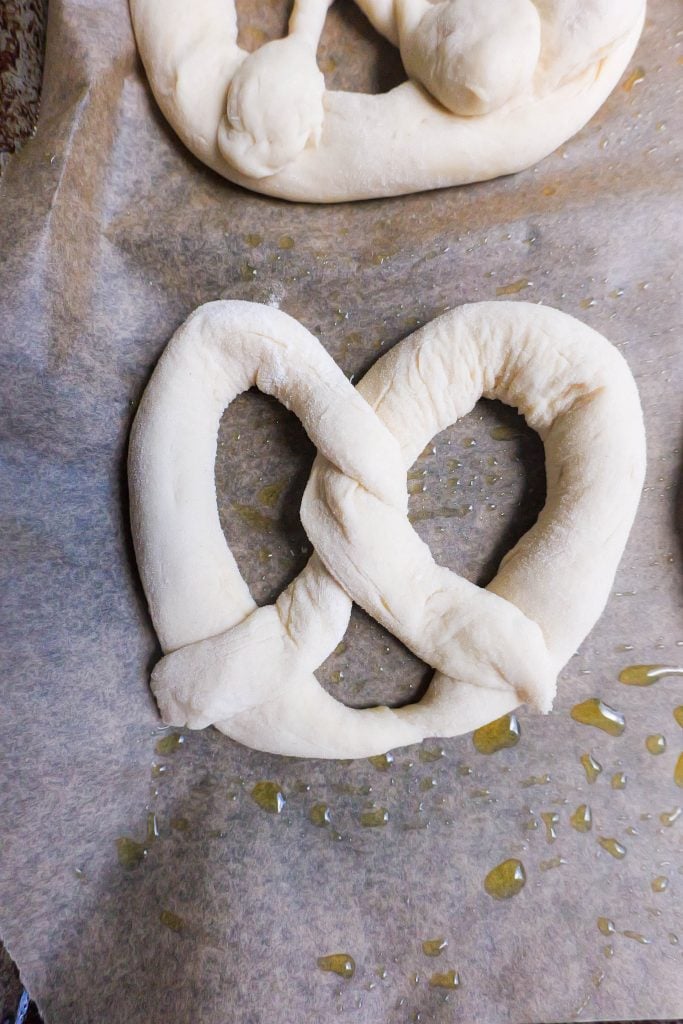 If you make these pretzels, please tag me on Instagram, Tik Tok or Pinterest so I can see your wonderful creations!
If you have any questions or would like to leave a review, please do so here! I always love answering your food and recipe related questions and hearing your feedback on my recipes.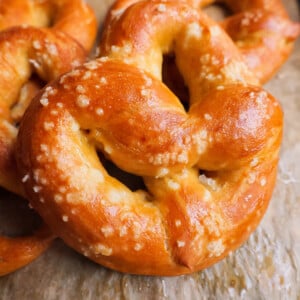 Soft, buttery, twisted pretzels
Don't be intimidated to try this pretzel recipe!
Ingredients
500 g white all purpose flour
360 mL lukewarm water
7 g instant or dry active yeast
1 tbsp white or brown sugar
1 tsp salt
2 tbsp olive oil
1/2 cup bicarb soda
flaky sea salt
25 g melted butter
Instructions
In a small bowl, combine the lukewarm water and yeast. Mix well and leave to sit for 5 minutes to ensure the yeast is active. Bubbles should form at the top of the water. Combine the salt and sugar to the yeast water and mix well.

In a large bowl, combine the flour, yeast water and olive oil. Bring together with a wooden spoon. Begin to knead the dough in the bowl and once it starts to form a ball, take it out of the bowl and place onto a lightly floured wooden surface. Knead for 5 minutes until slightly smooth.

Drizzle a bowl with olive oil and place the dough into it. Cover with glad wrap or a damp tea towel and place into a warm spot. Leave to proof for 1 hour. The dough will double in size.

Preheat the oven to 200 degrees Celsius and bring a large pot of water with the bicarb soda to the boil.

Take the dough out of the bowl and place onto a lightly floured working surface. Lightly flour a dough cutter or shark knife and divide the dough into 8 parts. Take 1 part of the dough and roll into a ball by using a cupping motion with your hands. This step should be done on a work surface that has not been floured and can create lots of friction. Roll the ball out into a long sausage shape. Grab the ends of the dough and slap the dough onto the counter as though you are using a skipping rope. This will further lengthen the dough. It should be roughly 20 – 22 inches long. Be careful not to break the dough in this step. Form a circle with the dough and then twist the two ends together. Bring the twisted ends back towards yourself and apply some pressure to form a pretzel shape. Place the pretzel onto a pre-lined baking tray and leave to rest while you make the others.

Once all the pretzels have been shaped, drop 2 at a time into the bicarb soda bath for 30 seconds each. Remove from the bath with a slotted spoon and place back onto the pre-lined baking tray, leaving space around the pretzels as they will rise and expand when baked. Sprinkle it with flaky sea salt while the pretzels are still wet.

Bake for 12 – 14 minutes or until golden and brown. Remove from the oven and brush with melted butter.